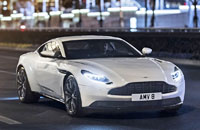 There's been a V8 in Aston Martin's lineup since 1969, and while the latest version wasn't designed in-house by famed engine-builder Tadek Marek or massaged from the Ford-sourced albeit hand-assembled AJ37, it's very special just the same.
This one hails from Mercedes' AMG headquarters, unlike the in-house engineered and produced 600 horsepower twin-turbo 5.2-litre V12 that's currently under the DB11's long, elegant hood, but it nevertheless remains individually hand-built.
The new 4.0-litre twin-turbocharged V8 makes a considerable 503 horsepower and 498 lb-ft of torque, which is a major step up from the current A-M 4.7-litre naturally aspirated V8 that puts out 430 horsepower and 361 lb-ft of torque in top-line "S" guise. This allows for a near identical standstill to 100km/h sprint time of 4.0 seconds to the V12-powered DB11 that manages the feat in 3.9 seconds, whereas the V8's top speed is rated at 301 km/h (187 mph) compared to the V12's 322 km/h (201 mph).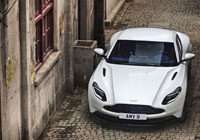 Being that terminal velocity is more about bragging rights than anything useful, similar to the "need" for a 390 bar Rolex Deepsea or even a 120 bar Sea-Dweller when a regular 30 bar Sub will do just fine (serious divers use wrist computers anyway), most DB11 buyers should be more than satisfied with the V8's everyday performance, while even more appealing is the smaller engine's 115-kilo (254-pound) weight reduction, most of which is over the front wheels, as well as the car's lighter 1,760-kg (3,880-lb) curb weight, plus the fact the V8 gets pushed rearward behind the front axle for better weight distribution.
According to A-M's press release, the new layout and reduced weight makes for "an increased sense of agility," although such improvements also need to be attributed to "detailed revisions to the suspension bushing, geometry, anti-roll bars, springs, dampers and ESP software." Therefore, "the V8 appeals to those customers drawn to a refined and comfortable GT with a more sporting bias," continues Aston Martin. We're certainly ok with that.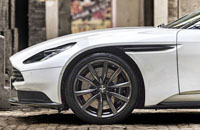 While the engine comes completed from AMG, Aston adds its own air intake, exhaust system, and slimline wet sump lubrication design, the latter allowing a lower centre of gravity, before creating new ECU software and reprogramming the engine and throttle mapping, giving it performance characteristics and sound qualities more familiar to Aston Martin owners, and finally fastening it into the DB11's engine bay via bespoke engine mounts.
"As an engineer I find the DB11 a fascinating car," said Max Szwaj, Aston Martin Chief Technical Officer. "One with great depth of character and ability. Of course the V12-engined variant is an icon – an ultimate, if you like, but the V8 is very much its own car. One with a distinct and carefully crafted character that's truly seductive. It has been hugely rewarding to put our stamp on this new engine – both in the way it sounds and performs – and to use its impressive attributes as the impetus to reveal a little more of the DB11's sporting character."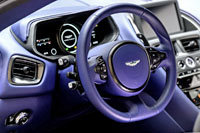 As for distinctive characteristics that set the V8-powered DB11 apart from the V12 model, A-M removes the two nostril-style engine vents from the hood's centre panels for an arguably cleaner look, adds darkened headlamp bezels, and leaves all other differentiation up to unique wheels all-round. The two remaining engine vents are available in black or a titanium-finish mesh.
There are no differences with either V8 or V12 cabins, as each car receives an identical list of standard features and the same extensive menu of available colours and optional trims.
We'd like to think Aston Martin owners are environmentally conscious, although such issues probably don't matter as much to the brand's performance- and luxury-oriented clientele as to the automaker itself, which is forced to deal with a literal world of regulating bodies that are forever increasing their emissions restrictions. Therefore A-M is proud of the new V8 engine's CO2 figure of 230g/km, which allows for lower taxation rates in key growth markets like China.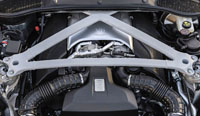 "The DB11 is the most complete and sophisticated car Aston Martin has ever made," said Dr. Andy Palmer, Aston Martin President and CEO. "Now, with this new V8 engine option we have broadened its appeal by offering a car that will bring the DB11 to more customers around the world while still blessed with the exceptional performance and memorable character that sets Aston Martin apart from its rivals. Having driven the car during its development phase, it is not just the engine that has changed the character of the car, but also the resulting dynamic changes to create a remarkable GT car with its own distinct personality from the V12."
The new V8-powered DB11 will be available in the North American markets during Q4 of 2017, with pricing starting at $198,995 USD. Expect Canadian pricing and other details closer to availability.