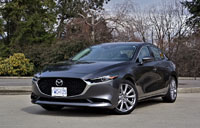 Perfect? No. Excellent? Yes. That's it. I'm done.
How I wish it were that easy to summarize a week with one of the most impressive compact sedans ever produced by a mainstream volume brand. I'd call it the most impressive compact sedan ever produced by a mainstream volume brand, but I haven't driven the new 2021 turbo or 100th Anniversary Edition yet, so I'll curb my enthusiasm until these two hit my driveway.
After making such grandiose claims of superiority, I should probably mention that I've undergone similar weeklong tests with multiple new examples of Honda's best-selling Civic, Toyota's second-most-popular Corolla, Hyundai's third-place Elantra (which is being updated for 2021) and additional compact sedans from other makers, so my impressions come from a place of experience, however biased they may be.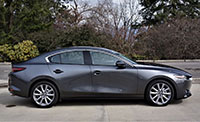 We all have brand and model biases formed over years of ownership, or in my case 20-plus years of testing. This said, I try to limit any biases that might be based on the good or poor brand PR staff communications I've received over the years (although, in full disclosure, Mazda's professionalism has been amongst the best in recent years), only sharing my thoughts on all aspects of the vehicle in question, its expected dependability, and its relevance in the marketplace.
First off (or maybe second off), the Mazda3 competitors named above are arguably the very best iterations of each model ever made, and very good cars overall. In fact, I'm sure you'd be happy with any of this segment's top four, as well as most others on offer in this segment. I'm just saying you might be happier with the Mazda3, especially when comparing fully loaded variants.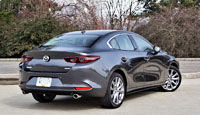 The test model shown here is Mazda's top-line 3 sedan for 2020 in GT trim, albeit not with its i-Activ all-wheel drive system. Yet more full disclosure means I need to clarify the car driven was actually a 2019 model that I wasn't able to review until now, but in all fairness the only visible updates to this GT were darkened 18-inch alloy wheels. Reviewing this 2019 model as a 2020 allows me to comment on this change along with others, both of which segue nicely into the various 2021 upgrades.
Your opinion of this car will no doubt be influenced by its styling, so let's get that out of the way immediately. If you prefer smaller grille designs Mazda's compact might not be for you, but then again, most seem to agree the brand's large heptagonal air intake is attractively shaped and tastefully integrated into the design, nicely fitting the 3's overall look without appearing overbearing or out of place. I especially like the way its outermost chrome edges frame the lower inside corner and bottom edge of each LED headlamp, and appreciate the simple elegance of the car's lower front fascia.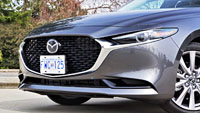 Interestingly, the Mazda3 looks widest of all the competitors mentioned above, at least to my eyes, yet it's the second narrowest of the four, albeit only by a handful of millimeters. Sometimes this effect is created by lowering a car's height, but in fact the 3's roofline is 20 mm taller than the Corolla and Elantra, and reaches 39 mm higher than the lowest Civic. The 3's styling makes it look wider, which is the result of good design, while its greater length from nose to tail lends to its sleek side profile.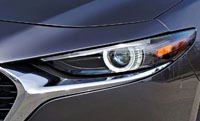 Deeply carved door panels do their part too, the dramatic depth of their indent almost making the 3 look as if it's been sideswiped ever so neatly (check out my photo of the car's side profile in the gallery and you'll see what I mean). The car's rear styling is neat and tidy too, with a slender pair of LED taillights, visually supported by an uncluttered rear apron and sporty set of circular chromed tailpipes. The rear design might not win points for uniqueness, but it scores high marks when it comes to understated good taste.
Much the same can be said about the 3's cabin when it comes to tastefulness, although to be fair it gains some strong character points too. The dash, which is completely covered in a high-grade soft composite, seems to float above the instrument panel as it flows over the primary gauge cluster and wraps around the infotainment display, its outer edges meeting albeit not melding into the front door uppers made from the same material. These swoop downward from the front to rear of each door, starting out almost entirely flat and rounding downward as they grow thicker. Unusually, the 3's inner rear door panels duplicate those up front, complete with pliable uppers, a feature normally only found in luxury branded models in this compact class.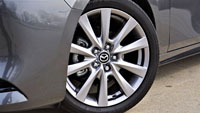 Just below each soft-touch door upper is a thickly padded leather-like bolster with stylish French-stitched seams down the middle, an attractive and luxurious feature that's also found just under the aforementioned floating dash. It visually envelopes the entire interior, even more so when combined with finished in contrasting Pure White leatherette to match an upgrade that also includes white leather seat upholstery. The 3 looks particularly stylish when finished in this two-tone motif, although it can be a bit challenging to keep clean. The 3 Sport gets the same optional treatment in Garnet Red, by the way, as does the previously noted 100th Anniversary model. I should also point out that the lower front console's top edges receive similar stitched and padded leatherette to protect the inside knees, although these are always finished in black.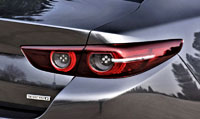 The GT's leather-covered seats feature perforated inserts for breathability, while most of their bolsters are a solid leather like the beautifully crafted steering wheel rim and each top portion of the horizontal spokes, not to mention the shifter knob and boot. Both the steering wheel spokes and shifter feature gorgeous satin-aluminum detailing too, the latter really chunky and solid feeling. The high-grade metallic trim is in fact a theme throughout the entire cabin, highlighted by drilled aluminum speaker grilles for the great-sounding Bose audio system.
While those latter items aren't exactly unique, the thin aluminum accent spanning most of the instrument panel, even striking through the dual-zone automatic climate control system interface, is pure industrial art. This line of brightwork underscores the centre vents as well, culminating in C-shaped (at least on the driver's side) flourishes that wrap around the corner vents. Suffice to say there's plenty to keep an owner in love with a 3 GT long after the honeymoon is over, which is exactly why most premium buyers spend more for a luxury brand.
All said, Mazda is not a luxury brand, with pricing for the 2020 3 sedan starting well under $20k, and the front-wheel drive version of my top-line trim priced much below Acura's ILX, a sedan that's front-drive only and starts at $30,490. In fact, even after increasing in price by $300 from 2019 to 2020, thanks to proximity-sensing keyless entry made standard (previously part of the Premium upgrade package), the Mazda3 GT with its automatic only came to $26,500, nearly $4,000 less than the ILX (which is really an upgraded previous-generation Honda Civic under the metal), whereas the GT with i-ACTIV AWD (that only comes with an automatic) went up $100 to $30,500 this year, a near identical price to the front-drive-only ILX. By the way, the 2020 GT Premium now includes a sharp-looking frameless centre mirror, as well as the updated alloy wheels mentioned earlier.
Also take note, the Mazda3 GT i-ACTIV AWD goes up to $32,200 for 2021, an increase of $1,700 due to features being made standard that were only previously found in the Premium upgrade package, such as a 10-way powered driver's seat with power lumbar support and memory that also links to the side mirrors, leather upholstery, a navigation system, and tech features including SiriusXM satellite radio (with a three-month trial subscription), plus SiriusXM Traffic Plus and Travel Link (with a complimentary five-year trial subscription), and lastly Traffic Sign Recognition. Incidentally, the front-wheel drive GT auto moves up by $2,000 to $28,500 for the same reasons.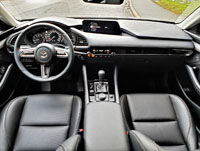 As noted earlier, there's also been the addition of a new 2021 turbocharged GT AWD model that's a mere $700 pricier at $32,900, so you might want to wait for that, and this upgrade in mind, Mazda dealers may want to consider how many non-turbo GTs they bring into inventory, being that soon these less potent 3s will probably only appeal to fuel-stingy commuters that want the creature comforts of a GT.
Some additional GT features include the 12-speaker Bose audio system noted earlier, plus advanced keyless entry, paddle shifters on automatic-equipped models, adaptive cornering for the auto-levelling LED signature headlamps, signature LED taillights, and 18-inch alloys, while the new Premium package includes glossy black front grille, a front wiper de-icer, an auto-dimming driver's side mirror, reverse tilt-down on both exterior mirrors, a frameless centre mirror with auto-dimming, a HomeLink garage door transceiver, a head-up display, a 360-degree overhead parking monitor, front and rear parking sensors, emergency automatic braking for reversing, and traffic jam assist.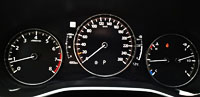 The GT isn't the only Mazda3 sedan to get a price boost in 2021, with the base GX model increasing from $18,000 to $20,500 thanks to standard 16-inch alloy wheels, body-colour power-actuated side mirrors with integrated LED turn signals, manual air conditioning, heatable front seats, cruise control, and advanced blind spot monitoring with rear cross-traffic alert, all previously only available with the Convenience package, while yet more new 2021 standard 3 gear includes auto on/off headlights and rain-sensing wipers. Of note, the same model with the automatic goes up by $2,500 as well.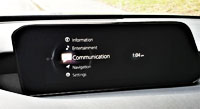 Mid-range GS trim remains the most affordable way to get all of Mazda's i-Activsense safety features, including adaptive cruise control with stop and go, automatic high beams, automatic emergency braking with pedestrian detection, lane departure warning and lane keeping assist, plus driver attention alert. The GS increases in price by $200 to $22,900 for 2021.
Finally, a new 100th Anniversary Edition based on turbocharged GT i-ACTIV AWD trim approaches premium compact levels at $36,100, so you'll have to be a real serious Mazda fan to pay the extra $3,200 needed to partake. For that money you'll get special Snowflake White Pearl exterior paint, aforementioned Garnet Red leather upholstery and accents inside (normally reserved for the 3 Sport), red carpets and mats, the latter including unique 100th Anniversary embroidery, plus the same logo stamped onto the headrests, the key fob, the wheel centre caps, and each front fender.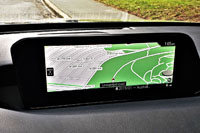 I should also mention that both 2020 and 2021 Mazda3s are being offered with up to $750 in additional incentives according to CarCostCanada, where you can find out about all the latest manufacturer leasing and financing deals, rebate information, and best of all, dealer invoice pricing that can save you thousands when purchasing a new vehicle. Check out how the CarCostCanada system works, and make sure to download their free app so you can have all this important information on your smartphone when you need it most.
Of note, the five-door Mazda3 Sport gets similar year-by-year updates and price hikes, except for the base model that only increases by $200 from 2019 through 2021 due to including most of the standard features mentioned above from inception, and therefore already retailing for thousands more than 2019 and 2020 versions of the base sedan. The 100th Anniversary Edition hatchback pushes this Mazda3 model into a new near-premium price point of $37,100 too, but I won't say anything more about the five-door Sport body style as I'll be reviewing it separately.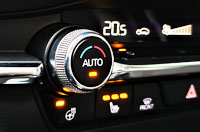 Sportiness in mind, however, both Mazda3 models are available with three Skyactiv-G engine choices, all of which are fun to drive, although the new turbo dusts off distant memories of the late-great Mazdaspeed3. That engine, which makes 250 horsepower and a whopping 320 lb-ft of torque, will be covered in an upcoming review as well, being that I haven't even driven it yet, so I'll keep my comments to the 2.0-litre variant that makes 155 horsepower and 150 lb-ft of torque in base trim, and the non-turbo 2.5 that's good for a respective 186 units apiece.
Performance from these two naturally aspirated engines haven't changed since 2019, and there's actually plenty to like about the base engine, which incidentally can only be had with GX manual and auto trims, plus GS manual trims for 2021, and comes standard with the base GX and all non-AWD versions of the GS in 2020. Its main selling point is fuel efficiency, good for a claimed 8.7 L/100km city, 6.4 highway and 7.7 combined when hooked up to the six-speed manual or 8.4, 6.6 and 7.6 respectively when mated to the six-speed auto (note, the Mazda3 doesn't include a continuously variable transmission/CVT like most competitors, so while it may give up some thrift compared to rivals, it arguably improves drivability).
The 2.5-litre four, standard with the GS auto, all non-turbo AWD models, and the GT for 2021, makes a noticeable difference in performance without sacrificing much in fuel economy at 8.8 L/100km city, 6.6 highway and 7.8 combined with FWD or a respective 7.0, 9.2 and 8.2 with AWD.
Paddle shifters make the most of the Skyactiv-Drive automatic, especially in sport mode, and let me say it really doesn't need more than six forward speeds, except maybe for marketing purposes. There's something wonderful (and reliable) about a simple six-speed auto, and considering I was testing compacts with four- and five-speed automatics when I started out in this business, this is still a comparatively advanced transmission. As noted, Mazda incorporates its Skyactiv technologies, which they say combine all the advantages of conventional automatics, CVTs and dual-clutch gearboxes together—one big fat claim.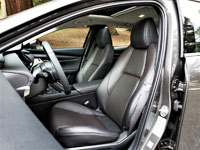 For starters, the Skyactiv-Drive autobox incorporates a significantly widened lock-up range to improve torque transfer efficiency while realizing a direct driving feel that Mazda reports as being the equivalent to a manual transmission, whereas fuel efficiency is improved by four to seven percent compared to the brand's older non-Skyactiv automatic. While I can't prove any of this from the wheel, it was certainly thrifty throughout my weeklong drive and responded well to input, shifting quickly and, like I mentioned a moment ago, a lot more positively than any CVT I've ever used (although the Corolla Hatchback's CVT is surprisingly good).
Likewise, the Mazda3's suspension ideally balances comfort and performance, but it goes about this in a surprisingly unsophisticated way. To be fair, the brand's engineers chose to keep a simpler torsion-beam rear suspension in play rather than adopt an independent multi-link setup in back, and not just because it would save money that could be used elsewhere. First and foremost, it's lighter, whereas the more straightforward design is easier to tune for the desired results. What you get is a smooth riding suspension that transitions to quick, fast-paced inputs nicely, only getting a bit unsettled when hammered through really bad patches of pavement at high speeds, mid-turn. This is where a multi-link design works better, but all said I found the 3's torsion-beam setup hard to fault, even when pushed hard over broken road surfaces.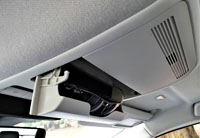 Fortunately, Mazda has isolated the 3's passenger compartment so that most bumps, potholes and bridge expansion joins don't translate to discomfort within. The body structure feels tight and solid, plus it seems as if this car gets a lot more sound-deadening insulation between outer and inner door panels than its key competitors. Again, it feels more 3 Series than Corolla in this respect, no offence to Toyota, or maybe more A-Class and A3-like, but either way resulting in that premium-like experience I've been going on and on about.
The 3's driving position is similarly impressive, with enough reach from its tilt and telescopic steering column to make my long-legged, short-torso frame feel right at home, and certainly more in control than when piloting the Corolla, which needs more steering wheel extension for people shaped like me. The driver's seat was a perfect fit too, its two-way power-adjustable lumbar support even pushing up against the small of my back where I need it most.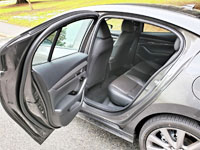 When seated just behind in the second row, the driver's seat having been set up for a guy that measures five feet, eight inches tall with (once again) longish legs, and backrest canted rearward marginally, I benefited from approximately five inches of knee space to the seatback ahead, which is pretty good for this class, and no shortage of foot space below. The aforementioned taller than average roof height resulted in about three inches of room for growth above my head, while side-to-side space was more than adequate for two adults, along with reasonable room for a third when required.
Rear seat accoutrements include a fold-down centre armrest with two integrated cupholders, and that's it. No heatable rear outboard seats, and even stranger, no air vents or USB charge ports on the backside of the front console. This is only odd due to Mazda finishing off all rear surfaces as nicely as those up front, as noted earlier in this review.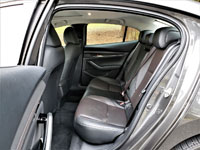 As for this sedan's trunk, it's about average in size for this class at 358 litres, and includes expandability via the segment's usual 60/40 split-folding rear seatbacks. If Mazda wanted to appeal even more to the premium crowd, 40/20/40-split rear seats, or at least a centre pass-through would help, this potentially a dealmaker for outdoor sports enthusiasts who might choose an all-wheel drive 3 over a competitor thanks to its all-weather traction, especially if they can fit their skis safely inside with four occupants onboard.
I wouldn't mention this for a car in this class if Mazda wasn't already one of the only mainstream manufacturers to provide 40/20/40-split rear seatbacks in its compact CX-5 SUV, meaning they've proven to understand how important passenger/cargo flexibility is to their buyers.
I wouldn't call that last issue a complaint, but I do have a few negatives to bring up with the Mazda3 GT. For starters, I found the sensitivity of the auto braking and lane change alerts a bit annoying, but not as much as the nagging digital voice's constant speed limit announcements. If this had been my personal car, I would've quickly found a way to turn that feature off.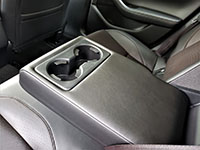 Also, the dual auto HVAC system was more difficult to set to a comfortable temperature than what I normally experience in other brands. I therefore chose 20C so it wasn't overly hot, but take note 20.5C was already uncomfortably warm. This means there was no middle ground, with 20C being on the cool side and 20.5C requiring the windows powered down a crack. I ended up setting it to 20C and using the three-way heated seats to keep my backside warm, not to mention the heatable steering wheel rim.
I'd also like to see Mazda improve the otherwise handy radio volume/tuner knob on the lower console, which rotates for the former and can be modulated from side-to-side for the latter. It works perfectly for changing AM/FM stations, but scrolling through satellite stations requires a tedious multi-step process within the infotainment system's audio interface, each and every time you want to do so. I ended up saving my favourite stations to a list accessible from the star button just next to the volume/tuner knob, so at least a shortcut method has been provided, but I'd like to see some sort of improvement for tuning in satellite stations just the same.
You might find my little complaints more annoying to read than these issues actually are in real life, this probable after factoring in just how excellent the Mazda3 is in every other respect. If I were buying in this class, this car would be right at the top of my list and probably get the nod, albeit with that new turbocharged engine upgrade and potentially the Sport body style.
It's hard to argue against a car that recently won the 2020 World Car Design of the Year award after all, let alone took top honours in AJAC's 2020 Canadian Car of the Year earlier, and the 2019 Women's World Car of the Year before that, while earning an IIHS Top Safety Pick+ award is an accolade worth mentioning too. All that aside, I like its styling, love its interior design and materials quality, find it comfortably accommodating, appreciate its expected reliability, and always enjoy spending time in its driver's seat. In other words, I highly recommend the Mazda3.
Story and photos by Trevor Hofmann