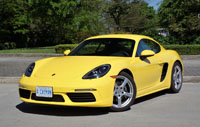 Normally when a premium brand changes its model-naming scheme from creatively written monikers to alphanumeric drivel (like Mazda, Acura, Cadillac, and Lincoln did years ago—the latter brand just starting to embrace its past again with the Continental) I'm not in favour, but Porsche got a smiling thumbs up from yours truly when introducing 718 as the new model prefix for the 2017 Boxster and Cayman.
You see, Porsche has long used a mix of numbers, letters and words in its naming process, sometimes only referring to numbers like the original 356, the 901 that followed, the 911, 912, 914, 924, 928, 944, 959, 968, and so forth. These three-digit number sets were actually internal codes, with those noted being the most common way for the masses to refer to each model as well. Others, like the Boxster (codes 986, 987 and 981) and Cayman (codes 987 and 981) siblings, plus the Carrera GT (code 980), are better known by their given names, whereas the Macan, Cayenne, and Panamera don't have internal Porsche codes at all, because they're based on shared VW/Audi platform architectures.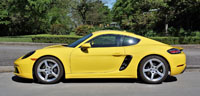 This makes Stuttgart's decision to infuse some good old Porsche naming DNA into the Boxster and Cayman smart, as it ties these important entry-level sports cars more closely to the 911 Carrera they share some componentry with. See how I did that? I snuck the name "Carrera" into that last comment, another name synonymous with the beloved 911 (and aforementioned supercar).
Now the 718 Boxster and 718 Cayman have a similar look and sound as 911 Carrera (or at least that's the concept), while the number chosen is an attempt to show familial ties to the fabulous mid-engine 550 Spyder and its 718 RSK successor that took motorsport by storm from 1953 through 1956 and 1957 through 1962 respectively.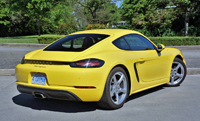 I don't know about you, but I'm willing to buy in to the marketing spin. After all, the original 718s were lightweight two-seat mid-engine roadsters (with a few coupes thrown in for good measure, and for higher track speed) powered by horizontally opposed four-cylinder engines, which pretty well sums up today's 718 Boxster and 718 Cayman. Those spiritual predecessors were often dubbed "giant slayers" because the tiny, featherweight imps would often out-manoeuvre their larger, more powerful opponents: ditto Boxster and Cayman. In addition, the many Boxster and Cayman models that have been stripped of their innards and stuffed full of roll cages, racing seats, fire extinguishers and the like, and then regularly contested in serious motorsport events gives them credence as true descendants of a much revered 718 progenitor.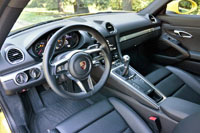 Of course, simply take one for a spin around the block and you'll immediately know for yourself. We're doing just that with a bright "Racing Yellow" 718 Cayman this week (and went one step better on the road and track with a 718 Boxster S last fall), and frankly we're having too much fun to sit here and tell you much about it. But, of course, Porsche wouldn't be too pleased if we kept all the good stuff to ourselves.
In short, this non-"S" variant gets a less potent yet still brilliantly fun 300 horsepower 2.0-litre turbocharged four-cylinder boxer with 280 lb-ft of torque (which is an increase of 25 horsepower and 66 lb-ft of torque over last year's 2.7-litre flat-six), while the S puts 350 horsepower and 310 lb-ft of torque down to the rear wheels.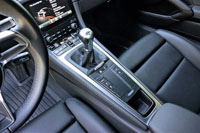 Porsche even supplied our loaner with a six-speed manual… Yippee-ki-yay! Don't get us wrong. We love the paddle-actuated seven-speed automated dual-clutch PDK too. It can hit 100 km/h in a mere 4.7 seconds with the Sport Chrono package added, while this manual is claimed to achieve the feat in 5.1 seconds, while getting an estimated 9.4 L/100km when driven more calmly and using standard auto start/stop, compared to 9.8. But we're saluting the glory days of the mighty mouse 718 RSK right now, so it's only fitting to have a DIY gearbox along for the journey.
In reality, other than the aforementioned key points our luxury-lined 718 Cayman tester has little in common with the purposefully hollowed-out shell of a sports car that stole through the circuitous tree-lined Nürburgring Nordschleife in its heyday, but that's just fine with me. While the thought of doing likewise on the legendary Eifel Mountains track (or any old racecourse for that matter) sends tingles up the spine, for everyday use and RSK would be ridiculously impractical and likely quite uncomfortable.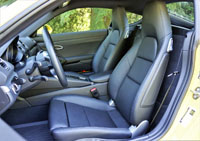 Purposefully designed for middle-aged derrieres like mine, Porsche smartly added plenty of pampering upgrades to a base 718 Cayman already replete with ample creature comforts, its end mission more likely focused on spirited trips to the office and memorable weekend getaways for two than any competitive track time (makeshift Sunday afternoon autocross courses aside), despite still being one of the best all-round sports coupes available today.
Even the $61,500 base model gets an impressive list of standard features adorning the revised sheetmetal and reworked interior, the list including gorgeous new 10-spoke 18-inch alloys, a new three-spoke leather-wrapped multifunction sport steering wheel (inspired by the 918 Spyder supercar no less), a 4.6-inch colour high-resolution TFT multi-info display, a new state-of-the-art infotainment touchscreen and interface with stylish new graphics, all the latest tech such as Apple CarPlay and Android Auto, a backup camera with active guidelines, Bluetooth phone connectivity with streaming audio, eight-speaker 150-watt audio, sport seats with partial leather upholstery, an electromechanical parking brake, hill start assist, front and rear parking sensors, a HomeLink garage door opener, and more.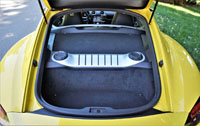 Above and beyond this, my tester added a $1,980 navigation module to the aforementioned infotainment system, $2,650 14-way powered sport seats with memory, and a $1,570 Premium package with rain-sensing wipers, auto-dimming mirrors, heatable seats, and dual-zone auto climate control. The wheels were upgraded to a set of $1,810 Cayman S rims as well, while Porsche added $1,510 torque vectoring (PTV) and $2,050 Active Suspension Management (PASM) to improve handling, as well as HID headlights with dynamic cornering capability (which are a prerequisite to the previously noted Premium package) for better night time visibility, the finally tally adding up to $74,320 before (always reasonable) freight and dealer fees.
Of course, the sky's the limit when it comes to extras with this near-exotic brand, so go build one on Porsche Canada's comprehensive online configurator and enjoy. I'll be back soon to relate my in-car experience in an upcoming review, including the car's ergonomics and comfort, build quality, electronics systems usability, overall practicality, and of course its drivability, plus we'll include a massive photo album prepared just for your viewing pleasure. Stay tuned because you won't want to miss this one…