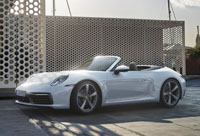 "Winter temperatures, precipitation, and snowfall will be above normal," says The Old Farmer's Almanac in this year's Annual Weather Summary for Southern Ontario, while those in Southern BC can expect the next six months to be "colder than normal." 
Are you ready for another bone-chilling winter? Yes, Jack Frost has been a bit naughtier than usual over the past couple of years, and this stormy trend probably won't end soon, but don't worry because Porsche has your back. 
As any sports car fan knows, the quintessential German performance brand has been rolling out its all-new 2020 911 Carrera in stages throughout this year, and the latest edition is ideally timed to fight off the white fluffy stuff (or more often than not, brown mucky stuff) that makes our roads slippery and challenging to navigate unless you've got the right equipment. The gear in question is Porsche's new 911 Carrera 4 Coupé or 911 Carrera 4 Cabriolet, with the number "4" designating all-wheel drive in Porsche-speak.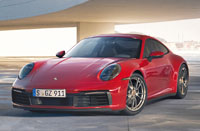 The new Carrera 4 uses the same 3.0-litre twin-turbo flat six as found in the Carrera 2, capable of 370 horsepower and 331 lb-ft of torque. The Carrera 4 Coupe can launch from zero to 100 km/h, which at only 4.5 seconds is a hair (0.1 seconds) faster than the two-wheel drive version when set up with its base seven-speed manual gearbox; or 4.3 seconds with its paddle-shifter enhanced dual-clutch eight-speed PDK, or 4.1 seconds when the latter automated transmission is combined with the model's Sport Chrono Package. 
Additionally, standstill to 160 km/h takes a mere 9.7 seconds with the manual and 9.3 seconds for the PDK, while the two cars top out at 292 and 290 km/h respectively. Alternatively, the Carrera 4 Cabriolet takes an additional 0.2 seconds to complete all sprint times, and achieves a terminal velocity of 289 km/h.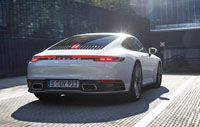 Just like the 2020 Carrera 4S introduced earlier this year, the new Carrera 4 uses an innovative water-cooled front differential, which incorporates reinforced clutches that increase load capacities and overall durability. When combined with Porsche Traction Management (PTM), the updated front axle drive system improves the Carrera 4's traction in slippery conditions, while also enhancing performance in the dry. 
What's more, all 2020 911 Carrera owners will get a new standard Wet mode added to the revised steering wheel-mounted drive mode selector, the unique technology automatically maintaining better control over watery or snowy road surfaces when engaged. Each new 911 also receives standard autonomous emergency braking with moving object detection to improve safety further, while a high-definition backup camera and rear parking sensors are also standard equipment.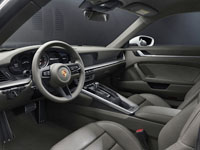 Porsche Active Suspension Management (PASM) comes standard too, including electronically variable dampers with both Normal and Sport settings, while Porsche Torque Vectoring, standard on S and 4S models, is now optional with the Carrera 4 Coupe and Carrera 4 Cabriolet. 
Yet more available options include the Porsche Ceramic Composite Brake (PCCB) system, as well as staggered front to rear 20- and 21-inch alloy wheels, while staggered 19- and 20-inch alloys are standard equipment.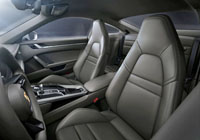 The italicized "4" on the rear deck lid aside, the only way to differentiate the two Carrera 4 models from the two Carrera 2 trims is a twin set of rectangular tailpipes in place of the base model's dual oval exhaust tips; Carrera 2S and 4S trims featuring four rounded chrome pipes. This said, you can upgrade both Carrera 4 models with a pair of big oval exhaust ports, at which point you'd probably be best to rely on the written designation for classification purposes. 
There are no obvious 911 C2 and C4 differences inside, mind you, with both trims coming standard with Porsche's mostly digital primary gauge package, the traditional analogue tachometer remaining at centre, plus the same 10.9-inch Porsche Communication Management (PCM) touchscreen infotainment system featuring enhanced connectivity, as well as identically redesigned seats. 
The entirely new 2020 Porsche Carrera 4 Coupé starts at $111,900, while the Carrera 4 Cabriolet is available from $126,000. Both can now be ordered at your local Porsche retailer.