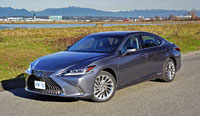 Lexus' ES has come a long way in 30 years. Yes, 2019 marks three decades of the quintessential Japanese luxury brand's best-selling car, which started life as the comparatively humble ES 250 in 1989. 
It was obviously based on the Camry family sedan, yet despite being rushed to market in order to make sure the full-size LS 400 wasn't alone in the new premium brand's lineup, it was a handsome, well-built and reasonably strong performing V6-powered mid-size luxury sedan. Lexus has made six ES generations since, releasing this most recent seventh-generation redesign late last year as a 2019 model, and while each new version made improvements on its predecessor, this latest iteration is by far the most dramatic looking, most refined inside, and best to drive yet.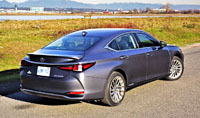 In fact, Lexus has done such a good job of pulling the ES upmarket that it's getting more difficult to justify having two mid-size sedans in its lineup. The two look similar and are near identical in size, the ES' wheelbase just 20 mm (0.8 in) longer at 2,870 mm (113.0 in), and 4,960 mm (195.3 in) of overall length a bit more of a stretch thanks to an additional 110 mm (4.3 in). The ES is 25 mm (1.0 in) wider than the GS too, measuring 1,865 mm (73.4 in) from side to side, but at 1,445 mm (56.9 in) high it's 10 mm (0.4 in) lower, the ES' long, wide and low design giving it proportions arguably more appealing than the sportier, more upscale sedan.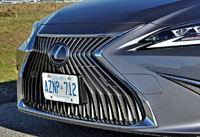 To be fair to the GS, it not only delivers stronger performance, particularly through the corners and off the line, especially in 467 horsepower GS F form, but it generally feels more substantive thanks to a 66-kilo (145-lb) heftier curb weight in base trim and 185-kg (408-lb) difference in hybrid trims, a rear-drive architecture shared with the smaller IS series sedan and coupe, a stiffer, more robust suspension setup, and other improvements that justify its significantly higher price point; the GS ranging from $63,800 to more than $100,000, compared to just $45,000 to $61,500 with the ES (find pricing for all new and past models at CarCostCanada, including trims, packages and individual options, plus money-saving rebate info and dealer invoice pricing that could keep thousands in your wallet).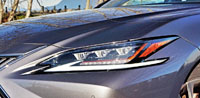 Under the base ES hood is a 302 horsepower version of Lexus/Toyota's ubiquitous 3.5-litre V6, just 9 horsepower and 13 lb-ft of torque shy of the base GS engine yet 34 horsepower and 19 lb-ft of torque more than the previous ES 350, and the Japanese luxury brand now marries it to an eight-speed automatic instead of the comparably antiquated six-speed unit found in last year's ES and the pricier GS currently on sale. 
My as-tested ES 300h, which incidentally starts at $47,000, combines an upgraded 176 horsepower 2.5-litre four-cylinder featuring 163 lb-ft of torque with a 67 horsepower (50 kW) electric motor and 29.1-kWh nickel-metal hydride (NiMH) battery for a net output rating of 215 horsepower and an undisclosed torque rating (the previous ES 300h' net torque rating was 206 lb-ft). Toyota's fourth-generation hybrid system once again incorporates a silky smooth electronically controlled continuously variable transmission that suits this car's luxury role well.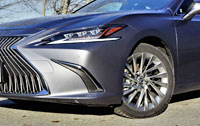 Fuel economy is incredibly good at a claimed 5.5 L/100km in the city, 5.2 on the highway and 5.3 combined, which despite its performance gains beats last year's ES 300h hands-down, that model only capable of 5.8, 6.1 and 5.9 respectively. The new ES 300h handily outmaneuvers its Lincoln MKZ Hybrid archrival past the pumps too, the domestic luxury sedan only managing 5.7 city, 6.2 highway and 5.9 combined, while other notable efficiency comparisons include the conventionally powered ES 350 that gets a rating of 10.6 city, 7.2 highway and 9.1 combined, the same car with its F Sport styling upgrade that manages 10.9, 7.5 and 9.4 respectively, and the regular GS 350 AWD with its 12.3, 9.1 and 10.9 rating, while last year's GS 450h hybrid eked out an impressive 8.0 city, 6.9 highway and 7.5 combined, but it's no longer available so the point is moot unless you can find a new one lurking around your local Lexus dealer or are willing to live with a pre-owned example.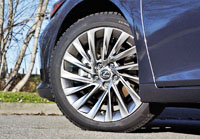 You might find the latter difficult being the GS is as rare as the proverbial bird's teeth, with year-to-date sales a scant 82 units as of August 31, compared to 1,445 down the road for the ES. That latter total makes for the mid-size luxury segment's second-best results behind the Mercedes-Benz E/CLS-Class, plus the category's best growth at 55.54 percent over the same eight months of last year. Only two rivals saw any upside at all, Mercedes' E/CLS-Class (which also includes a coupe and convertible) up by 1.24 percent, plus Audi's A6 and A7 with 18.87 and 24.28 percent YTD growth respectively, the latter two cars only capable of garnering 441 and 430 unit sales apiece during those eight months, however. 
In case you were wondering, the GS, its sales down 43.84 percent, wasn't last, with Jaguar's XF having lost 52.89 percent for 57 deliveries, Acura's RLX down by 24.53 percent for 40 unit sales, and Infiniti's Q70 dropping 2.56 percent for a 38 unit total. The segment's biggest loser by percentage is the Lincoln Continental, dropping 56.88 percent so far this year, while closest to positive without going over is the G80 from Hyundai's upstart Genesis brand that narrowly missed out with a loss of just 0.44 percent (thanks to GoodCarBadCar.net for the detailed sales results).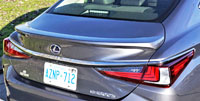 After witnessing the sales carnage in this mid-size luxury sedan class it's easy to appreciate why Lexus might eventually choose to keep the ES over the GS, and while anyone that's driven a GS F might lament such a decision. Personally, I'd back a CEO that makes good, sound business decisions over someone merely wanting a hyper-fast executive shuttle in their fleet. Certainly there's a reasonable case for image cars, but Lexus is already losing money on its gorgeous LC coupe, which will go a lot further to bolster the brand's image than an aging four-door sedan could ever do, let alone a car that sells in such small numbers there isn't much image building being done anyway, so let's see what happens to the Lexus lineup as we move into the next decade.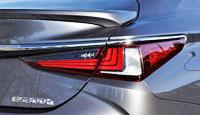 One thing is for sure, the ES will continue to fill its unique position within the marketplace, and it will have fewer rivals moving forward. The aforementioned Continental will soon be gone, as will Lincoln's more directly competitive MKZ, which also comes in electrified hybrid form. Cadillac will also drop its front-drive XTS and CTS, while sales of its newer CT6 are so slow it hardly rates. The only challengers not yet mentioned include BMW's 5 Series, Volvo's newish S90, and Tesla's aging Model S, while some might also shop the ES against Buick's LaCrosse (also slated for cancellation), the Chrysler 300 (there's no definitive word about this aging car's future), and possibly Kia's impressive Stinger, not to mention large luxury sedans like Toyota's own Avalon, which is basically the same car as the ES under the sheetmetal, and lastly Nissan's Maxima, which also gets very close to premium sans highfalutin badge.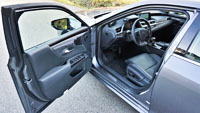 Still, the ES has long outsold most of these would-be rivals, and this newest iteration should keep that ball rolling for the next few years. As noted earlier, the ES 350 and ES 300h hybrid are completely redesigned for its seventh generation. No matter whether trimmed out as a base ES 350, upgraded to its more athletic looking ES 350 F Sport trim, or delivered in classy as-tested ES 300h form, Lexus' front-drive four-door now adds an entirely new level of visual drama to its outward design. 
The car's trademark spindle grille is larger and considerably more expressive, its origami-inspired LED headlight clusters more complex with sharper edges, its side profile longer and sleeker with a more pronounced front overhang and a swoopier sweep to its C pillars that now taper downward over a shorter, taller trunk lid, while its rear end styling is more aggressively penned due to a much bigger crescent-shaped spoiler that hovers above expansive triangular wrap-around LED taillights.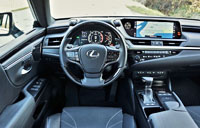 The overall design toys with the mind, initially flowing smoothly from the grille rearward, overtop the hood and down each sculpted side, but then it culminates into a clamour of dissonant creases, folds and cutlines at back. Still, it comes together quite well overall, and certainly won't conjure any of the model's previous criticisms about yawn-inducing styling. 
Similar can be said of the interior, but instead of sharp edges the cabin combines myriad horizontal planes and softer angles with higher-grade materials than the outgoing ES, not to mention a few design details pulled from the LFA supercar, particularly the black knurled metal pods hanging off each side of the primary instrument hood, the left one for turning off the traction control, and the knob to the right for scrolling between Normal, Eco and Sport modes.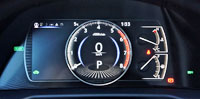 Between those unorthodox pods is a standard digital gauge cluster that once again was inspired by the LFA supercar and plenty of lesser Lexus road cars since, this one providing real-time energy monitoring via a nice flowing graphic just to the left of the speedometer, while the infotainment display at dash central measures a minimum of 8.0 inches up to the sizeable 12.3-inch unit tested, yet both look even larger due to all the extra black glass bordering each side, the left portion hiding a classic LED-backlit analogue clock underneath. The high-definition display gets attractive graphics plus deep, rich colours and contrast, plus responds quickly to inputs. 
When opting for the as-tested ES 300h hybrid the infotainment interface now comes standard with Apple CarPlay for those who'd rather not integrate their smartphone via Lexus' proprietary Enform system. This said Enform is arguably more comprehensive and easier to use than Android Auto, which is not included anyway, while standard Enform 2.0 apps include info on fuel prices, traffic incidents, weather, sports, and stocks, plus it's also bundled with Scout GPS Link, Slacker, Yelp, and more.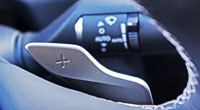 The 2019 ES 300h also gets an updated Remote Touch Interface trackpad controller on the lower console, which allows gesture controls like tap, pinch and swipe, and works much better than previous versions, with more accurate responses, especially to tap inputs, while other standard features include 17-inch alloy wheels, Bi-LED headlamps, LED taillights, proximity-sensing keyless access with pushbutton ignition, a nicely shaped leather-wrapped steering wheel, rain-sensing wipers, an auto-dimming rearview mirror, a rearview camera with dynamic guidelines, 10-speaker audio with satellite radio, a deodorizing, dust and pollen filtered dual-zone automatic climate control system, truly comfortable 10-way powered front seats with both three-way heat and ventilation, NuLuxe breathable leatherette upholstery, all the usual active and passive safety equipment including 10 airbags, plus much more.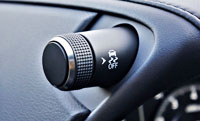 Safety in mind, the new ES 300h comes standard with the Lexus Safety System+ 2.0 that features an autonomous emergency braking pre-collision system with pedestrian and bicycle detection, plus lane departure alert with steering assist and road edge detection, new Lane Tracing Assist (LTA) automated lane guidance, automatic high beams, and full-speed range adaptive cruise control, all of which worked well, without being overly sensitive. 
The just-noted 12.3-inch infotainment display comes as part of an optional $3,800 Premium package that also adds blindspot monitoring with rear cross-traffic alert, reverse tilting side mirrors, front and rear parking sensors, a toasty heatable steering wheel that along with the heated front seats comes on automatically upon startup (I love this last feature), front seat and side mirror memory, accurate navigation with incredibly detailed mapping, and Enform Destination Assist that provides 24/7 live assistance for finding destinations or points of interest. 
Alternatively you can choose the even more comprehensive $10,600 Luxury package that combines everything from the Premium package with unique 18-inch alloy wheels, ultra-bright Tri-LED headlamps, much appreciated Qi-compatible wireless smartphone charging, full leather upholstery, and a powered rear window sunshade. 
Lastly, the as-tested $14,500 Ultra Luxury package builds on the Luxury package with an attractive set of 18-inch noise reduction alloy wheels, calming ambient interior lighting, a really useful 10-inch head-up display, a 360-degree surround parking monitor that made getting into awkward parking spaces easier, a sensational sounding 17-speaker Mark Levinson premium audio system, softer and more comfortable semi-aniline leather upholstery, rear door sunshades, and a touch-free gesture control powered trunk lid.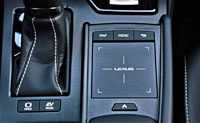 Needless to say this $61,500 model is the most lavishly equipped Lexus ES 300h to date, but it also provides the best ES driving experience by a long shot. Of course, those who love a comforting ride will appreciate the ES for its suspension compliance, the fully independent setup combining front struts and a multi-link rear setup, albeit revised for 2019 with newly developed Dynamic Control Shocks that include an auxiliary valve to complement the main damper valve in order to respond better to subtler movement. The front suspension was reworked for both comfort and stability, while additional adjustments made to the rear trailing arm and stabilizer bar mounting points helped minimize body lean, all resulting in an ES that's quite adept through fast-paced curves.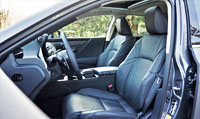 The ES 300h is actually quite fun to drive now, something I would not have admitted to previously, Lexus even including steering wheel-mounted paddle shifters to swap a set of simulated gears that mimic the real thing quite well when in Sport mode, plus this enthusiast setting also adds torque at low speeds and provides a tachometer within the digital gauge cluster to monitor all the action. Those purchasing their ES 300h for economical or environmental reasons might prefer Eco mode that improves fuel economy, while EV mode lets you cruise silently at low speed for short durations. 
Enhancing efficiency yet more is new Auto Glide Control that allows the ES to coast more freely when lifting off the throttle, instead of slowing down automatically from automatic regenerative braking.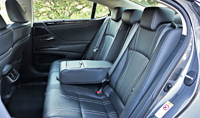 No matter the speed this wind-cheating ES is now the quietest yet, thanks to twice as much structural adhesive, improving noise, vibration and harshness levels, front fender liners and underbody covers, and sound deadening material coating 93 percent of the ES 300h's floor pan, a major increase over the previous car's 68 percent area coverage. 
The aforementioned battery is smaller but more potent, by the way, and is now located under the rear seat and not in the trunk, which makes the cargo area identical in size to the non-hybrid ES 350 at 473 litres (16.7 cu ft). It also allows for a centre pass-through capable of swallowing up skis or other long items, and therefore allows rear passengers to enjoy the more comfortable window seats. And yes, the ES is roomy and comfortable no matter where you're seated.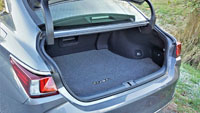 Interior finishings are a lot nicer than previous generation ES models, with higher quality soft-touch composite surfacing being used, and more of it. This said, the lower door panels are still hard plastic, as are the sides of the centre console. Lexus smartly includes the wireless device charger under the armrest in the centre console bin, so you can keep your phone away from otherwise distracted eyes. 
All of the switchgear is improved over previous generations too, with some noteworthy details being those aforementioned pods that stick out each side of the instrument cluster, the little round metal buttons on the centre stack for controlling the radio, media, and seek/track functions, the temperature control switches, and, while not exactly switchgear, the speaker grilles and surrounds for the Mark Levinson audio system. The hardwood trim feels genuine because it's actually real, and comes in Striated Black, Linear Dark Mocha or Linear Espresso, while the metallic accents are nicely finished and tastefully applied.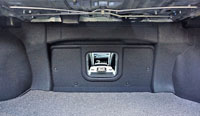 Over the past 20 or so years of covering all things automotive I've spent many weeks with Lexus' ES in both conventionally powered and hybrid forms, so therefore now that I've spent yet another seven days with this all-new 2019 ES 300h I can confidently promise that ES enthusiasts will like it best of all. It incorporates all previous ES attributes yet makes them better, resulting in one of the most impressive entry-level luxury sedans ever created.