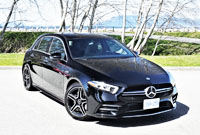 I want you to feel good about being Canadian for a moment. No, it's not for anything our various governments are doing, not that I'll allow this review to get political. It's not out of some false sense of superiority over our American neighbours either, but more so because of something Mercedes-Benz Canada is doing with its entry-level A-Class.
First off, M-B made the Hatch body style available in Canada from the get-go, a model I previously reviewed in A 250 trim and am once again doing now in AMG-tuned A 35 guise, while neither has been offered to our friends in the U.S. of A. It's the slightly smaller, fractionally lighter and therefore arguably sportier version of this Mercedes subcompact luxury twosome (threesome if you include the CLA), not to mention the measurably more practical variant as well, so it fits nicely into our pragmatic market.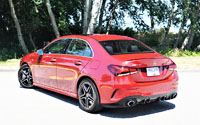 Mercedes' offers the classy little A-Class Sedan in our small luxury car sector too, available in as-reviewed A 220 trim as well as a four-door A 35 variant. For 2022, however, insult gets added to American injury, in that MBUSA will be discontinuing its A 35 Sedan (as well as the AMG CLA 35) from the U.S. lineup altogether (plus plenty of other AMG models), leaving only the A 220 (and CLA 250) to those wanting a subcompact three-pointed-star car.
So therefore, let yourself feel good, Canadian sport compact fans! Mercedes has your back in more ways than one, and believe me, either one of these AMG-tuned A 35 4Matic models is worthy of your attention. I spent one thoroughly enjoyable week with each, starting with the A 35 Hatch and finishing off with an A 35 Sedan. The size difference referred to earlier is noticeable, incidentally, especially while parking, due to 112 mm (4.4 in) less length from nose to tail, while the hatchback's 17 fewer kilograms (38 less lbs) makes it a smidge quicker off the line and a tiny bit more flickable through the curves.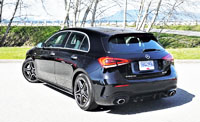 In total, the A 35 Hatch measures 4,445 mm (175.0 in) compared to the Sedan's 4,557 mm (179.4 in), while both share a 2,728-mm (107.4-in) wheelbase. This makes the A 35 Sedan third longest in the compact B segment, behind the CLA 35/45 that's 137 mm (5.4 in) shorter. It also has the second longest wheelbase in the class, but at just 1,791 mm (70.5 in) wide (not including its mirrors), only two competitors are narrower, including the soon-to-be discontinued BMW i3 BEV, and the comparatively tiny Mini Cooper 3-Door hatchback, although the latter model hardly qualifies for luxury brand status in its entry-level trim. To finish off the basic measurements, both A 35 Sedan and Hatch are 1,432 mm (56.4 in) tall.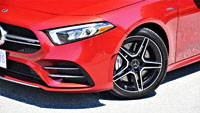 That last figure makes the A 35 a bit taller than the category average, which aids head space, while the cars' previously noted wheelbase provides good legroom all-round, but those seeking practicality will want the Hatch, as its 368-litre (13.0 cu-ft) cargo area is 125 litres (4.4 cu-ft) greater than the Sedan's 243-litre (8.6 cu-ft) trunk. That's also the smallest boot in the subcompact luxury car class, and when compared to the trunk in BMW's 2 Series Gran Coupe, which can handle up to 430 litres (15.2 cu-ft) of gear, it's underwhelming to say the least. Then again, if you only need to cram in a single golf bag it'll probably do, although when factoring in that a person purchasing an A 35 Hatch won't be seen clumsily stuffing their trolley cart into the A 35 Sedan's leather- and psuede-lined rear passenger compartment, the truncated A-Class might be the more elegant of the two.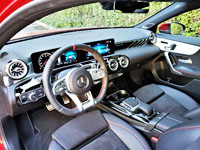 On that note, each and every car in the A's luxury B-segment comes standard with an impressively finished interior, particularly when talking materials quality plus overall fit and finish, although top-tier As, which include these two AMG variants, provide a level of eye-popping wow-factor that nothing in this premium category can match. Of course, Mercedes' massive driver display cum centre touchscreen is a serious attention getter, not only for its sizeable near digital overload, but more so for the colourful, artful graphics infused within. It's a joy to look at and ultra-easy to use, plus comes packed full of pretty well every feature you could ever want.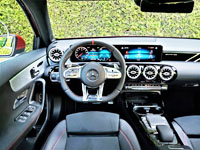 Equally dazzling are the numerous buttons, knobs, toggles and switches found throughout the cabin, most made from satin-finish aluminum or something that looks and feels similar, while the jet engine-inspired vents across the instrument panel are downright gorgeous. As for softer surfaces, Mercedes finishes the majority of touchpoints with high-quality pliable synthetics, as well as padded leather or suede-like micro-fibre, with harder composites only used for panels below the waist, which is also the case for most others in this class.
The engine start/stop button is found next to three of the just-noted HVAC vents, with a quick press reminding there's even more to get excited about ahead of the firewall. Applying right foot to throttle initializes a sensational assortment of mechanical sounds, or at least more than I was expecting from a 2.0-litre turbocharged four-cylinder. A total of 302 horsepower comes via fast-revving action, while most of its 295 lb-ft of torque seems available from near standstill. Launching from a stoplight feels instantaneous, with 100 km/h only requiring 4.7 seconds, unless you're in the Sedan that needs 0.1 seconds more for a 4.8-second zero to 100 km/h run.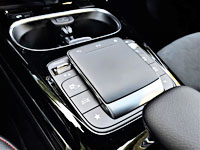 For sure, a tenth of a second is splitting hairs. There's no way you'll be able to feel such a difference from the seat of your pants. Both cars' standard 4Matic all-wheel drive optimize the grip of each 225/50R18 Continental ProContact performance tire, these even tenacious in wet weather, while the steering wheel paddles make the most of the AMG-tuned seven-speed dual-clutch automated transmission, which provides swift yet smooth shifts of all gears. Likewise, braking performance is brilliantly strong, with both A 35s slowing from 100 km/h to a halt in merely 33 metres (109 ft).
Cornering prowess is equally impressive. Its components aren't any different than most peers, including an electronic variable-assist rack and pinion steering setup, a front Macpherson strut and rear multi-link suspension design, plus the AWD system and 18-inch rubber noted earlier, but the resultant handling can only be matched by a small assortment of competitors. Throw the A 35 into a tight, fast-paced curve and it reacts with a level of precision that's almost unrivaled, staying fully planted and horizontal to the road surface below, fully poised to take on the next corner. It remains just as stable when hard on the brakes, even mid-corner.
I'd guess the Hatch is slightly more tossable through the series of high-speed two-laners I used for testing purposes, thanks to the trimmer curb weight noted earlier, but I'd be hard pressed to tell the difference, even if I were lucky enough to drive them both back-to-back on the same backcountry road. So, unless you're planning to create an autocross star after Mercedes' warranty runs out, either should do. I'm just glad Canadians get the choice of both, let alone an A 35 at all.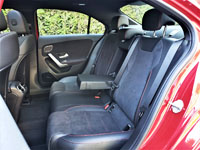 Speaking of choice, those who would rather pay less for a more compliant ride and better fuel economy can opt for Mercedes' most affordable A 220 4Matic Sedan or the once-again sportier A 250 4Matic Hatch. These provide more forgiving suspension tuning, with personalities that are generally more comfort-biased. The A 220 puts out a reasonable 188 horsepower and 221 lb-ft of torque, whereas the A 250 makes 221 horsepower and 258 lb-ft of torque, the latter being identical numbers to the CLA 250 4Matic, incidentally.
Likewise, most of lesser As' cabin luxuries are similarly soft (minus the ultra-psuede) and equally well made to the AMG versions of each, while the aforementioned 10.25-inch-times-two MBUX driver display/infotainment system can be had in their upper trims (lesser variants use 7.0-inch displays stuffed into the same enclosure).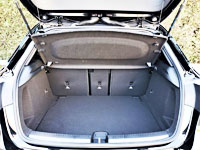 By the way, estimated fuel economy ratings are 9.6 L/100km in the city, 6.9 on the highway and 8.4 combined for the A 220 Sedan; 9.4 city, 6.8 highway and 8.2 combined for the A 250 Hatch; 10.7 city, 8.2 highway and 9.5 combined for the A 35 Sedan; and finally, 10.6, 8.2 and 9.5 respectively for the A 35 Hatch. And yes, those relatively low numbers combine for a fair compromise considering the A 35's output. Then again, at more than $1.50 per litre where I live, and considerably more if you plan on filling your A 35 up with recommended premium fuel, the A 220 is the budget option that would keep on giving well after the initial purchase.
That brings up price, which is $49,800 plus freight and fees for either AMG A 35 Sedan or A 35 Hatch, which means there's an $11,600 price spread from base A-Class to AMG when comparing the sedans, and a $9,600 jump upwards from the entry-level A 250 to the hyper-tuned version of the hatchback. Of course, the upgrades represent much more than just performance, being that many otherwise optional features come standard with the two AMG models, plus some of the previously mentioned finishings can only be found in the A 35s.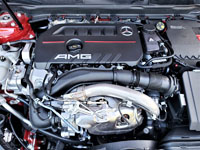 In summary, it's probably best to snap one of these AMG models up while you can. Considering nothing similar will be available in the U.S. for 2022, and ditto for most other AMG models throughout Mercedes' range, they could become popular grey-market cars for enthusiasts south of the 49th. Additionally, it may not be too long until M-B's Canadian division follows the MBUSA's lead. Certainly, Canada is a very different market from the U.S., with especially unique small car preferences, but once again the performance car carnage Mercedes is enacting down south is impacting most AMG variants, so this isn't a compact-versus-mid-size issue. For now, we seem safe going into 2022, but I wouldn't hesitate if you've got any AMG model in your sights.
Review and photos by Trevor Hofmann