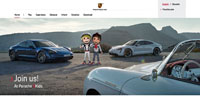 If you've been mostly at home with your children, like so many Canadians in recent months, you can breathe a sigh of relief that Porsche has taken the time to develop a new Porsche 4Kids website that'll keep your little (and bigger) ones entertained for hours, and maybe even days.
Porsche4kids.com has plenty of fun online games, cool challenge videos plus virtual Porsche museum tours, a children's fitness program, a dad jokes section (the kids will love them too), and a page for downloading additional games such as scattergories, and crafts like a build-it-yourself paper 911, fill-in-the-talk-bubble comic strips, colouring pages of everyone's favourite road-going and Formula E Porsche models, plus more.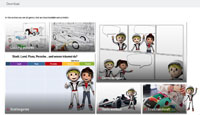 You and your kids will be guided through the Porsche 4Kids website by two animated characters named Tom Targa and Tina Turbo (you can even download their employee name tags and print them out), while real Porsche employees help in the museum tour and more. Additionally, once this pent-up-at-home era is history, your family can join Tina and Tom at one of the Porsche 4Kids Game Stations (consider them mobile science/driving/amusement parks) in Germany (and in some other countries too).
The Porsche 4Kids website is really fun for the entire family, as it was developed for children aged 5 to 13 years, plus teenagers, their parents and grandparents (this writer had plenty of fun resourcing the story), so be sure to check out Porsche4kids.com to learn more.
Story credit: Trevor Hofmann
Photo credits: Porsche