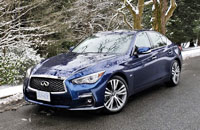 The Infiniti Q50 has been one of few sport-luxury sedans that found continued success despite the unprecedented onslaught of crossover luxury SUVs, at least before Q1 of 2019. Last year, Canadian premium car shoppers said their unceremonious goodbyes to the BMW 3 Series, which saw its sales drop by 19.5 percent, and the Audi A4, that lost 20.3 percent, while Acura's TLX, Cadillac's ATS, and Jaguar's XE gave up even more ground, but the Q50 actually grew its sales by 6.8 percent throughout 2018. 
Over the past few months, however, Q50 sales have gone off the deep end with a 36.3 percent downturn, and while this is no doubt cause for concern by the powers that be at the company's Hong Kong headquarters, it's still not as bad as BMW's 3 that lost 37.7 percent compared to Q1 of 2018, and Audi's A4 that's seen 39.9 percent of deliveries taken off its order books. Even Mercedes-Benz' mighty C-Class has fallen by 34.5 percent, while Lexus IS deliveries (which were down 10.9 percent in 2018) have now plummeted by 45.5 percent, and Jaguar XE sales are currently nose-diving by a staggering 78.1 percent (its sales were only off by 27.8 percent last year).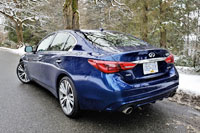 I suppose I should stop tapping away at the keys right now and point you to my review of the impressive new Infiniti QX50 compact luxury SUV instead, but in all seriousness, 2,576 Canadians purchased the Q50 sport-luxury sedan during 2018, plus an additional 517 over the first three months of 2019, so I can think of plenty of good reasons to continue writing this review. In fact, I find the Q50 one of the smartest choices in the compact luxury D-segment, even if this category isn't exactly filled with optimism these days. 
As a bit of a backgrounder, Infiniti gave the Q50 a mid-cycle update for the 2018 model year, refreshing its grille, front fascia, headlamps, taillights, rear bumper design and more, so it continues forward into 2019 unchanged from a visual perspective, except for a new Canadian-exclusive "I-LINE" styling treatment that now comes standard with the renamed I-Line Red Sport 400 model. 
Infiniti chose the new I-Line nomenclature from the words "Inspired Line," and just like eyeliner it blackens the grille surround similarly to last year's gloss-black fog light bezels and diffuser-like rear bumper cap, while the spoiler on top of the trunk lid also gets an upgrade to high-gloss carbon-fibre, plus new "custom imported" glossy black 19-inch alloys trim out the lower regions. Possibly more important, I-Line trim helps to visually differentiate the sportiest 400-horsepower Q50 from lower trims within the lineup, an intelligent move when factoring in the $7,700 leap from the already fast 300 horsepower Q50 3.0T Sport. 
Of note, both 300 and 400 horsepower Q50 models utilize the same turbocharged 3.0-litre V6 engine, albeit with unique components and tuning. Engines in mind, an even bigger change for 2019 is the discontinuation of the Mercedes-Benz-sourced 2.0-litre turbocharged four-cylinder from the Canadian market, although it continues to make 208 horsepower in other world markets, including the U.S.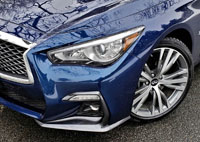 Back here at home, both V6 engines use Infiniti's advanced seven-speed automatic gearbox with manual shift mode and downshift rev-matching capability, the latter a rare and wonderfully fun enhancement to the Q50's overall strong performance, while the Japanese luxury brand's "Intelligent" rear-biased all-wheel drive also remains standard. 
Fuel efficiency has seen improvements since Infiniti replaced the naturally aspirated 3.7-litre V6 with the new 700-cc smaller turbocharged 3.0-litre engines, but now that the four-cylinder is no longer available the model's base fuel economy, which measured 10.7 L/100km city, 8.6 highway and 9.7 combined last year, no longer sits amongst class leaders. Still, the new as-tested base 3.0-litre's rating of 12.4 city, 8.7 highway and 10.8 combined remains competitive amongst six-cylinder rivals. 
Such practical elements covered, I should also point out that the 2019 Q50 now includes standard predictive forward collision warning and forward emergency braking, which certainly is a step in the right direction for helping the Q50 to eventually achieve an IIHS Top Safety Pick + rating.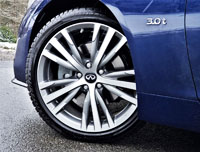 With the 2.0-litre four now gone for 2019, Q50 3.0T Luxe AWD trim replaces the Q50 2.0T Luxe AWD, with the base price commensurately moving up $5,000 to $44,995 plus destination and fees, which just happens to be last year's entry price for the V6. The Q50 3.0T Signature Edition being reviewed here starts just a hair higher at $46,495, while the upper mid-range of the model lineup gets filled by the previously mentioned $48,495 Q50 3.0T Sport AWD, whereas the $56,195 I-Line Red Sport 400 ends up on the top spot. This said all trims are very affordable when factoring in everything that's on offer. 
By the way, each price noted is available in detail, along with trim, package and option information, from CarCostCanada, where you can also source money saving manufacturer rebate info and otherwise difficult to get dealer invoice pricing that could save you thousands.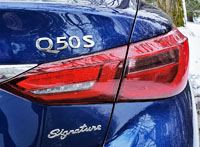 Although mentioning the word "base" a moment ago, nothing about Q50's twin-turbocharged V6 is remotely basic. To be clear, no rival offers a 300-horsepower base engine, or the direct-injected mill's near equally impressive 295 lb-ft of torque. I've sung praises about this talented V6 before, plus gone on ad nauseum with respect to the seven-speed automatic and all-wheel drive setup it's mated to, so rather than pore too much attention on the numerous technological advancements that make this combo worthy of your full attention, I'll lay down a more experiential tone. 
For starters, the base engine feels even quicker off the line than those figures suggest, although those 300 and 295 output numbers are hardly insignificant. It just has more full-throttle jump from standstill than the majority of similarly rated cars, this probably due to the engine's twin-turbochargers delivering most of that twist from only 1,600 rpm all the way to 5,200 rpm, which is considerably sooner in the rev range than a normally aspirated mill would be capable of, with a wider torque band as well.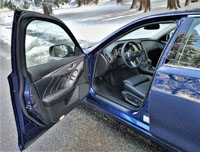 Those turbos spin at speeds of up to 240,000 rpm, incidentally, a thought I just can't get my brain to comprehend, especially considering their almost silent operation and complete reliability. Also worth mentioning, the mostly aluminum and therefore lightweight V6 has been on the Wards "10 Best Engines" winner list since it was created, just as its 3.7-litre and 3.5-litre predecessors were, so I'm not alone with my accolades. 
Push the "START/STOP ENGINE" button just next to the gauge cluster and it purrs into action, a subtle rasp from the dual exhaust noting that this is no four-banger. Flick the "DRIVE MODE" toggle switch on the lower centre console to "SPORT" instead of "STANDARD" (SNOW, ECO and PERSONAL modes are included too), pull the contrast-stitched leather-wrapped shifter rearward into "D" and then over slightly for manual mode, and prepare yourself to shift via the gear lever as steering wheel-mounted paddles are only available with the 3.0T Sport and I-Line Sport 400 trims. No issue here, as I've been shifting stick for longer than I care to say. Then again, I'd appreciate having paddle-shifters too, but obviously Infiniti sees the Luxe and Signature Edition as its luxury-focused models, in spite of their quick response to throttle input and dynamic handling.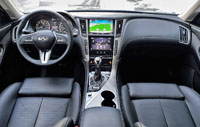 This Signature Edition wears the same standard 245/40R19 all-season run-flat performance rubber as the Sport model, but as it was my test car purposely featured winter M+S tires that without doubt impacted its lateral grip on dry sections of roadway. Just the same Infiniti didn't go cheap on its winter tires, skinning the standard triple-five-spoke alloys in Pirelli Sottozero 3s, which showed such prowess through wet and snowy conditions that nothing nearing the likes of an SUV was at all necessary. In fact, it was so good at managing wet Left Coast snow that this Q50 quickly became my default ride for a very cold and soggy Vancouver week, while it was not only a great help in overcoming inclement weather, but its wonderfully reactive steering, wholly capable suspension, and smooth, comfortable ride made each stint behind the wheel a joy.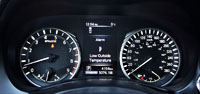 Of note, additional Signature Edition upgrades include the same performance-oriented exterior design details as found on the Sport, such as a sharp-edged glossy black lip front spoiler and similarly black fog light bezels, as well as a slightly less aggressive variation on the black and body-colour diffuser-infused rear bumper theme noted earlier, while each mid-range model also utilizes of an identical set of silver-painted 19-inch alloy rims, which is an improvement over base Luxe trim's 18-inch alloy wheels and 225/50 all-season run-flat performance tires. 
Finally, both mid-range Q50 trims get silver "S" badges on each front fender, but oddly the Signature Edition includes a special rear deck spoiler just above its own scripted "Signature" badge, but the Sport model doesn't get a spoiler at all, although it does receive a silver "S" insignia beside its Q50 badge.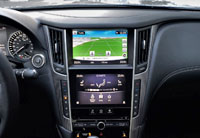 Slide inside and you'll quickly see that Signature Edition and Sport trims also share identical Sport Type seats featuring driver's power lumbar and powered torso bolsters, plus manual thigh extensions for both front seats. The driver's seat was thoroughly comfortable and provided superb lateral support, which is always appreciated when slinging such a capable car through fast-paced curves. Additionally, the Signature Edition's Kacchu aluminum decorative inlays mentioned earlier are also found in the Sport model, a bonus as they look fabulous and feel substantive. 
Almost every other feature not yet mentioned is shared between the base Q50 Luxe model and the Signature Edition, which means the Q50 Signature Edition receives standard automatic LED headlamps with LED daytime running lights, LED fog lights and front turn signals, LED brake lamps, aluminum "INFINITI" branded tread plates, proximity keyless access, pushbutton start/stop, Infiniti's "InTuition" for storing climate, audio and driving preferences within each "Intelligent Key", welcome lamps on the front outer door handles, rain-sensing wipers, an auto-dimming centre mirror, a universal remote for your garage, micro-filtered two-zone automatic climate control, an Infiniti InTouch dual-display infotainment system featuring a bright, high-resolution 8.0-inch upper monitor and an equally clear and colourful 7.0-inch lower touchscreen, a reverse camera, Bluetooth phone and audio streaming, decent sounding six-speaker AM/FM/CD/MP3/satellite audio with HD playback, RDS and speed-sensitive volume control, dual USB chargers, a heated steering wheel rim (that truly responds quickly), heatable front seats (almost heating up a fast), power front seats, a power glass sunroof, plus more.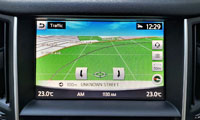 Notably, along with the move up to the base V6 engine a variety of features that were previously optional now come standard, such as remote engine start, Infiniti's precise InTouch route guidance/navigation system with lane guidance and 3D building graphics, the Infiniti InTouch Services suite of digital alerts and remote services, voice recognition for audio, SMS text messaging and vehicle info, power-adjustable lumbar for the driver, and 60/40-split rear seatbacks with a handy pass-through down the middle. 
Moving upward in trims from this Signature Edition, the only significant improvements to the previously noted Sport model are performance oriented, with upgrades including the steering wheel-mounted paddle shifters I spoke of before, a special sport-tuned dynamic digital suspension, and an identical set of sport brakes as found on the Red Sport 400, which incorporate four-piston front and two-piston rear calipers, while the two sportiest Q50 models also include an exclusive set of front seat-mounted side-impact airbags.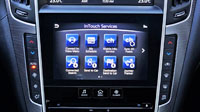 Features in mind, items not available with this Signature Edition include optional electronic power steering with the Sport model, while Infiniti's exclusive drive-by-wire Direct Adaptive Steering (DAS) system can be had with all trims except for the Signature Edition. The same can be said for the auto-leveling adaptive front lighting system (AFS) with high beam assist, the power-adjustable steering column with memory, the Around View Monitor (AVM) with Moving Object Detection (MOD), the top-line 16-speaker Bose Performance audio system featuring Centerpoint technology, front and rear parking sonar, adaptive cruise control with full speed range, distance control assist, blindspot monitoring, blindspot intervention, lane departure warning and prevention with active lane control, and backup collision intervention with rear cross-traffic alert.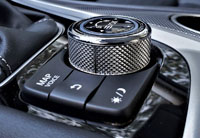 Some features that are not available with the Signature Edition, are optional with the Sport, and come standard with the Red Sport 400 include auto-dimming exterior mirrors with reverse link and memory, plus Infiniti's advanced climate control system with auto-recirculation, Plasmacluster air purifier and grape polyphenol filter. 
This puts the Q50 Signature Edition in a unique value position, by including much of the Sport trim's features yet limiting choices to colours, which are identical to the five provided for the Sport, including Liquid Platinum silver, Graphite Shadow grey, Black Obsidian, Majestic White, and the beautiful deep Iridium Blue coating my test car; as well as interior themes, which just like with Sport trim come in Graphite (black) and Stone (grey). By the way, the base model's interior can also be had in Wheat (tan), while available dark-stained gloss maple hardwood gives off a more traditional luxury ambiance. Additionally, those who move up to sportier Q50 trims lose the option of base Pure White and optional Mocha Almond (brown metallic) exterior paint, but the base model doesn't offer Iridium Blue, while Red Sport 400 customers have the option of Dynamic Sunstone Red.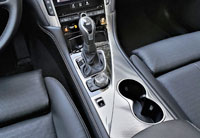 Features aside, all Q50 trims are finished to a very high level. My test model included stitched leather across the dash top, instrument panel, both sides of the lower console, and the upper two-thirds of each door panel, while the glove box lid boasts a high-quality soft composite too. The materials are superb as well, from that leather surfacing to the finely upholstered premium leather seats, to the gorgeous Kacchu aluminum inlays, the plentiful satin silver accents, and other surface areas, while all switchgear looks good with nice tightly spaced fitment, and feels substantial with proper luxury-level damping.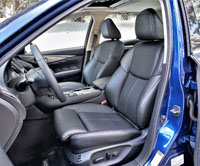 The Q50 is quiet too, whether rushing around town or speeding down the freeway, while it's ideally spacious for all occupants. Adding size and roominess to a given market segment has long been part of Infiniti's value proposition, and in the case of the Q50 it comes close to mid-size proportions when compared to a number of D-segment competitors. This benefits larger folk more than someone measuring a mere five-foot eight like me, but my longer legs and shorter torso often make it difficult to set up a comfortable driving position in other cars. Not so with the Q50, which provides extensive reach from the tilt and telescopic steering column, which when combined with the multi-adjustable driver's seat allowed for optimal comfort and control. Improving on that, the power-adjustable lumbar support ideally fit the small of my back, the powered side bolsters snuggly kept me in place during hard cornering, and the thigh support adjusters nicely cupped under my knees.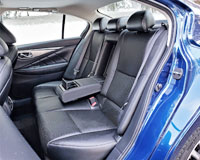 As usual, I took the opportunity to sit behind my preset driver's seat to find out how roomy the rear quarters are, and am happy to report that the rear left-side seat provided approximately five inches in front of my knees, a lot of space for my big winter boots below the driver, plus ample room side-to-side, while I had about three inches above my head, meaning six-foot-plus passengers should fit in back just fine. Rear passengers are treated to accommodations that are just as nice as the front compartment, with features including a flip-down armrest with cupholders at centre, overhead reading lamps, plus a set of air vents on the back of the front centre console. 
Trunk volume should be amply sized for most owners too, but its 382 litres (13.5 cubic feet) isn't as large as some others in this segment. I'd prefer the European-style 40/20/40 split-folding rear seatback configuration too, rather than the Q50's 60/40 division, but the rear pass-through is probably large enough for two or three pairs of skis, which may work well enough depending if skiing is your thing, or whether or not you ever load in long cargo.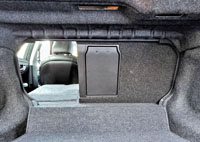 No car is perfect, but honestly the Q50 competes very well in this class, and easily deserves your earnest attention. On top of its list of virtues is value, which is always an important consideration, while Infiniti also has a very good record of dependability, makes beautiful interiors, provides arguably attractive styling, and has long been the go-to Japanese brand for performance. In the end, Infiniti will no doubt be more than happy to sell you a QX50 crossover SUV if you need more cargo capacity, but those who want the better performance of a low-slung sport sedan will appreciate that this Q50 continues to serve such purposes. Either way, Infiniti has you covered.