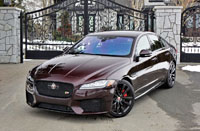 "And now for something completely different." Yes, it seems fitting to quote one great British icon in support of another, yet sad as it may seem for those of us weaned on big, luxurious four-door sedans and estate wagons (not to mention Monty Python's Flying Circus), cars like Jaguar's XF are becoming few and far between these days. 
The Coventry, UK-based premium brand grew legendary with the forever-beautiful Mk II and ultimately elegant XJ Series I, II and III that followed, not to mention the B-Type, C-Type and E-Type sports cars that were the inspiration behind today's sensational F-Type, but times are tough for all but a few luxury sedans these days. Jaguar designers Ian Callum and Adam Hatton did a stellar job reinvigorating the XJ nameplate back in 2009, the of which I personally witnessed seen while descending the escalator to baggage claim at Pearson International, literally causing my jaw to drop in dumbfounded adoration, but that was a decade ago and as much as I still love the big, beautiful and surprisingly agile machine, the full-size luxury F-segment hasn't exactly stood still while Jaguar decides what to do for an encore.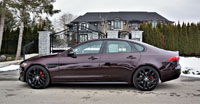 Meanwhile, the second-generation mid-size E-segment XF being reviewed here arrived in 2015 as a 2016 model, once again designed by the Scottish-born Callum, and then less than a year later, in June of 2016, Jaguar introduced the compact D-segment XE to Canadians (a 2020 refresh was just revealed) for the 2017 model, a car also penned by the Royal College of Art graduate. He does have a way with sculpted aluminum panels and composites, the XF's slippery shape achieving Jaguar's best aerodynamics thanks to a drag coefficient of 0.26. Each is beautiful, and therefore receives steady compliments from enthusiasts who appreciate special cars made by an even more endearing brand, but thumbs up and nods of appreciation from fans hardly pay the bills.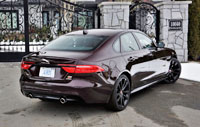 I went over Jaguar's sales in detail as part of an "In Our Garage" story published in March, so feel free to head on over there to read more if such dry commentary is your thing. Suffice to say the first three months of 2019 have been abominable for all but one of the entire luxury sector's full-size luxury sedans, with the XJ losing the most ground (68.8 percent) compared to the same initial quarter last year (albeit with most others close behind), while the XE (78.1 percent) was the biggest loser within its compact D-Segment, and XF, surprise, surprise (ok, no surprise), lost the most sales (62.7 percent) in its mid-size E-Segment. Rather than leaving Jaguar faithful crying into their refill bottles of mineral oil (previous generation XJ owners will appreciate the jab), take heart that the F-Pace grew its market share (15.5 percent) over Q1 of 2019 while many rivals lost ground, and the new I-Pace electric found new buyers too, leaving the E-Pace to retreat less territory (7.1 percent) than some competitors.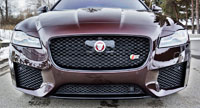 This said, if you're the type of buyer who prefers to follow the crowd, then an XF, or any other Jaguar model, probably isn't for you, yet then again if you're into exclusivity, and appreciate being one of few anywhere in Canada to own something as wholly unique as the car shown here on this page, you may want to take a closer look at a brand that still takes pride in delivering plenty of old school charm together with formidable performance and highly advanced technologies. 
The latter issue is actually improved upon for this 2019 model year, with all XF trims incorporating Jaguar's updated 10.0-inch InControl Touch Pro infotainment touchscreen, which provides much more area to enjoy its totally new more minimalist graphics (the British red telephone booth and other scenes are gone), easier viewing rear parking camera, more detailed navigation mapping, and many other improvements. If the simpler more sophisticated interface is not your cup of tea, Apple CarPlay and Android Auto smartphone integration give it a reskin when hooked up to your device while adding proprietary features. Being an Android user I prefer Jaguar's stock system, which includes features like navigation and voice recognition in the XF's second-rung Prestige trim and above.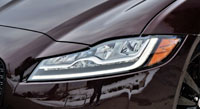 On a more luxurious note, Jaguar's ultra-rich Suedecloth now comes standard for the roof pillars and headliner no matter the XF trim chosen, as does a set of aluminum treadplates with illuminated Jaguar branding, plus rich premium carpeted floor mats, sporty metal foot pedals, classy chromed power seat switchgear, and a classic looking frameless auto-dimming rearview mirror that I happen to love. 
Standard features and other XF trims in mind, this 2019 model includes the $59,100 Premium trim, $64,500 Prestige, and $67,800 R-Sport when choosing the 247 horsepower base 2.0-litre direct-injection turbocharged four-cylinder; $67,000 Prestige, $70,300 R-Sport, $72,300 300 SPORT and $79,100 Portfolio with the 296 horsepower version of the same gasoline-powered engine; $66,500 Prestige and $69,800 R-Sport with the 180 horsepower 2.0-litre four-cylinder diesel; and lastly $75,300 for my tester's 380 horsepower 3.5-litre supercharged V6-powered model's sole S trim. Take note, all prices, trims, packages and standalone options can be found at CarCostCanada, where you can also save thousands by learning about available rebates and otherwise hard to find dealer invoice pricing.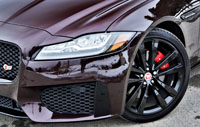 Recent news of Jaguar losing money by the bucket loads might have something to do with the amazing number of unique powertrains and trims available (and I haven't touched on options yet) in a car that only sold 173 units in Canada last year. It would've been difficult enough when it made 494 deliveries in 2017, or for that matter reached its sales pinnacle in 2016 with 542 down Canadian roads, but such diversity will be hard to maintain if Jaguar plans to keep providing this model in Canada. Similarly in the US, a country roughly 10 times the population of Canada and supposedly experiencing the best economy it ever has (don't worry Jaguar, we know that's not true), Jaguar sold 4,704 XFs in 2018, down from 9,278 units the year prior.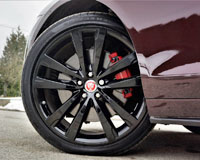 While the diversity of XF engines is generous to say the least, all trims incorporate a quick-shifting yet smooth operating ZF-sourced eight-speed electronic automatic transmission with an ultra-cool rotating gear selector that automatically powers up from its otherwise flush position on the lower centre console upon startup, as well as paddle shifter-actuated Jaguar Sequential Shift manual mode for hands-on engagement, and all-wheel drive for four-season grip. 
Further aiding command of the road, all trims include Jaguar Drive Control with Standard, Eco, Dynamic (sport), and Rain/Ice/Snow driving modes, which makes a significant difference to comfort, performance and everything in between, while Torque Vectoring by Braking (TVBB), and hill launch assist help drivers master any road condition.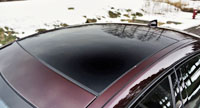 Making my XF S tester even more fun to drive was Adaptive Surface Response (AdSR) plus Configurable Dynamics and Adaptive Dynamics that let you choose personal engine, suspension, steering, and transmission settings, all of which dramatically change the way the car responds to inputs, from a comfortable cruiser to a seriously reactive sport sedan. 
Along with everything already mentioned, the top-line XF S being reviewed receives stronger 350-mm front brake discs and red calipers all-round, and 20-inch alloy wheels, these improving both performance and styling, while the latter gets upgraded with a special "S" body kit that incorporates a sports front bumper, gloss black side sills and rear valance, plus a discrete rear deck lid spoiler. Inside, the XF S incorporates unique metal sill finishers with "S" branding, really attractive Dark Hex aluminum inlays on the instrument panel, a soft leather-like Luxtec-wrapped dash top, ultra-comfortable and supportive "S" embossed 18-way power-adjustable sport seats, and more.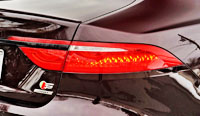 Additional XF S features not yet mentioned include proximity-sensing access, pushbutton ignition, an acoustic layer windshield, automatic headlights, rain-sensing wipers, an electromechanical parking brake, a power-adjustable steering column, auto-dimming, power-folding, heatable side mirrors with approach lights and puddle lamps, memory for those mirrors as well as the front seats, front seat heaters, mood lighting, a Homelink garage door opener, a rearview camera, navigation with detailed mapping, InControl Apps, Pro Services, Bluetooth telephone connectivity with audio streaming, a USB charge port, dual-zone automatic climate control, front and rear parking sensors, etcetera. 
What's more, along with all the expected active and passive safety features the XF S comes standard with autonomous emergency braking, lane keeping assist, blindspot monitoring, closing vehicle sensing, reverse traffic monitoring, driver condition monitoring, and more. 
On top of the all these standard XF S items my test model was upgraded to include $670 worth of gorgeous Rossello Red paint; a stunning set of $770 gloss-black twinned five-spoke alloys; a $460 Black package with a gloss black mesh grille and surround, gloss black side vents and the same treatment for the trunk garnish; a $2,200 Comfort and Convenience package with a hyperactive gesture control for that trunk's powered deck lid (keep reading for the sordid details below); as well as soft closing doors, three-way active ventilated front seats, and heatable rear outboard seats; a $1,030 Technology package with 12.3-inch digital gauge cluster, Pro Services, and a CD/DVD player; a $3,680 Driver Assistance package with a 360-degree surround camera, a forward facing camera, 360-degree Park Distance Control, Park Assist semi-autonomous self-parking, adaptive cruise control with Queue Assist, blindspot assist, and traffic sign recognition with an intelligent speed limiter; a head-up display for $1,330; a heated windshield and heated washer jets for $410; plus satellite and HD radio for $210.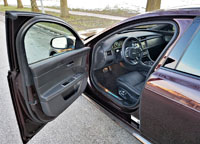 All that was missing in order fully load up this particular XF S was a $2,230 Premium Interior Upgrade package boasting four-zone auto climate control with an air quality sensor and automatic air re-circulation, a lockable cooled glove box, manual side window sunshades, a powered rear sunshade, and configurable interior mood lighting; plus optional interior décor trim (the carbon fibre would've been sweet); yet even as tested the base XF S model's asking price of $75,300 moves up by $10,550 to $85,850 plus freight and fees (again, check out CarCostCanada for more detail). 
As good as all of this sounds, and the XF arguably delivers a great deal of value for the money asked, we need to face the reality that Germany leads this category by a country mile for good reason (as does Tesla for a different cult-like electrified rationale), and despite Jaguar investing quid upon quid by the bucketful into the XF's lightweight and ultra-rigid bonded and riveted aluminum body shell, that I happen to think is one of the more attractive in its class, plus as noted earlier, offering more engine options than the majority of rivals (albeit no longer a supercharged V8… sigh), it would need to perform barrel rolls on the spot if it truly wanted to get noticed by mid-size E-segment luxury sedan buyers.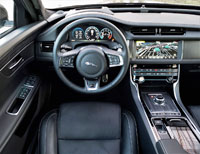 This seems a good time to mention that the XF is finished to a higher degree of refinement than the smaller, more affordable XE, my tester's luxuriously appointed Ebony leather and Light Oyster grey contrast-stitched cabin also showing off beautiful Grey Figured Ebony veneer inlays, but while the larger car is more refined than the smaller one, hardly an unusual scenario, I'm not going to go so far as to say the XF is segment-leading when it comes to fit, finish, materials quality, digital interfaces, features, roominess, etcetera. It's very good in all of the above respects, however, and due to offering a wholly unique look and feel, plus a very different driving experience than any rival it deserves your attention.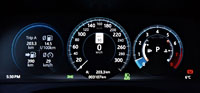 Similar to the compact XE and its larger full-size XJ sibling, the XF feels smaller, lighter and more engaging than most in its class, its aforementioned 380 horsepower V6 responding with snappy enthusiasm that's no doubt attributed to its healthy displacement and noted supercharger. This means all 332 lb-ft of torque come on strong right from the get-go, while its aforementioned standard all-wheel drive eliminates wheel spin no matter the road conditions, and the eight-speed automatic flicks through gears like Swiss clockwork… or rather British clockwork; the XF is more Bremont meets Christopher Ward with some classic Roger Smith thrown in for good measure, rather than anything with the marketing power of a Rolex or grail-like wow factor of Vacheron Constantin.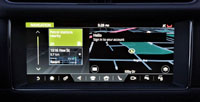 That's the challenge, as good as the XF is, it's up against the Rolex Datejust of the car industry, Mercedes' E-Class, not to mention the BMW 5 Series, aka Omega Speedmaster, or for that matter the IWC Big Pilot, or rather Audi A6. Enough wristwatch comparos? Either way, I'm sure you get the gist. You'll need to be a serious watch nerd to know about Bremont, Christopher Ward or Roger Smith, and while I probably should have compared the Germans to Teutonic watch brands such as Nomos, Glashütte Original and A. Lange & Söhne, my point was more about brand power than source of mechanicals and manufacture.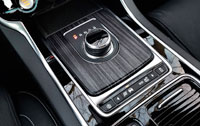 The truth is, no matter how entertaining and informative I try to make this review out to be, you're one of a very small number of Canadian consumers showing any interest in this car at all. It's partially a sign of the crossover SUV times, which is recently being borne out by the success of Jaguar's own E-Pace, F-Pace and new I-Pace EV, as noted, but as I suggested earlier, it also has a lot due to with Jaguar's declining fortunes overall. 
This doesn't stop the XF from being an excellent car that's great fun to drive, its strong straight-line performance, that's good for a sprint from standstill to 100km/h of just 5.3 seconds in as-tested S trim (albeit with an exhaust note that was a bit too muted even in Dynamic sport mode to keep me smiling), combining with the agile handling and superb ride quality of a lightweight double-wishbone front and integral link rear suspension, ideal for pounding through compressed serpentine stretches of tarmac at heroic speeds, let alone relaxing quietly and comfortably down the freeway or tooling through town. The XF S is a be-all and do-all sport-luxury sedan, capable of mixing it up in a barroom melee with the Bavarians one minute, and quiet, thoughtful contemplation after a night in Tokyo's Roppongi district the next.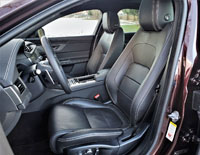 This said it wasn't without fault, my top-line model devoid of remote engine start from the key fob (they have it available on their smartphone-downloadable InControl Remote App, but iTunes and Play Store complainants say it works sporadically at best), therefore not allowing me to pre-warm the cabin in winter or pre-chill in summer. Speaking of temperatures, I don't like that there's no auto mode for the heated seats. They needed to be turned on each and every time I climbed into the car, as did the heatable steering wheel, and there's only one extremely hot temperature setting for that latter feature. What else? How about an overhead sunglasses holder that wouldn't fit my small-sized wire rim Ray-Ban aviators. I had to flip them upside down to get them inside and close the lid, which means their lenses rubbed against the inner lid. Looking downward, corner vents that silently whisk into visibility via powered covers are cool, but all the hard plastic used for the glove box lid, lower dash surfacing, console, and lower door panels isn't.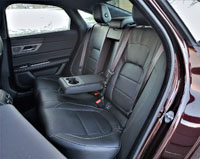 Lastly, a convenience feature I found quite inconvenient was the powered trunk lid that regularly opened up whenever I walked beside it. Other manufacturers fitted with this type of hands-free trunk access, like Hyundai and its Genesis luxury brand, require that you stand behind the rear bumper for three seconds in order to activate the automatic trunk lid, but the XF's trunk kept opening when walking past with key fob in pocket, without provocation. One time, after parking at a shopping mall, the trunk popped open while walking around the backside of the car to leave. This exposed all of my valuables to the prying eyes of anyone nearby who might potentially want them for themselves, a security risk for sure. A second time, I left the engine running for less than a minute while dropping off a package at one of the offices I deal with regularly (they have a private parking lot and entrance), and once again when walking past the rear bumper the trunk automatically opened. It did it again when walking around to pump gas, making this the most annoying automatic trunk opening system ever.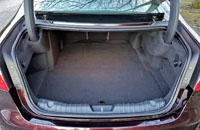 Speaking of pumping gas, the XF gets a claimed Transport Canada fuel economy rating of 12.0 L/100km in the city, 8.4 on the highway and 10.4 combined, which is really quite good for such a powerful and sizeable luxury sedan, although take note those willing to sacrifice some performance for better efficiency can opt for the previously noted turbo-diesel that achieves an amazing 7.8 city, 5.8 highway and 6.9 combined. Diesel is often quite a bit cheaper than gasoline too, and let's you drive farther per tank. 
Back to that trunk, I should mention that it's generously sized at 541 litres (19.1 cubic feet), and can be expanded further via a 40/20/40-divided rear seatback that makes passenger/cargo flexibility as good as this class gets.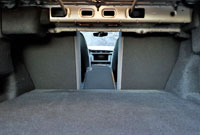 The front and rear seats are roomy too, much thanks to a stretch to the car's wheelbase when the second-generation was introduced. Now, there's 1,055 mm of legroom up front and 957 mm in back, so no one should complain about cramped quarters and, due to well-designed, supportive seats at all corners, all (even tall John Cleese types) should be totally comfortable. 
So, all you luxury buyers who dance to the beat of different drummers, the Jaguar XF might just be your ideal ride. It's not perfect, but such charming character would be impossible to achieve without the need to excuse a few flaws. All-round, the XF is an impressive mid-size sport-luxury sedan that delivers strongly on most points, and its updated infotainment system makes it even more compelling. 
Yes, the XF is something completely different, suitable even for Monty Python royalty.