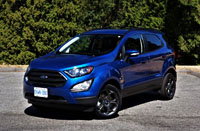 I first saw the original EcoSport in São Paulo, Brazil where I was trying to expand my automotive content syndication business back in 2007/2008, just before the Case-Shiller home price index reported the biggest price drop in its history and the U.S. housing crisis commenced and market corrections followed. The financial upheaval and concurrent industry fear wiped away most of my income in one fell swoop, therefore causing me to hightail it back to Canada in order to rescue what I could.
Back then, Brazil was one of the up-and-coming BRIC nations, and most of us should know how that bit of geopolitical market hype turned out for the South American country as well as Russia, with the two largest populations benefiting more from what global investment was available after the usual coffers temporarily dried up, finalizing in China staking claim to most of that investment once the U.S. Federal Reserve's money-printing taps were turned on full blast. I never received any of that liquidity and most likely neither did you, or you probably wouldn't be reading about one of Canada's most affordable SUVs.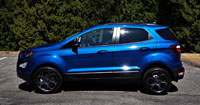 Interestingly, we're now poised below a bigger bubble than in 2006-2008, not only incorporating subprime mortgages and other nefarious banking instruments, but despite being devoid of qualitative fundamentals we're witnessing record-breaking stock market growth that identically mirrors the amount of quantitative easing the aforementioned Fed is pumping into the fake economy (yes, we've been smack dab in the middle of QE4 since September of last year, and the Fed's spending spree is much more generous than it ever was back in Obama's day), which (other than naming its new electric SUV "Mustang") will make Ford look pretty damn intelligent when the poop finally hits the fan.
What am I referring to? I'm talking about the demise of Ford's slower selling passenger car business, the real Mustang aside, and the liberated funds invested into much stronger selling crossovers and SUVs like this relatively new EcoSport, right at a time when the majority of investors appear as bullish as bullish can be (as they always are before a crash), and plenty of mainstream pundits are calling for a major recession within the next year or so (the U.S. Treasury 10-year/three-month yield curve inverted last March, and recessions normally follow this trigger within an average of 18 months). The unprecedented debt load of every single vertical is dumbfounding to contemplate, with auto loan balances alone totalling more than $1.2T USD this year (that's trillion).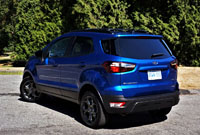 While Ford will still be globally mandated (especially in Europe and China) to invest billions into EVs like the just-noted new Mustang Mach-E, and smart to do so as its NYSE share price (sitting at $9.14 USD at the time of writing, compared to Tesla at $572.20 USD) and overall market cap (now at $36.36B USD compared to $103.14B for Tesla) reflect a supposed forward-thinking investment strategy (and the amount of U.S. taxpayer money gets pumped into NASDAQ tech stocks like Tesla, Amazon, Google, Apple, etcetera, that all directly follow the Fed's monetary easy trajectory like Olympic-level synchronized swimmers), at least it won't be losing money on the continually shrinking passenger car market.
Speaking of making money, Ford's smallest SUV, having just entered our market for the 2018 model year, will soon be the oldest in its growing arsenal, thanks to the big three-row Flex heading out to pasture once the 2019 model year fades to dust. In other words, the EcoSport's initial investment was paid off many years ago, so now any new money made is mostly profit.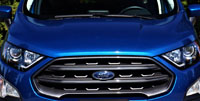 All of Ford's other SUVs have been more recently refreshed or redesigned, incidentally, its crossovers including the entirely new 2020 Escape compact, the recently updated (2019–present) Edge mid-size five-passenger, and the all new 2020 Explorer three-row, while the fairly new (2018–present) Expedition full-size three-row body-on-frame SUV will be second oldest in the brand's relatively fresh utility lineup (Ford's luxury division Lincoln has seen a similar renewal, although it doesn't include a subcompact luxury SUV like Lexus' new UX, BMW's X1, or Volvo's XC40).
Ford will soon add two new models to its SUV fleet, including the misnamed albeit impressive Mustang Mach-E near-mid-size electric crossover, and the even more alluring (to this outdoorsy journo at least) off-road capable, Ranger-based, body-on-frame Bronco compact. Supposedly a smaller baby Bronco is being designed to go up against Jeep's subcompact Renegade in the same way its Bronco will duel it out with the Wrangler, so SUV fans will have much more to talk about in the near future.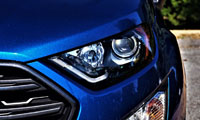 Of course, Ford will continue producing its relatively new (to our market at least) just-noted Ranger mid-size pickup and industry best-selling F-Series trucks, not to mention its commercial market dominating Transit full-size vans, plus its classic Econoline cutaway chassis cab, and Transit Connect compact van, while the fabulous $450k GT supercar is still being handcrafted by Markham, Ontario-based auto supplier Multimatic Inc., thanks to an additional 350 units (for a limited total of 1,350) that extend its life into 2022 (which may also have something to do with Ford's need to continue selling enough of them for competitive series sports car homologation—you've gotta love a brand so heavily involved in motorsport). Lastly, the Fusion (which is still ultra popular, having grown its Canadian sales by 37.8 percent last year, resulting in 8,753 units and third place in its mid-size sedan segment) will be with us for one more year before getting killed off like the Fiesta, Focus (along with their brilliant ST and RS performance trims—RIP) and Taurus just did (and its potent SHO model).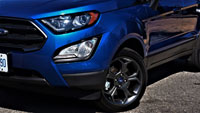 Back to the Oakville, Ontario-built Flex, the single-generation crossover has been more or less unchanged since it arrived in 2008. It was an interesting experiment that was pretty daring when new and actually garnered a fairly strong following in its first full year of sales (2009) with 6,047 new owners, but having only received minor updates since introduction its consumer take-rate gradually faded away with just 2,492 finding Canadian homes last year (which incidentally was up 9.6 percent over 2018 sales, which were 13.4 percent stronger than 2017—are you sure you want to get ride of this SUV, Ford?)
When the last Flex is gone (Ford sold just 45 in December and 10 in November), this EcoSport will be the only ancient (in automotive years) blue-oval SUV left, the second-generation model you see on this page dating back to the 2013 model year (and 2012 production) in its numerous global markets, a full six years before we received it as a new offering (it's also become quite popular in the Philippines, where I now reside part of the year, a market that's also seen the Thailand-designed and built Ford Ranger T6 do very well in since its 2011 inception—the ASEAN-market Wildtrak version is really hot).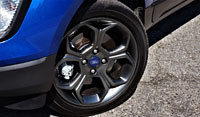 How has the EcoSport aged? Very well, at least for a seven year old model. Fortunately it was fairly well conceived when new, wearing Ford's most recently abandoned design language last seen on the 2019 Escape and 2018 Edge models. This means it's not so out of date as to warrant an immediate refresh, but Ford won't want to wait long. According to unconfirmed reports, a new Fiesta-based subcompact crossover, positioned below the aforementioned baby Bronco, will replace the EcoSport in 2021 as a 2022 model, so we can rest assured this 2019 version and the mostly unchanged 2020 EcoSport won't be disappearing for at least another couple of years.
I've got to hand it to Ford, the EcoSport has done a lot better on the sales charts than I initially guessed it would. After selling just six units in its first month of December 2017 (likely due to a lack of available units), the tiny blue-oval-badged SUV found 6,315 buyers in 2018 and 7,438 customers last year, showing a significant 17.8-percent year-over-year gain. While not bad for any car in today's market, these results are only so-so for a new subcompact SUV.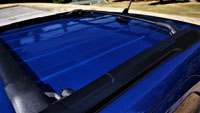 Consider for a moment that Nissan's Qashqai entered the Canadian market earlier in 2017, only to amass 8,970 new customers that partial year, plus 19,662 buyers in 2018, with a slight 5.8-percent dip to 18,526 units last year, albeit that was only because the Japanese brand's even smaller and less expensive Kicks model (the Juke's replacement) won over a total of 16,086 subcompact SUV customers in 2019, resulting in 268.8-percent growth over its partial-year sales of 4,362 units in 2018. If you think that's good, and it is when factoring in that Nissan led Canada's subcompact SUV sales with a total of 34,612 unit sales through 2019, Hyundai's new Kona went from selling 14,497 units in its first partial calendar year of 2018 to earning 25,817 new buyers last year, for a 78.1-percent gain.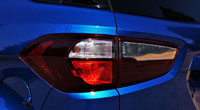 Still, as dismal as the EcoSport's success appear when compared to these much better subcompact SUV models, it's doing better than Toyota's relatively new C-HR that only found 7,283 buyers last year; Chevrolet's long-in-tooth Trax that actually gained 18.6 percent year-over-year to post its second-worst-ever sales of 5,298 units; Kia's Niro that found just 4,338 new owners, yet improved its position by 63.1 percent compared to 2018; the pricier near-premium Mini Countryman that won over just 2,275 new customers (but is priced much higher); Jeep's previously noted Renegade that lost 44.3 percent on the sales charts to claim a rather pathetic 664 takers (hopefully the baby Bronco will do better here); and that Jeep's brother-from-another-mother Fiat 500X that (wait for it) only managed to coax 50 wayward buyers (some of which were likely Fiat dealer principals) to drive this pretty decent little SUV off the Italian automaker's Canadian lots. Feeling pretty frisky now, aren't you Markham (Ford's Canadian HQ)?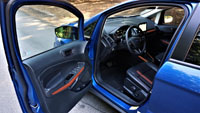 The EcoSport was also spitting distance away from upstaging Mitsubishi's RVR that sold just 7,463 units last year, and came mighty close to passing by Jeep's Compass that could only muster 7,652 new buyers. As yet unmentioned competitors in this smallest of SUV classes include the Buick Encore with 9,724 Canadian sales through 2019 (and up to $5,390 in additional incentives available right now), the Mazda CX-3 with 10,850 deliveries over the same 12 months, the Kia Soul with 11,868 examples down the road last year, the Honda HR-V with 12,985 units sold, and finally the Subaru Crosstrek with 15,184 sales, this popular model just behind the previously mentioned top three that once again (for memory's sake) include the Kicks, Qashqai and Kona.
And if you think that's a lot of subcompact entries doing battle, consider that Hyundai is stepping up this year with a new 2020 Venue that's smaller than the Kona (more along the lines of Nissan's Kicks) and starts at just $17,099, while Kia is following suit with its Kona-sized 2020 Seltos. Likewise, Volkswagen will bring us a renamed version of its South American Tarek and Chinese Tharu sometime in 2021. On top of this we can expect new versions of this segment's oldest models to show up sporadically over the next couple of years, plus fresh new entries from brands like Toyota that blew their chance to pull in entry-level SUV buyers due to almost entirely missing the mark with the aforementioned C-HR, as well as variations on the subcompact SUV theme to arrive from brands not yet included in this category, such as Dodge and GMC. Did I miss any?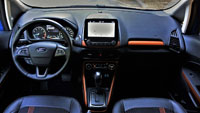 If you're wondering why I've just laid out the most longwinded intro ever written ahead of a supposed new car review, it's because the EcoSport wasn't the most impressive new vehicle I've driven in recent memory, and thus I've been putting off my critique. Of course, considering the seven years of availability having passed since its introduction, with very few notable updates, you all should be surprised I'm not giving it both thumbs down. In fact, the EcoSport has a number of redeeming attributes, the first of which is reasonably good fuel economy thanks to standard auto start-stop technology that automatically shuts off the engine when the EcoSport would otherwise be idling in order to reduce fuel consumption and lower emissions, before restarting it when letting off the brake pedal.
This little Ford comes standard with the brand's excellent turbocharged 1.0-litre three-cylinder that was first tested by yours truly in the Fiesta subcompact hatch. It's a surprisingly sporty entry-level engine and good for a claimed 8.6 L/100km in the city, 8.1 on the highway and 8.4 combined, whereas this even more potent 2.0-litre four-cylinder version does well enough with an estimated Transport Canada rating of 10.2, 8.0 and 9.3 respectively.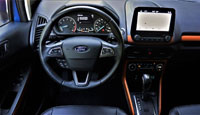 Then again, the EcoSport falls a bit short when compared to its most efficient rivals, the Honda HR-V managing to eke out 8.4 L/100km city, 7.0 highway and 7.8 combined from its larger 1.8-litre base four-cylinder with FWD, and a respective 8.8, 7.5 and 8.2 when that engine is hooked up to all-wheel drive, while the best-selling Kona is good for a claimed 8.6 city, 7.0 highway and 7.9 combined from its four-cylinder in FWD, or 9.2, 7.8 and 8.6 when adding AWD to the same 2.0-litre base engine. How about the runner-up Qashqai and third-place Kicks? The Qashqai automatic gets a claimed 8.6 city, 7.2 highway and 8.0 combined with FWD, or 9.1, 7.6 and 8.4 with AWD, whereas the FWD-only Kicks is good for an ultra-stingy 7.7, 6.6 and 7.2. Had enough punishment yet, EcoSport?
OK, while the EcoSport's fuel economy is good, it's nowhere near segment best, but it does deliver in other ways. For instance, it's fairly inexpensive in base S trim at just $22,349 plus freight and fees, with its ritzier SE, SES and Titanium trims starting at $25,449, $29,849 and $31,349 respectively, with AWD adding $2,500 to the base S and second-rung SE trim lines, and coming standard with the SES and Titanium models.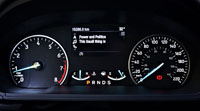 Even better, become a CarCostCanada member and you'll find out about additional incentives for savings up to $4,500 on this 2019 EcoSport, or alternatively Ford is offering factory leasing and financing rates from 3.99 percent on the newest 2020 model, which barely changes by the way. Check CarCostCanada's 2019 and 2020 Ford EcoSport Canada Prices pages for more details, such as trim, package and individual option pricing (and the ability to configure/build the SUV, and all of its competitors—click any vehicle name link in this review to open a given model's page), available rebates, factory financing and leasing rates, plus dealer invoice pricing that could save you thousands more when it comes time to negotiate.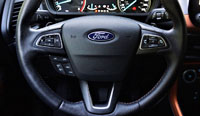 I know that selling on price is a lousy way to make money, but I'm not actually selling the EcoSport so this is Ford's problem. Then again, as I mentioned earlier there's more to be had from this little runabout than relatively low running costs and a good initial deal. In fact, both the turbocharged 1.0-litre and naturally aspirated 2.0-litre direct-injected engines make for reasonably quick acceleration off the line and more than adequate highway passing power, their respective horsepower and torque ratings equaling 123 and 166 ponies apiece, plus 125 and 149 lb-ft of twist, the smaller engine making all of its torque between 1,500 and 4,500 rpm, compared to a minimum of 4,500 rpm for the doubly large mill.
What's more, both engines only require regular unleaded in order to perform at their quoted capabilities, plus they're not hamstrung by lacklustre continuously variable transmissions (CVTs) or power-robbing conventional automatics thanks to coming standard with Ford's highly advanced six-speed SelectShift dual-clutch automated manual gearbox, which might not be the most reliable transmission on the market, but certainly provides the most driving enjoyment this side of an actual DIY manual. Then again it includes a set of steering wheel-mounted paddle shifters, resulting in a level of hands-on engagement few in this class can provide, plus the convenience of not being forced to shift a manual box in the city.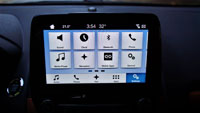 Making the EcoSport even more fun to drive is a fully independent suspension setup with MacPherson struts up front and a multilink design in back, plus stabilizer bars at both ends. Ford utilizes a set of twin-tube hydraulic gas-pressurized shocks for the front wheels and progressive-rate springs with mono-tube hydraulic gas-pressurized shocks at the rear, while electric power steering provides easy-to-turn manoeuvrability in tight parking garages and around town, plus reasonably direct performance through fast-paced twisting backroads and on the open freeway. It really is a fun little SUV to drive on all road surfaces and through varying conditions, Ford's impressive AdvanceTrac traction control with RSC (Roll Stability Control) making sure it stays shell-side up, and four-wheel discs with ABS delivering ample stopping power.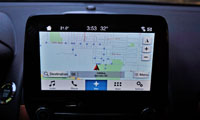 The EcoSport's driving dynamics would have been reason enough for almost seven and a half thousand Canadians to buy one last year, although I could understand why some might merely be smitten by its impishly cute and pudgy yet perky good looks. My third-tier SES tester wore eye-catching Lightning Blue paint and plenty of blackened trim bits (albeit not this model's available black hood and roof decals), its sharp looking Dark Tarnish Metallic-painted 17-inch alloy wheels worthy of multiple backward glances on their own.
This said its interior colour combination was downright bizarre when factoring in my tester's exterior paint choice, its mostly Ebony Black theme not an issue yet its copper metallic-painted trim (more suited to the EcoSport's similar Canyon Ridge exterior colour) quite obviously chosen by a team of colour-blind product managers. I would've preferred a similar blue to the exterior or even simple silver/white/grey highlights, but they didn't ask. The partial leather seat upholstery includes copper orange stripes on the stain resistant ActiveX cloth inserts for continuity's sake, so therefore if you don't like it, don't buy the SES (although new versions of the SUV are said to include grey seat stripes and silver trim, so maybe those aforementioned Ford product planners were reading my mind when I was initially put off by their odd colour combining).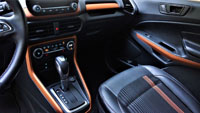 This would mean forgoing its sport-tuned suspension and 17-inch alloys, however, not to mention those aforementioned steering wheel-mounted paddles, plus rain-sensing wipers, an auto-dimming rearview mirror, blind spot monitoring, an 8.0-inch centre infotainment display with Ford's Sync 3 touchscreen interface, a very accurate navigation system (that worked flawlessly during my test), decent sounding seven-speaker audio (that could use more bass response), and a handy household-style 110-volt power outlet, but many of these items can be found in the even fancier Titanium model if you really must have them.
The Sync 3 infotainment system remains very good considering how long it's been available, making the EcoSport as up-to-date as most others in this class. Other than the extras noted, its features include the usual tablet/smartphone-style tap, swipe and pinch gesture capability (the latter especially useful when adjusting the map's scale), Android Auto and Apple CarPlay smartphone integration, easy Bluetooth connectivity for phone use and streaming audio, voice activation, 4G LTE Wi-Fi hotspot capability, and of course the ability to play AM, FM and satellite radio. Speaking of satellite, Sirius Travel Link is included too, plus plenty of apps, while it's all laid out in a convenient tile design with wonderful white on light blue graphics that are easy on the eyes. Ford will probably want to update the look of its Sync interface at some point, just to offer something different, but it certainly doesn't need to.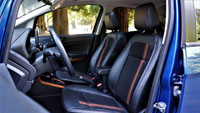 My SES tester was missing dual-zone automatic climate control, but single-zone auto HVAC systems are often as good as it gets in this segment, and its front seats are only four-way manually adjustable, another inconvenience that I didn't particularly care about. They were inherently comfortable and supportive, plus I fit in well thanks in part to good reach from the tilt and telescopic steering wheel, making the EcoSport a winner ergonomically.
It's roomy too, especially for tall folks. Both front and rear seats are generously accommodating, just leave the centre seatbelt in back unoccupied when four large adults are onboard. Likewise, the cargo compartment is pretty spacious thanks to 592 litres (20.9 cubic feet) of room behind the 60/40-split rear seatbacks and 1,415 litres (50.0 cu ft) when they're laid down, but the resulting load floor is nowhere near as flat and useful as most rivals, let alone the segment's most innovative Honda HR-V.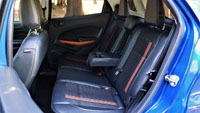 Worse, Ford limited the ease of the EcoSport's cargo carrying access by installing a side-swinging door, and one that squeaked annoyingly to boot. I can't say for sure it was the door making the irritating noise, because the commotion occurred while driving, not when opening or closing it, but the squeaking sound came from the general direction of the rear door, and it's certainly a heavy beast that puts a lot of weight on its side-mounted hinges. In fact, it was so noisy while driving slowly over bumpy pavement that it seemed as though the EcoSport was about to break apart.
At least it opens on the correct side for North American markets, unlike some others (Jeep Wrangler) that make loading from curbside near impossible, let alone dangerous if forced to step out into traffic with arms full. It opens easily due to gas struts, but you'll need a lot of space behind in order to swing it out, so if someone happens to park too close while you're shopping you'll be out of luck when returning. No, give me the shelter from inclement weather that hatchbacks provide, plus their ease of use, and I'd be a lot happier. Is this a deal killer? I imagine it could be for some people, hence why no other subcompact SUV in our market swings its rear door from the side anymore (the last one to do so was the Nissan Cube, need I say more).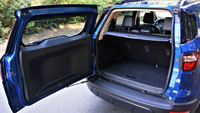 Another complaint could be interior refinement, not because of poor workmanship, but more so because it only includes a soft-touch dash top, the padded armrests being the only other pliable composite surfaces. I can live with that if you can, but some others do a better job of pampering with padded stitched leather-like instrument panel bolsters, soft front door uppers, and other niceties. At least the EcoSport's soft synthetic dash top bends downward to the horizontal halfway mark of the instrument panel, while the rubbery surface treatment covers most of the primary gauge cluster hood too, the gauges below quite nice thanks to a large multi-info display and bright blue backlit needles.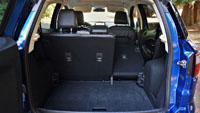 Speaking of those stylish pointers, while bringing it back to Ford's press fleet operators I noticed the gas gauge had somehow dropped nearly a quarter tank from full after a 20 minute commute. Normally this trip wouldn't affect the gas gauge at all, but nevertheless I decided to top it up at the closest station to where I was dropping it off. I gave the cashier $5 thinking it would be enough, but after just $2 the pump clicked off, and when I tried to squeeze in a bit more it spilled over. After cleaning that off the paint, getting my change and slipping back into the driver's seat I noticed the gauge was still pointing to three quarters, showing it's not very accurate.
To summarize (finally), Ford's EcoSport does a good job of bridging the gap between economy and performance, and therefore lives up to its bipolar name. It's comfortable, extremely roomy, well equipped, and fairly stylish (if not a bit dated looking) inside and out, with my particular example's annoying squeaking, and the model's less than convenient rear cargo access, being its only negatives. Once again, the latter issue has obviously not been an issue for thousands of Canadian subcompact SUV buyers, so it might not be a problem for you, especially when factoring in the generous discounts available to those buying the 2019 model that's already priced well.