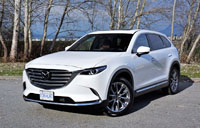 I can guarantee you something. If you take the time to visit your neighbourhood Mazda dealer, or the Mazda stand at your local auto show, and sit inside any of its models' Signature trim line, you'll be questioning why you purchased your current ride or whether or not you should continue considering the other vehicles on your shopping list.
What's more, if you currently drive a premium brand, it's highly possible you'll be left wondering why you paid so much more, or alternatively if you're driving another mainstream volume brand, you'll likely be curious as to why the Mazda is finished so much nicer inside than your vehicle.
Mazda offers the top-tier Signature trim line in its 6 mid-size sedan, CX-5 compact crossover SUV, and this CX-9 mid-size three-row crossover SUV, and along with plenty of high-end features such as 19- to 20-inch alloy wheels, a powered steering column, a surround parking camera, front parking sensors to go along with the rear parking sensors already included, ventilated front seats, heatable rear seats, etcetera (depending on the model), Mazda adds soft, high-quality Nappa leather upholstery and genuine hardwood inlays, the CX-9 Signature being reviewed here including gorgeous Santos Rosewood trimming the centre console panel as well as each door switch panel, front to rear.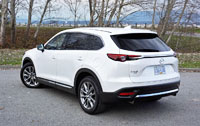 Mazda doesn't stop there, but the fabric-wrapped roof pillars get pulled up from lesser trim lines, while there's also more soft-touch, padded surfaces throughout Mazda's cars and SUVs than most mainstream competitors, even in their models not offered with Signature trim, so get ready to be impressed when it comes to refinement levels.
This CX-9 Signature interior, for instance, is as close to premium as mainstream volume manufacturers get. The multi-layered dash is entirely made from a padded leather-like material that extends around to the door uppers front to back. Additionally, the pliable upper portion of the dash and harder lower composite panels are separated by a metallic inlay that truly feels real, his visually extending over to the corner vent bezels and side door panels.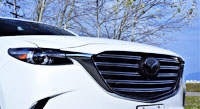 Due to its optional Snowflake White Pearl paint, my tester came standard with a deep reddish-coloured Chroma Brown Nappa leather upholstery that also visually extended to the instrument panel, lower console and door inserts, and felt extremely plush on the latter due to what felt like thick memory foam below, while the same colour brown is used for contrast stitching on the steering wheel and armrests.
Mazda applies piano black lacquer around the shifter and power window switchgear panels, the powered mirror toggle nicely finished in knurled metal just like the rotating infotainment system controller on the lower centre console. Fortunately Mazda goes easy on the shiny black plastic, a difficult substance to keep from scratching or collecting dust, but it's very generous when it comes to brushed aluminum accents, the brand even making the power seat controls from this premium-like metallic material. Like I said earlier, Mazda's Signature series provide a rich experience.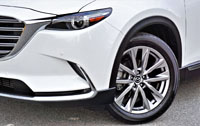 As far as digital advancements go the current CX-9 is ahead of some of its peers and behind others. Its primary gauge package appears like a traditional three-dial design, but with GT models and above the centre-mounted speedometer, plus the surrounding real-time fuel economy and range gauges are actually part of a 7.0-inch digital instrument cluster added this year, which is flanked by an analogue tachometer to the left, plus temp and fuel gauges on the right. This is a major change from outgoing 2016-2018 CX-9's gauge package that included analogue gauges at the centre and left side, and a big full-colour multi-information display within the right-side bezel. Now the multi-information display sits within the analogue-style digital speedometer, and offers a full assortment of useful functions.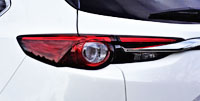 The upgraded gauge cluster is augmented by a true head-up display system that projects vital information onto the windshield. It even included a speed limit reminder, which I found quite handy.
The centre infotainment touchscreen measures a reasonably large 8.0 inches in diameter and provides a good, high-resolution display. Its fixed tablet-style design, which has it protruding upright out of the dash, is just starting to catch on as a sort of infotainment standard layout amongst mainstream competitors, making Mazda an electronics forerunner. My tester included a fabulous new dual-screen backup camera with an impressive overhead view on the right side, making parking ultra-easy when combined with its front and rear sensors, and take note that Android Auto and Apple CarPlay smartphone integration were added for 2019 as well.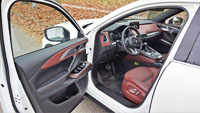 Also new is SiriusXM Traffic Plus and Travel Link data services with information on real-time traffic, weather conditions, fuel prices, and sports scores, while the infotainment system also includes navigation with detailed mapping, a superb 12-speaker Bose audio system with Centerpoint surround sound and AudioPilot noise compensation technologies, plus SurroundStage signal processing, satellite and HD radio, voice activation, Bluetooth phone connectivity and audio streaming, text message reading and response capability, etcetera.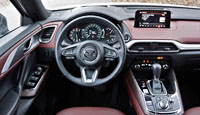 Unique to Mazda, at least amongst volume brands, is its premium-like lower console-mounted control interface, comprised of a large metal-edged rotating dial, a similarly designed albeit smaller volume knob, and surrounding quick-access buttons. This is a more comfortable way to modulate the infotainment system, although you can always use the touchscreen for tablet/smartphone-like tap, swipe and pinch gestures, the latter function ideal for changing the scale on the navigation map, for instance.
As you probably just noticed, the CX-9's current second-generation has been around since 2016, which makes its luxury brand levels of refinement all the more impressive. Truly, you'll need to pull up in one of the just-introduced 2020 Hyundai Palisade or Kia Telluride three-row SUVs in order to show off something that measures up to the CX-9's pampering interior (although I have yet to test the 2020 Toyota Highlander, which was already pretty good). Of note, this generation of CX-9 is a purely Mazda-made affair that rides on the brand's advanced SkyActiv platform, unlike the first-gen CX-9 that was based on Ford's older Edge.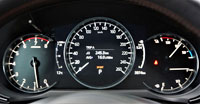 The new chassis, which sports McPherson struts with coil springs and a stabilizer bar up front and a multi-link setup with coil springs and a stabilizer bar in back, was further enhanced for 2019 to provide an even more comfortable ride, making it the perfect companion for overcoming bumpy inner-city streets, bridge expansion joints and uneven pavement anywhere else, while it's also flawless on the open freeway where its upgraded steering system provides better linear behaviour at high speeds, resulting in an SUV that tracks brilliantly at all times, and therefore capable of eating up hundreds of miles at a time without breaking a sweat.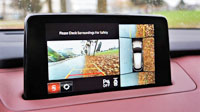 The CX-9's dynamic pressure turbo-enhanced SkyActiv-G 2.5-litre four-cylinder engine provides plenty of passing power on the highway thanks to 250 horsepower, but also a surprising amount of get-up-and-go when taking off from standstill due to an extremely robust 320 lb-ft of torque. This is a big seven-passenger SUV after all, yet the efficient four-cylinder is all that's needed for sporty performance around town or when the road starts to wind, and while no paddle shifters were included, unfortunately common in this class, manual mode can be selected by flicking the gear lever to the left and pulling back for upshifting or pushing forward for downshifting.
Mazda is very clear in its specifications that the engine makes full horsepower with 93 octane gasoline or higher, but I'm going to correctly guess that most journalists refill it will much cheaper 87 octane, so the engine is probably only producing the 227 horsepower claimed with the lower grade gas. This said its strong torque rating only drops by 10 lb-ft when using budget fuel, and only needs 2,000 rpm to release full twist, so I wouldn't worry too much about thrust.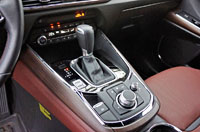 Selecting Sport mode, via a metal rocker switch next to the shifter, adds snappier acceleration thanks to the six-speed transmission's ability to hold its gears up to redline, plus it doesn't automatically shift when it hits the solid red line at the 6,300 mark on the tachometer, but instead holds its given gear for better control through the curves. This is very rare in this class or any, and gives the CX-9 a much sportier feel than its contemporaries despite only having six forward gears, which when combined with its particularly agile suspension system, as well as its nicely weighted engine-speed-sensing variable power-assist rack-and-pinion steering, is wholly impressive.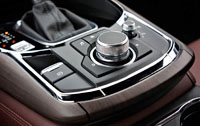 Mazda's G-Vectoring Control technology carries over from the previous model, seamlessly shifting more torque to the front wheels during corner entry and then sending it rearward upon exit. I wasn't able to notice it working away in the background, but appreciated the added stability, especially during a particularly nasty rainstorm, at which point Mazda's i-Activ AWD made sure each of my Signature model's 255/50R20 all-season tires were put to full use.
Important in this class, the AWD CX-9's fuel economy is rated at 11.6 L/100km in the city, 9.1 on the highway and 10.5 combined, which despite making a lot more power than the Kia Sorento (which will only be a five-passenger model for 2020), isn't much more consumption than the South Korean SUV's 11.2 city, 9.0 highway and 10.2 combined rating, while the V6-powered Highlander is good for a respective Transport Canada rating of 12.1, 9.0 and 10.6. The FWD CX-9 won't be available for 2020, by the way, so Mazda will no longer be able to claim its very thrifty fuel economy rating of 10.6 L/100km in the city, 8.4 on the highway and 9.6 combined.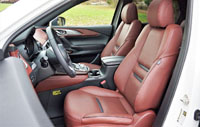 The CX-9's engine gets started by a pushbutton ignition system, by the way, while interior access is provided by proximity sensing keyless entry featuring not-so-subtle black buttons on the front door handles. Mazda doesn't go so far as to add these buttons to the rear door handles as well, as some others do, but the overall ergonomics of the driver's position is better than many in this class. The seat provides the usual fore and aft, up and down, plus tilt and backrest functions, not to mention two-way lumbar support that just happened to fit the small of my back ideally, so no complaints here (but you may want to check this feature out for size). It proved fabulously comfortable all week long, with much credit going to the powered tilt and telescopic steering column's generous reach.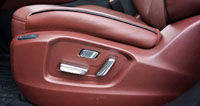 The second row seating area is roomy and extremely comfortable, while the window seats provide good lower back support. Mazda includes a nice wide folding centre armrest complete with the usual dual cupholders, plus a large interface for the automatic climate control system's third zone on the backside of the front console, complete with switchgear for the aforementioned three-way heatable rear seats, while the outboard positions affected by the warmth easily slide out of the way for access to the third row.
Those rearmost seats include comfortable backrests, yet not a lot of space for an average sized adult's knees and feet unless you slide the 60/40-split second row so far forward it starts getting a bit cramped. In other words, the third row is probably suitable enough for smaller adults, but ideally it's best left to children.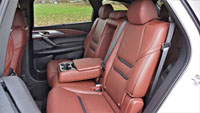 When the third row is upright there scarcely seems to be any room for cargo in back, although Mazda claims it can manage loads of up to 407 litres (14.4 cubic feet). Not having a need for the final row I simply folded them flat, leaving a sizeable 1,082 litres (38.2 cu ft) of cargo capacity at my beck and call. When required the second-row folds down in the usual 60/40 configuration, which while making one of the seat warmers useless when carrying four aboard and needing to stow longer items like skis longitudinally (a centre pass-through or 40/20/40-split second row would be better), does provide 2,017 litres (71.2 cu ft) of available load space. It's a nicely finished cargo compartment too, with carpeting covering three-quarters of the way up each sidewall, plus a heavy-duty removable load floor covering a shallow carpeted hidden stowage area.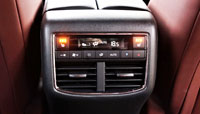 Additional storage includes a sunglasses holder in the overhead console, a large open bin ahead of the shift lever, a sizeable bin under the centre armrest, and of course the glove box, which is quite big and velvet lined no less. Yes, just more of that pampering noted earlier.
Complementing all the refinements mentioned, areas unseen are stuffed full of sound-deadening insulation, the windshield and front windows are made from noise-isolating glass, the body shell is extremely rigid and improvements have been made to the steering and suspension systems, making everything from the way its doors close to the CX-9's overall driving dynamics feel as if it were a luxury-branded SUV, while providing an extremely quiet interior.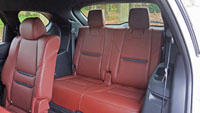 The driver and passengers alike will be comforted in other ways too, for instance in the knowledge that the CX-9 Signature is one of the most advanced vehicles on the road when it comes to advanced driver assistance and safety systems, with all the usual active and passive safety features now joined by adaptive cruise control with stop and go, forward obstruction warning, Smart Brake Support and Smart City Brake Support autonomous emergency braking with pedestrian detection, advanced blind spot monitoring, rear cross traffic alert, lane departure warning, lane keeping assist, traffic sign recognition, new seatbelt reminders on the second- and third-row seats, plus more.
Other features that provide CX-9 Signature owners with a premium-branded experience include an electromechanical parking brake, a new frameless auto-dimming rearview mirror, new power-folding side mirrors, a Homelink garage door opener, a reworked overhead console with LED overhead and ambient lighting, plus a better designed LED room lamp control switch, while its heated leather-wrapped steering wheel with premium cross-stitched detailing is a real bonus during cold winter months.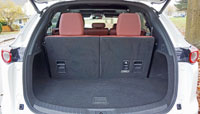 While the aforementioned driver's seat is 10-way powered with memory, the CX-9 Signature also gets an eight-way power-adjustable front passenger's seat with powered lumbar, plus rear side window sunshades and more for just $51,500 plus freight and fees, which is excellent value when comparing luxury branded crossover SUVs with similar equipment, and on par with mainstream rivals with similar features, albeit less luxury. Truly, the only item I noticed to be missing from my CX-9 experience was a panoramic sunroof, the powered moonroof overhead being more traditionally sized.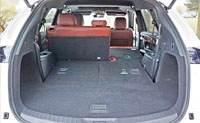 Pricing and features in mind, make sure to check all of the 2019 Mazda CX-9 trims, package and individual option prices at CarCostCanada, plus find out about any available rebates too, while you can save even more by accessing the 2019 CX-9's dealer invoice pricing. Currently you can save up to $2,500 in additional incentives on a 2019 (at the time of writing), or up to $1,000 for the virtually unchanged 2020 model.
I'm sure you've seen top-line CX-9s like my tester before, so you'll likely agree that it looks as if it could've rolled off the assembly line of a luxury manufacturer. Its big, stylish satin-silver grille, featuring special night illumination wrapping around its lower half, plus its full LED headlamps with auto high beams, adaptive cornering capability and auto self-leveling, not to mention its beautifully aerodynamic lower front fascia with integrated LED fog lamps, stunning 20-inch light grey high lustre alloy wheels, tastefully applied satin-chrome trim all-round, attractive LED taillights, and overall sleek, elegant lines from front to back make it a standout entry in its otherwise practical mid-size three-row crossover SUV class. Added to this, all the refined luxury, top-tier features, superb driving dynamics and full suite of advanced safety equipment make the CX-9 a very strong contender, and fully worthy of your attention.