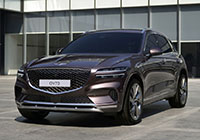 Sometimes being late to the game is a good thing, evidenced by Hyundai's standalone luxury brand, Genesis. They've only been in business for five years, but with each new model they gain accolades aplenty and more premium buyers, with that ownership base ready to explode now that their three-car lineup is adding two new crossover SUVs.
Up until now, Genesis weakness had nothing to do with styling, performance, quality or reliability, the luxury marque achieving high marks for all of the above, but rather it only offered four-door sedans in a market that's in love with sport utilities. Enter the new GV70 and GV80, the production version of the latter introduced in early 2020 to popular applause and now getting rave reviews from those fortunate enough to drive one. The GV70 expands the lineup downward into the compact luxury SUV segment, where the bulk of its competitors' sales are already driven.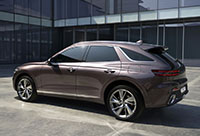 One glance will tell you the GV70 is the GV80's little brother, the brand's new familiar diamond-shaped pentagonal grille flanked by uniquely twinned LED headlamp strips that visually join up with similarly styled LED taillights in back. The SUV looks sleek and wind-cheating, with a sporty yet elegant design that should be just as appealing to premium buyers as the new GV80, but in a smaller, more affordable package.
Even more intriguing than the exterior shape is an interior that's like nothing else available in this class, or at least the ovoid lower instrument panel design is wholly unique. A more traditional looking digital gauge cluster gets fitted to the usual spot ahead of the driver, while the large widescreen centre display atop the dash is nothing new either, nor is the rotating dial on the lower console for controlling it, but the surfboard-shaped interface stretching from the left side of the steering column to just past the centre stack (or where the centre stack would be if there was one) is a major interior design departure, both visually and functionally.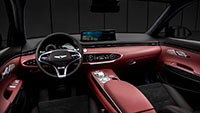 Planned solely as a five-seater, the GV70 will likely ride on the compact G70 sedan's chassis architecture, which bodes well for performance. The G70 rivals BMW's 3 Series for straight-line acceleration and handling, so it's likely Genesis has its sights set on dethroning BMW's X3, as well as Audi's Q5, Mercedes' GLC, Acura's RDX, and other strong performers in this highly competitive class.
Genesis is not only being silent about the GV70's chassis origins, but they haven't said a thing about its powertrains either. This said, using the G70's mechanicals would make sense, so we're expecting the updated sport sedan's new 2.5-litre turbo-four in entry-level trims and its soon-to-be revised 3.5-litre twin-turbocharged V6 in pricier models. In the new G70 the four-cylinder produces 290 horsepower and 310 and lb-ft of torque, while the upgraded V6 in the GV80 makes a considerable 375 horsepower and 391 lb-ft of torque. Performance like this means the new GV70 will have no problem keeping up with the Müllers and Schmidts, let alone the Satos and Takahashis.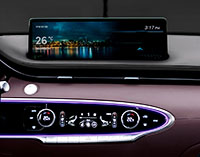 With this GV70 debut, Genesis should be done for 2020, as the South Korean brand promised two new models per annum for three years, and remember that they've already introduced the GV80. What's in store for 2021? A smaller entry-level car and SUV are probable next steps, although a quick glance at the Mercedes, BMW and Audi lineups show no shortage of potential alternatives. Genesis has many holes to fill, from sport coupes and convertibles to hybrids and EVs, not to mention ultra-performance models at the other end of the spectrum. We can hardly wait.
Hyundai hasn't announced GV70 launch date yet, but they designated it a 2022 model so we can certainly expect it to go on sale next year. Until then, check out the Genesis G70, G80 and G90 sport-luxury sedans and the new mid-size GV80 SUV at CarCostCanada, where you can learn about factory leasing and financing rates from zero percent on all 2020 and 2021 models, plus when you become a member you'll also access info about manufacturer rebates and dealer invoice pricing that could save you thousands. Find out how CarCostCanada works now, and make sure to download their free app from the Apple Store or Google Play Store in order to have all of this critical info with you wherever and whenever you need it.
Story credits: Trevor Hofmann
Photo credits: Genesis