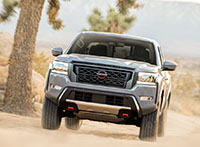 It's no secret that trucks aren't updated as often as cars, although this has been changing in recent years due to peoples' tastes shifting from sedans, coupes and wagons to more utility-oriented offerings. No matter, because no one, including those within Nissan's inner circle, could've likely guessed the Frontier would still be trucking along mostly unchanged after 16 years of production.
Currently the oldest non-commercial design available new, Nissan will pass this baton down to its own 370Z when the all-new 2022 Frontier arrives later this year, unless the Japanese automaker shocks us all with an earlier than expected release of the legendary sports car, of which today's version now has a dozen years to its credit. Both will be important to Nissan's success, albeit the new 400Z (as most are calling it) is more about enhancing the brand's performance image, while the Frontier should do a good job of bolstering its bottom line.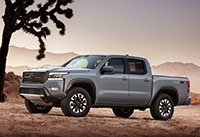 Of course, trucks are important for a mainstream brand's image too, and just by appearances the Frontier should appeal to the masses. That will be important, as Nissan has lost a lot of market share to mid-size pickup competitors, most of which have introduced multiple redesigns since the last Frontier was new. Toyota's Tacoma remains top of the list, followed closely by GM's Chevy/GMC Colorado/Canyon (fraternal) twins and more distantly by Ford's Ranger, which were all discontinued and resuscitated in recent years, and while no definitive word has surfaced about a revised Dodge (Ram) Dakota, Jeep anted up with its highly successful Gladiator a few years ago. Even Honda's Ridgeline, the only mid-size pickup truck the Frontier still outsells, has seen upward sales momentum since its more rugged 2021 refresh, so it's a good thing Nissan's new Frontier will soon be ready to do battle.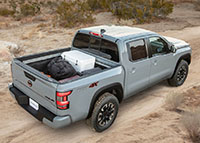 The 2022 Frontier arrives with boxier styling that pays some angular homage to the brand's old Hardbody pickups of the '80s and '90s, albeit the new look gives more respect to Nissan's full-size Titan, particularly the front door window cutouts that, like Ford's F-150, are kinked to aid visibility. It seems influenced by GMC's just-noted Canyon too, at least before the domestic truck said goodbye to its arguably better-looking rectangular grille and hello to a much deeper, chunkier version this year. Any resemblance to the Canyon will hardly be an issue for Nissan fans, however, as the new Frontier's styling will be unique enough, is plenty rugged, and boasts lots of up-to-date LED touches.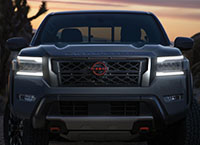 Speaking of up-to-date, nothing from the old Frontier will be pulled forward into this new iteration's cabin, which is a very good thing. The new model's styling has been completely reimagined, and appears so refined that Nissan should really be considering a new Xterra based on the same platform. Where the old truck's dash is rounded in retrospect, the new design is just as bold and blocky as the exterior styling, although in a more conservatively tasteful way. Stitched soft-touch synthetic appears padded ahead of the front passenger, as do the grip-like sides of the lower centre console, the example shown no doubt in higher-end Pro-4X trim thanks to its sporty orange/red highlights and premium-level finishings.
A mostly analogue gauge cluster features a large colour multi-information display at centre, par for the course these days, which should come packed full of functions, while the sizeable standard 8.0-inch touchscreen atop the centre stack boasts Android Auto, Apple CarPlay and all the other expected base functions, backup camera included, with that parking camera upgradable to an Around View surround monitor seen within a larger 9.0-inch display in higher trims. Likewise, wireless charging (albeit no wireless CarPlay) is now on the options menu, as is nine-speaker Fender audio in the Pro-4X.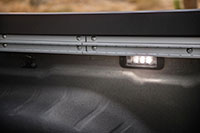 Speaking of the Pro-4X, which is Nissan-speak for a serious professional-grade mud-slinging, rock-crawling 4×4, improvements include a special set of Bilstein shocks plus underfloor skid plates covering the transmission and gas tank, while cool red tow hooks can be found up front, and a special orange/red-enhanced version of Nissan's new logo gets stamped front, back and inside.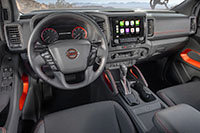 The 2020 Frontier (there is no 2021 model) included S, SV and Pro-4X trims (and can be had with zero-percent financing right now), plus a Midnight Edition that won't likely be repeated for the 2022 model year, but may be revisited at a later date. Reportedly, a sporty Nismo edition will arrive at some point in the future too. The three main trims will once again be offered for 2022, although a more simplified lineup will discontinue two-wheel drive variants in Canada, other than a fleet-only base King Cab S work truck.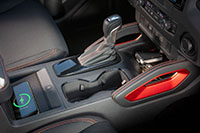 This last point clarifies that the smaller King Cab and more accommodating Crew Cab will both make a return, with the former available across the entire model range and the latter only unavailable with base S trim. This said, Canadian Frontier buyers can get Pro-4X with the King Cab, which will be a bonus for those preferring bed space over interior roominess.
Once again, the King Cab provides a six-foot bed, leaving the shorter five-foot bed for the Crew Cab, other than when the long-wheelbase SV model is chosen, which increases the span between axles from 3,200 mm (126 in) to 3,550 mm (140 in).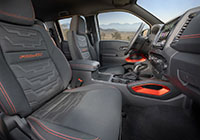 Unlike the US-spec Frontier that received a new 3.8-litre V6 and nine-speed automatic two years ago, this all-new 2022 model will be Canada's introduction to the much more advanced, fuel-friendlier combination. The engine puts out 310 horsepower and 280 pound-feet of torque, which should be plenty of fun off the line, highly capable during highway passing manoeuvres, and especially enjoyable when attacking the wild.
Off-roading in mind, all retail Frontiers get Nissan's part-time shift-on-the-fly 4WD system featuring 2WD, 4HI and 4LO driving modes that connect through to an electronically-controlled transfer case. Hill start assist and hill descent control are included too, while the Pro-4X receives an electronic locking differential.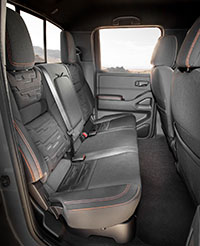 Standard four-wheel drive means the Canadian-spec Frontier's maximum tow rating will be limited to just 2,944 kilograms (6,500 lbs), compared to US-specified two-wheel drive models that are good for up to 3,408 kg (7,500 lbs). Both trailer weights are impressive, however, especially when comparing some in this class that can only tow up to 2,268 kg (5,000 lbs).
Wholly on the positive, Nissan's Safety Shield 360 suite of advanced driving assistive technologies come standard in Canada, including automatic emergency braking with pedestrian detection, blind spot warning, lane departure warning, rear cross-traffic alert with auto-braking, high beam assist, and adaptive cruise control.
The new 2022 Frontier will arrive this summer, with pricing and trim details expected before launch. Until then, make sure to check out our full photo gallery above, and enjoy all the videos Nissan provided below.
The All-New 2022 Nissan Frontier​ (0:06):

All-New 2022 Nissan Frontier (0:15):

2022 Pathfinder and Frontier Reveal (14.39):

2022 Nissan Frontier LIVE Walkaround & Review (6:40):

How big is the truck bed? | 2022 Nissan Frontier Q&A (0:37):

How much can the Frontier tow? | 2022 Nissan Frontier Q&A (0:33):

2007 Nissan Frontier Driven More Than 1 Million Miles (5:34):

Story credits: Trevor Hofmann
Photo credits: Nissan