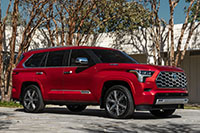 Think back to 2008. It's not a year everyone will remember fondly, due to the housing crisis that was followed up by a short-erm financial freeze, plus numerous banking bailouts, and reasonable fear of economic woes ahead, but on the positive it was also an Summer Olympic year, held in Beijing, China (déjà vu all over again), and while that subject might be too political for some to dwell upon in an automotive story, 2008 was also the year that Conservative leader Stephen Harper eked out a minority up here in Canada, and Barack Obama was victorious south of the 49th. Even more momentous, it would take another month for Bitcoin to be introduced in January of 2009.
Why all the references to a past that's now hardly recognizable from today's world? Because that's when Toyota's full-size Sequoia SUV received its last major update. The first-generation Sequoia lasted a rather lengthy seven years, incidentally, and received its redesign with the advent of the second-gen Tundra, but today's model, which will be replaced later this year, needed to wait a lot longer for its redesigned Tundra donor platform to arrive.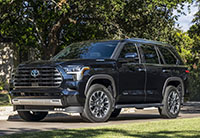 Amazingly, the first-generation Venza was new that year too, as was the tiny Scion iQ (remember Scion?). The iQ's been off the market for seven years already, and, after a three-year hiatus the Venza was wholly renewed for 2020, but the Sequoia soldiered on unchanged. It'll be 14 years old when it arrives later this year as a 2023 model, but from what we can see here, the long wait has not been in vain.
After all, it looks similar to the new Tundra that's received plenty of praise for its brash, bold styling, or at least its headlamps and the basic outline of its grille do. The new Sequoia's grille is more restrained, and I think the better for it. It pulls cues from the Tacoma, of course, as well as the latest RAV4, no bad thing either, while sharing visual ties to the Highlander and new Corolla Cross as well. We can guess this look hints at the new 4Runner's design approach too, an even more important SUV from a sales perspective, and one we'll see in redesigned form soon.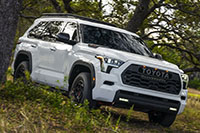 This said there's nothing radically unexpected about the new Sequoia's styling. It appears rugged and tough, yet clean and refined, while all the time being respectful of Toyota's SUV lineage. The hood domes nicely at centre, and either features cool looking matte plastic, vent-like garnishes on its outer rear edges when upgraded to "TRD PRO" trim, complete with trim designation, or gets a smaller chromed "i FORCE MAX" engine plaque in the same spot for other models. Additional visual separation includes some chrome embellishment down each side of the new top-tier Capstone trim line, brightening the new Sequoia's deeply sculpted flanks, while the SUV's upright rear design certainly shouldn't offend any traditional SUV lover's tastes.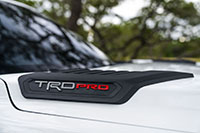 Speaking of the trims, a total of five include TRD Off-Road, Limited, Platinum, TRD Pro and just-noted Capstone, the latter initially introduced with the new Tundra, and representing a more luxurious level above Platinum. First, congrats to Toyota for coming up with something more original than Limited and Platinum to designate fanciest trim, and second, this model really does appear to deliver on its near-premium promise.
The Sequoia Capstone provides a black and white motif inside, with plenty of higher-quality semi-aniline leather throughout, while Toyota has even improved soundproofing. Those familiar with the outgoing Sequoia will already know its most luxurious Platinum variant lacked some its rivals' refinements, especially for an SUV in the $80k range. Pampering won't be a problem in the new 2023 version, however, even in lesser trims that will likely go up in price from their current model's $70k starting point.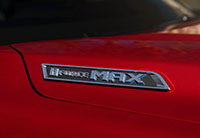 In the U.S., this new Sequoia effectively replaces the full-size Land Cruiser that was discontinued, so it had better deliver at a high level and be fully capable off-road. Certainly, Lexus' redesigned LX, which once again is based on the Land Cruiser, will toe the line as far as full-size luxury utes go, but just like some wristwatch buyers would rather wear a dive watch bearing the famed Seiko name than lesser-known Grand Seiko (which is respected more for dressier timepieces), yet still want similar levels of finishing and movement accuracy/quality and are willing to pay premium prices for it, there are SUV buyers who'd more proudly own a Toyota-badged utility than one gussied up in Lexus duds. To that end, the off-road-oriented SUV industry is as much about heritage and respect as it is utility, but isn't necessarily turned on by premium badging.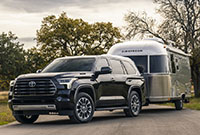 The i-Force Max engine noted a moment ago was also introduced with the Tundra, but in the pickup truck it's an option, and with the Sequoia it comes standard. Interestingly, it's a 3.5-litre V6 hybrid drivetrain, so, just like Toyota did with the aforementioned Venza and their newest Sienna minivan, it's hybrid or the highway, so to speak. Of course, there may be additional options moving forward, but more likely a pure electric variant than anything without electrification. As it is, the Sequoia's mill makes a substantive 437 horsepower and 583 lb-ft of torque, and feeds its power down to all four wheels through a 10-speed automatic transmission, which includes the usual Eco, Normal and Sport drive modes.
The actual hybrid component is a generator motor positioned between the internal combustion portion of the drivetrain and gearbox, a tried and tested solution, so we should expect much improved fuel economy along with Toyota's already legendary hybrid reliability and longevity.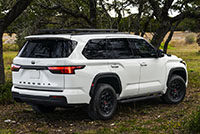 With each trim basically set up with the same drivetrain capabilities, performance differences will come down to suspension options, whether optimized for handling and comfort or off-road prowess. All should provide enough stability and manoeuvrability to keep the engine power in check on fast-paced curving roadways, however, achievable via a combination of improved chassis design and rigidity, plus a new independent front suspension design and new rack-mounted electronic power steering system, which is said to enhance feel. A more advanced multi-link rear suspension has also been added to the mix, plus Sequoia owners can option their rigs out with an adaptive variable suspension setup, which adds Comfort, Sport S, Sport S+ and Custom settings to the Drive Mode Select system's menu, and a height-adjustable air suspension with load leveling, which is especially helpful when lifting heavy items into the cargo area.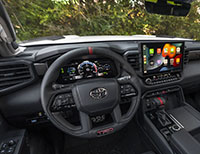 Also impressive is the new Sequoia's 9,000-lb (4,080-kg) towing capacity. This is almost 22-percent more than the current model, and therefore allows for much larger camp trailers and boats, which is a key reason that buyers buck up for larger utilities in the first place. Along with its upgraded tow rating, the Sequoia will utilize features shown first with the new Tundra when choosing its Tow Tech Package, such as Trailer Backup Guide that makes it easier to reverse with a trailer, and Straight Path Assist that, via the steering system, helps keep the trailer straight when backing up. Additionally, the power mirrors now include automatic extensions for seeing around the sides of wider loads.
Some additional features include standard heated front seats and a standard heatable steering wheel rim, Toyota's proprietary breathable Softex leatherette, a panoramic sunroof, 18-inch wheels, and the TSS 2.5 suite of convenience and safety features.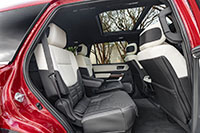 An available 14-inch centre touchscreen improves the Sequoia's digital experience, including a Panoramic View Monitor that makes parking easier, especially with a trailer, while a digital display rearview mirror is also available, as is a fully digital and very colourful driver's display.
As for the Sequoia's cabin layout, it comes with three rows including a bench for the second row, but can be optioned with second-row captain's chairs. Additionally, the third row can slide back and forth up to 150 mm (6.0 in), plus provides reclining backrests, while Toyota provides a unique parcel shelf in the cargo area that covers those seatbacks when folded down, resulting in a totally flat load floor. For hauling taller items, the parcel shelf can be fitted back into the floor, or alternatively it can be raised higher to act as a cargo cover. Smart.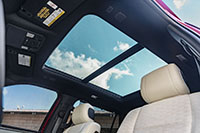 While it might take some time for the new Sequoia to catch on, Toyota is probably looking to its loyal 4Runner, Highlander, and to some extent, Tacoma owner base to fill order books. While news about the new 2023 Sequoia will create some excitement, the nameplate isn't strong enough to pull many conquest buyers away from the big three, despite having been around since 2001. Toyota just hasn't updated it enough to create any kind of long-term growth, and certainly hasn't marketed much, other than featuring it on its retail website.
The result has been slow, but steady sales. The 418 units sold into Canada through 2021 was less than half of its all-time Canadian high of 912 deliveries in 2010. The numbers remained just above or just below 700 per year until 2018, before dipping downward over the last few years. In case you were wondering, the Nissan Armada, which is the Sequoia's most obvious challenger, only sold 413 units in 2010, yet, due to a major second-generation redesign (that's really a global-market Patrol, the full-size Land Cruiser's main rival in other markets), saw its deliveries rise to a high of 1,435 units in 2018, before falling down to Sequoia levels for the last three years.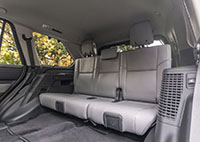 Of course, neither set of numbers would cause a carmaker to invest the necessary money to develop and market an all-new model, which should make us Canadians grateful to our friends south of the border that have 10 times the purchasing pool. To be clear, while we were selling just over 400 Sequoias here in Canada, the U.S. market delivered 22,815. Even that number would have to increase to make a business case viable, but there's a lot of potential upside when looking at the rest of the full-size SUV market.
Last year it totaled 21,999 units in Canada and 388,294 in the U.S., and General Motors walked away with almost three quarters of Canada's full-size SUV deliveries, at 15,307 units, plus a staggering 275,421 new buyers in the States. GMC's Yukon was number one in Canada's market with 8,338 examples sold, its two body-style line beating both the Chevy Tahoe (4,590) and Suburban (2,379) by a wide margin, while Ford's Expedition ended up second from a model perspective, with 4,878 individual deliveries. While all this is good for GM and Ford, the new Sequoia could slice off a larger section from that lucrative pie.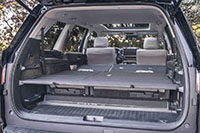 Helping Toyota's cause is the highest retained value in the Canadian Black Book's "Full-size Crossover-SUV" category, plus the top podium in the "Large SUV/Crossover" category for Vincentric's Best Value in Canada Awards. The Sequoia also topped J.D. Power and Associate's 2021 Initial Quality Study, which doesn't hurt matters. It almost makes a person want to buy the outgoing Sequoia, which is still available with factory leasing and financing rates from 2.99 percent. Check out CarCostCanada for details, plus find out how accessing dealer invoice pricing could you save thousands off retail, plus remember to download their free app from the Apple Store or Google Play Store.
The new Sequoia will be available this summer, with orders starting sooner. Contact your local Toyota dealer for more info.
2023 Toyota Sequoia Overview | Toyota (7:07):

2023 Toyota Sequoia | Undeniable Capability, Unmistakable Presence | Toyota (2:17):

Story credit: Trevor Hofmann
Photo credits: Toyota