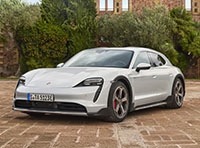 Focusing on practical considerations when spending between $120,000 and $220,000 on a new car might not seem rational to those not able to do so, but not providing stowage for multiple bags of golf clubs can be a dealbreaker for plenty of would-be buyers in any class.
Enter Porsche's Taycan Cross Turismo, a more pragmatic approach to the blisteringly quick, sport-luxury EV revolution. Building on the Taycan four-door coupe introduced last year, Porsche has raised and extended the rear roofline, resulting in a sort of sport wagon-like shooting brake design, not unlike the German brand's own Panamera Sport Turismo.
Altogether, the new Cross Turismo adds 793 litres (28.0 cu ft) of available cargo capacity for a new maximum of 1,200 litres (42.4 cu ft), which is a big step up from the regular Taycan's 407-litre (14.4 cu-ft) trunk; not including the 81-litre (2.8 cu-ft) "frunk" (front trunk) included with both models.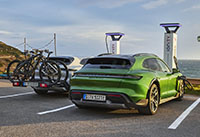 If you still need more room, Porsche will supply you with a specially made roof-top cargo carrier that'll hold fast up to 200 km/h, just in case you want to do a few laps on the track when before heading home from skiing (those who ski at Quebec's beautiful Mont Tremblant may want to invest in this accessory, being that the fabulous Le Circuit Mont-Tremblant is only a few minutes away in St. Jovite).
Just like the regular Taycan, the new Cross Turismo can manage such speeds and more (from 220 to 250 km/h depending on trim), due to housing the same 800-volt battery-electric plug-in power unit. The impressive lithium-ion Performance Battery Plus provides a total capacity of 93.4 kWh, which should allow the new wagon-style model similar maximum range to the regular Taycan four-door coupe, at about 320 kilometres between charges depending on weather conditions, driving styles and other factors.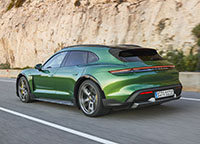 One hundred kilometres of range can be had after just five minutes of charging when hooked up to a DC fast charging station, by the way, but expect considerably more time invested for the usual 80-percent top-up during a normal 240-volt charge.
The time to charge will change depending on model chosen too, as will the Taycan Cross Turismo's performance from standstill to 100 km/h. The "laggard" of the bunch is the base Taycan 4 Cross Turismo, which still blasts past 100 km/h in a speedy 5.1 seconds thanks to its 375-horsepower dual-motor electric powertrain. Upgrade to the 4S Cross Turismo and you'll see a full second get chopped off its zero to 100 km/h time, due to 482 horsepower at all four wheels.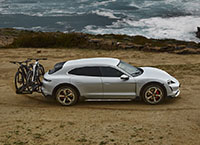 Porsche hilariously uses its "Turbo" moniker for top-tier trim designations, incidentally, but take heart that few on-road rivals will be laughing at your car's silly name when it leaves them trailing behind in literal dust. The near top-line Taycan Turbo Cross Turismo makes a respectable 616 horsepower that results in a scant 3.3-second sprint from zero to 100 km/h, while the Turbo S Cross Turismo's mind-blowing 750-horsepower power unit breaks the 3-second barrier completely, managing the feat in just 2.9 seconds with launch control engaged.
All Taycan Cross Turismo trims use an identical chassis and adaptive suspension design as the regular Taycan coupe, not to mention standard all-wheel drive for excellent all-weather traction. Even better, Porsche provides a standard "Gravel Mode" as well, which adjusts the car's throttle response and chassis control for optimal grip on slippery surfaces.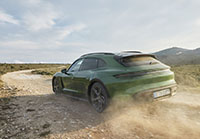 What's more, Porsche will add even greater crossover SUV-like presence to the new Taycan five-door via an available Off-Road Design package that increases ride height by 30 mm (1.2 in) while providing a more capable appearance with mud flaps and other rugged upgrades.
Speaking of appearances, the new Cross Turismo pumps up the regular Taycan's flanks with SUV-like matte black cladding around the wheel cutouts, along the rockers, and at each end, the latter extremities enhanced further via silver undertrays.
Take note that customers will start taking delivery of the new Taycan Cross Turismo this summer, so contact your local Porsche retailer if you want to be one of the early adopters. Pricing starts at $119,900 for the base Taycan Cross Turismo 4, and moves up to $126,800 for the Taycan Cross Turismo 4S, $178,000 for the Taycan Cross Turismo Turbo, and finally $218,000 for the top-line Taycan Cross Turismo Turbo S.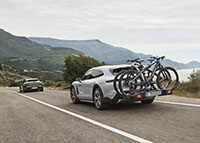 Of note, the Cross Turismo's base power unit is not available in the regular Taycan coupe, so the two models' base pricing aren't wholly reflective of each other. Where the 2021 Taycan 4S starts at $120,500, it uses the Cross Turismo's more potent 4S powertrain. A more direct price comparison can be made against the $126,800 Taycan Cross Turismo 4S, showing a reasonable $6,300 price increase for the newer crossover body style. Cross Turismo Turbo and Turbo S trims are an even better deal, only costing $3,000 more than their Taycan coupe equivalents.
A quick glance at CarCostCanada's 2021 Porsche Taycan Canada Prices page will show the differences, and allow you to configure the current coupe model as well. Porsche is offering the 2021 Porsche Taycan coupe with factory leasing and financing rates from zero percent, by the way, while all CarCostCanada members will receive access to additional important information, such as manufacturer rebates when available, plus dealer invoice pricing that could save you thousands more on any vehicle currently sold in Canada. Learn how an inexpensive CarCostCanada membership will save you money when purchasing your next new vehicle, and while you're at it, be sure to download their free app so you can have all this critical info at your fingertips when you need it most.
The All-New Taycan Cross Turismo (1:29):

Taycan Cross Turismo: Digital World Premiere (17:40):

Taycan Cross Turismo – Inner Space (2:30):

The Camouflaged Taycan Cross Turismo Hits the Road (1:57):

Story credits: Trevor Hofmann
Photo credits: Porsche