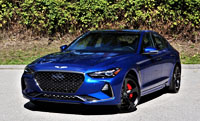 There is no more competitive category in the luxury sector than the compact sport sedan segment, and therefore it's critical for a premium brand to offer up a worthy entry. Enter the G70, the most important new Genesis model to surface until the fledgling luxury brand hits the market with a crossover SUV.
Genesis is Hyundai Motor Group's new luxury brand. It's what Lexus is to Toyota, Infiniti is to Nissan and Acura is to Honda. Each of these Japanese brands were late to the premium brand party, at least in comparison to some of the sector's originators that have been fighting it out for most of the past century. Genesis won't be breaking the mould like Tesla did with its lineup of electrics, the Model 3 going head-to-head with all challengers in the G70's class, but instead the new model offers a good looking, well made, strong performing, value-packed alternative to market leaders like the BMW 3 Series, Mercedes-Benz C-Class and Audi A4, not to mention all others including the Lexus IS, Infiniti Q50, Acura TLX, Cadillac ATS, Volvo S60, Jaguar XE, and Alfa Romeo Giulia.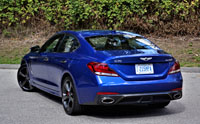 Yes, that's a lot of rivals, and I'm not even including all the wagons, convertibles and coupes, some of the latter even sporting four doors like Audi's A5 Sportback and BMW's 4 Series Gran Coupe. How did the G70 do? Strictly by the numbers, Genesis sold 1,119 examples through calendar year 2019 in Canada, which is pretty impressive, even representing 15.7 percent growth over the previous partial year (the G70 went on sale in March of 2018). That already puts it ahead of a couple of key competitors, namely the Cadillac ATS, which needed a sedan and coupe to accumulate 1,032 sales yet still lost 36.1 percent from the year prior, the Alfa Romeo Giulia that plunged 52.5 percent due to just 242 deliveries through 2019, and the Jaguar XE that nosedived 72.5 percent for just 157 new buyers during the same 12 months.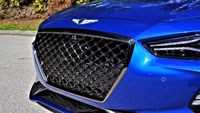 Achieving a comfortable four figures is an auspicious start for the three-year old brand's first all-new model. Certainly the G90 was new when introduced along with the brand in November of 2016, but like the G80 it was derived from an older Hyundai model. The G90 started life as the Hyundai Equus, and thus could also be seen as that model's third generation, whereas the G80 merely changed its rear badge from a stylized "H" to Genesis' wings, it having already worn the new brand's logo on its hood and steering wheel due to previewing the Genesis nameplate as its model designation for two generations and eight long years.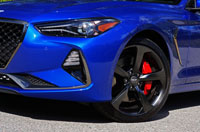 The G70 made up the vast majority of all Genesis sales last year, 73.4 percent to be exact, due to the G80 finding just 324 new owners and the G90 a mere 82 (that's 18th from last, incidentally, the final position held by the Kia K900 that shares underpinnings with the G90 and sold exactly zero units). Just how important the newcomer is to Genesis' plans can't be stressed enough, so it was good they got it right.
It's a handsome car, with a strong aggressive stance yet styling that's not too dramatic other than the nonfunctional front fender vents, and it's sized exactly right to fit squarely within the compact luxury D-segment. It measures 4,685 millimetres (184.4 inches) from front to back, with a 2,835-mm (111.6-in) wheelbase, 1,850 mm (72.8 in) from side-to-side, and 1,400 mm (55.1 in) from the base of its tires to top of its arcing roof, which makes it almost identical to the C-Class and not much shorter than the 3 Series. This is the compact luxury sweet spot, compared to the Infiniti Q50 that's quite a big longer.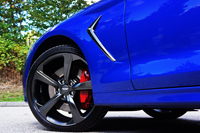 The result is a car that's totally comfortable in both rows, yet nice, light, quick, and manoeuvrable. The driving position is excellent, with plenty of reach and rake from the tilt and telescopic steering column, while my tester's upgraded driver's seat was superb, with excellent leg, lower back, and lateral support. The steering wheel is nicely shaped for a comfortable grip, with paddle shifters where they need to be for quick actuation, while the pistol grip shift lever on the lower console is only there for selecting gears. A beautifully detailed knurled metal dial provides driving mode selection, the choices being Comfort, Sport, Eco, Smart and Custom, and while I tested all for posterity's sake you can guess which one was my go-to setup.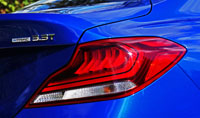 The automatic is the base G70 transmission, providing eight forward speeds and Idle Stop and Go capability that automatically shuts the engine off to save fuel and reduce emissions when it would otherwise be idling, and then quickly restarts it when lifting off the brake. The turbocharged 2.0-litre four-cylinder engine makes 252 horsepower and 260 lb-ft of torque, and is the sole engine available with a six-speed manual gearbox in its 2.0T Sport RWD trim. It's also the only G70 without all-wheel drive and actually makes an additional 3 horsepower over its automatic-equipped siblings, the Genesis' 2.0T Advanced AWD trim being the base model, followed by the 2.0T Elite AWD and 2.0T Prestige AWD.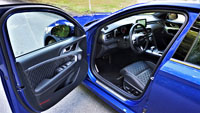 Only two trims use the optional 3.3-litre V6, a 365 horsepower twin-turbocharged engine good for 376 lb-ft of torque, including the 3.3T Dynamic AWD, and this top-line 3.3T Sport AWD. This model has a nice eager exhaust note at idle, and selecting Sport mode automatically adds air to the bladders in this Sport trim's exclusive 16-way power-adjustable driver seat's bolsters for better lateral support, the four-way lumbar and lower cushion extension having already been positioned for ultimate comfort and control.
The G70 3.3T tears away from stoplights at a blisteringly quick rate, managing 100 km/h from standstill in the high fours, and has a wonderfully aggressive exhaust note as the engine nears its 7,000-rpm redline. The eight-speed auto provides quick, precise shifts in Sport mode, the paddles only adding to the sense of urgency, this true especially through the curves where the G70 feels light and lively, and a lot more fun to drive than the equivalent Lexus IS 350 F Sport.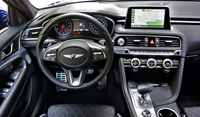 Braking is strong and doesn't fade after repeated stomps, the Sport's four-piston front and two-piston rear high-performance Brembos doing their job. Genesis' engineers have set this car up with superb balance, its front strut and five-link independent rear suspension never getting out of shape yet providing an amply compliant ride despite my tester's 19-inch staggered-width alloys wrapped in 225/40 front and 255/35 rear Michelin Pilot Sport 4 summer performance rubber. Its incredible stability likely has something to do with my Sport model's adaptive control suspension, which is a high-performance suspension control system that distributes front and rear damping forces in potentially onerous, unstable situations, helping to prevent accidents.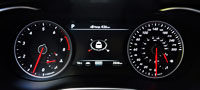 Speaking of safety features, more equipped G70 trims get forward collision assist with pedestrian detection as well, plus lane departure warning and lane keeping assist, and driver attention warning, while all G70s include blind spot collision warning with lane change assist, plus rear cross-traffic collision warning.
The Variable Gear Ratio-enhanced motor-driven rack-and-pinion steering responds positively to input, yet never nervous, and the car tracks ideally at high speeds, its mechanical limited-slip differential aiding in rear wheel traction. This is a sport sedan I could drive every day, my only wish being a track so I could fully let out some steam, but even around town it wasn't only a perfect point-and-shoot companion, but an easy car to operate in congested traffic.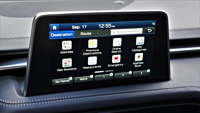 That's when I had opportunity to enjoy its beautifully detailed interior. Everything is very well made, with the expected soft-touch surfaces above the waste, excepting the glove box lid and fascia around steering wheel. Most switchgear is high in quality, but its aluminized silver look with blue backlit lettering comes across a tad too Hyundai and not enough Genesis, as did the 8.0-inch infotainment display and graphics. It's filled with features including Apple CarPlay, Android Auto, navigation, a multi-view camera system, Genesis Connected Services, and the list goes on, one of my favourites being a 15-speaker Lexicon audio system with Quantum Logic surround that had sensational sound quality, but most in this class offer some type of controller on the lower console to go along with the touchscreen.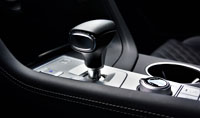 The TFT multi-infotainment display ahead of the driver was highly functional too, plus nice and big at 7.0 inches across, but while bright and colourful the analogue primary gauges surrounding it were a bit surprising in today's fully digital instrument cluster world.
Surprisingly but wonderful was the diamond-pattern quilted black and grey highlighted Nappa leather upholstery on the seats and door panels. It's the type of rich opulence you might find in a Bentley or Aston Martin, not a compact Genesis, the seats even boasting grey piping on the side bolsters and top of each backrest. That's part of the Sport's standard Sport Appearance Package that also includes the driver's power-adjustable bolsters and seat cushion extension mentioned earlier, plus aluminum pedals and black microsuede roof pillars and headliner.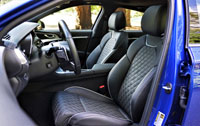 The G70 was as beautifully finishing in back as up front too, and included three-way seat heaters for the outboard positions. The front seats had these as well, plus the driver had a heated steering wheel rim and two front seats benefited from three-way cooling to help overcome summer's warmth. Of course, dual-zone auto climate control took care of cabin comfort, while the usual phone connectivity and charging ports were part of the package, including a wireless charging pad.
A corner that's often cut by bargain luxury brands is trunk finishing, and unfortunately the G70's dedicated cargo hold is a bit shallow and uses space-robbing hinges instead of struts. The load floor feels cheap and flimsy too, and the folding rear seatbacks are only split 60/40 with no centre pass-through, limiting the G70's use as a ski shuttle, at least while all four seat heaters are being used.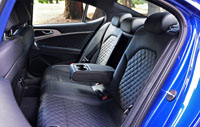 On the positive the G70 is a relative bargain compared to its German competitors, with a base price of just $42,000 plus freight and fees. Comparatively the least expensive Mercedes-Benz C-Class sedan starts at $46,100 and most affordable BMW 3 Series sedan hits the road at $49,000, while the near slowest selling Jaguar XE starts at $49,900 and least popular Alfa Romeo Giulia requires $50,445. Certainly some undercut the G70, like the Audi A4 at $39,800 and Lexus IS at $41,250, but they don't offer anywhere near the same standard features.
You can find out about full-range pricing for each of these models at CarCostCanada (just follow the links on the car names above), including trim, packages and individual options, while you can also learn about available offers such as the zero-percent factory leasing and financing rates now provided by Genesis for 2019 and 2020 G70 models, and before you contact your Genesis dealer, or any one of the others, be sure to get your CarCostCanada membership so you'll know the dealer invoice price before you start negotiating, as it could save you thousands.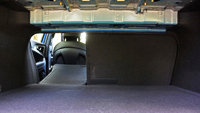 By the way, the 2020 G70 is nearly identical to this 2019 model, other than the elimination of 3.3T Dynamic AWD trim and the introduction of a new higher-end 3.3T Prestige AWD model. The base price stays the same, but some of the other trims move up, including this Sport trim that adds $500, along with a new standard powered trunk lid, for a new retail price of $58,000.
All in all the 2019 Genesis G70 is an excellent luxury car with few drawbacks, especially for sport sedan fans that like to motor with enthusiasm. It rewards skilled drivers with wonderful straight-line performance and very predictable, capable at-the-limit handling, yet its excellent balance and the AWD models' tendency to understeer won't hang a novice driver out to dry either. Its interior will impress too, with comfort and eye-popping opulence, my top-line $57,500 3.3T Sport AWD really delivering across the board. All this, plus a best-in-class five-year or 100,000-km comprehensive warranty. Not too shabby.
It's not without fault, its estimated 13.3 L/100km in the city, 9.5 on the highway and 11.6 combined fuel economy hardly thrifty (the four-cylinder with AWD gets a claimed 11.5 city, 8.7 highway and 10.3 combined), but its pros certainly outweigh its cons, so the G70 is an easy car to recommend.