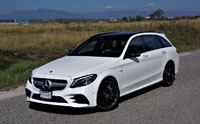 If you're old enough to be called a boomer, or if you fall into the early gen-xer category, you might remember when wagons were the furthest from cool a car could be.
Certainly there were exceptions, like Chevy's Nomad, the early '70s Olds Vista Cruiser my family borrowed to travel from Vancouver to California one summer, some of Volvo's Turbo Wagons, and Mercedes' 1979 (W123-body) 500 TE AMG that's possibly coolest of all, but believe it or not minivans had more street cred than wagons when they arrived in the '80s, and when those ultimately useful monobox conveyances stopped stroking our collective ego it was up to crossover SUVs to balance the emotion-driven wants and practical needs of our busy suburban lifestyles. The thing is, to many serious car enthusiasts, the wagon never went out of style.
Mercedes understands this better than any manufacturer, proven by satisfying its longstanding wagon faithful with two segment sizes and multiple trim levels that include the compact C-Class Wagon and the mid-size E-Class Wagon, plus various trims including the C 300 4Matic Wagon, the AMG C 43 4Matic Wagon being reviewed here, the E 450 4Matic Wagon, the AMG E 53 4Matic+ Wagon, and lastly the AMG E 63 S 4Matic+ Wagon.
The last one on that list is in a class of one from price to performance, its $124,200 buying a 3.3-second sprint from standstill to 100 km/h via a 603 horsepower 4.0-litre biturbo V8 as well as a whole lot of luxury, while the somewhat more sedate AMG-tuned E variant provides a similar level of luxury for its much more affordable $87,800 base price yet utilizes a turbocharged and electrically compressed 3.0-litre inline-six making 429 horsepower to push it from zero to 100 km/h in a scant 4.5 seconds.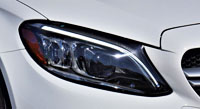 At $60,900 the AMG C 43 4Matic Wagon is the value five-door amongst Mercedes' go-fast AMG estate line, but despite its much more affordable price point it still delivers the goods. Its 385-horsepower 3.0-litre biturbo V6, complete with rapid-multispark ignition and high-pressure direct injection, propels it from naught to 100 km/h in a very respectable 4.8 seconds, much thanks to a near equal 384 lb-ft of torque, and the sounds its engine and exhaust make doing so are almost as entertaining as the drive itself.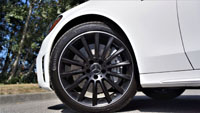 To be clear, there's nothing remotely like the C 43 Wagon on the Canadian market. BMW, which has long offered its 3 and 5 Series Touring wagons, no longer sells any in Canada (at least not since last year that saw the sedan get redesigned and the wagons carryover unchanged—they're gone for 2020), while Audi only provides its tall crossover wagon lineup consisting of the A4 and A6 Allroad, and with 248 and 335 horsepower apiece they don't perform anywhere near as well as Mercedes' AMGs. What about Volvo? The Chinese-owned Swedish carmaker should be commended for providing the regular-height V60 sport wagon and their raised V60 Cross Country wagon with performance from diesel, turbocharged gasoline, turbo and supercharged gasoline, plus turbo, supercharger and hybrid electric gasoline power units and horsepower ratings from 190 with the diesel to a mighty 405 hp for V60 Polestar trim (the mid-size E-segment V90 and V90 Cross Country models have been discontinued in Canada for 2020), but as innovative as it is (and it's truly impressive) Volvo's smooth, linear 2.0-litre turbocharged, supercharged, hybrid powertrain isn't as in-your-face exciting as the C 43 Wagon's raucous V6, AMG SpeedShift TCT 9-speed, and 4Matic all-wheel drive combination.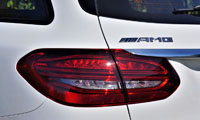 The C 43 has the requisite menacing look down too. Granted it's a lot more imposing in Black, my tester's coat of Polar White almost saintly by comparison, but don't let the angelic demeanor fool you. All of the matte and glossy black trim gives away its bahn-storming purpose, with highlights being its mesh front grilles, the aggressive lower front fascia with straked corner vents, the side mirror caps, the mostly glass roof and roof rails, the window trim, the deeply sculpted rear diffuser, the quad of tailpipes, and the 19-inch alloys shod with Continental ContiSportContact SSR 225/40 high performance rubber.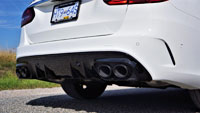 Eye-arresting LED headlights with three separate elements provide advanced style and a level of brilliance capable of turning dark nighttime side roads into near daylight, their vertical corner lamps particularly unique, while bright metal adorns the top half of each exterior door handle and a large strip spanning the back hatch, not to mention various badges including a subtle front centre grille-mounted "/////AMG" logo, two proudly declaring the "BITURBO 4MATIC" powertrain on each front fender, one boasting a larger and more prominent version of AMG's logo and another for the car's "C 43" nameplate on the left and right of the rear liftgate respectively, plus various Mercedes three-pointed stars at each end, on the wheel caps, etcetera.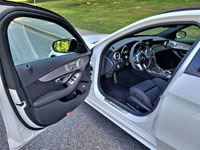 Of course, proximity-sensing keyless entry gets you inside, where you'll be greeted by a stunning set of sport seats finished in black perforated leather, red stitching and brushed aluminum four-point harness holes up top, not to mention a small AMG badge on the centre backrest, that is if your eyes aren't first distracted by the exquisitely detailed doors that get even more brushed and satin-finish aluminum trim, plus drilled aluminum Burmester speaker grilles and red-stitched black leather everywhere else.
Red thread and padded leather continues to surface the dash top, even as far as the most forward portion just under the windshield, plus the instrument panel all the way down each side of the centre stack, the latter finished in gorgeous available gloss carbon fibre as it swoops down into the lower centre console that culminates into a large split centre armrest detailed out in more red-stitched soft leather.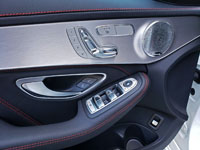 Speaking of large, two oversized moonroofs give the impression of one massive panoramic sunroof without as much loss in torsional rigidity, important in such a long roofed car capable of attaining an imposed 250-km/h (155-mph) top track speed, not to mention shockingly good handling on some of my favourite semi-deserted non-track backroads, a process that, while thrilling to the nth degree, is almost downplayed by the luxuriously appointed C 43's overall quietness. The roof pillars, finished in the same high quality cloth as the roofliner, can take some credit for calming the wind and hushing the rest of the outside world, but most of the magic is in the ultra-stiff unibody itself, plus all of the seals, insulation, engine and component mounts, etcetera. Thus only slight wind and road noises enter the cabin, allowing for more of the growling engine or alternatively the audio delights of the aforementioned optional Burmester stereo.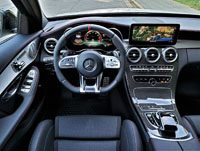 You can control the volume of all 13 speakers from a beautiful knurled metal cylinder button on the right-side steering wheel spoke, this just one of the C 43's full array of steering wheel switchgear, two of which are tiny Blackberry-style touchpads that let you scroll through the wholly impressive digital gauge cluster or the centre display. The entire wheel is a cut above, the partial Nappa leather-clad rim flattened at each side and the bottom for a really sporty look and feel, while a red top marker lines up the centre and suede-like Dinamica (think Alcantara) adds grip to the sides.
There's more brushed and satin-finish aluminum in the C 43 than any competitor, but somehow Mercedes pulls it off with a level of retrospective steampunk tastefulness that shouldn't make sense yet obviously does. The five circular HVAC vents on the instrument panel make the look work, the three at the centre underscored by a stunning row of knurled metal-topped brushed aluminum toggle-type switches, this only upstaged by another cylinder switch for drive mode selection of Comfort, Sport, Sport+ and Slippery settings, and a rotating dial for the infotainment system, both once again detailed out in knurled aluminum and the latter positioned below Mercedes' trademark palm rest cum touchpad and quick access button infused controller.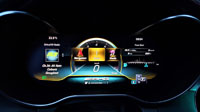 Mercedes displays are the envy of the auto industry, especially newer models that incorporate dual connected 12.3-inch screens for the primary instruments and infotainment. The current fourth-generation (W205) C-Class (S205 for the wagon), introduced in September 2014 for the 2015 model year and therefore in its seventh year of production, hasn't been given the brand's latest dash design yet, but its traditional hooded analogue gauge cluster (and large multi-info display) can be substituted for 12.3 inches of digital instruments when opting for the C 43's Technology package, at which point it comes filled with all the digital wizardry the brand is now becoming renowned for. It's as colourful as gauge clusters get, and uniquely customizable with various background designs and loads of multi-information features. It allows for a multitude of function combinations too, and can either take over the entire display with a navigation map, for instance, or just a portion thereof, working wonderfully once figured out.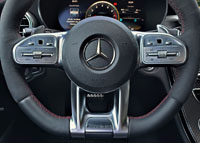 My tester's optional centre display, which is slightly smaller at 10.25 inches (the base model gets a 7.0-inch screen), is a fixed-tablet design propped atop the centre stack in an all too common layout these days, although its innards are pure Mercedes-Benz and therefore filled with attractive, colourful graphics and easy to scroll through ahead of choosing a function as needed, plus it comes loaded up with myriad features. Unlike many such displays the C's isn't a touchscreen, so all tap, pinch or swipe gesture controls need to be done via the previously noted touchpad or scrolling wheel on the lower console, or the little touch-button on the steering wheel, all of which work well enough. I prefer having use of a touchscreen as well as the other controls, mind you, or at least a larger touchpad, which is also showing up in some of Mercedes' more recent offerings.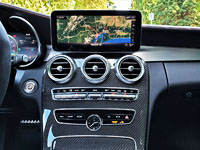 That Technology package mentioned a moment ago costs $1,900 and also includes the active Multibeam LED headlights I spoke of before, and adaptive high beam assist, while all the gloss-black exterior trim noted earlier was actually part of a $1,000 AMG Night package.
Likewise, the fabulous AMG Nappa/Dinamica performance steering wheel that I went on about at length earlier is part of the $2,400 AMG Driver's package that also includes the free-flow, four-pipe AMG performance exhaust system with push-button actuated computer-controlled vanes, the 19-inch AMG five-twin-spoke aero wheels (the base model gets 18s), an increase in top speed to the previously noted 250 km/h (155 mph), and an AMG Track Pace app that allows performance data, such as speed, acceleration, lap and sector times to be stored in the infotainment system while driving on the racetrack.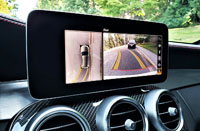 For 2020 AMG Driver's package also includes an AMG Drive Unit that features a set of F1-inspired controls below each steering wheel spoke for quickly adjusting performance settings (with integrated colour displays for confirming the selection). The left pod of switches can be assigned to functions like manual shift mode, the AMG Ride Control system's damping modes, the three-stage ESP, and the AMG Performance Exhaust system, while the circular switch on the right selects and displays the AMG Dynamic Select driving mode.
As you can see by checking out the photo gallery and smaller images shown on this page, those cool steering wheel controls were not on my tester, which means the car photographed was actually a 2019 model. Other than this, and some small details such as dual rear USB ports as standard equipment across the entire C-Class lineup, the C 43 Wagon you're looking at is identical to the 2020.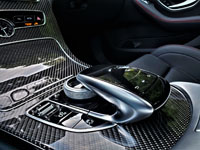 That means the $5,600 Premium package found in my tester would be the same as the one in the 2020 model, with both featuring aforementioned proximity keyless access, a touchpad controller, and the 590-watt Burmester Surround Sound audio system, plus a 360-degree surround camera system, Apple CarPlay and Android Auto smartphone integration, navigation, voice control, satellite radio, real-time traffic info, wireless phone charging, an integrated garage door opener, Mercedes' Active Parking Assist semi-autonomous self-parking, rear side window sunshades, and a powered tailgate with foot-activated gesture control.
My tester also included the $2,700 Intelligent Drive package with its Pre-Safe Plus, Active Emergency Stop Assist, Active Brake Assist with Cross-Traffic Function, Active Steering Assist, Active Blind Spot Assist, Active Lane Change Assist, Active Lane Keeping Assist, Evasive Steering Assist, Active Distronic Distance Assist, Enhanced Stop-and-Go, Traffic Sign Assist, Active Speed Limit Assist, and Route-based Speed Adaptation.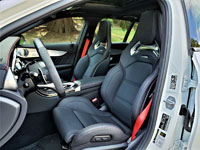 I could go on and on talking about standard features and options (and the slick $250 designo red seatbelts really deserve mention), but the reality is this little C 43 is well stocked and beautifully finished, and at least as importantly it's wicked fun to drive. Shifting into reverse to back out of my driveway caused a rearview camera with an overhead view and particularly good dynamic guidelines to pop into view, but oddly this super wagon's automatic shifter is still on the column, making it either the most anachronistic hot hatch in existence or the smartest, being that it was always the most efficient place to house an auto shifter. It's a completely modern electronically shifted transmission, mind you, that you pull down and up for drive and reverse as has always being the case, but pressing a button for Park is new. All manual shifts are executed via steering wheel mounted paddles, and believe me you'll be tempted to scroll through the incredibly impressive nine-speed automatic all the time.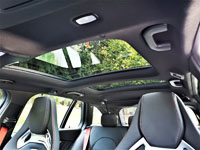 AMG specifically programmed Merc's new nine-speed to prioritize performance, which means the wider range of more closely spaced ratios shift quicker yet still plenty smooth, and the aforementioned AMG Dynamic Select system's Comfort, Sport and Sport+ modes really make a difference. What's more, three overdrive ratios and ECO Start/Stop that automatically shuts the engine off when it would otherwise be idling to reduce fuel consumption and minimize emissions aids efficiency, the C 43 Wagon good for a claimed 12.4 L/100km in the city, 8.9 on the highway and 10.8 combined for both 2019 and 2020.
That's amazingly good for a vehicle with this kind of performance, not to mention one with all-wheel drive. The AMG 4Matic system has a fixed 31:69 front/rear torque split designed to optimize performance off the line and through the corners, while the latter benefits from a nicely weighted electromechanical power assist rack-and-pinion steering setup with good feel, and a standard AMG Ride Control Sport Suspension featuring three-stage damping that clings to tarmac like you'd expect an AMG-tuned Mercedes would. I even felt comfortable enough to turn the traction/stability control off for a little sideways sliding, and it was perfectly predictable and wonderful fun.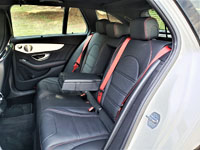 If you've never driven something like the C 43 you'll be shocked and awed, as anything with AMG badges is the stuff of legend. Braking is equally heart arresting thanks to a track-ready AMG Performance Braking system with perforated (not cross-drilled) 360 mm rotors and grey-painted four-piston fixed calipers up front, and solid 320 mm discs at the rear. The difference between perforated rotors and other manufacturer's cross-drilled process begins at the moment of casting, where the AMG discs are cast with the holes in place so as to improve strength and heat resistance. The result is strong braking even when used too much at high speeds on curving, undulating mountainside roads. They're the next best thing to carbon-ceramic brakes, but offer nicer day-to-day stopping performance that suits the C 43 Wagon's overall mission ideally.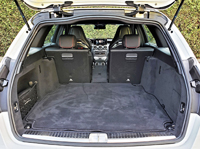 Yes, hooliganism aside, this family shuttle is plenty practical. It's roomy up front with seats that are as comfortable as any in the class, while the second row provides more than enough space for most body types to stretch out. A wonderfully complex folding centre armrest adds to the comfort quotient when three's a crowd, as it's filled with pop-out cupholders and a shallow, felt-line bin for storing what-have-you, or alternatively the centre position can be eliminated entirely by dropping the 20-percent section of the 40/20/40-split seatback down for stowing longer cargo like skis without the need to force rear passengers into the less comfortable centre position, the usual result of less convenient 60/40-split rear seats. Those rear seatbacks fold down via two small electronic buttons too, helping to make the C 43 as easy to live with as it's outrageously fun to drive. The end result is cargo capacity that expands from 460 litres to 1,480, which is subcompact to compact SUV levels of usability (its load capacity fits between the GLA- and new GLB-Class).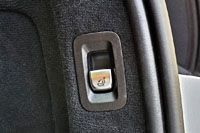 So folks, if you hadn't previously figured out that wagons are cool again, despite being a little late to the party it's certainly not over yet. For me, this is Mercedes' AMG wagons offer the ultimate balance between performance and practicality, combined with some of he nicest interiors in the auto industry. That they wear one of the most prestigious badges available is merely a bonus, and that Mercedes is now providing up to $5,000 in additional incentives on 2020 models is even more motivation to take a closer look.
To find out more, make sure to visit CarCostCanada's 2020 Mercedes-Benz C-Class Canada Prices page where you can learn about all C-Class body styles, trims, packages and standalone options, plus you can build the exact model you're interested in. Even better, a CarCostCanada membership will provide the most important information you could need before even talking to your local Mercedes-Benz retailer, including details on available manufacturer rebates, financing and leasing deals, plus you'll learn about dealer invoice pricing so you can know exactly how far they may be willing to discount your C 43. 
Story and photo credits: Trevor Hofmann
Photo Editing: Karen Tuggay