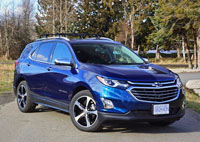 A diesel in a compact crossover SUV? Now that's marching to a different drummer. 
In fact, that distinctively domestic rat-a-tat-tat is the staccato snare of General Motors following through on promises made by Asian competitors Hyundai and Mazda. The Korean and Japanese brands were supposed to arrive with diesel-powered variants of their Santa Fe and CX-5 crossover SUVs this 2019 model year, but so far there's no sign of this ultra-efficient engine option on their retail websites, yet GM showed up in late 2017 with a turbo-diesel option as part of a three-engine lineup for its then redesigned 2018 Chevrolet Equinox and GMC Terrain compact SUVs, a welcome first in this category, that is if we were to forget about the short-lived 2005-2006 Jeep Liberty Diesel. Let's just say it's a welcome first amongst compact crossovers, these more car-like GM models hardly as off-road capable as the boxy little Jeep was, that long-gone model since replaced by the Cherokee that remains a capable 4×4 less a diesel option.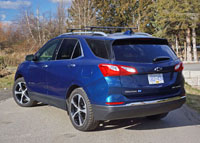 I drove a 1.5-litre turbo-four gasoline-powered Equinox Premium model first (the white SUV in the photos), and have since spent a week with the same trim and its 1.6-litre turbo-diesel powerplant (the blue version). As much as I'd certainly enjoy the experience, I've yet to test out the most powerful top-line 2.0-litre turbo-four. 
The base engine might seem a bit underwhelming on paper with just 170 horsepower and 203 lb-ft of torque on tap, particularly for those wanting or requiring quick shots of energy on command, but I found it more than sufficient for this relatively lightweight crossover SUV, and it's very easy on the budget with a claimed five-cycle Transport Canada fuel economy rating of 9.2 L/100km in the city, 7.3 on the highway and 8.3 combined in FWD, or 9.3, 7.8 and 8.6 respectively with AWD.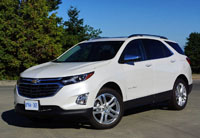 The 2.0-litre four that comes standard with AWD is good considering its 252 horsepower and 260 lb-ft of torque, which vaults the Equinox up into luxury compact SUV territory, yet despite an impressive nine-speed automatic, which is three forward gears more than the two lesser engine's six-speed autoboxes, it manages just 10.9 L/100km city, 8.3 highway and 9.7 combined. 
Both transmissions come standard with automatic stop/start, by the way, which automatically shuts off the engine when the Equinox comes to a stop and then instantly restarts it when lifting off the brake in order to reduce emissions and running costs.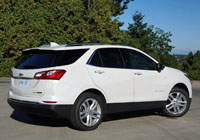 To be fair, this is quite good when compared to similarly powerful competitors, but both gasoline-powered models pale in comparison to the "conventionally" powered crossover SUV category's fuel economy champ, the Equinox Diesel that's rated at an extremely thrifty 8.5 L/100km in the city, 6.0 on the highway (6.1 with AWD) and 7.4 combined, unless compared to the new Toyota RAV4 Hybrid that solidly beats Chevy's oil burner at 5.8 city, 6.3 highway and 6.0 combined, while its $32,090 base price is a surprising thousand and change less expensive than the cheapest Equinox LT FWD model, an SUV that starts at $33,100. It's a significant $6,400 more than the $26,700 base Equinox LS too, and $5,300 less than the $38,400 Equinox AWD Premier Diesel being reviewed here. AWD, incidentally, adds $2,400 to the base LS, while the Equinox AWD 2.0 Premier starts at $37,900.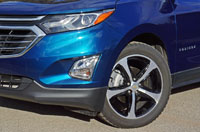 All noted prices are not including freight and fees, but these details as well as additional pricing for trims, packages and individual options can be found at CarCostCanada, where you can also source the latest manufacturer rebates (especially important during year-end clear-outs) and dealer invoice pricing that could save you thousands. 
Savings in mind, the Mitsubishi Outlander PHEV is by far the compact SUV class' efficiency leader, albeit at $43,498 before government rebates it's a helluvalot pricier too, leaving the two GM diesels as the most efficient non-electrified crossovers in the compact category. Even the 2.0-litre turbo beats the few similarly powerful crossovers in the class, so kudos to GM for offering such a wide variety of engine and transmission alternatives, plus making them all achieve better than average fuel economy.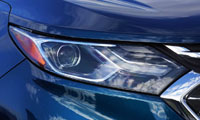 I must say that I prefer the diesel upgrade to the base engine from both performance and efficiency perspectives. The diesel might only make 137 horsepower, but it puts a much more motivating 240 lb-ft of torque down to its front wheels or all four, also from just 2,000 rpm, the same as the base engine. 
The Equinox AWD system improves fuel economy even more. In fact, unlike most competitors that provide full-time AWD or engineer the rear wheels to engage automatically, the Equinox drives with its front wheels unless you've added traction at the back via a button on the centre console. You'll get a warning when four-wheel grip is recommended, but any other instance you can save fuel by driving what is effectively a front-wheel driven SUV. I noticed this when the front tires kept skidding at takeoff, the diesel providing so much torque at launch it was hard to hold them back, but pressing the AWD button cured this problem, making the Equinox more sure-footed at take off and of course better at holding the road during wet weather too.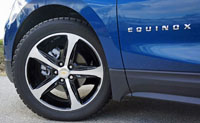 Both models' six-speed automatics were highly responsive. Each includes a rocker switch atop the shift knob for rowing through the gears in manual mode, which is an interesting alternative to shifting the entire gear lever or using steering wheel paddles (on that note don't try shifting the gears with the buttons on the backside of the steering wheel, because you'll probably only switch radio stations). I never once found it lacking gears, as the two engines provide ample torque over wide rev ranges, while they shifted smoothly whether toggling through the cogs manually or leaving them in Drive.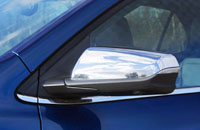 Likewise the Equinox has a nice compliant suspension, normal for any GM product other than performance-dedicated models like the Corvette Z06. For its class the Equinox handles very well too. It really feels lightweight and nimble, whether zipping in and out of congested traffic, pushing hard on a winding backcountry road, or stably cruising through fast-paced bends on the open highway. 
No matter the exterior environment, most should be impressed with the Equinox Premier's interior that's finished to a higher grade than many of its contemporaries. It starts upon closing the driver's door, which feels more solid than some of its tinny competitors, and continues through with some really nice details like smooth and perforated patterned and contrast-stitched leatherette surface treatments across the entire instrument panel, plus tasteful application of truly attractive aluminum-like trim on the steering wheel, primary instruments, dash vents, plus the centre stack and lower console controls.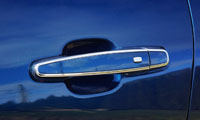 Chevy doesn't go overboard on soft-touch synthetics, but it does wrap the contrast-stitched leatherette armrests up and over the rear third of the door uppers, and finishes the rest of those uppers in a soft painted synthetic, which also gets used for the dash top and much of the instrument panel, plus the top edges of the centre stack and lower console. Just to be clear, it's not as if this soft-paint will peel off at any time, as it's permanently fixed to the plastic and therefore provides a much nicer texture than this segment's usual hard shell plastic.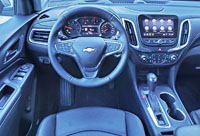 Moving such premium touches even further upmarket are really nice steering wheel controls, my tester even incorporating a heatable steering wheel rim plus adaptive cruise control, while much of these buttons modulate a colour multi-information display within the otherwise analogue gauge cluster, this featuring a digital readout for traffic sign information, and a back seat reminder that prompts when turning off the engine if you happened to open a rear door before starting off. 
Leaving what I think is best for the last, the Equinox' centre touchscreen infotainment system is really impressive. I love the simple circular graphics rimmed in mostly primary colours, which are bright, modern and ultra-easy to figure out. This is one of the better infotainment systems available in this class, and while I've seen larger displays this one is wonderfully crisp and clear, with superb resolution plus nice, deep, rich colours and good contrast. The navigation system's map provides clear instructions, and it worked accurately throughout my test week. My only infotainment disappointment was a lack of album cover graphics when using satellite radio, which was a bit unexpected being that GM basically gave satellite radio a leg up by adding it across virtually all models when the service first started. Nevertheless, satellite radio is always appreciated.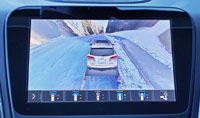 The infotainment system also features Apple CarPlay and Android Auto smartphone integration, plus my tester included one of the better surround parking cameras I've ever used, with the ability to transfer the view from a default mode, which makes the overhead camera smaller and to the left of the display with a larger backup camera with dynamic guidelines to the right, over to a full backup camera with dynamic guidelines, or alternatively to a different view of that same reverse camera, an overhead view of that rearview camera, or alternatively a bizarre frontal view that actually seems as if it's filming the SUV from outer space, really handy close-ups of curb or road on both sides, to an extreme close-up of the front, and more. Believe me, this camera will keep you spellbound for hours, and once you figure out all the viewpoints you'll never scratch a set of wheels (or another vehicle) again. Incidentally, this top-line parking camera and the base version were upgraded with improved image quality for this 2019 model year.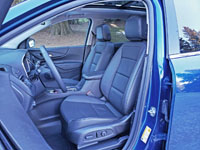 Below the infotainment display is a dual-zone automatic climate control interface that's well organized and attractive enough, but my favourite set of buttons were for activating the three-way heated and/or ventilated front seats, the latter not always available in this class, but really helpful for keeping backside dry and cool against leather in the summer.  
The base of the centre stack features a large opening with a rubberized compartment that's carved out to ideally fit a large smartphone in its elongated position. A wireless charging pad was included, plus GM now incorporates the usual USB-A plug as well as one of the newer USB-C ports (both capable of charging and used as inputs to the infotainment system), which might have been needed for my Samsung S9 if it wasn't already charging on the just-noted wireless pad. The usual aux plug and 12-volt charger are included too, so your devices will be nicely taken care of in that little compartment alone, although moving slightly rearward results in two more USB charging ports under the front centre armrest.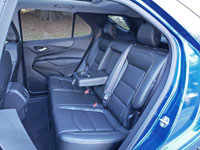 Look skyward and you'll see an overhead console with a handy sunglasses holder that I used all week, plus LED reading lights, and controls for OnStar, SOS, and more. Two of those switches open the panoramic sunroof or its sunshade. I always appreciate large glass roofs like this as they bring a lot of light inside resulting in a nicer, more open ambiance. 
Speaking of room, the Equinox provided plenty for my medium-build five-foot-eight frame, plus a really good driving position that allowed me to get comfortable while maintaining full control. This isn't always the case, by the way. I actually have trouble getting the tilt and telescopic steering columns of some competitors to reach far enough rearward when my seat is set ideally for my legs, particularly the aforementioned Toyota RAV4 that doesn't have anywhere near enough adjustability, but no such difficulty in the well designed Equinox cabin.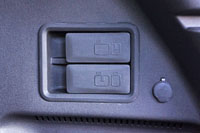 What's more, when my driver's seat was set up for my long-legged short torso body type, I still had about eight inches of space ahead of my knees when sitting just behind in the second row, plus plenty of room from side to side and about two inches above my head, that panoramic sunroof mentioned a moment ago pushing the surrounding roof area down a couple of inches than it probably would have been if not included. Still, I'd take the roof, but I can imagine those with really tall six-foot-plus teens might find it a bit too low back there. 
As far as rear seat amenities go, Chevy includes LED reading lights on both sides, two more USB-A charge ports (new for 2019), a three-prong household-style 120-volt plug, and the best rear outboard seat heaters I've ever tested, in that their three-way temperature controls adjust both lower cushion and backrest heat, or just the back alone. You shouldn't hear too many complaints from your kids, although being that the rear seatback is divided in a simple 60/40 configuration instead of some competitors' 40/20/40 split or 60/40 with a centre pass-through, families that ski will need to draw straws for the lucky rear seat passenger getting the bun warmer for the ride home.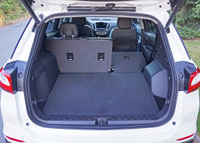 At least Chevy provides levers on the cargo wall for automatically folding those rear seatbacks down. Just give them a tug and the seats lay flat immediately. There's also a fairly sizeable storage compartment under the load floor, which I certainly would put to good use if this were my SUV, while the area behind the rear seatbacks measures a generous 847 litres (29.9 cu ft), expanding to 1,809 litres (63.9 cu ft) when those seats are folded down. 
While the 2019 Equinox doesn't look any different from the redesigned 2018 model, Chevy put a lot of effort into reconfiguring trims and packages to better suit their customers. For starters, a new Lights and Bright package can be had with second-rung LT trim, which adds a chrome grille surround, LED headlamps and taillights, plus unique 19-inch wheels. On the negative, front-drive LT models no longer get a standard leather-trimmed shift knob, this now available as part of an option package.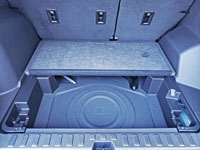 My tester included a $2,995 Driver Confidence and Convenience II package that's exclusively available with Premier trim and features the surround parking camera noted earlier, automatic high beams, adaptive cruise control with stop-and-go, autonomous emergency braking with pedestrian detection, lane keeping assist, a safety alert seat that vibrates if you veer out of your lane or cause any number of other issues, a heatable steering wheel rim, an eight-way power-adjustable front passenger seat with powered lumbar support, ventilated driver and front passenger seats, and the heated rear seats noted a moment ago. 
Alternatively you can opt for either the Driver Confidence II or Driver Convenience II package that includes the tech or luxury updates individually, while my tester also included a no-cost set of 19-inch five-spoke alloys. I won't go into all the available options, but suffice to say those wanting to personalize their Equinox will be well taken care of.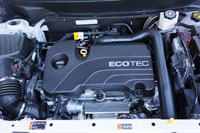 My tester also included a $1,305 Infotainment II package with the previously noted panoramic sunroof, navigation, a seven-speaker Bose audio upgrade, HD radio, and 19-inch alloys, while some notable Premier trim features include LED headlights and taillights, chrome door handles and mirror caps, auto-dimming rearview and side mirrors, a leather-wrapped steering wheel, a colour multi-information display within the gauge cluster, a universal garage door opener, dual-zone automatic climate control, a one-inch larger 8.0-inch infotainment touchscreen, wireless smartphone charging, rear park assist, blindspot monitoring with rear cross-traffic alert, a hands-free powered liftgate, etcetera. 
There's plenty more that makes the Equinox worthy of your attention, but take note the diesel option will be discontinued for 2020, so you'll need to act fast if you want to get your hands on one.