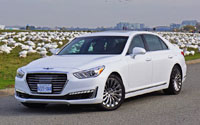 Remember the Hyundai Equus? No? If I hadn't borrowed one from a local dealer to use for a 2014 test I probably would've forgotten about it by now too. In fact, I don't believe Hyundai even put one on their weekly rotation fleet in my area. It was a good luxury car, better in fact than any mainstream volume-branded rival, all of which merely offered stretched versions of their front-wheel drive mid-size family sedans, like Hyundai's own Azera, instead of a V6- and V8-powered, rear-drive Mercedes S-Class, BMW 7 Series type full-size luxury sedan, but just the same its premium-level interior, long list of features, impressive performance, and superb value proposition didn't result in many sales. 
The problem? No premium branding. Mighty Volkswagen learned this the hard way too, with its ill-fated Phaeton, but Toyota, Nissan and to some extent Honda figured out the importance of premium branding decades ago, resulting in Lexus, Infiniti and Acura, while GM's Cadillac and Ford's Lincoln brands have been trying to break back into the luxury sector since they lost ground to the Germans in the '80s.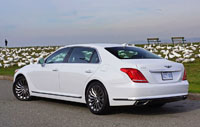 Canada was first introduced to South Korean luxury in 2010 when the second-generation 2011 Equus was introduced, and while an impressive luxury car it was a bit bland and nondescript from a styling standpoint, much like the first-gen Hyundai Genesis Sedan. It was almost as if the designers of these two cars didn't want us to know they were Hyundai products. We all expected the third-generation Equus to take on styling details from the second-generation Hyundai Genesis sedan, which was and still is a very handsome mid-size sport-luxury sedan, and then the Korean automaker one-upped us and discontinued both, instead rebadging the Genesis sedan as the G80 and making its next Equus into this G90, while simultaneously launching the Genesis luxury brand in Canada, the U.S., China, the Middle East, Russia, Australia, and of course its home market of South Korea. Hyundai is planning to launch Genesis in other Asian markets as well as Europe within the next couple of years, but might just be waiting until they have a full lineup of models (read: SUVs) to do so. 
It could be said Hyundai jumped the gun by introducing this sedan-only brand without having at least one SUV in its lineup, but Genesis Sedan (the G80's predecessor) sales were relatively strong when it made the decision in 2015 and the rest is history. All I can say is, if Genesis' upcoming SUVs are as impressive as its three sedans (they introduced the smaller C-Class/3 Series fighting G70 last year), and better than the fabulous new Hyundai Palisade that just arrived for 2020, we're in for a real treat. 
As I write this review the totally redesigned 2020 Genesis G90 is being advertised, sporting a completely new version of its "diamond" grille that comes complete with a unique downward pointing lower section and "G-MATRIX" crosshatch patterned insert in place of the current 2019 model's seven horizontal ribs. It gets LED "Quad Lamp" headlights, Bentley-esque front fender grillettes, massive mesh-pattern wheels, and three ultra-distinctive horizontal LED taillights, the lower element spanning the entire width of the car, while the interior is more up-to-date from a design and digital standpoint, plus even more luxurious than this outgoing model.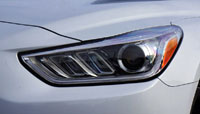 As good as the new model looks (and that will be up to your personal preferences of course), I still find this 2019 G90 very attractive. Its extremely low sales volumes have helped keep it fresh, familiarity even causing great designs to seem commonplace and therefore lose their exclusivity. The current G90's approach to design is more discreet than the new model and much more conservative than, say, the Lexus LS' spindle grille design, the G90 working well for those of us who'd rather fly under the radar than attract unneeded attention. Audi's A8 once had this appeal too, but the horseshoe grille has grown to encompass most of its frontal fascia, and while still attractive it's a more intimidating beast than it used to be.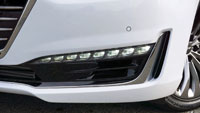 Like most new brands Genesis is still forming its identity, evidenced by the just-noted lower point on the new 2020 model's diamond-shaped grille, with this search for a trademark look made even more critical after factoring in that the brand's general design language started off wearing Hyundai badging. To be fair, Lexus took decades before choosing its spindle grille and sharp origami-angled body sculpting, as did Infiniti and Acura with their more recently distinctive grille treatments, the latter of which is the oldest upstart luxury marque of all, yet the its dramatic new grille was just adopted a couple of years ago. This said it's important to find a memorable look and stick with it, Lincoln a prime example of the never-ending identity quest often gone wrong (hopefully they'll stick with their latest design as it's quite nice).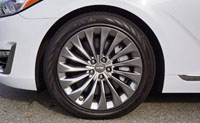 As for this G90, the grille has been criticized for its obvious Audi influence (the Hyundai-Kia design head is ex-Audi designer Peter Schreyer after all), while there's a little bit of 7 Series in the sweeping line over the front fender and along the sculpted rocker panel, plus the thick chrome strip down the side and around the back, but the taillights are pure Genesis, and hardly original winged badge uncomfortably Bentley-esque. The build quality is good though, with nice tight panel gaps and excellent paintwork. 
As for the interior, the design is attractive and detailing exquisite. From the microfibre roofliner and pillars to the French-stitched padded leather across the dash top and door uppers front to back, plus the planks of glossy hardwood all around, it fully measures up to its German peers. I shouldn't stop there of course, as the aluminum trim is brilliant, especially the Lexicon-badged speaker grilles and aluminized buttons across the centre stack, while all of the switchgear is superbly crafted with ideal fitment and damping; it's easily in the league of Mercedes-Benz, BMW and Audi.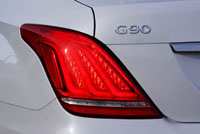 In fact, the analogue clock at dash central is one of the best I've seen, with a beautiful white guilloche dial, Arabic numerals at the 12, 3, 6 and 9 positions, and chromed indices marking the hours between. The perforated seat leather is incredibly supple and soft, and the seats themselves are superb, with myriad adjustments to fit most any body type. What's more, you'll be hard pressed to find any hard plastic in this sedan, the only corners cut being the shell surrounding the steering column and the very lowest sides of the center console, but even these surfaces are made from dense composite and then soft painted for a high-quality feel.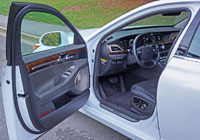 I'm not going to try and say this G90 is better than its competitors, because everything in this class is mind-blowingly good. Really, you could put a fully loaded 7 Series up against a Bentley Flying Spur or even a Rolls-Royce Ghost and you probably wouldn't notice much lacking if anything, and while I wouldn't go so far with respect to this particular G90, its front and rear quarters are still very impressive. 
In fact, the backsides of the front seats are so beautifully finished I might be inclined to claim industry-best, especially the wood that wraps around their upper edges. The backside of the front centre console is nothing special, however, with typical HVAC vents finished well, but that's because the folding centre armrest is a smorgasbord of tech, not to mention beautifully finished leathers, woods and metals. It includes controls for the auto HVAC system's third zone, as well as three-way heatable outboard seats, plus controls for the powered side and rear sunshades, while you can also extend right-side legroom by powering the front passenger seat forward and tipping the seatback as well. Full infotainment controls are also included, allowing rear passengers to have total control of the aforementioned Lexicon audio experience, which incidentally is amazing.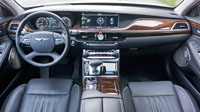 Back in the driver's seat, the primary gauge package isn't fully configurable, but it does have a nice big colour multi-information display at centre, filled with the usual assortment of features. The infotainment system just to the right is more advanced, with simple yet attractive graphics, an especially clear backup camera with good realistic colour and contrast, this featuring dynamic guidelines albeit no overhead view, while the navigation system's route guidance worked very well and offered excellent mapping detail. Those wanting more advanced tech, including a fully digital gauge cluster and higher resolution infotainment display, will want to pay a bit more for the 2020 G90, but others may choose to take advantage of year-end and model-ending 2019 G90 savings that should be quite attractive.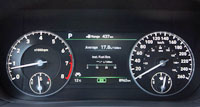 As it is, this V6 turbo-powered 2019 G90 3.3T AWD starts at $84,000 plus freight and fees, while the V8-powered G90 5.0 AWD is available for $87,000, with its only upgrade being a $2,500 rear entertainment package. The much-improved 2020 model will be fully equipped for $89,750, just $250 more than the outgoing V8 model, and that more potent engine is now standard. You can still get the turbo-V6 for a $3k discount, but take note that it's a special order model. All pricing, including trims and packages, can be found at CarCostCanada, where you can also source rebate info and dealer invoice pricing that could save you thousands.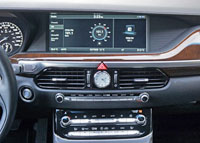 The G90 tested here was in base 3.3T AWD trim, which means that its standard feature set included a 3.3-litre twin-turbocharged direct-injection V6 making 365 horsepower and 376 lb-ft of torque, an eight-speed shift-by-wire automatic transmission with manual mode and steering wheel-mounted paddle shifters, HTRAC torque-vectoring all-wheel drive, 19-inch alloy wheels on 245/45 front and 275/40 rear all-seasons tires, an adaptive suspension system, full LED headlamps with adaptive cornering and auto high beams, adaptive cruise control with stop-and-go capability, autonomous emergency braking with pedestrian detection, active blind spot monitoring with rear cross-traffic alert, lane change assist and lane keeping assist, plus the multi-view parking camera with dynamic guidelines noted earlier, a 12.3-inch centre display with passable 720p resolution and the accurate navigation mentioned a moment ago, the wonderful Nappa leather upholstery and microfibre suede headliner also noted before, the aforementioned 17-speaker Lexicon AM/FM/XM/MP3 audio system with Quantum Logic surround sound and Clari-Fi, plus much more.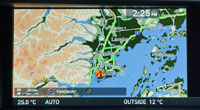 Those willing to spend a very reasonable $3,000 to upgrade to the 5.0 AWD will not only get a 420 horsepower direct-injection V8 with 383 lb-ft of torque, but also be able to pamper their rear passengers to a much higher degree (or themselves if they hire a driver) thanks to a 14-way power-adjustable right rear seat and 12-way powered left rear seat including powered head restraints with manual tilt, plus memory and cooling ventilation for those outboard rear seats, and rear illuminated vanity mirrors overhead.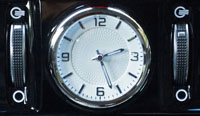 I've driven various Hyundai and Kia models with the 5.0-litre Tau V8 and found it as ideal for blasting away from stoplights as it was for highway passing and just plain cruising down the freeway, the engine nicely matching up to the smooth yet quick-shifting eight-speed automatic, and Hyundai's HTRAC AWD superb through wet conditions and even adding performance in the dry. I can only imagine it would perform as well in this G90 as it did with the most recent 2017 Genesis G80 5.0 AWD Ultimate I tested a couple of years ago, but this said there's a lot to like about Genesis' smaller, more fuel-friendly 3.3-litre twin-turbo V6. 
Their claimed Transport Canada fuel economy ratings are notable, with the V6 achieving an estimated 13.7 L/100km in the city, 9.7 on the highway and 11.9 combined, and the V8 good for a potential 15.2 city, 10.2 highway and 13.0 combined, a difference that would certainly be noticeable to the pocketbook, while the V6's performance is more than capable of whisking the big sedan and its occupants away in short order, not with quite as sensational an exhaust note, but nevertheless entertaining in its own way.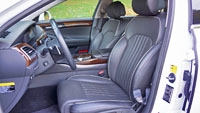 The V6 also has less weight over the front wheels, allowing for greater agility through the corners, and was particularly enjoyable with Sport mode engaged. It just hunkers down and flings itself through fast-paced curves with hardly a squeak from the tires, portraying the kind of poise expected of a big German luxury sedan. Truly, this is one impressive driving car, with handling that borders on the mighty 7 Series. The adaptive suspension no doubt plays a part in its overall stability while keeping ride quality serene, the quiet cabin equaling the nicely sorted chassis in delivering the type of pampering experience luxury car aficionados appreciate.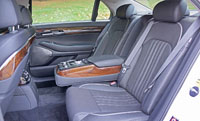 With performance as good as this, one might think I'd keep it in Sport mode all the time, but Eco mode helped reduce consumption and minimized emissions, while an even more intelligent Smart mode chooses optimal responsiveness depending on the mood of the driver. Either way Genesis has all its bases covered, resulting in a very well rounded, highly refined luxury sedan that honestly deserves to be moved up to sports sedan status.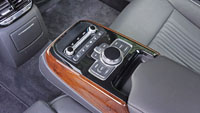 Still, sink your toes into the deep pile carpet floor mats and you'll once again be reminded of the G90's luxury sedan purpose, its trunk large amply sized for a couple of golf bags and easy to access thanks to powered actuation and an easy lift-over height, not to mention highly convenient due to a centre pass-through for longer items like skis, but the G90's first priority is comfort, not utility. 
Those wanting a serious sport-luxury sedan that won't cause the taxman to question how you achieved your good fortune should consider the G90, and now is a great time to get the best deal possible on remaining stock.