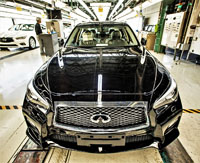 Infiniti started production of its refreshed 2018 Q50 sport-luxury sedan at the premium brand's Tochigi, Japan facility on June 1, the announcement promising a Canadian market arrival time of late summer.
"We can't wait to bring the updated, 2018 Q50 to the North American market," said Randy Parker, Vice President, Infiniti Americas, in a press release that accompanied the production announcement. "Its benchmark performance and athletic styling make it an important cornerstone in our product line. We are excited to get this newest sports sedan in the hands of our fans when it arrives in Infiniti showrooms later this summer."
Later this summer? Isn't that right about now? With back to school supplies already lining store shelves it certainly seems like summer is winding up, but technically Infiniti has until Friday, September 22 at the very latest to produce the mid-cycle made-over model.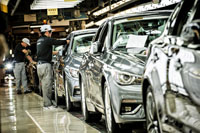 Pent-up anticipation is reasonable, being that the current Q50 has been on the road since 2013 for the 2014 model year. Four years is hardly long-lived for a premium model, not even coming close to the brand's QX50, which when completely replaced this fall will have been soldiering along with only minor updates since it arrived as the EX35 in 2007 (that's 10 years for those not willing to do the math), but don't get too excited about the renewed 2018 Q50 sedan as the changes made won't be near as dramatic.
Most will agree the current model is already an attractive design, which is reason enough for its relatively strong sales. I say relatively strong because the Q50 is Infiniti's second-best selling model next to the mid-size seven-passenger QX60 SUV, and also because it's neck-and-neck with Lexus' IS for second-best selling bragging rights amongst non-German D-segment sedans, Acura's TLX having long held best-of-the-rest status behind BMW's 3 Series, Mercedes' C-Class, and Audi's A4. On the positive, the three Japanese brands regularly sweep the floor with Cadillac's ATS and Volvo's S60, while Jaguar's new XE and Alfa Romeo's equally fresh Giulia are just trying to get noticed within the compact luxury car hierarchy.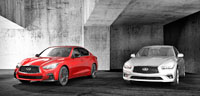 Without the need to totally recreate the Q50's styling, or for that matter the entire brand's Essence Concept-inspired design direction, a hybrid sports coupe prototype that was first revealed at the 2009 Geneva auto show as part of the Japanese luxury brand's 20th anniversary, which by Infiniti's seven-percent year-over-year gain in global sales numbers appears to be working very well, the design team was freed to mildly tweak details. The changes include a slightly reworked version of the brand's trademark double-arch grille that now offers more texture to its wavy mesh-patterned insert, whereas more muscular character lines follow the upper outside corners of that grille across each side of the hood. These enhancements were joined by revised headlamps, featuring more eye-like illumination, and redesigned LED taillights at the polar end. While all these updates help modernize the Q50's look, the new model's most noticeable changes were saved for its lower front fascia, which now more clearly depicts the trim line, or rather "grade structure" being shown.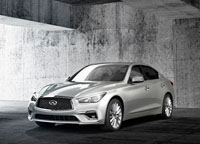 For the 2018 model year the Q50 will be available in Pure, Luxe, Sport and Red Sport 400 trims. The latter two "grades" will be familiar to those who follow Infiniti's products, although Pure and Luxe are trims not yet used by Infiniti (Daimler's Smart brand was first to use "Pure" for its most basic ForTwo city car). Let's be first to congratulate Infiniti for not including Limited or Platinum in their naming scheme, two of the most overused trim levels in the industry (the derivative "Premium" hopefully on the way off the Q50 options menu too), after which we should give them the nod of approval for more visually separating each trim line to benefit those paying more to move up into a higher-end model.
"With the new Q50 we are introducing new model grades, each offering their own look and character," said Francois Bancon, Vice President, Global Product Strategy, Infiniti, a press release that accompanied the launch of the new model in March. "Red Sport 400 in particular lets drivers express themselves with a more assertive design that clearly conveys the car's performance potential."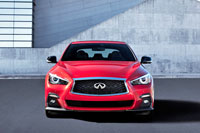 To this end, Sport grade offers "performance-focused" exterior styling, while yet sportier visual upgrades join the model's most potent 400-horsepower engine in Red Sport 400 trim. Items specific to the two top-line grades include a more sharply creased front bumper and wider, lower air intakes, the corner vents edged in glossy black, while the rear bumper gets a bolder black diffuser embedded at centre, with a stainless steel exhaust tip at each corner. The Red Sport 400 takes things up a notch with some glossy dark paint and body-colour two-tone detailing within the latter, while the side mirror caps also get a gloss black treatment, plus a unique set of 19-inch alloys to finish off the look.
Inside, Infiniti promises higher-grade "authentic" materials and more detailed stitching, "further elevating the level of craftsmanship" in every Q50, noted Infiniti in their press release.
"The cabin of the Q50 has been created with human artistry in mind, enabling occupants to travel in style and comfort," said Alfonso Albaisa, Executive Design Director, Infiniti. "The refreshed Q50 takes this artistry to a new level, with hand-worked materials giving a greater sense of craftsmanship than ever before."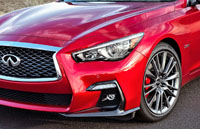 For instance Infiniti now uses double-stitched padded leatherette on the instrument panel, while luxury-oriented models with hardwood inlays incorporate a more naturally genuine look and feel than the usual old-school high-gloss affect.
Sport models feature unique interiors with patterned aluminum inlays, matte dark-chromed accents, plus black cloth roof pillars and headliner, whereas the Red Sport 400's cabin is appropriately highlighted with contrasting red thread, while Infiniti is promising a new sport steering wheel that's better formed for performance driving, with easier access to the shift paddles in behind. The new leather-wrapped shift knob was ergonomically designed as well, enhanced with double-stitched seams, new chrome trim, and an Infiniti logo on top.
Of course, Infiniti couldn't hold back with the red stitching effect throughout the rest of the Red Sport 400's cabin, but at least they didn't go so far as to brighten up each and every diamond-quilted crevice of its Bentley-esque seats' side inserts, the result looking rich yet nicely restrained. At least as importantly those seats include a more comfortable design that Infiniti dubs "spinal support," which we certainly look forward to testing out. Lastly, the new Red Sport 400 gets special dark chromed primary instrument dials, although those fully infused into the digital age might feel the analogue gauges are a bit of a throwback when others in the class are offering fully configurable colour TFT instruments in their top-tier models.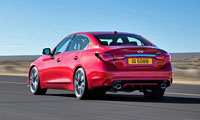 Despite the classic dual-dial gauge cluster, Infiniti might just pull some buyers over from its German competitors when it comes to centre stack infotainment because it chooses to use more convenient, tablet-style touchscreen interfaces instead of lower console-controlled dial, button and touchpad designs. What's more, both vertically stacked Q50 displays are now touch-capacitive, the top one eight inches in diameter and the lower one seven. This allows the use of multiple functions simultaneously, such as the top screen for navigation mapping and the bottom one for audio control. Infiniti's appropriately named InTouch infotainment system also lets driver and front passenger customize the car's inner environment by storing detailed personal information for multiple drivers, such as memory seating and mirror positions, identifiable via individual proximity-sensing I-keys.
Also new for 2018, the Q50 boasts an available 16-speaker Bose "Performance Series" audio system with advanced staging signal processing capable of "a precise, rich and nuanced acoustic experience," says Infiniti, plus CenterPoint 2.0 surround-sound.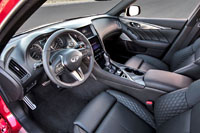 Possibly the biggest 2018 Q50 news is its suite of ProPILOT advanced driver-assistance systems, which include Active Lane Control (camera-sighted autonomous driving capability above 72 km/h or 45 mph), Intelligent Cruise Control, Distance Control Assist, Backup Collision Intervention, Blind Spot Warning and Intervention, Lane Departure Warning and Prevention, Forward Emergency Braking, Predictive Forward Collision Warning, and last but hardly least, Infiniti's exclusive Direct Adaptive Steering.
"Infiniti has introduced a number of world-first innovations through the Q50 in recent years," said Roland Krueger, President of Infiniti. "As Infiniti's best-selling model [worldwide], the Q50 has always embodied our commitment to make driver-empowering technologies accessible to a large number of customers. The new model will let customers benefit from the latest advances in active safety with our driver support technologies."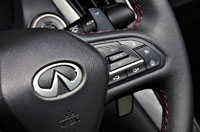 This is Infiniti's second-generation Direct Adaptive Steering introduced in 2016 (the first version was launched in 2013), both of which are steer-by-wire systems that mostly do away with mechanically linked parts, and have been fairly well received by owners and auto pundits alike. Infiniti considers its Direct Adaptive Steering a "building block on the way to achieving fully-autonomous driving," and for certain it's a bit of tomorrow's technology today. Along with reasonably realistic feel and ultra-quick responsiveness, Direct Adaptive Steering makes it easier to add unique driving modes for comfort or sport applications, the Q50's Drive Mode Selector letting its driver modulate steering, suspension and drivetrain settings that include Personal, Standard (default), Snow, Eco, Sport and Sport+ modes. Those rightly concerned about no longer having a steering column connected to the turning wheels can take some confidence in knowing Infiniti has logged more than a million kilometres (625,000 miles) of tests on the second-gen Direct Adaptive Steering system alone.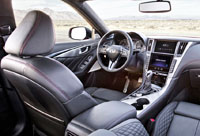 Powertrains are all carryover, although this shouldn't be a surprise as they were all just updated for the 2016 model year. Included is the base 2.0t, a Mercedes-sourced 208 horsepower 2.0-litre four-cylinder featuring 258 lb-ft of torque that gets mated to a seven-speed automatic and all-wheel drive, the latter two components also standard with the other two conventional engine choices.
The performance-oriented 3.0t models include two different versions of Infiniti's exclusive new in-house VR family of 3.0-litre twin-turbo V6s, which just like the old VQ V6 is once again a 2017 Ward's 10 Best Engines winner. The less formidable powerplant is good for 300 horsepower and 295 lb-ft of torque, while as noted earlier the top-line Red Sport 400's version manages to push out 400 horsepower and 350 lb-ft of torque.
Lastly, Infiniti will continue forward with its high-energy Direct Response Hybrid powertrain consisting of its old 3.5-litre V6, 50-kW electric motor, and compact laminated lithium-ion battery. The combination makes a net 360 horsepower due to the internal combustion engine's 302 horsepower and electric motor's 67 horsepower (hybrid net output never adds up exactly), plus a non-advertised sum of torque, although the ICE's 258 lb-ft and electric motor's 213 lb-ft makes for a potent mixture, the latter available immediately at input.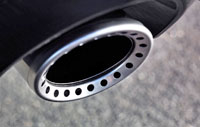 Last year's Q50 Hybrid was good for a claimed 9.1 L/100km in the city and 7.7 on the highway, which made it quite thrifty considering the performance on tap, while the 2017 Q50 2.0t was estimated to get 10.7 L/100km city and 8.4 highway, thanks partially to fuel-saving stop/start technology. Additionally, the mid-range 3.0t achieved a rating of 12.6 city and 8.8 highway, while the top-tier Red Sport 400 earned an estimated 12.3 city and 9.2 highway, the latter strangely better in the city than the less capable engine. We'll have to wait to see if the new 2018 model's Transport Canada ratings do as well or possibly surpass the outgoing estimates, being that the reshaped body shell's overall aerodynamics and its numerous unique design details are capable of literally causing turmoil with fuel economy figures.
Of note, Q50s fitted with the larger engine will get Infiniti's "Rack Electronic Power Steering" as standard, which can also be modulated via the Drive Mode Selector, while 2.0-litre Q50 models are equipped with more conventional vehicle speed-sensitive hydraulic electronic rack-and-pinion power steering.
It's quite likely the renewed Q50 will have what it takes to boost sales beyond the Lexus IS in Canada, the difference coming down to just 65 models at the end of 2016, although 2017 Q50 sales that were purposely slowed so as not to leave dealers with unsold inventory might mean we'll have to wait until the 2018 calendar year to find out. Stay tuned…