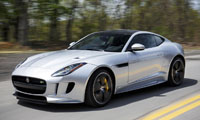 You can be forgiven for not noticing the mild changes made to Jaguar's beautiful F-Type sports car as part of its 2018 mid-cycle update, but the sound emanating from the new base model's tailpipes should cause your head to spin when one passes by.
Under its long, elegant hood is a new 2.0-litre four-cylinder turbocharged "Ingenium" engine making a very healthy 296 horsepower and 295 lb-ft of torque, that when combined with its standard eight-speed Quickshift automatic transmission results in a very spirited 5.7-second sprint to 100km/h before attaining a limited top speed of 250 km/h (155 mph).
"Introducing our advanced four-cylinder engine to the F-Type has created a vehicle with its own distinct character," said Ian Hoban, Vehicle Line Director, Jaguar F-Type. "Performance from an engine of this size is remarkable and is balanced with improved fuel efficiency and affordability, making the F-Type experience more accessible than ever before."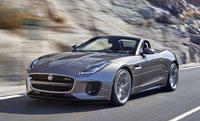 The turbo four-cylinder F-Type should provide more than enough performance for many sports car enthusiasts, especially when considering that key competitors Audi, Mercedes-Benz, BMW, and Alfa Romeo don't offer anywhere near as much output from their entry-level four-cylinder sports models, with 220 horsepower for the TT, 241 for the SLC, 241 for the Z4, and 237 for the 4C, while the aforementioned numbers line up right alongside Porsche's dynamic duo, the 718 Cayman and Boxster that are good for 300 horsepower and 280 lb-ft of torque apiece.
In case you're thinking the all-aluminum F-Type is more of a 911 fighter, or for that matter a good match for the larger R8, SL, i8, etcetera, you're right in one respect. It can match or beat all of the above when powered by one of its more potent supercharged V6 or V8 engines, the new for 2018 F-Type 400 Sport special edition capable of 400 horsepower and a 4.9-second sprint to 100km/h, and F-Type SVR putting a cool 575 horsepower down to all four wheels for a 3.7-second dash to 100km/h, but more importantly the F-Type's new $68,500 starting point, which is an even $10k less than last year's base Coupe, makes it more affordable than all of the above except the little Audi when each competitor is upgraded to match the Jag's standard features.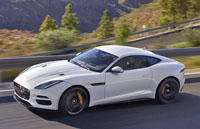 A Porsche 911, on the other hand, starts at $104,000, which is $35,500 more than the entry-level F-Type. Again, Jaguar has a full range of F-Type trims to go head-to-head with that 911 and almost any sports car currently available, which is a highly efficient way of taking on larger less exclusive brands and simultaneously delivering big value to its clientele.
No wonder the F-Type was Canada's third most popular premium sports car last year, a position it's carried forward throughout the first half of 2017 and could possibly surpass in Q3 and Q4 due to greater affordability of the new 2018 model. Of note, its sales already rank second in the 10 times larger U.S. market.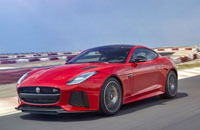 As noted, part of that value equation comes down to everything you get for your money, a shortlist of standard F-Type features including LED headlights with signature J-Blade DRLs, 18-inch alloy wheels, proximity-sensing keyless access with pushbutton ignition, power-folding heatable side mirrors with memory, rain-sensing wipers, an auto-dimming rearview mirror, a colour multi-information display, a powered steering column with memory, 12-way powered sport seats with memory, leather and Suedecloth upholstery, auto climate control, 8.0-inch touchscreen infotainment with a rearview camera, navigation, InControl apps (Spotify, Stitcher, Audiobooks, Accuweather, Tile, Glympse, and more, including new Jaguar ReRun developed with GoPro for creating your own video content with real-time on-board telemetry overlays such as speed, throttle position, gear selection, braking force, and g-force data, downloadable to your smartphone and therefore sharable on social media—beware of self-incrimination) and Pro Services (real-time traffic, door-to-door routing, etc), 380-watt 10-speaker Meridian audio, satellite and HD radio, rear parking sensors, an electromechanical parking brake, a performance-tuned eight-speed Quickshift automatic transmission with paddles, brake-sourced torque vectoring, auto engine start/stop, an active sport exhaust system, lane departure warning, and much more.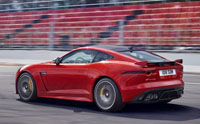 To be totally fair to those aforementioned competitors, most include heatable front seats and dual-zone auto climate control, both of which will cost F-Type buyers an extra $1,530 for the Climate package that also includes a heatable steering wheel and heated windshield, while a universal garage door opener is on the standard list of some rivals too, a $260 standalone option with the F-Type. Even with these options added it's a better deal than average, however, while the ability to add auto high beams for $260 as well as lane keep assist, blindspot monitoring with rear cross-traffic alert, traffic sign recognition, an adaptive speed limiter (a.k.a. dynamic cruise control), and a driver condition monitor for just $870 when upgrading to the Drive Pack is excellent value in this class or any.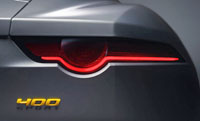 Of note, Jaguar offers a number of other option groups and features with the base F-Type too, including a $1,180 Black package that replaces chrome and body-colour exterior elements with glossy black; a $1,130 Interior Black package that adds a flat-bottom sport steering wheel with black spokes, gloss black instrument cluster dial rings, and black vent surrounds; a $2,250 Extended Leather package that adds leather-clad sunvisors and a leather headliner (the stitched leather dash top and instrument panel others charge you more for is already standard); $1,020 770-watt 12-speaker Meridian surround audio; $210 auto-dimming side mirrors; $260 configurable multi-colour ambient lighting; a $110 air quality sensor; $620 illuminated aluminum treadplates with "JAGUAR" script; a $510 powered liftgate; $290 front parking sensors; and $260 switchable active exhaust; while some of the otherwise packaged features can alternatively be purchased as standalone items. Of course, many more standard and optional features can be had when moving up through the F-Type range, semi-autonomous self-parking even available with automatic equipped models.
While the 2018 F-Type's mid-cycle makeover is subtle, the changes make a big difference up front where new bumpers and air intakes make it easy to decipher new from old, while also allowing greater model-to-model differentiation throughout the F-Type range, with pricier more potent F-Type trims getting more aggressive, sportier front fascia designs. As noted earlier, LED headlamps are standard now, which makes sure all F-Types receive a premium-level, high-tech appearance when they pass by, while simultaneously improving nighttime visibility and therefore safety. The only noted changes to the 2018 F-Type's rear design are slightly modified LED taillights featuring darker lenses.
"Great sports car design is about proportion and purity," said Ian Callum, Director of Design, Jaguar. "The most challenging element of the process for designers is to focus on and maintain an exciting silhouette that promises performance. For the 2018 model year F-Type, we looked at how we could fine-tune key details to deliver even more clarity of purpose in the overall design – for the driver, the passenger and onlookers."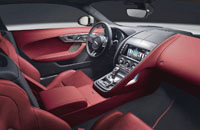 While most sports car fans will be glad Jaguar kept exterior design mods to a minimum, all should be happy the interior introduces "new material options that give the car a more exotic feel," said Jaguar in a press release. Those purchasing an entry-level model should also be glad to hear the brand's 8.0-inch InControl Touch Pro infotainment system is now standard, its large screen, faster processing speeds and tablet-style tap, pinch and swipe gesture controls making most in-car functions work smoother, while Jaguar also promises its new slimline seats, with pressure diecast magnesium alloy frames, improve ergonomics and add comfort despite being 7.7 kilos (17 lbs) lighter. Additionally, Jaguar has added new chrome and aluminum trim inside, which "heighten the driver-focused feel of the interior and perfectly complement the enhanced interior color options," added Jaguar in the same press release, the latter now including a Siena Tan leather option in standard models and above.
The 400 Sport special edition noted earlier uses Jaguar's 3.0-litre supercharged V6, firms up the chassis and adds Configurable Dynamics, upgrades the brakes to larger 380-mm front and 376-mm rear rotors, bolts on a unique set of satin dark grey 20-inch alloys, gets painted in Indus Silver, Santorini Black or Yulong White metallic, and finally gets special "400 SPORT" badges on the front splitter, rear deck lid, treadplates, steering wheel, centre console, and embroidered into the headrests in yellow thread, the latter stitching used elsewhere within the interior as well. Final 400 Sport interior touches include a flat-bottomed steering wheel, anodized aluminum gearshift paddles, and 12-way powered performance seats boasting greater detail and more pronounced wings at shoulder height. All this can be had for just $97,500, which as you may recall is still less than the previously noted base 911.
Just below this model is a new $88,000 R-Dynamic trim level that builds on the 380 horsepower supercharged V6 model by adding gloss black to the front air intake bezels, front splitter, hood vents and side sills, plus a set of 20-inch dark grey diamond turned alloys.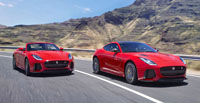 To be clear, while the new four-cylinder comes only with an eight-speed automatic in rear-wheel drive, Jaguar will continue offering 340 and 380 horsepower versions of its supercharged V6 for 2018, the former with the choice of six-speed manual and eight-speed automatic transmissions and rear-wheel drive, and the latter with the option of the automatic and all-wheel drive. The new Sport 400 is automatic-only, but can be had with either rear- or all-wheel drive, whereas all V8-powered models get the auto with all-wheel drive, the only powertrain not yet mentioned being the carryover 550 horsepower supercharged V8. What's more, all of the above configurations are available in two-door Coupe or Convertible body styles.
Also notable, a number of other F-Type trims receive price cuts too, including the top-line SVR that's now $2,500 more affordable than last year's equivalent at $139,500.
Much more has gone into the 2018 F-Type than initially meets the eye or can be covered in this story, such as extensive chassis tuning to take advantage of the lighter weight base engine, plus critically important to any new model, a comprehensive suite of available electronic driver assistance features such as autonomous emergency braking, lane departure warning, lane keep assist, and more.