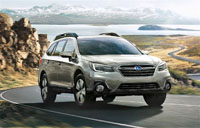 Subaru's highly successful Outback has been refreshed for 2018, with styling updates that better reflect its "rugged character," says Subaru in an associated press release.
Additionally, the 2018 Outback gets a renewed interior with higher grade materials, greater comfort and more advanced electronics, while the mid-size crossover SUV, or rather the "world's first sport utility wagon," rides on a retuned suspension promising a "smoother, quieter ride" and better control.
The Outback is Subaru Canada's third-most popular model, as well as its default flagship due to 2018 pricing that starts at $29,295 and topping out at $42,195, plus freight and dealer fees. This makes it most capable of making a tidy profit, giving it an important role in the alternative Japanese brand's bottom line maintenance and growth strategy.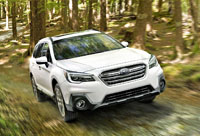 Last year Subaru sold 11,255 Outbacks through calendar year 2016, compared to 13,798 Foresters, 11,673 Imprezas, 9,723 Crosstreks, 4,217 WRX/STIs, 3,001 Legacys, and 740 BRZs. Over the first two quarters of 2017 the Outback sales grew to 5,648 units, and while this number appears to only be slightly larger than half of last year's sales, it's really much stronger than the 5,195 units Subaru sold over the first six months of 2016, with all but the final month of June showing growth over the previous year.
Altogether the model's Q1 and Q2 year-over-year growth was up 8.7 percent, which is considerably better than some competitors that have actually been falling backward despite the auto market's love affair with SUVs. A mid-cycle makeover for the last four months of the year can only help.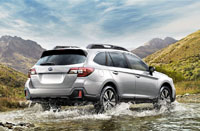 From the outside it's all about showing a "bolder more rugged face," adds Subaru, this due to a reworked grille, revised lower front fascia, new door mirrors, and much more aggressive rear bumper design.
While the grille gets a stronger strikethrough in its upper section, the 2018 Outback's redesigned headlights might be the most dramatic visual enhancement up front, now more sharply angled with a unique scalloped treatment at their topmost inner point, as well as more defined signature LED elements inside, whereas the matte black lower fascia's fog lamp bezels protrude upward in a more pronounced fashion, or at least they appear to now that more body-colour surfacing separates them from the centre vent.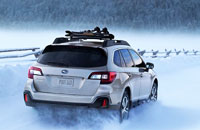 New mirror housings with slimmer more sophisticated looking LED turn signals aside, there's not much to distinguish the outgoing Outback from the new one when viewing from its profile, although if you look very carefully from this vantage point it's possible to pick out some augmentation to the new taillight lenses and rear bumper, the latter feature getting additional black cladding extending upward at each corner. That bumper cap makes the most obvious difference from the rear view too, giving the Outback most of the "rugged" visual upgrade mentioned earlier.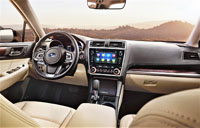 Helping the new Outback perform as well as it looks is a new seven-speed sequential manual mode for the standard continuously variable transmission (CVT), which also includes paddle shifters and off-road enhancing X-Mode, while all 2.5i trims are now Partial Zero Emissions Vehicle (PZEV) rated, which translates into some of the lowest emissions levels in their mid-size SUV class. Also important, all Outbacks get a revised brake booster to improve stopping performance.
Inside, enhancements to the new 2018 model include a redesigned steering wheel with reorganized switchgear that improves "comfort and convenience" across the entire Outback line, while over on the centre stack is a new voice-activated dual-zone auto climate control interface featuring digital readouts for easier legibility and greater overall functionality, standard in just-above-base 2.5i Touring trim. Lastly, rear passengers get dual USB slots for connecting personal devices.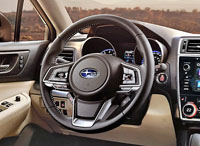 The updated Outback receives two carryover engine choices, starting with the most fuel-efficient 2.5i and topping off with the most powerful 3.6R. The base four-cylinder displaces 2.5 litres and produces up to 175 horsepower and 174 lb-ft of torque, whereas the larger six-cylinder makes upwards of 256 horsepower and 247 lb-ft of torque. All Outbacks transmit power to the wheels through the CVT mentioned earlier, a type of transmission that maximizes efficiency.
Fuel economy continues to be impressive too, with the H-4 rated at 9.4 L/100km in the city and 7.3 on the highway and the H-6 achieving a claimed 12.0 city and 8.7 highway rating.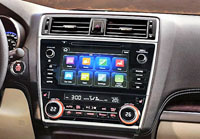 The Canadian-spec Outback will be available in seven trims for 2018, starting with 2.5i, 2.5i Touring, 2.5i Limited, and 2.5i Premier. Premier trim includes Subaru's advanced EyeSight driver-assistance package as standard equipment, whereas EyeSight is optional with Touring and Limited trims. The Outback's optional 3.6R engine can be had in Touring, Limited and Premium trims, although with this larger engine EyeSight can't be had in 3.6R Touring trim, instead only available with the 3.6R Limited and standard with the 3.6R Premier.
That EyeSight package, which is a very reasonable $1,500 upgrade, includes pre-collision braking, pre-collision brake assist, pre-collision throttle management, lane departure warning, lane sway warning, lane keep assist, lead vehicle start alert, reverse automatic braking, adaptive cruise control, and new high beam assist.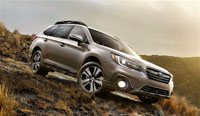 Of note, the Subaru Rear/Side Vehicle Detection System (SRVD), which includes blindspot detection, lane change assist, and rear cross-traffic alert, is standard with all models above the base 2.5i.
Last year's Outback achieved a best-possible Top Safety Pick Plus rating from the IIHS when upgraded with EyeSight, so there's no reason to think the new 2018 model will fare any worse. In fact, it should be safer and more convenient in real-world scenarios now that Subaru has integrated auto high beams on so-equipped Limited and standard Premier trims, which incidentally let them remove the third camera from behind the rearview mirror.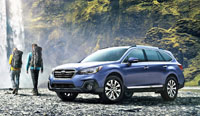 Additional 2018 Outback safety upgrades include a collision detection feature that can automatically unlock the doors if required, plus automatic door locks that do the opposite when getting under way, a window off-delay timer, improved child safety seat anchors, and a stiffer chassis that should also improve driving dynamics.
All Outback trims should be quieter too, thanks to acoustic front door glass to reduce engine, wind and road noise, while additional standard equipment now includes a standard 6.5-inch infotainment touchscreen featuring new Apple CarPlay and Android Auto smartphone connectivity.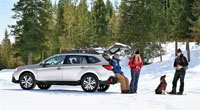 That centre display grows from 7.0 to 8.0 inches in Touring trim and above, while the driver and front passenger benefit from a reworked centre vent grille, centre panel, air conditioning panel, and instrument panel.
Additionally, navigation with detailed mapping adds functionality to that new larger infotainment display in Limited and Premier trims, while steering-responsive LED headlights benefit forward visibility.
These upper trims get real stitching across the instrument panel too, as well as on the revised door panels, while new shift panel detailing and new seat trim patterns pull the mainstream volume-branded crossover SUV closer to premium rivals. On this final theme, top-tier Premier trim now includes auto up/down powered windows all around.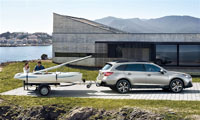 All trims can easily be sorted out via unique alloy wheels, with base 2.5i and Touring models getting 17-inch rolling stock, and larger 18-inch alloys added to Limited and Premium trims.
The 2018 Outback 2.5i will start at $29,295 plus freight and dealer fees, whereas 2.5i Touring trim is priced $3,500 higher at $32,795, 2.5i Touring trim with EyeSight at $34,295, 2.5i Limited trim at $36,795, 2.5i Limited trim with EyeSight at $38,295, and 2.5i Premier with EyeSight at $39,195.
If you want to move up to the 3.6R six-cylinder engine in base Touring guise you'll need to fork over $35,795 before discount, whereas the 3.6R Limited starts at $39,795, the same package with EyeSight will set you back $41,295, and finally the 3.6R Premier with EyeSight is priced at $42,195.
Most Subaru retailers should have a new 2018 Outback demo available for test drives, so make sure to contact your local dealer to experience it first hand.