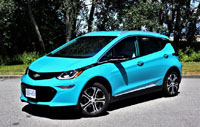 As far as subcompact hatchbacks go, Chevy's Bolt is la crème de la crème. Some time ago I might have said something similar about Ford's Fiesta ST when referring to straight-line performance and handling, or Honda's Fit as far as cargo carrying capability, but those two, like so many others in this class, are gone, leaving a shrinking subcompact market segment that's now a mere shadow of what it once was only a few short years ago.
Fortunately, the current 2021 Bolt includes a few crossover-like styling cues, such as roof rails plus some thick black cladding around its wheel cutouts and rocker panels, as well as an ever-so-slightly raised stance, so it kind of qualifies for subcompact SUV status. Either way, the tiny rocket would probably beat the aforementioned Fiesta ST off the line, let alone a Mini Cooper JCW, while the impressive load of features in my top-level Premier model comes close to promoting it to premium status.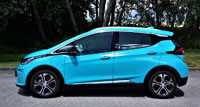 By all accounts it's a rather unassuming looking hatchback, not unlike the Spark and Sonic that came before. It's sized more like the latter car, but provides a sleeker, more windswept look than the now discontinued Chevy subcompact, and certainly more road presence than the tiny little Spark, which has now taken over the mantle of Canada's most affordable new car from Nissan's cancelled Micra and Mitsubishi's slightly pricier Mirage.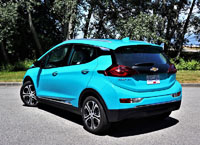 Having only arrived in 2017, the Bolt has quickly taken over sales chart superiority in the subcompact segment, with last year's 4,026 Canadian deliveries clearly outpacing the category's second-best-selling Kia Rio that only managed to find 3,868 buyers, a far cry from the 15,601 new owners it earned in 2013, a year that saw Hyundai's Accent in first with 18,884 sales. Interestingly, 2013 wasn't even the Accent's most successful year, with 2008 notching up 29,751 unit-sales, this being the highest number of sales that a vehicle in this class has ever managed over a calendar year in Canada. The entire segment didn't even break 16,000 deliveries in 2020, incidentally, and if it wasn't for the Bolt, it probably wouldn't have come close to that number. Looking back now, it's bizarre to fathom that Canada's subcompact category almost hit 100,000 units in 2014.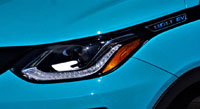 Of course, the Bolt has about as much in common with today's Kia Rio or Nissan Versa (the only two mainstream volume-branded subcompact models left) as a BMW 3 Series. Sure, it might be sized like the little Korean and Japanese models, but it's plug-in battery-powered and therefore priced more like the Bavarian luxury sedan. In fact, you can buy the Bimmer for $48 less (not factoring in dealer discounts or government subsidies); the 330e plug-in hybrid starting at $44,950, compared to the base Bolt LT's starting price of $44,998.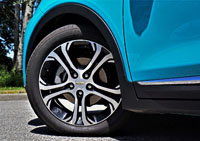 My Bolt Premier tester will set you back $50,298, including its vibrant Oasis Blue paint, this standout hue of blue being one of two standard colours including Summit White, while Silver Ice Metallic (exclusive to this trim), Nightfall Grey Metallic, Mosaic Black Metallic, Kinetic Blue Metallic, Cayenne Orange Metallic, and Slate Grey Metallic cost $495 extra, and Cajun Red Tintcoat is slightly more at $595.
You'll need to pay $750 more for a Driver Confidence II package if you want to get following distance indicator, forward collision alert, automatic emergency braking with front pedestrian braking, lane keep assist with lane departure warning, and IntelliBeam automatic high beams, items normally standard in this price range, thus pushing the base price up over $51,000, while Chevy also offers a 120-volt charging cord for $850, plus aluminum sill plates for $155, a number of carpeted and all-weather floor and cargo mats, an interior protection package, a cargo net, and the list goes on.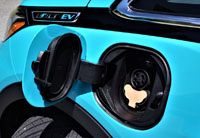 Notably, Chevy is currently offering up to $1,000 in additional incentives, while the average discount achieved by CarCostCanada members is $2,125, thanks to their ability to access dealer invoice pricing before negotiations. Find out how an affordable CarCostCanada membership can help you save thousands too, plus remember to download their free smartphone app from the Google Play Store or Apple Store.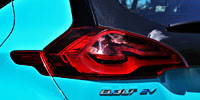 While the price of entry is staggeringly high for the Bolt's subcompact class, its base sticker costing more than twice as much as the most expensive 2021 Kia Rio 5-Door EX Premium, keep in mind that base models qualify for the federal government's $5,000 rebate, while BC offers another $5,000 rebate (my total rebate was shown as $8,000 after configuring) and residents of Quebec a maximum of $8,000 (check with each jurisdiction for eligibility), so other than the fact that these incentives are paid by regular Canadian taxpayers (many of which are poor folk barely managing to keep making payments on their Sparks, Micras and Mirages, let alone bus passes), it can significantly reduce the cost of EV ownership.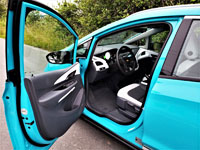 The totally redesigned 2022 Bolt starts at just $38,198, by the way, or $40,198 for the slightly larger Bolt EUV (see my full news coverage here), so even well-optioned variants should slide under the government's $45,000 maximum for rebate qualification.
With or without the just-noted extras, the Bolt Premier's cabin is very inviting, with a lot of light and medium grey colour tones combined with orange stitching on the perforated two-tone leather seats. It's a sporty look that nicely matches the little electric car's spunky character.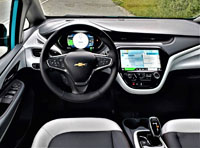 Most eye-catching is the digital gauge cluster and large infotainment touchscreen, the former bright, colourful and filled mostly with primary driving information, albeit featuring a useful multi-information display at centre. The main touchscreen on the centre stack was bright and colourful too, plus extremely well-organized with most of the features new car buyers expect these days, such as Android Auto and Apple CarPlay, as well as all the usual audio features like SiriusXM satellite radio and Bluetooth streaming. Redundant controls are included for the single-zone auto climate system too, plus in-depth pages for powertrain efficiencies.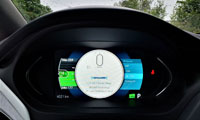 Considering the lofty price, I found it odd that no navigation system was included, especially now that some electric cars provide sophisticated navigation equipment that effectively maps out range and finds the nearest public charging location. Of course, you'll be able to use your smartphone's navigation via the aforementioned Google and Apple apps for directions, even if these don't include the types of EV-specific functions $50k should provide. Fortunately, the just-noted audio system is a good enough distraction to lessen any range anxiety that might develop by not knowing where to hook up, while the moving guideline-enhanced backup camera with its separate overhead view will make slotting into the EV charger's parking spot a near effortless experience when you've finally located one.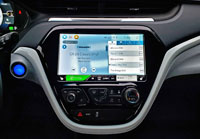 Charging is almost a non-issue, by the way, thanks to so much range that you might find yourself blasting up and down the highway just to see if you can drain it, like I did for part of my test. In fact, I drove it most of the week without the need to charge, but take note that larger batteries need longer to top up. Chevy claims about 40 km of range per hour of charging on a 240-volt system, which you can purchase for your home or find elsewhere in shopping mall parking lots, public building parking, or private charging resellers like ChargePoint or Flo, while a public-access DC fast charger only needs 30 minutes on the plug to generate up to 145 km of range.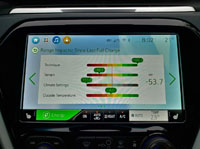 Max range on a full charge is 417 km, although this is an estimate that depends on plenty of factors, from the load you're carrying (including bodies and cargo), exterior temperature (colder weather means less range), driving style (if you're stomping on the throttle all the time, or putting on a lot of highway miles, you'll dramatically reduce distance to empty), plus more.
Yes, the "tiny rocket" descriptor I used at the beginning of this review says it all, the Bolt lives up to its name and then some. Jabbing right foot to the floor results in seriously neck-snapping straight-line acceleration, the direct result of all the big battery's 66-kWh capacity and the immediacy of an electric motor's power delivery, especially one putting out 200 horsepower and 266 lb-ft of torque. With Sport mode engaged (which really does make a difference), it's 0.2 seconds quicker off the line than the long-gone Fiesta ST, by the way, the Bolt launching from standstill to 100 km/h in just 6.5 seconds, but its 1,616-kilo (3,563-lb) curb weight is just too much to make it as agile through the corners as the 1,234 kg (2,721 lb) blue-oval hatchback.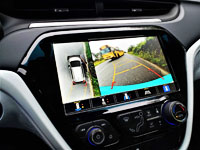 It holds its own nonetheless, and provides a more comfortable ride, which no doubt matters more to the majority of EV buyers. On that note, I left it in one-pedal mode most of the time, what you get by pulling the gear lever rearward to its L position. This allows you to drive by just using the throttle; what might otherwise be called the gas pedal in a conventional vehicle, or we could call it the go-pedal if you prefer. So set, braking is mostly automatic via electric motor drag when lifting the right foot. It's an incredibly smooth operator, much better, in fact, than any previous system like this I've used. Normally there's too much braking power, causing everyone's heads to bob back and forth uncomfortably when pressing and lifting off the go-pedal, but the Bolt was really smooth and easy to modulate.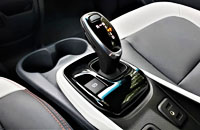 Chevy also provides a paddle on the left side of the steering wheel that effectively does the same when it comes to braking, so if you prefer to have less rolling resistance for a more traditional feel when driving around, you can just leave it in drive and use the steering wheel paddle to brake when needed. Of course, there's a big brake pedal in the usual spot, just in case you need to stop quickly.
The steering wheel rim next to braking paddle is heatable, incidentally, while the Bolt Premier's three-way heated front seats were capable of therapeutic levels of warmth. Additionally, a wireless device charger was integrated within the lower centre console, purposely tucked away so drivers won't be tempted to glance down at an incoming message when on the road. Chevy made sure that texts can be viewed and responded to (via stock answers) on the centre display, so there's less need to touch it while driving. Two USB-A connectors and a powered auxiliary port can be found right beside the wireless charging pad, while another two USB-A charging points are located on the backside of the front console for rear passengers.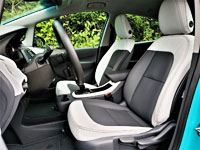 In case you were wondering if the Bolt Premier's $50k-plus retail price buys you lavish levels of luxurious finishings, Chevy wasn't feeling generous when applying the types of soft-touch synthetic surfaces found in cars costing upwards of $30,000. Instead, it gets a small rubber armrest on each door panel, plus a more comfortable padded leatherette one in the middle. I found the seats excellent, offering good support all around, but surprisingly they're not powered. Should we chalk that up to environmentally conscious weight savings?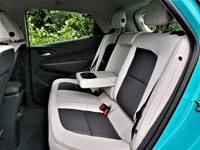 Along with the manual seats and lack of navigation, my top-line Bolt was also missing a sunroof, and just in case you didn't notice me mention it above, the automatic HVAC system only has one single zone. Some of these items can be found in similarly sized subcompact hatchbacks sold in the low $20,000s, so when it comes to these creature comforts, at least, be prepared to pay more for less.
Of course, the majority the money goes towards the big battery pack and electrical drive system that makes driving it so much fun, and so ultimately efficient. It's also roomy, especially for legroom and headroom. Chevy designed it with a long wheelbase to accommodate the battery, which spans the entire floor, from the front foot well to rearmost portion of the back seat. The end result is a noticeable improvement in legroom over its subcompact peers, while head space in this class is almost always open and airy. This said it's narrower than compacts like Chevy's old Cruze and Volt, but not by much, while it's a lot wider than the little Spark, so there's more room for elbows and knees.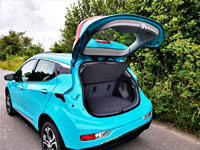 The driver's position fit my long-legged, short-torso body ideally, with excellent reach from the tilt and telescopic steering wheel, while most rear passengers should be able to stretch their legs out to some extent, due to feet slotting easily underneath the front seat. A nice large folding armrest can be found at the centre of the rear row, while heated seats are included in back too. There's decent storage as well, with 1,603 litres (56.6 cu ft) available when the 60/40-split rear seatbacks are folded flat, making this a very practical little electric. Chevy even includes a removable cargo floor for fitting in taller cargo or stowing belongings below, one item of which was the aforementioned 120-volt household-style charge cord that can be used at home while waiting for a 240-volt system to be installed.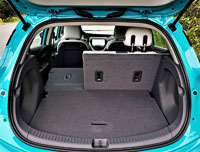 So that's the 2021 Chevy Bolt from front to back, with a little sales info and road testing to spice things up in between. If you're looking for the best deal on a subcompact hatchback it's probably not the car for you, but if you want the most advanced small hatch on the market, not to mention one of the more affordable new electric cars available, it's a very good choice that I can't help but recommend. Its overall performance is strong, range superb, infotainment technology impressive, overall livability great for the small car sector, and overall design appealing for a car in its class.
The all-new 2022 model will remedy a significant portion of my pricing complaint, so if you're considering one of these outgoing 2021 models, make sure to aggressively push for a final price that comes closer to matching the much more affordable new version. If your Chevy dealer can't do that, you should probably choose a 2022.
Review and photos by Trevor Hofmann