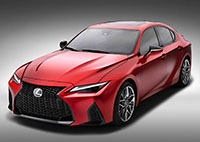 First things first, the 2022 IS 500 F Sport Performance isn't exciting news because of any styling updates. Lexus made most of those with the current turbo-four- and V6-powered 2021 IS models, resulting in an attractive refresh that sharpened the already angular sedan to a finer point, with newly formed edges, an even more dramatic spindle grille, and an LED taillight treatment seemingly inspired by Lexus' UX subcompact crossover. What makes the IS 500 awesome is the 472 horsepower V8 stuffed below a new aggressively domed hood.
Design does play its part. The new hood bulges up two inches for a more pumped-up level of IS masculinity, plus Lexus slightly widened the front fenders, modified the both bumpers, and beneath the bodywork, moved the radiator forward to accommodate the engine. Most of the model's metal brightwork has been eliminated too, excepting the stylized "L" badge at both ends, the thin highlights on each two-tone gloss-black and body-colour mirror cap, the dazzling split-10-spoke 19-inch Enkei lightweight alloy wheels, the massive quad of "throaty" circular "dual stacked" tailpipes, and all the model and trim designations, the IS 500's deck lid badge notably changed.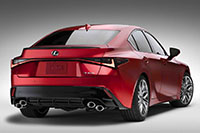 This said, being that the IS 300 and IS 350 are the sportiest sedans Lexus offers, they've been mostly de-chromed already, with some 2021 trims blackened out even more so thanks to dark-painted wheels. The IS 500's only notable differentiator is the addition of dark chrome side window trim, a tiny IS F Sport rear deck lid spoiler, and a new diffuser-style rear bumper required to house the enhanced exhaust system.
Likewise, changes are subtle inside as well, with black "F SPORT" designations on the door sill plates and steering wheel, the latter heatable and leather-wrapped, of course, while the throttle, brake and dead pedals have also been upgraded from the IS F Sport catalogue. Completely unique to the IS F 500, however, is the startup animation in the mostly-digital primary gauge cluster's multi-information display. As for the rest of the interior, it's much like the IS 350 F Sport.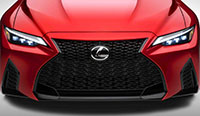 In other words, the IS 500 F Sport Performance is a sleeper. We're ok with that, especially when it's got what it takes to go head-to-head with its more aggressively penned rivals. Before listing off its competition, however, a rundown on some specs is necessary. Lexus' well-proven 5.0-litre V8 not only puts out 472 horsepower in this iteration, but it nearly matches that thrust with 395 lb-ft of twist. This nearly matches the same engine's output in the mighty LC 500 sports coupe and convertible, the IS version adding a single horsepower and losing three lb-ft of torque, but either way it's a significant upgrade over the next-best IS 350 that only puts out 311 horsepower and 280-lb-ft of torque, or even the old 2014 IS F's 5.0-litre V8 that made 416 horsepower and 371 lb-ft.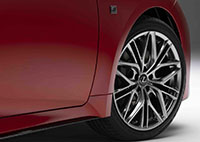 Back to the competitors alluded to a moment ago, top of the list is Alfa Romeo's Giulia Quadrifoglio, good for a phenomenal 505 horsepower and 443 lb-ft of torque, while BMW's M3, the segment's longest running entrant, would still be daunting to go up against in either 473-horsepower regular trim or 503-hp Competition form. Unlike the IS 500 that looks similar to its less potent brethren, it's easy to spot a new M3 from a mile away thanks to its unorthodox bucktooth grille and more daring styling departure from regular 3 Series trims (for now), whereas Mercedes-AMG is more discreet, albeit unique enough when compared to regular C-Class models. It hits this market with three four-door variations, the 385-hp AMG C 43, 469-hp AMG C 63, and 503-hp AMG C 63 S.
Audi's directly competitive compact luxury sedan offers nothing anywhere near as formidable, although the 349-hp S4's similarly sized RS 5 Sportback sibling puts out a respectable 444-hp and looks fabulous doing so, not that anything in this class lacks style. It also should be noted that Cadillac will soon enter this segment with its new 2022 Cadillac CT4-V Blackwing, providing a standard manual transmission, rear-wheel drive, and a 472-horsepower twin-turbo V6.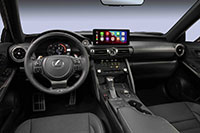 Honourable mentions include Volvo's new S60 Polestar Engineered, which is good for 415 hp from a turbocharged, supercharged and plug-in-hybridized four-cylinder; the Swedish brand certainly earning points for maximizing efficiency, while Infiniti's 400-hp Q50 Red Sport 400 is wonderful, but not quite in the same league. We'd also be remiss for not mentioning Tesla's top-line Model 3 that makes 480 instant electrified horsepower along with 471 lb-ft of torque. We should also expect Hyundai's new Genesis luxury division to soon arrive with some super sedans and SUVs of its own, this compact luxury four-door segment currently filled with the impressive, albeit nowhere near as powerful G70. This in mind, and factoring in the IS 500's choice of Lexus' mid-performance "F Sport" naming protocol, could Lexus be saving the vaunted "F" badge for an even more capable super sedan? Let's keep our collective fingers crossed.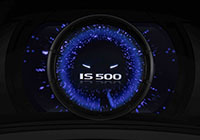 Unlike some of the just-mentioned rivals that utilize all-wheel drive, the IS 500 sends all of its abundant power through the rear wheels via the same quick-shifting eight-speed Sport Direct automatic transmission already used by V6-powered rear-drive IS models, complete with Custom, Sport S and Sport S+ engine and transmission mode settings, the latter also adjusting EPS steering assist and shock damping force, resulting in a 4.6-second sprint from standstill to 100 km/h, accompanied by a "ferocious" sounding exhaust note to "perfectly amplify the new V8 engine," or so says Lexus in their press release.
Keeping all that power in check is the very effective Dynamic Handling Package that's also found under the US-spec IS 350 RWD F Sport (AWD is standard in Canada), which features an Adaptive Variable suspension with Yamaha rear performance dampers along with a Torsen limited-slip differential, but unlike the less capable IS, the 500's brakes have been upsized with 14-inch two-piece aluminum rotors in front and 12.7-inch rotors at back, plus special cooling ducts to optimize their binding power. Making handling and braking even more manageable is minuscule weight gain over the IS 350 AWD F Sport, the new IS 500 only adding 5 kilograms for a total of 1,765 kg.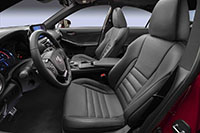 We can expect the North American-exclusive 2022 IS 500 F Sport Performance to arrive this fall, with pricing and additional details made clear closer to its availability. Until then, Lexus is offering factory leasing and financing rates from just 2.8 percent on 2021 IS 300 RWD, IS 300 AWD, and IS 350 AWD models, or if you can still find one, up to $4,000 in additional incentives for 2020 IS models. Check out CarCostCanada for all these details and more, including manufacturer rebates when available, plus dealer invoice pricing all the time. Learn how the CarCostCanada system works, and make sure to download their free app from the Google Play Store or Apple Store.
Also, check out our complete photo gallery above, and enjoy the video that follows…
Introducing the Lexus IS 500 F SPORT Performance (2:15):

Story credits: Trevor Hofmann
Photo credits: Lexus