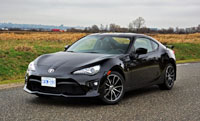 Hold on. Subaru's BRZ now outsells the Scion FR-S… er… the Toyota 86 by 2.5-to-one? What's going on? Toyota has the stronger brand, right?
Boy was I wrong. I was sure that rebadging Scion's sports car with Toyota's much better-known logo would cause some sort of uptick in popularity, but its sales decline has been brutal over the past couple of years. In fact, since the car first became available in 2012, which began with a level of excitement from performance and tuning car enthusiasts that I hadn't seen for a very long time and resulted in 1,470 Canadian deliveries in its first seven months, its sales have steadily dropped from a bullish 1,825 units in 2013, to 1,559 in 2014, 1,329 in 2015, 988 in 2016, 919 in 2017, and 550 in 2018, while as of November 2019 Toyota has only sold 250 units, representing a 53.3-percent drop over the same 11 months last year. Adding insult to injury, Subaru's aforementioned BRZ, which only started edging out the 86 last year, is now sitting at 625 deliveries after 8.1 percent growth so far this year.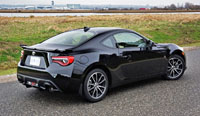 The BRZ's recent upsurge should be an important indicator when analyzing the 86' fall from grace. The fact is, not all sports cars are experiencing a downturn, but instead some, such as the BRZ and Mazda's venerable MX-5, which has sold 767 examples so far this year for a 26.99-percent bump in popularity, are showing there's renewed interest in the entry-level sports car segment, as long as its ardent customer base gets what they want.
Truth be told, Toyota's 86 hasn't changed much since it was refreshed for 2017 as part of its Scion FR-S transformation, and while part of me believes it doesn't need much if any modifications, the numbers don't lie. Truly, despite a U.S.-market Toyota spokesperson declaring last year that the 86 is here to stay for the foreseeable future, its current numbers should have the model's handful of diehard fans feeling uncomfortable.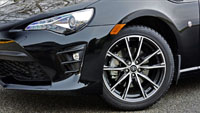 But the quoted numbers are just for Canada, right? What about the U.S.? Sales are certainly brighter south of the 49th where they'd need about 2,500 deliveries to match Canada's output per capita. Year-to-date Toyota's U.S. division has seen 86 sales grow by 3.9 percent to 3,122 units, which while hardly worthy of streamers, party horns and other New Year's noise makers, at least beat Subaru at the very same game by trouncing U.S.-spec BRZ sales by 70.5 percent due to that model's 36.8-percent plunge to 2,203 units. How did the MX-5 "Miata" do in the States? Not well at 7,314 units, a 13.5-percent drop, but at least none of them are the Fiat 124 Spider that's only sold 687 units as of November 2019, a 32.7-percent downward spiral from a position that some might say was already well underwater (or six feet under?). Such results make Fiat Canada's 204-unit 124 Spider sales look awesome per capita despite a 25.8-percent hit (U.S. deliveries should be about 2,000 units by comparison), and really Fiat shouldn't feel so bad when comparing its current 124 Spider success to the 86.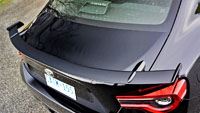 There's kind of good news on the horizon for Toyota's most affordable sports car, however, and no I'm not talking about any increase in straight-line performance, an improvement most have been calling for since the model's inception, but rather a much-needed upgrade to its infotainment system arriving for the upcoming 2020 model year. As it is, the 2019 Toyota 86 GT you're looking at on this page appears identical to the one I tested in 2017, other than this car's coat Raven Black paint and the 2017 model's now discontinued burnt orange-like Hot Lava.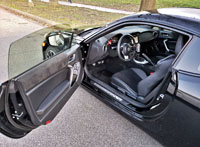 Toyota redesigned the entire front fascia for 2017, with those changes continuing into 2019 as well. Attractively detailed standard LED headlamps were part of the upgrade, and still provide a more sophisticated appearance, while the elongated front fender vents and redesigned "86" insignia, now positioned lower on the side panel, were at least different, as were the revised taillight lenses updated with brighter LEDs.
The cabin has always been pretty decent, but the earlier FR-S examples I drove never let me inside with proximity-sensing keyless access, nor did they start with a pushbutton, keep me warm via dual-zone automatic climate control, skinned their seats in leather trimmed with suede-like Alcantara, or covered their primary instrument hoods and passenger-side dash sections in padded and stitched microsuede like this 2019 86 does, but I must say the infotainment update promised for 2020 will be welcome.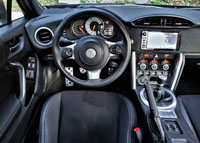 Back in 2017, the current 6.1-inch centre touchscreen stopped paying tribute to Pioneer by upgrade its graphics to an attractive blue on black patterned background with cyan links, plus adding Toyota branding. It continues to look pretty good, but doesn't come off as advanced as the automaker's new Entune system, because it clearly isn't. Other than the usual radio functions it allows for USB integration, plus it connects wirelessly via Bluetooth for talking on the phone and streaming audio, but believe it or not it doesn't project the backup camera's image. Instead, it blocks half of the rearview mirror's usefulness with a tiny image that's hardly useful at night in the rain, seeming more like a way for Toyota to satisfy regulators that now demand rearview cameras, than improve safety. I was therefore shocked to learn that the completely new 7.0-inch centre touchscreen in the 2020 86, which positively includes Apple CarPlay and Android Auto, doesn't include the rearview camera. This means you'll still be squinting at the mirror when backing up, which simply isn't good enough.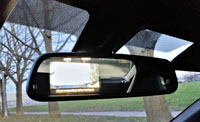 This said, with North American sales numbers as poor as they are, should we expect any more investment in the 2020 86? Then again, are those numbers as bad as they are because Toyota hasn't invested enough in this car? Even hindsight can't help us answer this question, but one thing is certain, the 86 remains one of the most enjoyable cars in its class to hustle down a winding mountainside road.
I specified "down" because its Subaru-sourced 2.0-litre horizontally opposed "boxer" four-cylinder engine continues to make just 205 horsepower and 156 lb-ft of torque, which while pretty good for most cars that weigh in at just 1,252 kilos (2,760 lbs), isn't as formidable as many of its peers. Those numbers were bumped up five points each for 2017, which was an improvement, but 2.5 and 3.3 percent upgrades respectively didn't answered the ongoing call for more performance requested by the very same customers buying it.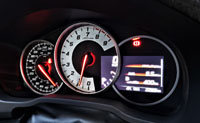 Of note, only six-speed manual (6M) equipped cars received the increased power, which came together with a reworked rear differential designed for quicker launches from standstill. Cars like my previous 2017 tester that utilize Toyota's paddle-shift actuated six-speed automatic (6A), which incorporates a downshift rev-matching system dubbed "Dynamic Rev Management," continued forward with the unmodified powertrain, but at least Toyota added hill start assist.
I have to admit to not minding the autobox as much as I expected, as it's a decent transmission and a lot easier to live with around town, but this is a rear-wheel drive sports car folks, not merely a sporty looking front-drive coupe based on a compact commuter sedan, so if this were my personal ride I'd only own it with a manual gearbox.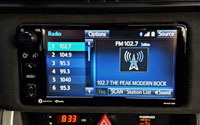 Modulating the clutch and letting the revs climb right up to 7,000 rpm for maximum power is the best way to get the most out of the engine's available power, whether taking off in a straight line or exiting a corner, and on that last note the 86 continues to be one of the nimblest chassis' available in its price range.
It gets MacPherson gas struts up front and double wishbones in back, plus if you ante up from this GT trim line to the top-tier manual-only SE, SACHS performance dampers are included, while the already strong four-wheel discs get upgraded to Brembos and usual standard 215/45R17 summers grow to 215/40R18 Michelin Pilot Sport 4 performance tires, although my tester included Bridgestone Blizzak winters that really made it easy to slide the back end out; no bad thing.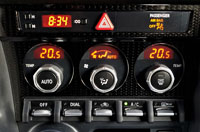 The 2019 86 comes in base, GT and just-noted SE trims, by the way, some base model highlights not yet mentioned including a limited slip differential, auto on/off LED headlamps, heated power-adjustable side mirrors, remote keyless entry, a tilt and telescopic leather-wrapped multifunction three-spoke sport steering wheel, a leather-clad shift knob and handbrake lever, aluminum sport pedals, a trip computer/multi-info display, cruise control, variable intermittent wipers, single-zone automatic climate control, eight-speaker AM/FM audio with aux and USB inputs plus an Automatic Sound Levelizer (ASL), Bluetooth phone and streaming audio, a six-way manually adjustable driver's seat, power windows with auto up/down all-round, dual vanity mirrors, all the usual active and passive safety equipment, and more for only $29,990 plus freight and fees.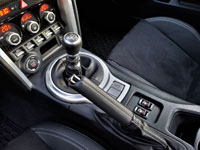 The automatic transmission will set you back $1,200, this being the same price whether choosing a base 86 or opting for $33,260 as-tested GT trim. Of note, the GT wasn't available when I last reviewed the 86 in 2017, with most of its features part of a Special Edition that now shares its more performance-oriented upgrades with the new SE, or TRD Special Edition. Before getting into that top-line model, GT trim provides the proximity-sensing access and pushbutton start/stop, dual-zone auto HVAC, and fancier leather/microsuede upholstery and trim mentioned earlier, those front seats also including warmers as part of this upgrade, while additional GT features include LED fog lamps, a rear spoiler with black-painted accents, a 4.2-inch TFT multi-information display with vehicle performance data, and a theft deterrent system.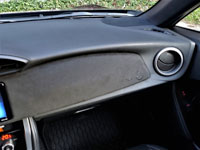 Lastly, the $38,220 TRD (Toyota Racing Development) Special Edition, which once again can only be had with the manual transmission, adds a TRD aero kit, TRD performance dual exhaust, black side mirror housings, special cloth sport seats with red accents, red seatbelts, and red interior stitching to the upgraded wheel and tire package plus the suspension tweaks mentioned earlier.
Speaking of trims, packages and pricing, those interested in a 2019 86 can access up to $2,000 in additional incentives by visiting the 2019 Toyota 86 Canada Prices page at CarCostCanada, or if the new infotainment system in the 2020 model seems like the better bet, check out CarCostCanada's 2020 Toyota 86 Canada Prices page, which will tell you how to access factory leasing and financing rates from 3.49 percent, plus other manufacturer rebate information and dealer invoice pricing that could save you thousands.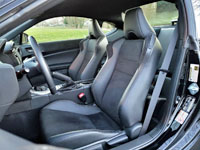 The 2020 model replaces the TRD Special Edition with a new Hakone Edition, by the way, which comes painted in unique Hakone Green and rides on 17-inch bronze-coloured alloys, while the name "pays tribute to one of the greatest driving roads in the world," says Toyota, but so far the only way to find out about it is to visit Toyota's U.S. retail website (where I sourced this info) as the automaker's Canadian site has no info about the 2020 86 (again, go to CarCostCanada for 2020 86 pricing, trims, etcetera).
I've mentioned a number of 86 competitors already, but the one that probably comes closest to matching Toyota's sports coupe in layout is Nissan's 370Z Coupe, and you might be surprised to learn it retails for only $30,498 in its most basic trim, and with that solves the 86' most criticized performance issue with a 350 horsepower base 3.7-litre V6. Its tech will take you a dozen years back in time, however, so get ready to be deflated if you want hook your smartphone up to Apple CarPlay or Android Auto, or even stream a podcast via Bluetooth (the base model will only let you take calls that way), but the orange liquid crystal displays provide a cool '80s retro digital Seiko look if you're into that sort of thing, and it's hard to argue against all that straight-line power.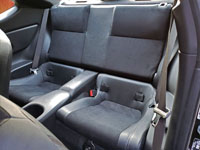 Before you run down to your local Nissan store and snap up a new Z, consider that it weighs 260 kilograms (573 lbs) more and feels like it, the Nissan doesn't come with a rear bench seat so two (small) folks will need to stay home, and the 370Z's fuel economy is nowhere near as efficient as the 86, Toyota achieving a claimed 9.9 L/100km in the city, 7.3 on the highway and 8.7 combined with the manual or 11.3 city, 8.3 highway 9.9 highway with its automatic, and Nissan only managing 12.6 city, 9.3 highway and 11.1 combined with the Z's six-speed manual or 13.3, 9.3 and 11.5 respectively for its seven-speed auto.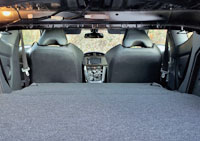 Of course, most of us don't base the purchase of a future sports car on its fuel-efficiency, but this day and age it's certainly a bonus, while anyone with kids will appreciate those rear seats. I wouldn't go so far as to call Toyota's 86 practical, but it's easier to live with than many of its two-seat competitors and its one-piece rear seatback even folds down to expand on a reasonably sized 196-litre (6.9 cubic-foot) trunk to boot. Add to that good expected reliability and the 86 is a good choice for anyone wanting a daily driver with much better performance than most anything else available under $30k.