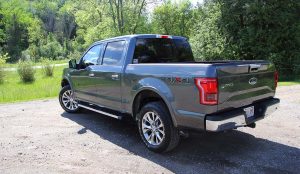 North America loves its F-series trucks. In 2016 Ford sold 820,799 F-series pickups in the United States. Canada sold nearly 150,000. Ford likes to boast that it's been Canada's best selling vehicle for 51 years and it's easy to understand why. The closest competitor to the F-series line was the Ram Pickup having sold 89,048 last year, followed by the GMC Sierra with 51,091 and then the Chevrolet Silverado at 44,932.
So what makes the Ford so appealing to the Canadian consumer? Pickups are a different breed today than they were in decades past. Trucks were used for heavy lifting and towing and usually thought of as a tradesman's tool. However, many have developed luxurious traits that are normally only seen in luxury sedans and SUVs.
The interior of our test model is spacious with tasteful aluminum accents and comfortable bucket seats that are covered in leather. The dash is well thought out and very easy to become accustomed to. There is plenty of room in the back row, which can easily seat three adults side-by-side.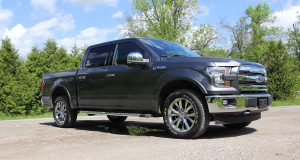 This model also has the Lariat Chrome appearance options package ($1,000), which includes a chrome three-bar style grille with chrome surround, chrome mesh inserts, two chrome front tow hooks, chrome skull caps on the exterior mirrors, chrome door handles with body-colour bezels, chrome angular running boards, and of course a single-tip chrome exhaust.
The aesthetics aren't the only discernable factor about this new model. Our F-150 Lariat 4×4 SuperCrew is also well equipped, this truck featuring a $2,300 equipment package that includes blind spot information, rear cross-traffic alert, trailer tow monitoring, SYNC connect (for your smartphone), Sirius XM satellite radio, 10-speaker audio, voice-activated navigation and LED puddle lamps.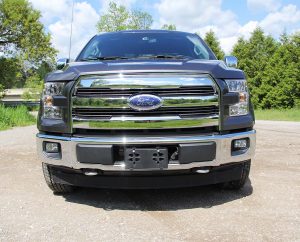 It's easy to get caught up marveling at all the technology and dazzling chrome accents, however the truck's unseen components make it truly outstanding. The F-150 Lariat comes with a choice of three engines. First, the 2.7-litre V6 EcoBoost comes standard and develops 325 horsepower and 375 lb-ft of torque while only consuming 12.2 L/100km city, 9.3 highway and 10.9 combined.
The second available engine is the $900 optional 5.0-litre V8 with twin independent variable cam timing. It's fast thanks to 385 horsepower at 5,750 rpm and 387 lb-ft of torque at 3,850 rpm. This means it will reach 100 km/h in 6.3 seconds from standstill. The 5.0 is surprisingly fuel-efficient for a V8, but nowhere near the EcoBoost engine. At 16.0 L/100km city, 11.8 highway and 14.1 combined the V8 has comparable fuel economy to the other trucks in its class, including the GMC Sierra SLE 5.3-litre V8 that has a 15.9 L/100km city, 11.1 highway and 13.8 combined rating, and the Ram pickup with the Hemi V8, although not the Ram's similarly potent EcoDiesel.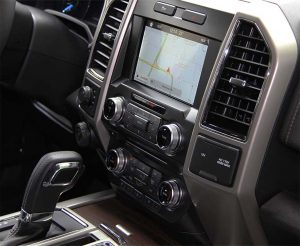 The third available engine is the $1,650 3.5-litre V6 EcoBoost developing 365 horsepower at 5,000 rpm and 420 lb-ft of torque at 2,500 rpm. The fastest of the three, it will reach 100km/h in 5.8 seconds. At 15.6 L/100km city, 13.2 highway and 14.5 combined, this engine is the thirstiest as well, but offers a lot of pulling power. Also, when compared to competitors' top engine choices it's a fuel economy leader, partially due to an all-new 10-speed automatic transmission with auto start/stop.
Unfortunately, the 2.7-litre V6 EcoBoost and the 5.0-litre V8 are not yet available with the new 10-speed automatic, and come with a proven six-speed automatic transmission instead.
Depending on the engine, drivetrain, and body style, each F-150 model differs in maximum towing capability and maximum payload capacity. The smallest base 2.7-litre V6 EcoBoost has a maximum towing capability of 3,855 kg (8,500 lbs) and a maximum payload capacity of 1,002 kg (2,210 lbs) when mated up to the Regular Cab body style and 4×2 drivetrain, whereas the largest 5.0-litre TI-VCT V8 with the Regular Cab 4×2 has a max tow rating of 4,989 kg (11,000 lbs) and a max payload capacity of 1,483 kg (3,270 lbs). Finally, the 3.5-litre EcoBoost V6 with the Regular Cab and a 4×2 drivetrain has a max towing capability of 5,533 kg (12,200 lbs) and a max payload capacity of 1,470 kg (3,240 lbs).
The F-150's ability to provide strong performance despite its sizeable proportions isn't just about engine performance, but more importantly can be attributed to a completely new light truck philosophy at Ford. As part of the 2015 F-150 redesign it switched from utilizing steel for its body and bed to a combination of "military-grade" aluminum and high-strength steel.
In the upcoming review we'll give you a taste of what it's like to sit behind the wheel along with a detailed description of the infotainment system that truly impressed us.
Stay tuned for a full review…