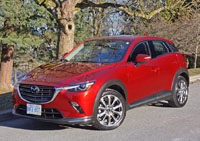 When the CX-3 arrived in May of 2015 as a 2016 model, there were 13 rivals in the subcompact crossover segment. Two others had arrived earlier that year and one more came onto the scene the following month, but interestingly four other models from that year's 15 competitor class are no longer available today. The sporty Nissan Juke and its taller Cube compatriot were kind of replaced by the new Qashqai and newer Kicks, while the void left by the Jeep Patriot was more or less filled by the Renegade, but the Scion xB, along with its brand, is gone forever.
The Honda Element had been given the boot many years before that, whereas that automaker's more popular HR-V arrived the same year as the CX-3, along with the just-noted Renegade and Fiat's related 500X. Models still existing today that preceded these five include (in order of arrival) the Jeep Compass, Kia Soul (that like the Kona has an EV as well), Mitsubishi RVR, Mini Countryman, Buick Encore, Chevrolet Trax, and Subaru Crosstrek (that's now available as a plug-in hybrid for 2020), plus more recent entries including the Qashqai, Ford EcoSport, Toyota C-HR, Kia Niro (that's available as a plug-in hybrid and an EV too), Hyundai Kona (which includes an EV), Kicks, Hyundai Venue, Mazda CX-30, and Kia Seltos (a 2021). That's a total of 20, with more expected from a variety of automakers.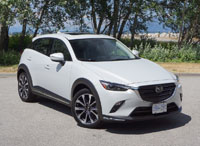 Considering this burgeoning category the CX-3's seventh-place standing is very good, especially when factoring in the little crossover SUV hasn't visibly changed all that much since inception five years ago. Model year 2017 carried over from 2016 identically, but 2018 added a manual gearbox to base FWD models, retuned the suspension for more comfort, added Mazda's G-vectoring control to improve handling, lowered interior noise, upgraded the steering wheel and instrument cluster, made the automaker's smart city brake support low-speed automatic emergency braking standard, pulled more standard and optional i-ActivSense advanced driver assistive systems into lower trims, including full-speed smart brake support with front obstruction warning, lane departure warning, automatic high beams, adaptive cruise control, and more.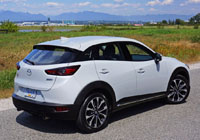 The following model year saw Mazda modify the grille, taillights, and wheels, but changes to everything but those alloys were ultra-subtle, whereas the cabin received nicer materials along with new seats, while the lower console was redesigned to accommodate an electromechanical parking brake. Blind spot monitoring was made standard for 2019 too, while the top-line GT being reviewed here received genuine leather in place of leatherette in previous years, plus this top trim line also featured everything from the previous year's Technology package as standard kit, which included items like satellite radio, automatic high beam assist, and lane departure warning.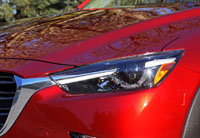 The 2019 CX-3's Skyactiv-G 2.0-litre four-cylinder engine gained 2 horsepower too, an increase to 148 horsepower that carries over to 2020 like the entirety of the car, incidentally, while torque stayed steady at 146 lb-ft, and continues to do so. I'm guessing it would be difficult to tell the difference between 2018 and 2019 models off the line or while passing, as an increase of 1.35 percent might only be perceptible to professional engineers testing both model years back to back, but I was happy with the previous model's performance and therefore continue to find the CX-3 to be a fun car to drive.
The same engine is included with all trims, by the way, while base GX models once again come standard with a manual and FWD, and optional with a six-speed automatic with FWD or the brand's i-Activ AWD. The mid-range GS is standard with the autobox and optional with AWD, while the GT gets both the auto and AWD standard. The CX-3 starts at just $21,045 plus freight and fees, whereas my fully loaded tester hits the road for $31,045. Those numbers don't change one iota for 2020, although a CarCostCanada report will show you how to save up to $2,000 in additional incentives for the 2019 CX-3, says their 2019 Mazda CX-3 Canada Prices page, but average member savings have actually been $2,166. Take note that the 2020 Mazda CX-3 Canada Prices page claims up to $600 in additional incentives, although once again it's showing average member savings at $2,166.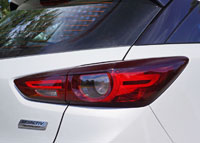 The Skyactiv-Drive automatic gains steering wheel-mounted paddle shifters in GS and GT trims, which make the little SUV more engaging to drive quickly, while only the GT gets two-inch larger 18-inch alloys on 215/50R18 all-season tires for additional grip around fast-paced corners. Handling is good despite merely making due with a semi-independent torsion or twist beam rear suspension, although this setup is common in this smallest SUV class, while the front MacPherson strut design is also par for the course and delivers good control through quick curves, while the power-assist rack-and-pinion steering provides good directional control and fairly decent feedback.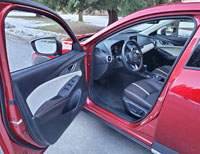 Certainly there's nothing wrong with the way the CX-3 drives, especially since Mazda improved its ride quality, and together with this increased refinement is one of the nicer interiors in its class. This is nothing new for the independent Japanese brand, and while the CX-3 doesn't quite measure up to the new CX-30 or CX-5, let alone the near-premium CX-9, at the very least needing fabric-wrapped A-pillars plus a soft-touch dash-top and door uppers to do that, the primary instrument hood is finished in stitched leatherette for an upscale look and feel, while the centre portion of the instrument panel gets a contrast-stitched and padded leatherette bolster across its middle.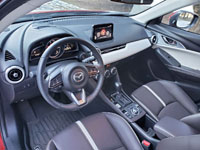 Before going any further I need to mention an interesting change taken midway through the 2019 model year. That instrument panel bolster and the door inserts were actually finished in stitched leatherette in earlier 2019 examples like my Soul Red Crystal painted tester, whereas this changed to grey Grand Luxe Suede (think soft, plush Alcantara) in the fall when I received my Snowflake White Pearl example. Now, for 2020, the suede-like material remains the only surfacing for these areas, and thanks to a massive photo gallery (just click on any photo above) you can see the difference with your own eyes.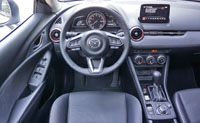 This means if you're eyeing up a new 2019 CX-3 at your local dealer (and plenty are still available due to somewhat sluggish sales during fall and winter plus the new challenge of COVID-19), you'll now know why some 2019s have the leather look and others are all soft and cuddly. I personally like the suede a lot, and would choose it if the option was available due to its richer, more opulent appeal, plus it's the newer of the two GT interior choices and therefore might bode better upon resale, but both are nice.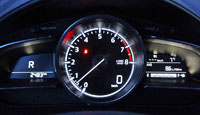 You may also notice a change in upholstery designs, with my red tester featuring the chocolate brown and cream two-tone perforated Cocoa Nappa leather interior package that's no longer available for 2020, and the white model getting the same perforated black leather with grey piping as you'll find in the 2020. Mazda offers the 2020 CX-3 GT with a no-cost Pure White interior option too, just like it did in 2019, so your choices are greater with the outgoing CX-3 than with the new one, as long as you can find an example with Nappa leather. No matter which version you choose, Mazda fits leatherette bolsters to each side of the centre stack and lower console, thus making sure you won't chafe your knees. As I've been saying all along, the attention to detail in the CX-3 GT is impressive.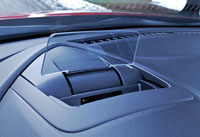 Upholsteries and trims aside, the two cars are pretty well the same other than some small details. The lovely instrument panel bolster gets visually separated from the dash above by an attractive metallic trim strip that elegantly integrates the centre vent, which would otherwise be invisible unless tilted up or down to direct air. The corner vents are circular in design, and their bezels are finished with a satin-aluminum outer ring and a piano black lacquered inner ring for the older model, this matching some other glossy black trim around the shifter and elsewhere, although the newer CX-3 GT features a glossy red inner ring that ironically would be more suitable to the older model's red exterior.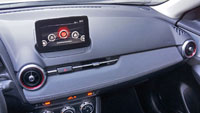 Fortunately Mazda still offers its gorgeous trademark colour in the 2020 model for the same upgrade price of $450, while my white tester's extra paint charge was only $200. Mazda offers the exact same seven-colour pallet for 2020 as it did for this 2019 model year, and when researching Mazda Canada dealers nationwide to find out if enough 2019 CX-3s were available to warrant this review, I noticed plenty of colour options and trims.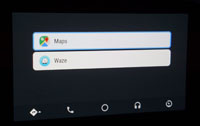 If you're into the luxury-look of satin-silver polished metal, the CX-3 will be an absolute delight. There's more surrounding the wing-like analogue and digital primary gauge cluster, plus the thin twinned lower steering wheel spoke and upper door garnishes around the door pulls. Yet more metallic trim surrounds the fixed tablet-style infotainment display perched on centre dash top, while wonderful knurled metal rings dress up each of the three automatic climate control dials. Knurled metal also edges the infotainment controller on the lower console, which is surrounded by quick-access buttons for the main menu, audio system, navigation, radio favourites, and the back button, while a useful rotating volume dial gets the identical knurled metal treatment.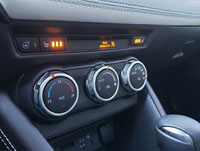 Speaking of the infotainment system, Mazda has been cold-molasses-like slow to integrate Android Auto and Apple CarPlay into this model, which means if you're a fan of either you'll need to choose the updated late 2019 arrival, or of course a 2020. Yes, believe it or not the otherwise very good 7.0-inch centre touchscreen display in my early 2019, complete with navigation, Bluetooth phone connectivity with audio streaming, controls for the very good seven-speaker Bose audio system that includes satellite and HD radio, automated text message reading and responding, plus more, is devoid of these two smartphone integration apps, but the newer version includes both as seen in the photos, and therefore I hooked up the Android version that works well.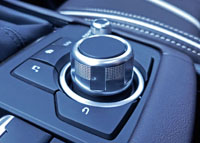 Features in mind, both 2019 and 2020 CX-3 GTs also include auto on/off LED headlights with adaptive cornering, auto-levelling and the aforementioned auto high beams, LED fog lamps (although they're tiny and therefore hard to see), LED rear combination taillights with signature elements, extra chrome exterior trim, proximity-sensing keyless entry, a 10-way power driver's seat with memory, a colour Active Driving Display (which is kind of like a head-up display), traffic sign recognition, an auto-dimming centre mirror, a powered glass sunroof, and everything already mentioned.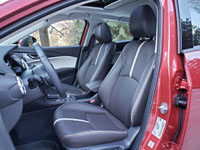 Notable features pulled up from lesser trims include pushbutton ignition, rain-sensing wipers, a heated leather-wrapped steering wheel, a leather-clad shift knob, a wide-angle reverse camera (without active guidelines), Aha and Stitcher internet radio functionality, two USB charging ports, three-way heatable front seats, an overhead console with a sunglasses holder, a folding rear centre armrest with integrated cupholders, a removable cargo cover, tire pressure monitoring, all the usual active and passive safety features found in this segment, and more.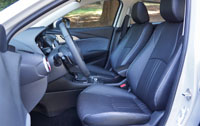 The just-noted 10-way powered seats and the tilt/telescopic steering provided enough adjustability to provide good comfort without forcing my long-legged frame to reach too far for its leather-wrapped rim, the latter easily one of the nicest in its class. Rear seat roominess is good for this smaller class of subcompact SUVs, with the new CX-30 (which really should have been dubbed CX-4 despite the name already being used in China) providing a little bit more room, performance and luxury for those willing to upgrade.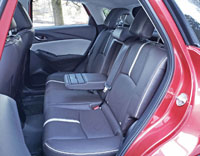 Being that the CX-30 has just arrived it's difficult to know if it will do as well as the CX-3, but Q1 of 2020 shows the two models running neck-to-neck at 1,486 units for the older SUV and 1,420 for the new entry, and there may have been availability issues with the latter. Year-over-year Q1 comparisons show the carnage COVID-19 is inflicting to the auto industry, with the CX-3's sales down by almost 59 percent, but believe me it's hardly worst amongst its peers. The previously mentioned Soul is down 61 percent while the Renegade has lost 68 percent, which actually looks good when compared to the Compass that's plunged by 71 percent. The Qashqai is even faring worse with a 74 percent drop in Q1 year-over-year sales, while the Kicks is off by 69 percent. Everything else is failing slightly better (although not necessarily with as many overall sales), but not much.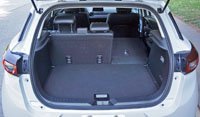 Looking back at normal markets, the CX-3 had a very successful start, and earning the Automobile Journalist Association of Canada's 2016 Canadian Utility Vehicle of the Year award right off the mark and rising to fourth in its class for 2016 and the same for 2017, plus an impressive third for 2018, but age dropped it to seventh last year, and now, as noted, the CX-30 may pass right on by until Mazda can provide us with an all-new CX-3. I'll have a full review of the 2020 CX-30 coming soon, plus a review of a 2020 CX-3 GT, but until then you may want to consider a 2019, as there are plenty of savings to be had. This in mind, remember to check out CarCostCanada to save the most you possibly can.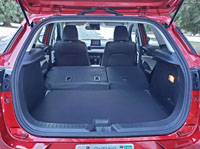 In the end, any Mazda CX-3 is a good choice in this segment, particularly if you want a stylish, sporty, refined subcompact SUV that's easy on fuel—it's rated at 8.8 L/100km in the city, 7.0 on the highway and 8.0 combined with its manual and FWD, 8.3 city, 6.9 highway and 7.7 combined with the automatic and FWD, or 8.6, 7.4 and 8.1 respectively with the auto and AWD. Just the same, this segment is beyond hot as covered earlier in this review. Therefore I recommend doing your homework so you'll be 100 percent happy with your final choice. I believe once you've done your due diligence the CX-3 will be on your shortlist, as remains one of this segment's best.
Story and photo credits: Trevor Hofmann
Photo Editing: Karen Tuggay