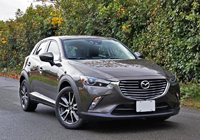 Since arriving on the subcompact crossover scene halfway through 2015, Mazda's CX-3 has been a class favourite. It's good looking, sporty, fairly upscale, nicely equipped and plenty practical, all good reasons for its rise in popularity.
Still, I can't help but wonder if the folks at Mazda Canada's Richmond Hill headquarters are starting to look over their shoulders at new competition now that Toyota's equally sporty CH-R has shown up, just like Honda is hoping its HR-V's lead doesn't get consumed by the new Nissan Qashqai, a mini-Roque that looks like it'll put up a good fight in this once fringe segment.
In total, the subcompact SUV category has 11 entrants, including the bestselling HR-V with 12,371 sales last year, runner up CX-3 with 9,354 deliveries, third-place Chevrolet Trax with 9,072, Mitsubishi RVR with 6,196, Buick Encore with 5,533, Nissan Juke with 4,442, Jeep Renegade with 3,962, Fiat 500X with 766, and Mini Countryman with 694. I can't decide if the Mini and Buick should be counted in the subcompact luxury SUV segment because they're priced higher, but in reality they're somewhere in the middle. Neither has much effect on the CX-3, however, so it's a moot point.
The new CH-R is relevant, however, having sold 690 units in its first month of May. This won't cause too much concern at Honda where the HR-V found 1,687 new buyers, and I suppose the CX-3's 1,089 May deliveries were strong too, in fact that was the model's best monthly sales results ever, but it's just the beginning for the Toyota subcompact and this initial jump out of the gate (a time in a vehicle's lifecycle when availability is compromised and therefore real sales may have been better) is better than two of the CX-3's poorer months this year, and stronger than many others it's competing against, like the Trax that only found 464 buyers, plus the Juke and Renegade that attracted just 270 apiece. Even Fiat's 500X did better than these two thanks to a best-ever tally of 305 sales, while I believe we'll see a lot more than May's 191 units from the new Qashqai.
Other than mention of the upcoming Ford EcoSport (due to arrive later this year) and just announced Hyundai Kona (a Kia version can't be too far away), that's the state of the subcompact SUV segment, and the CX-3 remains near the very top for all the reasons just stated as well as Canada's adoration of its independent Japanese parent.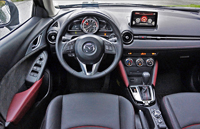 I won't go into U.S. numbers, but suffice to say they're not pretty with respect to anything Mazda sells, save the MX-5 "Miata". Their number one seller in this class is the Renegade, a model far down the pecking order here. With all due respect, every one of the above noted SUVs is worthy of your attention and would likely provide an enjoyable ownership experience, some of my favourites being lower on the popularity poll, but in the case of the CX-3 I can wholly agree with its success.
I've read others knock its styling on social media, but I love every inch of the little Mazda sport ute, especially in as-tested top-line GT trim. Moving up from the $20,695 base GX model or $22,695 mid-range GS to the $28,995 GT allows for more sophisticated looking and much brighter LED headlights with stylish signature detailing, plus the world's tiniest LED fog lamps inserted within the upgraded metallic bezels of its sporty front fascia, not to mention stunning twinned V-spoke 18-inch gunmetal-finish alloys around each side. Move inside and its well laid out cabin gets leather and Lux Suede upholstery, plus loads of exclusive features.
I'll go on in more detail in my upcoming review, plus relate how the CX-3's sole Skyactiv-G 2.0-litre direct-injection four-cylinder responds to aggressive input, its 146 horsepower and identical 146 lb-ft of torque plenty for an SUV that weighs just 1,339 kilos. This said Mazda joins many other manufacturers in unforgivably making their normally standard six-speed manual transmission unavailable in the CX-3's sportiest trim, but at least the six-speed automatic has manual mode with an engaging set of steering wheel-mounted paddle shifters, and best of all it's not a CVT.
If you want AWD you'll need to accept the autobox anyway, so therefore the CX-3 GT drives all four wheels, which aids traction and doesn't detract much from efficiencies thanks to a five-cycle rating of 8.8 L/100km in the city and 7.5 on the highway compared to 8.2 city and 6.9 highway in the manual-equipped front-drive model.
I don't think I'm going to worry too much about fuel economy this week, because the CX-3 GT is way too much fun to let such concerns ruin the moment. Come back soon and check out my road test review to get all the details…