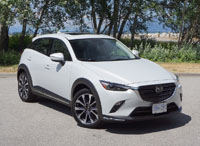 Canada's subcompact SUV segment has been growing like gangbusters in recent years, and the highly successful Mazda CX-3 is one of the key reasons it's doing so well. 
The CX-3, in fact, is one of the class bestsellers, sitting third out of 16 entrants at the end of 2017 (there are now 17 competitors). That's a truly impressive feat, while it's also one of just three challengers to bypass five figures in annual sales.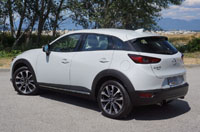 Having been on the market since May of 2015 and therefore mostly unchanged, Mazda felt it was time for a mid-cycle update and therefore we've got the new and improved 2019 model in our garage this week. Changes to the exterior include a revised grille, new taillights and updated wheels, while the cabin gets some nicer materials, a new set of seats, plus a redesigned centre console that incorporates a de rigueur electromechanical parking brake switch replacing the previous model's old-school mechanical brake lever, and by doing so frees up significant space between the front seats while helping to modernize the driving experience.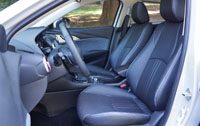 Additional 2019 updates include advanced blindspot monitoring, rear cross-traffic alert and Smart City Brake Support (SCBS), the latter utilizing a near infrared laser to detect vehicle activity up to six metres ahead before applying the brakes automatically to avoid a potential accident, all of which even gets added to $20,795 entry-level GX trim (see CarCostCanada.com for all the trim, pricing and options details, plus rebate info and dealer invoice pricing), while the as-tested top-line GT model now comes standard with genuine leather upholstery in place of the outgoing model's leatherette.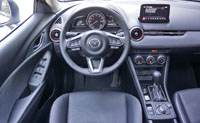 What's more, 2019 GT models also come standard with all of the features in last year's optional Technology package, which means that features like satellite radio, automatic high beam assist, and lane departure warning no longer need the addition of an upgrade. 
While I'm tempted to tell you more, additional details plus my impressions will have to wait for a full road test review that will be available here soon…