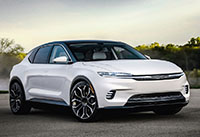 After the Italian-American conglomerate Fiat Chrysler Automobiles and France's PSA Group morphed into Stellantis last year, all 16 brands were promised enough funding to prove their viability as money-making enterprises. This, at a time when many industry critics were predicting some of the less profitable brands' demise, such as Lancia in Europe and Chrysler in North America, should allow the creation of some significant contenders.
The sad state of the once glorious Italian marque's current lineup shows just how far it's fallen, Lancia currently offering just one single Ypsilon mini hatchback, which bears nothing in common with the legendary Delta HF Integrale rally car of the past. Likewise, the once proud American brand merely offers the soon-to-be-discontinued near-full-size 300 luxury/performance sedan, and three versions of a particularly good minivan, including the kind of new Grand Caravan (basically a rebadged pre-facelift Pacifica), the refreshed (2021) Pacifica, and the innovative Pacifica Hybrid.
Where the second-generation 300 is now almost a dozen years old, making it geriatric in automotive lifecycles (as much as we still like it), the minivan threesome came to market in 2016, and therefore has six years under its collective belt. Therefore, Chrysler's freshest product is already beyond its due date, while the brand's overall image is so weak that it felt the need to "reintroduce" itself in the "2022 Chrysler Airflow | Our First Battery-Electric Vehicle" video below.
Airflow concept points Chrysler in a new crossover EV-based direction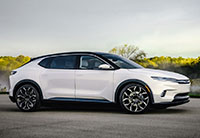 All said, Chrysler has a long, storied history worthy of delving into, if not preserving in the modern day. The brand has long been a leader in automotive electrification as well, thanks to the world's first plug-in hybrid minivan, so segueing into a full EV seems natural for Chrysler, and the realization of something like the new Airflow concept would not only deliver such a clean, green alternative, but also give the winged brand the crossover SUV it's long needed.
Other than a short three model-year stint with a more upscale version of the Dodge Durango dubbed Aspen (MY 2007–2009), we need to look way back to the original Pacifica (MY 2004–2008) for a Chrysler-badged crossover, that near-luxury model somewhat ahead of its time, albeit short-sightedly short-lived as well. The automaker, which had its once-full coffers run dry by Mercedes during the DaimlerChrysler era, has been limping away on life support over the past decade, possibly making this new Airflow, which is likely close to the production model, a make-it-or-break it scenario.
Airflow concept points Chrysler in a new crossover EV-based direction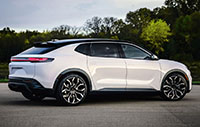 The Airflow concept was introduced last January at the Consumer Electronic Show (CES) in Las Vegas. It's sized similarly to Ford's very popular Mustang Mach-E crossover, which itself was designed to go head-to-head with entry-level versions of Tesla's mid-size Model X. Whether eventually dubbed Airflow or not, Stellantis has promised a new mid-size Chrysler crossover EV for 2024 as a 2025 model.
Although we know little about the new Airflow concept's details, Chrysler made clear that its powertrain consists of front and rear electric motors that make 201 horsepower apiece, and while Chrysler has yet to provide specific output numbers, the new prototype boasts all-wheel drive along with a large battery pack mounted below the floor.
Scroll through the press images in the gallery and you'll see one that suggests a 118.0-kWh battery, plus a range of 400 miles (644 km). During the launch, Chrysler added that the range will be between 350 and 400 miles (217 and 644 km), which could be translated to mean that two or more output levels will be offered, the lesser capability for a base model. This said, being that Stellantis is an Amsterdam, Netherlands-based corporation, we can't be certain this estimate corresponds to the U.S. EPA cycle or not, but at least the latter number appears to be within acceptable EV market expectations.
Airflow combines Chrysler's penchant for elegant luxury with loads of new-edge tech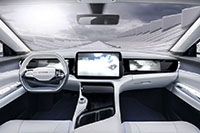 Inside, the Airflow appears roomy enough for four adults to stretch out comfortably, the second-row seats divided into individual floating buckets with a large floating console in between (the production model may see a rear bench in lower trims), while the crossover's overall design layout lends to an even greater air of spaciousness, thanks to a wide, horizontal dash layout that visually extends into dark grey door uppers to encircle the cabin. This is dramatically offset by the concept's white and bright metal interior colour scheme, enhanced further by an extremely long front windshield and open, airy glass roof overhead.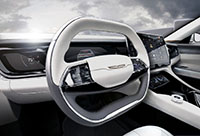 The details of that wide dash design are even more notable, being that the entire surface appears to be a combination of inky black glass/composite and touch-sensitive digital interfaces, one even ahead of the front passenger. The large driver's display is fully digital too, of course, and extends outwards to the left of what is normally the main gauge cluster with controls for interior temperatures plus driver's seat heating and cooling, whereas the large centre screen is complemented by an additional display further down the centre stack, this showing navigation mapping and seat controls in the supplied images.
Chrysler claims the Airflow's driver display and infotainment touchscreens incorporate a completely new system dubbed STLA cockpit and STLA Brain respectively, and all feature over-the-air update capability. No doubt the latest backend technology will make these systems quick and responsive, while Chrysler's older demographic will insist on a user-friendly digital environment, so therefore the choice to mirror a smartphone/tablet experience with simple touchscreens makes more sense than complicated knobs and buttons, or even more complex touchpads.
Elegant Airflow interior appears practical too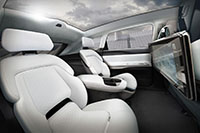 Rear passengers haven't been left out of the infotainment loop either, thanks to large horizontal touchscreens filled with entertainment prompts on the backsides of each front seat, while a handy pull-out cargo shelf provides easy loading and unloading of the spacious luggage compartment.
Back up front, Chrysler's usual rotating gear selector is perched atop the lower centre console. It features a start/stop ignition button on top and beautifully faceted crystal sides, while the fact that it's connected to an electric powertrain means it only needs to be turned clockwise for Drive or counter-clockwise for Reverse, plus likely pushed in the centre when parked.
Also important for this class of car, the upcoming Chrysler crossover will feature Level 3 autonomous driving capability, the feature named STLA AutoDrive. Such will allow it to compete directly with the Tesla Model X, new Cadillac Lyriq, and others that are touting similarly advanced autonomy.
Styling is key to the Chrysler EV's success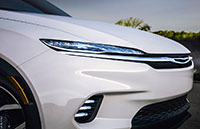 Of course, if buyers don't like what they see from the outside they probably won't ever step inside, so getting the upcoming Chrysler crossover's exterior styling right is critical for success. For this reason, we've included every available image of this concept in the photo gallery above, plus included two videos below, so you can judge their efforts for yourself.
While arguably a bit generic from the front end, at least when compared to something as bold as the 300 sedan, the Airflow's uncluttered, minimalist design represents a clear departure for the Auburn Hills-based brand. It's obviously not trying to flex any pseudo macho muscle, like so many other wannabe off-roaders that are merely less convenient minivans under the skin, so something along the lines of the Airflow should appeal to those looking for a classy, upscale, near-luxury alternative to pricier crossover EVs like the aforementioned Tesla and Caddy, as well as Jaguar's I-Pace, the latter sharing a similar roofline.
Pricing in mind, the Airflow will probably need to undercut Ford's more performance-oriented Mach E in order to lure in new buyers, but such is the effect of relegating the Chrysler brand to "minivan company" status.
Classy crossover features sporty alloy wheels and beautifully complex lighting elements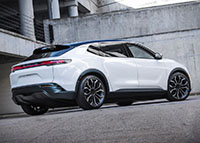 Back to the Airflow at hand, its twinned six-spoke wheels are massive at 22 inches, and quite aggressively styled when compared to the rest of the vehicle, while the frontal lighting elements include narrow eye-like LEDs up top and triple-stacked sets of LED fogs at each corner down below. At the other end, the single-piece taillight cluster encompasses the entire width of the body, and while infused with attractive LED lighting elements at each corner, houses unique white "AIRFLOW" lettering at centre. Remove that name, however, and the entire SUV might be mistaken for Porsche's Cayenne Coupe from behind, but at least its design team kept the Airflow in good company.
All said, there's once again nothing distinctively "Chrysler" about this new crossover, so, while undeniably good looking, the Airflow could easily get lost in a barrage of new crossover EVs slated to hit the market over the next few years.
Entire Chrysler lineup to be fully electric within six years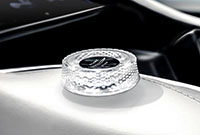 Looking into the future, Chrysler will most likely continue forward with its various minivans, as this trio fills a market niche only otherwise serviced by handful of Asian brands. The Grand Caravan and Pacifica models remain quite popular too, so EV variants of both will need to surface in order to meet Chrysler's goal of being fully electric by 2028.
After that, future Chrysler models are only known to Stellantis' inner circle, and as noted earlier, the success of the new Airflow will determine which market segments, if any, get the nod. Both smaller compact and larger three-row Chrysler crossovers are likely bets, but competing directly in these highly competitive categories is a daunting prospect.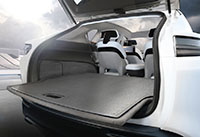 The sheer volume of buyers choosing these segments make them impossible to ignore, but Chrysler may choose to boldly break the mold with something altogether different, just like the brand once did in years past with innovative models the 2005–present 300 sedan and the similarly ground-breaking cab-forward LH-based 300M (and Concorde) that came before, plus the previous Sebring/200 Convertible that filled an open-top niche, the shockingly successful (at least initially) PT Cruiser that completely rewrote the book on affordable compact conveyances, and of course the original 1934–1937 Airflow that helped change the way the world looked at automotive aerodynamics.
Until some more concepts arrive, however, the upcoming Airflow EV is Chrysler's "Hail Mary pass", a vehicle that absolutely must succeed for the beleaguered brand to continue. As enthusiasts, we've got our fingers crossed.
2022 Chrysler Airflow | Our First Battery-Electric Vehicle (3:16):

2022 CES | Chrysler Airflow Reveal (12:22):

Story credits: Trevor Hofmann
Photo credits: Chrysler