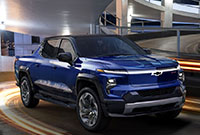 With an estimated 200,000-plus F-150 Lightning orders in the books, Ford has clearly shown the market is ripe for full-size electric pickup trucks. In fact, the books are likely full for 2022. Added to that, microchip shortages and recent talk about a coming battery shortage means the Dearborn-based automaker's ability to fully deliver on these orders is suspect, but nonetheless, if a history of BEV customer patience is anything to go by, particularly with respect to Tesla, the blue-oval brand may garner a lot of market share and win out in the end.
This scenario would see Chevrolet, a leader in battery-electric vehicles, come up short by being late to the electrified truck party. If the bowtie brand had been quicker to the draw, they could have capitalized on Ford's temporary weakness, but instead the new Silverado EV pickup, introduced at the 2022 Consumer Electronics Show (CES) in Las Vegas last week, won't be available until 2023 as a 2024 model. Just the same, fleet buyers and eco-minded consumers may want to wait for the General's new model, because its unique features really set it apart.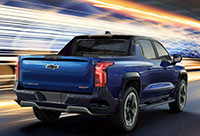 First off, and possibly most critical, the Silverado EV is based on General Motors' new Ultium platform, an electric-specific truck and SUV chassis. The Lightning rides on Ford's conventional F-150 chassis architecture, which is likely why it was quicker to market. Most electric vehicle fans will give a nod of approval to GM for going the extra mile of taking this pure-EV route, but the optimal choice is not yet clear. The F-150's body-on-frame layout is a very well-known entity, whereas the Silverado EV's design is mostly uncharted territory. It's a mix between a traditional truck frame and unibody, which will hopefully end up being a best-of-both-world's scenario.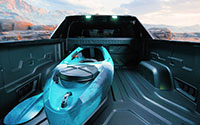 Two trims will be available at launch, including a WT (Work Truck) version designed specifically for the aforementioned fleet market and individual contractors, plus another that's dubbed RST, focused on personal use. Initially, the latter will get the moniker RST First Edition, although to be clear it will show up in the fall of 2023, after the WT arrives that spring.
The RST First Edition will be good for a range of 640 km between charges, albeit probably not while towing up to 10,000 lbs (4,536 kg) of trailer, or for that matter a full payload of passengers and cargo, or 1,300 lbs (590 kg). While towing capacity is very strong, the electric model doesn't compare all that well against a conventionally-powered Silverado 1500, which is good for a payload range of 1,870 to 2,280 lbs (848- 1,034 kg).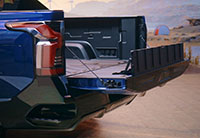 Still, the Silverado EV should be mighty quick off the line when its WOW (Wide Open Watts) maximum power mode is engaged, thanks to 660 horsepower and 780 lb-ft of torque. Smart, Chevy. Not as brilliantly silly as Tesla's Ludicrous mode, referencing the 1987 space parody film Spaceballs (Mel Brooks, Bill Pullman, John Candy and Rick Moranis), but clever just the same.
It should be noted that a WT model capable of towing up to 20,000 lbs (9,072 kg) will be made available sometime after lesser trims are introduced, while no matter the trim level a Tow/Haul mode will be included, while trailer hitch provisions, an integrated trailer brake controller, and a Hitch Guidance system as part of Chevrolet's Advanced Trailering System, will be available. It should be mentioned that base WT trucks only be able to haul 8,000 lbs (3,629 kg), plus a payload of just 1,200 lbs (544 kg) due a performance downgrade of 510 horsepower and 615 lb-ft of torque. Notably, this model will be upgradable to 640 km of range.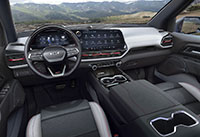 As standard, at least initially, both trims will receive a DC fast charging system with up to 350 kilowatts of capability, while both models will be available with up to 10.2 kW of offboard power delivery, meaning contractors and tradespeople will be able to plug in their tools while using the lowered tailgate as a workbench, plus campers will be able to light up and even heat their tents and trailers with an extension cord. And speaking of cords, the electrified Chevy truck will be capable of charging another EV via its optional accessory charge cord.
The Silverado EV, which is set to be assembled at GM's Detroit and Hamtramck, Michigan-based Factory ZERO, comes with an adaptive air suspension that can be raised or lowered by up to 50 mm (2.0 in). Additionally, four directional wheels should make it capable of rotating on the proverbial dime. GM will also provide its Super Cruise semi-autonomous drive system as an option, which will even be functional when towing.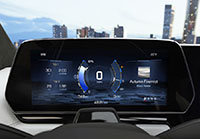 While the above features are strongpoints, the truck's Multi-Flex Tailgate (similar to what's already available from today's Silverado) and Chevy Avalanche-style Midgate bed expansion system, provide much greater cargo functionality than anything currently on the market. Where the just=noted 2001-2013 Avalanche (and the 2002-2013 Cadillac Escalade EXT) featured a single-piece Midgate, the Silverado EV's is split in a 60/40 configuration, which allows longer items to be loaded while a third occupant sits in back. Those items can be up to 10 feet, 10 inches long when the tailgate is closed, by the way, which almost doubles the Silverado EV's five-foot, 11-inch bed-length. This creative cargo solution could become a key reason for BEV truck buyers to wait for the Silverado EV over a Lightning, Rivian R1T, or any other electric pickup.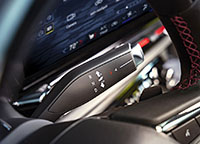 The wait certainly won't be for its compact dimensions. In fact, the new Silverado EV, which will only be available in one Crew Cab body style, measures 5,918 mm (233 in) from nose to tail, making it slightly longer than today's 5,885 mm (231.7-in) 2022 Silverado Crew Cab, although the two models' heights are approximately the same.
Like its size, few should complain about the Silverado EV's styling, as it builds on the conventional model's current design theme, albeit with more modern lines and details. It should appeal more to those who prefer smooth, flowing, wind tunnel-formed designs than folks with a greater focus on tradition than aerodynamics.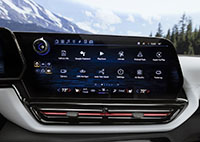 To the latter point's end there's no conventional grille. The bowtie badge is merely placed at the centre of a Tesla-like body-colour panel, all of which sits below an elegant strip of LED lighting that spans the entire width of the vehicle before melding into the headlight clusters. These are slim LEDs, while just underneath is a complex set of driving/fog lamps divided by a knife-like chrome bezel. A rugged matte black and silver bumper cap finishes off the frontal look before it rounds each corner and joins up with the truck sector's usual swollen fender flares, which are finished in gloss black for a classier appearance than the usual matte application. Lastly, the rear design is appropriately more conventional with an upright box and traditional tailgate that's bookended by a stylish set of LED taillights.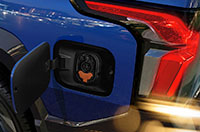 What appears to a premium-level interior will come standard with a panoramic glass roof in First Edition trim, as will a glossy infotainment display above the centre stack, measuring 17 inches from corner to corner. Lesser Silverado EV trims, including the WT, will feature a reasonably sized 11-inch touchscreen, which should be more than suitable for most peoples' needs. Similarly, the top-line model's 8.0-inch configurable driver's display shrinks down to 7.0 inches in lower trims.
Like Ford's Lightning, interested parties only need a $100 deposit to reserve their Silverado EV, so as long as buyers don't mind waiting until 2023 to take delivery, and can afford the RST First Edition's $119,948 base price, it will likely steal sales from the blue-oval truck. Then again, Chevy won't have anything to compete against the Lightning XLT's $68,000 initial base price, which is expected to go down once lower-end trims become available.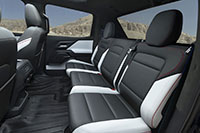 To deal with this issue, General Motors promises more affordable consumer variants, although buyers will likely have to wait another 12 months for delivery, pushing these less expensive Silverado EVs into the 2025 model year. On the other side of the pricing spectrum, GM president Mary Barra alluded to a potential Trail Boss edition during the live model launch program, which would certainly garner some attention in both EV and off-road camps.
And now for the ultimate electric pickup truck question: is there a frunk? Yes, a front-trunk (frunk) is included, but Chevy calls it an eTrunk. It's lockable and weatherproof, of course, plus large enough to stow a big hard-shell suitcase along with a few smaller items.
Story credits: Trevor Hofmann
Photo credits: Chevrolet