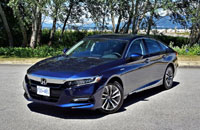 I said this before and I'll say it again, the new Accord is the most attractive car in its midsize sedan class, and one of the best looking to ever be sold in this segment. Not only that, I find it better looking than a lot of premium-branded sedans, and wouldn't doubt that some who might have never purchased in this class before will now consider doing so solely because it exists. 
This scenario may have played out on Canada's sales charts last year, with the Accord being the only mid-size sedan to see growth from January 2018 through December's end. OK, its archrival Toyota Camry barely escaped the red by growing a scant 0.1 percent over the same 12-month period, but Accord deliveries were up 2.4 percent during an era that's seen the mid-size sedan decimated by crossover SUV popularity. This last point was evidenced by other Accord competitors seeing their market shares eroded significantly, the next best-selling Chevy Malibu's sales down 16.3 percent, followed by the Fusion dropping 34.8 percent, the Nissan Altima lower by 21.4 percent, the Hyundai Sonata by 33.6 percent, Kia Optima by 27.5 percent, Volkswagen Passat by 29.5 percent, Mazda6 by 9.8 percent, and Subaru Legacy down by 28.1 percent. That's an unbelievable level of mid-size sedan carnage, but the new Accord solely rose above it all.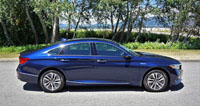 Of course, there's a lot more to the 10th-generation Accord than just good looks. There's an equally attractive interior filled with premium levels of luxury and leading edge electronics, plus dependable engineering borne from decades of production and non-stop refinements. The first hybrid drivetrain was introduced as an option to the seventh-generation Accord way back in 2005, skipped a generation and then came back as an option with the ninth-gen Accord in 2013, and now it's here again.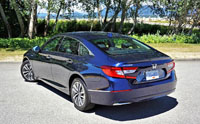 As with previous iterations, the latest Accord Hybrid looks much the same as the conventionally powered model, which I appreciate because it's not trying too hard to stand out and keeps the Accord's attractive styling intact. Truly, the only noticeable difference is a removal of tailpipe finishers, the Hybrid featuring some discrete chrome trim in their place. Chrome in mind, both no-name Hybrid and Hybrid Touring trims feature the same chrome exterior details as the regular Accord's EX-L and above trims, Sport model excluded.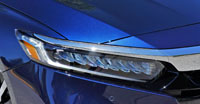 Touring upgrades that aren't as noticeable include full LED headlamps that feature light emitting diodes for the high as well as the low beams, plus unique signature LED elements around the outside of the headlamp clusters, chrome-trimmed door handles, and the availability of no-cost as-tested Obsidian Blue Pearl exterior paint instead of standard Crystal Black Pearl or $300 White Orchid Pearl, the only two shades offered with the base model.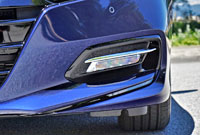 Now that we've got the obvious visual changes from base Hybrid to Hybrid Touring trims out of the way, the top-line model also replaces Honda's exclusive LaneWatch blind spot display system with a Blind Spot Information (BSI) and Rear Cross Traffic Monitor system, while adding adaptive dampers to improve handling, rain-sensing wipers, a head-up display (HUD), an auto-dimming rearview mirror, passenger side mirror reverse gear tilt-down, a HomeLink garage door remote, a powered moonroof, front and rear parking sensors, navigation, voice recognition, satellite and HD radio capability, HondaLink subscription services, wireless device charging, an AT&T Wi-Fi hotspot, driver's seat memory, a four-way powered front passenger's seat, a heatable steering wheel rim, perforated leather upholstery, ventilated front seats, heated rear outboard seats, and more for $40,090 plus freight and fees. 
Incidentally, I sourced 2019 Honda Accord Hybrid pricing from CarCostCanada, which not only breaks everything down into trims, packages and standalone options, but also provides information about available rebates as well as dealer invoice pricing that could save you thousands.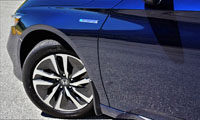 Additionally, items pulled up to the Hybrid Touring from base $33,090 Hybrid trim include unique aerodynamically designed machine-finished 17-inch alloy wheels, auto-on/off headlight control with automatic high beams, LED fog lamps, LED taillights, a remote engine starter, proximity-sensing keyless access with pushbutton ignition, a leather-wrapped multifunction steering wheel, a 7.0-inch colour TFT multi-information display within the primary gauge cluster, dual-zone automatic climate control, an 8.0-inch infotainment touchscreen with tablet-style tap, swipe and pinch gesture controls, Apple CarPlay and Android Auto smartphone integration, a multi-angle rearview camera with dynamic guidelines, Bluetooth phone connectivity with streaming audio, near field communication (NFC), 452-watt audio with 10 speakers including a subwoofer, two front and two rear USB charging ports, SMS text message and email reading functionality, Wi-Fi tethering, overhead sunglasses storage, a 12-way powered driver's seat with four-way powered lumbar support, heatable front seats, the HondaLink Assist automatic emergency response system, plus all the expected active and passive safety features including front knee airbags.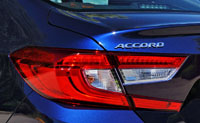 Some safety features that might not be expected include the standard Honda Sensing suite of advanced driver assistance systems, incorporating Adaptive Cruise Control (ACC) with Low-Speed Follow, Collision Mitigation Braking System (CMBS), Forward Collision Warning (FCW), Lane Departure Warning (LDW), Road Departure Mitigation (RDM), Lane Keeping Assist System (LKAS), and traffic sign recognition, this being enough to earn the regular Accord a Top Safety Pick from the IIHS when equipped with its upgraded headlights, while all Accord trims get a best-possible five stars from the NHTSA.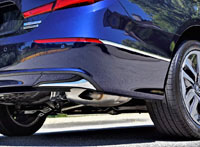 The long list of Accord Hybrid Touring features comes in a cabin that exudes quality and refinement, thanks to premium-level soft synthetic surfacing on most surfaces above the waste, authentic looking matte woodgrain inlays spanning the instrument panel and door panels, tastefully applied satin-silver accents throughout, supple leather upholstery on the seats, door inserts and armrests, padded and stitched leatherette trim along the sides of the lower console, the front portion protecting the inside knees of driver and front passenger from chafing, and some of the highest quality digital displays in the class.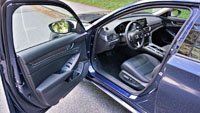 Immediately impressive is the brightly lit primary instrument package that looks like a giant LCD panel at first glance, but in fact houses a digital display within its left two-thirds while integrating an analogue speedometer to the right. The screen on the left is filled with hybrid-specific info by default, but you can scroll through numerous other functions via steering wheel controls, resulting in a very useful multi-info display. 
Likewise you can project key info onto the windshield via the HUD by using another steering wheel button, the system showing graphical information for route guidance, the adaptive cruise control system and more up high where you can see it without taking your eyes off the road.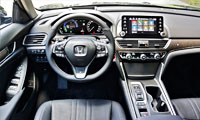 Over on the top portion of the centre stack, Honda's new infotainment interface has become a personal favourite amongst mainstream volume brands, thanks to high definition displays, wonderful depth of colour and contrast, plus fabulous graphics, the elegantly arranged tile system easy to figure out and plenty attractive to look at. Being a hybrid, a number of cool animated graphic sections are included, while the navigation system's mapping was excellent and route guidance easy to input and precisely accurate, plus the backup camera was equally clear and dynamic guidelines helpful. Yes, I would've appreciated an overhead 360-degree bird's-eye view, but the ability to see a variety of views thanks to its multi-angle design, no matter the trim, is a bonus that others in the class don't offer.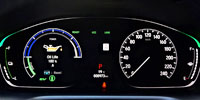 The final digital display is Honda's dual-zone automatic climate control interface, which is attractively designed in a narrow, neatly organized, horizontal row that includes an LCD centre display, three knurled metal-edged rotating knobs, and a variety of high-quality buttons for the HVAC system and heated/ventilated front seats.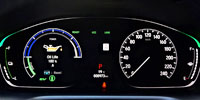 I should mention that all of the Accord Hybrid Touring's switchgear was excellent, and much of it beautifully finished with aforementioned satin-silver detailing, while the audio system knobs got the same grippy and stylish knurled metal treatment as those used for the HVAC interface. Much of the design shows an artistically flair too, particularly the recessed speaker grille behind the fixed tablet style display atop the dash, and the 3D effect used to raise the top buttons on the HVAC interface above those below.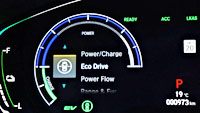 At the very base of the centre stack is a little cubby filled with a 12-volt power outlet, a charged/connected USB port and a wireless charging pad that's large enough for big smartphones like the Samsung Note series. Interestingly Honda has done away with the classic old auxiliary plug, replacing it with near field communication (NFC) as noted earlier, and three more USBs, the second one found within the centre storage bin under the armrest, which includes another 12-volt charger as well. The bin has a nice removable tray as well, which feels very high in quality and is rubberized so that it doesn't rattle around like so many others in this class. This is just one of many details that let you know the Accord's quality is above average.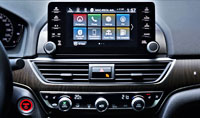 The leather seats are nicely styled with perforations the three-way forced ventilation noted earlier. The driver's was extremely comfortable, with good side support for this segment and excellent lower back support. On that note I was surprised that Honda not only includes a power-adjustable lumbar support with fore and aft control, but it's a four-way system that also moves up and down to ideally position itself within the small of your back. That's unusual in this class, even when compared to some premium models like the Lexus ES 350 and more directly comparative ES 300h hybrid that only include two-way powered lumbar. Likewise for the Toyota Camry and Camry Hybrid, plus a few others in this segment that don't measure up either.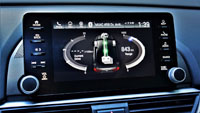 The seating position is good, probably on par with the aforementioned Camry, but I must say neither is excellent when it comes to adjustability. Their steering columns don't offer enough reach, forcing me to power my seat too close to the pedals in order to achieve optimal comfort and control of the steering wheel. We're all made differently, and I happen to have longer legs than torso. The compromise was a more upright seatback than I would have otherwise liked, but doing so allowed ample control and decent comfort, so this is how I drove all week.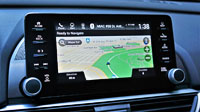 Controlling the gear selector is a lot easier, although if you're not familiar with Honda's new assemblage of buttons and pull levers it'll take some getting used to. The Accord Hybrid comes standard with the complex selector, and while it might be a bit confusing at first try I recommend giving it a little time before getting flustered. I've had a lot of opportunity to use this system in a variety of Honda models, the new Odyssey and Pilot immediately coming to mind, while it's similar to the system used in new Acura models, so now I don't swear at it when trying to find reverse in the middle of a U-turn. Other than the pull lever-type electromechanical parking brake found at its rearmost section, it consists of three pushbuttons, for park, neutral and drive, and another pull lever for reverse. I almost never use neutral, simplifying the process further, so it's a tug on the lever for reverse and a simple press of the large centre button for drive or park, that's it.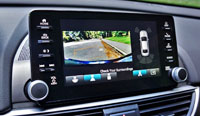 Next to the parking brake there's another set of buttons for Sport, Econ and EV modes, plus a brake hold button. I left it in Econ mode most of the time and EV mode whenever it would allow, because this is what hybrids are all about, saving fuel and minimizing emissions and cost. This said the Accord Hybrid is one of the thriftiest vehicles I've driven all year, only costing me $24 after a week's worth of very thorough use, and that's when gas was priced at an outrageous $1.55 per litre. At today's slightly more agreeable prices it would allow even more savings, its claimed 5.0 L/100km city, 5.0 highway and 5.0 combined fuel economy rating one of the best in the non-plug-in industry.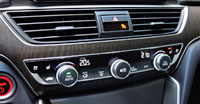 So what's all the mechanical and electrically charged wizardry behind its superb fuel economy? A unique two-motor hybrid powertrain joins an efficient 2.0-litre Atkinson-cycle four-cylinder engine to provide the Accord Hybrid with a class leading total system output of 212 horsepower, while its electric drive motor puts 232 lb-ft of near instantaneous torque down to the front wheels. 
To clarify, one of the electric motors drives the front wheels, while a smaller secondary motor serves mainly as a generator, providing electric current to the drive motor in order to supplement or replace power from the battery during lighter loads, such as cruising. The second motor also starts the engine that in-turn adds torque to the wheels, but it's never used as the motive driving force for those wheels.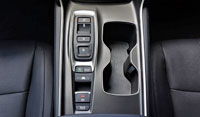 Additionally, the car's Electric-Continuously Variable Transmission, or E-CVT, removes any need for a conventional automatic transmission, or even a traditional belt/chain-operated continuously variable transmission (CVT), both of which inherently rob performance and efficiencies from the powertrain. Instead, Honda's E-CVT drives the front wheels directly through four fixed drive ratio gearsets, without the need to shift gears or vary a planetary ratio. This means there is no "rubber-band" effect when accelerating as experienced in regular CVTs, or in other words the engine is never forced to maintain steady high rpms until road speed gradually catches up, this process causing a much-criticized audible "droning" effect with other CVT-equipped cars. Honda claims its direct-drive technology benefits from 46 to 80 percent less friction than a conventional automatic transmission, depending on the drive mode.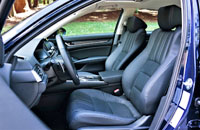 What's more, you can choose between three standard propulsion modes as well, including electric-only (providing the 6.7-kWh lithium-ion battery is charged sufficiently), gasoline-only, or blended gas and electric (hybrid). 
Despite my favouritism for Econ and EV modes, Sport mode worked very well, making itself immediately known after engaging at a stoplight by bringing the engine back to life from its auto start/stop mode, and then boosting acceleration significantly at takeoff. A set of standard steering wheel paddles improves the driving experience further, although flicking the right-side shifter to upshift while accelerating does nothing perceptible, this because the paddles are primarily for downshifting during deceleration. Therefore, tugging on the left paddle when braking, or pretty much any other time, causes a gear ratio drop that really comes in handy when wanting to engine brake or recharge down a steep hill, or when setting up for a corner.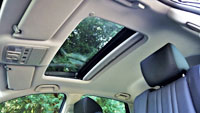 And I must say the Accord Hybrid handles brilliantly for a car in this class. Really, the only vehicle in this segment with more agility around curves is the latest Mazda6 and possibly the Ford Fusion Sport, and these by the narrowest of margins, with Accord Hybrid seeming to dance away from its closest competitors, including the Toyota Camry Hybrid XSE that I tested earlier this year, which is the sportiest version of that car.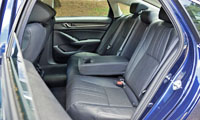 The Accord Hybrid handles long, sweeping high-speed corners well too, while its ability to cruise smoothly on the highway is as good as this class gets. It's underpinned by the same fully independent front strut and rear multi-link suspension as the conventionally powered Accord, while my tester was once again outfitted with the upgraded adaptive dampers for a little more at-the-limit control and enhanced ride quality. This gives it a wonderfully compliant setup where ever you're likely to drive, whether soldiering over bumpy back alleys, fast tracking across patchwork pavement, or negotiating wide bridge expansion joints, all of which were experienced during my test week.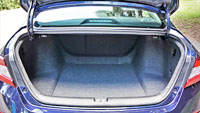 My only complaint were front parking sensors that continually went off in regular traffic, highlighting an image of the car's frontal area on the touchscreen when vehicles were merely pulling up beside me in the adjacent lane. I've encountered this problem with a few other cars over the past couple of years, and it's always annoying. I pressed the parking sensor button off and on again, which remedied the problem until it happened again after a couple of days, at which point I rebooted the system the same way and never had to deal with it again.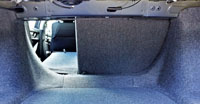 This foible and the aforementioned lack of telescopic steering reach aside, the Accord Hybrid was a dream to live with. The rear seating area, a key reason many buy into this class, is as spacious as the regular Accord and more so than many in this segment. With the driver's seat set up for my five-foot-eight medium-build frame, which as noted was set further back than average due to my longer legs, I was left with nearly a foot from my knees to the backrest ahead, plus so much room for my feet that I was able to completely stretch out my legs and move my shoes around underneath the front seat. Really, its rear legroom comes close to many full-size sedans. Likewise, there's plenty of headroom at about three and a half inches, plus more than enough shoulder and hip space at about four to five inches for the former and five-plus for the latter.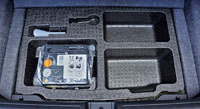 This said I was disappointed that Honda finished off the rear door uppers in hard plastic. They're not alone in this respect, but others do a better job pampering rear occupants. The previously noted Mazda6, for instance, at least in its top-line Signature trim level that I tested last year, which incidentally uses genuine hardwood inlays throughout, finishes the rear door panels as nicely as those up front, making it closer to premium status than anything else in its class. In most other respects the Accord nudges up against premium levels of luxury too, including excellent rear ventilation from a centre panel on the backside of the front console that also houses two USB charge points, while the outboard seats are three-way heatable as noted earlier, and there's a nice big armrest that flips down from the centre position at exactly the right height for adult elbow comfort, or at least it was perfect for me. Honda fits two big deep cupholders within that armrest, which should do a pretty good job of holding drinks in place.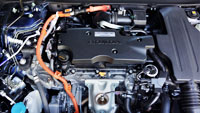 The trunk is sizeable too at 473 litres (16.7 cubic feet), which is exactly the same dimensions as the regular Accord, plus it's also extendable via the usual 60/40 split-folding rear seatbacks. This said there are still some hybrids that don't allow much expandable storage due to batteries fitted within the rear bulkhead, so I can't really complain that Honda doesn't include a centre pass-through like Volkswagen's Passat, which would allow rear passengers to enjoy the heated window seats after a day on the slopes. On the positive, a handy styrofoam compartment resides below the trunk's load floor, ideal for stowing a first aid kit or anything else you'd like to have close at hand. It comes loaded up with an air compressor that could potentially get you to a repair shop if needed, but I'd personally prefer a spare tire so I could make it farther if damage to the tire doesn't allow it to hold air. 
So is this the best hybrid in the mid-size class? The new Accord Hybrid would certainly get my money. It looks fabulous, delivers big inside, and provides all the luxury-level features most will want, plus it drives brilliantly and delivers superb fuel economy, while Honda's experience building electrified powertrains should make it plenty reliable.