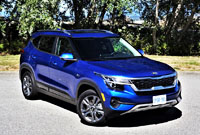 Two weeks of living with two trims of Kia's latest Seltos, and it's now easy for me to understand why this little crossover has become such a popular option in the subcompact SUV segment.
The Seltos came out of nowhere in 2020, only to rise up to fourth overall in a category with no less than 22 offerings last year (it's grown to 25 since). This just might be unprecedented success, and is especially impressive when considering that Kia already offers the eighth-placed Soul and 18th most popular Niro. The Soul, incidentally, is available in regular internal combustion or electric variants, whereas the Niro comes with conventional, plug-in hybrid, or EV powertrains. The Seltos is only gasoline-powered so far, which says a lot about our current purchasing habits when contrasted against the direction our various governments and many special interest groups are pointing us in, although hybrid and/or EV powertrains will likely follow thanks to shared architecture with the Hyundai Kona Electric.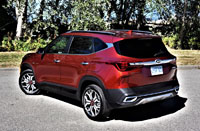 Hyundai-Kia's B-SUV platform (that's formed off the back of the Rio's K2 platform) is a major Seltos positive, as the Kona, in regular or EV form, a good SUV to share underpinnings with considering its number-one position in segment sales, with a lead of nearly one-third over the next-most-popular Subaru Crosstrek.
The Canadian numbers were 31,733 to 22,161 units in 2020, while the third-place Nissan Kicks managed 14,149 deliveries, and fourth-place Seltos came close to achieving podium placement with 13,016 sold examples of its own. It skipped right by some category diehards too, such as Honda's (somewhat long-in-tooth) HR-V that was only able to pull in 12,068 sales, Nissan's Qashqai at 11,074 units, Hyundai's Venue with 10,740 deliveries, and the Soul with 9,869. The rest are all in the four figures, some like Jeep's Renegade and Fiat's 500X (basically the same SUV under very different skins) only capable of finding 362 and 35 respective buyers apiece.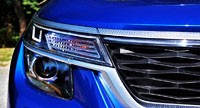 To be clear, the subcompact crossover SUV segment is really split up into two parts, with the Seltos slightly larger than some of those just mentioned, particularly Nissan's Kicks and Hyundai's Venue. While most expect something smaller to arrive in Kia's lineup soon, along the lines of the truly subcompact Venue, the $21,295 Soul claims that spot for now, despite being almost identical to the Seltos in cabin size and cargo capacity. Your reasons for choosing either will come down to personal styling preferences, plus the $23,395 Seltos' more modern dash layout, how the two drive (electrically-enhanced included), and possibly the need to save a couple of thousand for a non-EV Soul, whereas the significantly smaller Venue is better suited to four occupants and much less gear, albeit for considerably less initial money (with a base of $18,199) and better ongoing fuel economy (I covered the 2021 Venue here).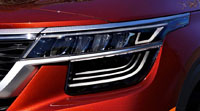 It might also be helpful to understand some of the industry trends, and particularly how Hyundai and Kia fit in with respect to this. The macro trend sees car buyers migrating to crossover SUVs, and to that end Hyundai now uses its Venue as the most affordable gateway into its brand, having discontinued its subcompact Accent 5 Door hatchback after the 2020 model year (and Accent sedan before that). Kia, on the other hand, still sells its Rio 5 Door, having only dropped the four-door sedan version of this car after 2020, and by so doing makes sure that its conquest pathway is much more affordable. Where Hyundai is now asking $3,250 more for a Venue than it was for an Accent, Kia is able to pull in buyers with budgets of $17,295 (which admittedly is much pricier than the previous $15,495 2020 Rio 5-Door or even more affordable $14,845 2019 Rio sedan—notably the 2020 Rio sedan wasn't available in cheaper LX trim at all, causing that year's base LX+ sedan to start at $18,045), and a 5- to 10-percent difference is a lot when on a tight budget.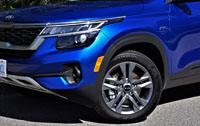 Comparatively to either the Rio or Venue, the Seltos might seem like a luxury SUV. First off, it appears more upscale from the outside than either, with a sportier character than the cute, albeit somewhat awkward looking Hyundai; the Venue's big grille on a small SUV styling won't be for everyone. The Seltos' lines are comparatively clean, uncluttered, and, to my eyes at least, attractive, starting with a wide, relatively narrow front grille opening, and expanding outward via stepped headlamp clusters, which include a set of unique-looking LEDs in top-level trims. A tight, tidy rear design incorporates a good helping of metal brightwork and optional LED tail lamps, while attractive 16-, 17- and 18-inch alloy wheels can be found across the entire line.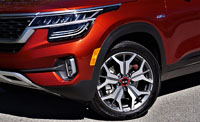 Specifically, the 16-inch alloys are only included with the base Seltos SX FWD model, meaning the move up to SX AWD pushes wheel-size out another inch. All other trims include standard AWD, while the wheels remain 17 inches in diameter right up to the SX Turbo, that gets gorgeous machine-finished 18s with cool red-accented centre caps, although the mid-range EX Premium (one step above the EX) includes a sharp set of machine-finished 17-inch rims.
The two models I tested over a back-to-back two-week stint included EX and SX trims, the former featuring the more fuel-economy-oriented Atkinson-cycle enhanced 2.0-litre four-cylinder engine making 146 horsepower and 132 lb-ft of torque, while mated to a continuously variable transmission (CVT). The latter, on the other hand, came standard with the brand's 1.6-litre direct-injection Turbo, resulting in a more spirited 175 horsepower and 195 lb-ft of torque, plus a much quicker shifting seven-speed dual-clutch automatic transmission. These two very unique trims gave me a good feel for what Kia has on offer across the entire Seltos range.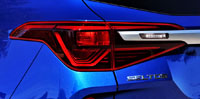 The lesser EX model is seen here in Neptune Blue, with its 17-inch grey-painted twinned five-spoke alloys, whereas the top-line SX Turbo wears Lunar Orange, along with the sportier 18-inch rims I mentioned a moment ago. Both are premium paints that incur a reasonable $250 upcharge, this being the same for all eight colour options except base Onyx black.
Rather than pore over feature details, all of which you can look up for yourself on the automaker's retail website, I'll cover some of those items I particularly appreciated and/or found lacking in my test models, plus share my experiential notes, continuing from previous exterior styling comments over to thoughts about the interior, especially its more conventional hooded instrument panel layout and tablet-style infotainment display than the more premium Mercedes-like dual-screen setup found in the recently updated mid-size Sorento and upcoming (slightly larger than its predecessor) compact 2023 Sportage (which looks similar to what I've already tested in the 2022 Hyundai Tucson).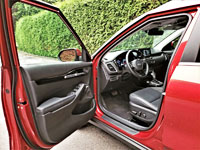 The more futuristic dash design appears to be the way Kia is going, having even updated its various looks and functionality since the fabulous Telluride that I covered a few months ago. Instead, the Seltos' dash layout appears more like the Niro's and other older models. It's highly utile, with a nicely shrouded hood shading dual analogue dials bookending a 3.5-inch, colour multi-information display in the EX, and larger, more versatile 7.0-inch Supervision LCD/TFT display in the SX. The former provides visual indication that the automatic high beams are active, something I really appreciated, plus dynamic cruise control info, while latter does both and much more.
Still, after experiencing Kia's newer design layout in other models, I the current iteration comes across a tad dated, despite being complemented by a very helpful head-up display (HUD) system that projects key info onto the windshield ahead of the driver, something not seen too often in this class. For reference, I find the same when comparing a similarly-sized Mercedes GLB to anything in its class, not that the German and Korean models should be compared in any other way, especially when it comes to pricing.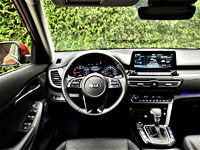 The Seltos does provide a very refined interior for the subcompact SUV class, however, with my EX-tester even including the same perforated Sofino faux-leather seat upholstery as my top-tier SX Turbo, which I initially thought was the real deal. The EX didn't include the SX' powered driver's seat, mind you, or its two-way powered lumbar support, but was comfortable nonetheless, as were the two crossovers' shared leather-wrapped steering wheel and shift knob, although the EX model's gloss-black dash facing wasn't quite as upscale as the SX trim's padded and stitched leatherette bolster, which even extends under the larger centre display as well as to the left side of the primary gauge binnacle and steering column—good to see you get something for the extra coin.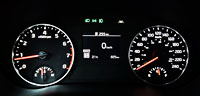 There are more upgrades, of course, despite EX and SX models sharing the just-noted gloss-black trim on the steering wheel spokes, lower centre console surfacing, and door inlays, as well as identical single-zone automatic climate control interfaces, solar glass front windows, and chromed grille insert, satin chrome beltline trim, and aforementioned LED taillights (that transition from incandescent bulbs in EX trim), not to mention unseen but important (to some) features like Blind-spot Collision Avoidance Assist (in place of the base model's Blind-spot Collision Warning), Lane Keep Assist, Lane Follow Assist, and Rear Cross-Traffic Collision Avoidance Assist (in place of the LX' simpler Rear Cross-traffic Alert), as well as a raft of features pulled up from base LX trim.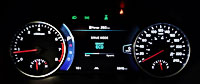 These latter items include a Safe Exit Assist System, Rear Occupant Alert, Hill-assist control, Downhill brake control, Tire Pressure Monitoring System, six airbags, and more, which were enough to earn higher-end Seltos trims Top Safety Pick status from the IIHS (albeit not "+" status, only achieved in this class by Chevy's similarly-sized Trailblazer, Ford's new Bronco Sport, Subaru's Crosstrek Hybrid, Mazda's CX-30, plus the smaller Mazda CX-3). Of note, Buick's Encore GX, Hyundai's Venue and Kona, Kia's Soul, Subaru's regular Crosstrek, plus Toyota's C-HR (as well as Kia's larger Sportage, although it doesn't compete in this segment) earned the same regular Top Safety Pick score, but notably Buick's smaller Encore, Chevrolet's Trax, Fiat's 500X, Ford's EcoSport, Jeep's Renegade and Compass, Mini's Countryman (although it's more of a premium player), Mitsubishi's RVR, plus Nissan's Kicks and Qashqai (Rogue Sport in the U.S.) didn't.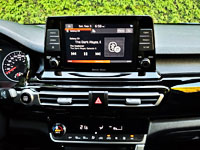 Somehow, I completely lost track of detailing the Seltos' interior refinement, not even mentioning both models' stylish satin silver trim that helped make me feel as if I was in a much more upscale SUV than its aforementioned pricing should allow, or for that matter its nicely stitched leatherette gearshift boot, softly padded leatherette side and centre armrests (front to back for the former and covering a handy storage bin for the latter), while the folding rear centre armrest, filled with the usual twin cupholders, is exclusive to EX and SX trims. Lacking, sadly, were soft-touch door uppers in either trim or row, the two models' identical inner door skins leaving me somewhat disappointed due to Kia having spoiled me to expect more from entry-level models than other brands, which admittedly don't necessarily upgrade their equivalent rides to such high levels of luxury either.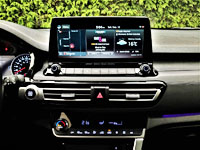 Some features that differentiate both the SX and EX Premium from the regular EX trim include the previously noted LED headlights and LED fog lamps, the upgraded instrument cluster, auto-dimming rearview mirror, multi-directional power-adjustable front seats and two-way powered lumbar support for the driver's seat, plus three-way air-cooled front seats to go along with all lesser models' three-way heatable front cushions, and the EX (and above) heated steering wheel rim, not to mention warming outboard rear positions for the EX Premium and SX models, as well as a larger and much improved 10.25-inch infotainment touchscreen (instead of the 8.0-inch base display) with integrated navigation and UVO Intelligence-connected car services, along with Satellite radio, a wireless phone charger, adaptive cruise control with Highway Drive Assist (a Level 2 advanced semi-autonomous "self-driving" assistance system designed for limited-access highways), an electromechanical parking brake, Advanced forward collision-avoidance assist (improving on the EX trim's Forward collision-avoidance assist), ambient mood lighting, a rear cargo privacy cover, and more.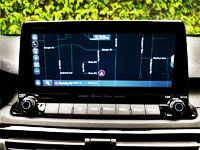 I should say more about the upgraded infotainment touchscreen, plus the smaller one found in the EX and below, specifically that both are very good and include Apple CarPlay, plus Android Auto smartphone integration. My somewhat outdated Samsung S9 hooked up to the latter easily and working flawlessly throughout both test weeks, whereas the SX' exclusive navigation system was also easy to use and completely accurate. The general look of the displays should be attractive to most, while both backup cameras were bright, clear and included moving guidelines.
A powered glass sunroof hovered above front occupants in both models, with controls found on an attractive overhead console, this even including LED reading laps complemented by another set of LED overhead lights in back.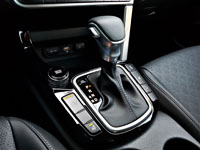 Aforementioned wheel upgrades and HUD aside, the SX gains exclusive chromed door handles, rain sensing wipers, bright metal interior door handles, and possibly best of all, an eight-speaker Bose premium sound system that includes four door-mounted speakers, a centre speaker, two door-mounted tweeters, and a separate subwoofer, all of which are powered by an external amp. The sound was very good for the class, and thanks to the satellite radio upgrade mentioned earlier, was capable of being tested via many music genres.
As noted earlier, both trims' driver seats were comfortable, with an edge to the SX due to its adjustable lumbar, while the Seltos' driving position is excellent, even for my long-legged, short-torso frame. The tilt and telescopic steering column had enough rearward reach to provide comfort with more than enough control, and I certainly had ample space in all directions for movement.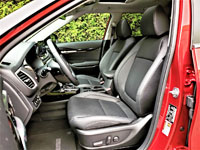 Likewise, in the back, where both trims' seats were comfortable, and plenty of legroom, head space and side-to-side roominess could be found. Cargo capacity is good for the class too, with 752 dedicated litres (26.5 cubic feet), as well as 1,778 litres (62.8 cu ft) when both sides of its 60/40-split rear seatbacks are folded (mostly) flat.
Back up in the driver's seat, I won't go so far as to say the Seltos EX was particularly quicker than its base competition off the line, but it felt sportier through the curves than most rivals. Even this lower powered model included a slick rotating drive mode selector next to the gear lever for choosing regular Normal mode, an auto-select Smart mode, and Sport mode capabilities, all of which provided unique characteristics that were easily definable. Of course, all of this was heightened when at the wheel of the more potent SX, especially transmission response, which reacted faster to inputs than almost anything else in the class.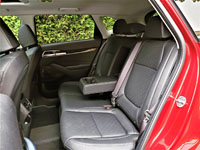 This is where your personal priorities will be exposed, aforementioned upgrades aside, because the two SUVs offer very different driving experiences. I found myself more relaxed in the EX, or at least I was less likely to dig my right foot into the throttle, because the result was less rewarding. Certainly, it got up and went with little hesitation and progressed through the gears fast enough for some spirited driving, even spinning right up to its 6,500-rpm rev limiter before making surprisingly convincing "pseudo" shifts, but by nature a CVT focuses more on fuel-efficiency than rapid, satisfying acceleration. Nevertheless, Kia could differentiate these trims even further by including paddle-shifters with the SX… just saying.
The dual-clutch gearbox and more powerful turbocharged engine didn't overly impact efficiency either, or at least the SX was stingy enough for me at 9.4 L/100km city, 7.9 highway and 8.7 combined, compared to 8.8 city, 7.6 highway and 8.2 combined with the EX (or LX AWD), or 8.2, 7.1 and 7.7 respectively for the LX FWD. All in all, the SX' level of performance should make the move upmarket worthwhile those who can afford a little extra investment.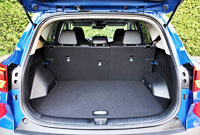 As with everything else in this class, the various drive modes don't impact the Seltos' suspension setup, which, while fine for everyday driving, might hold you back a bit when pushing fast and hard through winding terrain, where the EX felt a bit more unsettled than the SX. This was probably, at least partially due to the difference in rolling rubber, the lesser model's 215/55R17 Kumho Solus all-seasons not quite as grippy as the larger-diameter 235/45R18 Kumho Majesty tires (have to wonder where they came up with that name).
What matters more in this class, however, is ride quality, which was very good for both trims. In fact, I'd be quite happy with either as my daily driver. I found the previously noted self-driving mode was a bit more relaxing during highway excursions too, and I was pleasantly surprised to find anything so technologically advanced in this category at all, although it should be noted others in this segment are stepping up with similar systems.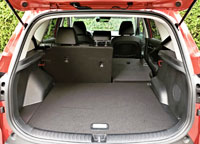 Still, it remains easy to understand why Kia's Seltos is selling so well. It's a great looking little crossover SUV, is well made, impressively finished, well-featured in every trim, attractively priced, plenty efficient, and even fairly fun to drive with its mid-range powertrain, plus downright fun when upgraded to the SX. Add to this its two-year, 40,000-km longer-than-average (mostly) bumper-to-bumper warranty, spanning five years or 100,000 km, and it's an easier decision.
Truly, the most difficult choice in this class might come down to this Seltos or its Hyundai Kona cousin (with a similar warranty), proving the South Korean automaker understands the benefits of creating its own competition. When push comes to shove, both SUVs are more than worthy of your attention. I'd recommend looking over some of the others in this class too, but for the time being these are leading the back for good reason.
Review and photos by Trevor Hofmann