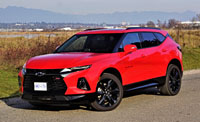 What do you get when you combine a Camaro and a Traverse? No, I wasn't going to say Caverse or Tamaro, as fun as such word games are (not), but if you guessed Blazer (the title might've given it away) you'd be right.
Of course, any comparisons to the Camaro are relegated to the new Blazer's outlandish styling, especially in sportiest RS trim, along with the top-line models' 3.6-litre V6, which combine for one of the hottest looking and fastest crossover SUVs in the mainstream volume sector.
What it's not is, um, a Blazer, or at least not in the traditional sense. Unlike in other markets where the similarly named Trailblazer is a now non-conventional body-on-frame truck-based SUV that shares its underpinnings and body shell hard points with the Isuzu mu-X, our Blazer is a similarly sized crossover SUV based on Chevy's new(ish) C1XX platform architecture shared with the GMC Acadia and Cadillac XT5, plus the aforementioned Traverse, Buick Enclave and Caddy XT6 in extended form, and via the car-designated E2XX platform, the Chevy Malibu, various now discontinued Buick Regal models, and Cadillac XT4 (as well as the defunct Chevy Impala and Buick Lacrosse in extended P2XX form). Got that?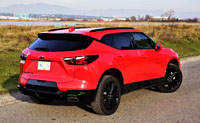 While that 2.8-litre turbo-diesel-powered Trailblazer is a go-anywhere rock crawler, river runner, mud-spewer, etcetera capable of negotiating the nether-regions of the Grand Canyon (possible via the Diamond Creek road that departs from the town of Peach Springs, Arizona located on the famed Route 66, incidentally), mated to a solidly built six-speed automatic that drives a part-time 4WD system, the new Blazer RS is more of a canyon carver sporting a detuned version of the aforementioned Camaro V6, a new nine-speed autobox, and standard AWD.
This is where I start grumbling about an opportunity lost, especially egregious now that FoMoCo fanatics are whooping it up over the all-new Bronco lineup, and the Jeep faithful are forever laughing in the faces of disenfranchised bowtie fanboys crying in their herbal tea at the loss of the once great Blazer nameplate.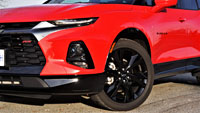 Sure, the General still makes a body-on-frame SUV, but for many the full-size Chevy Tahoe/GMC Yukon are too big, these Silverado/Sierra related SUVs actually the spiritual successors of the original 1969–1994 Blazer K5/Jimmy. The '70s fuel crisis and call to go small that followed, resulted in the compact pickup-based 1983–2005 S-10 Blazer and S-15 Jimmy, which were sized more along the lines of the current Wrangler and Bronco, this now being the 4×4 sweet spot due to off-road manoeuvrability, agility and the ability to drive farther into wilderness on a tank of fuel. But where is the Blazer? It's taking the kids to school and running mall errands.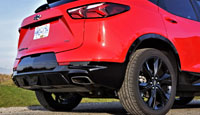 It's not like 4×4-capable SUVs aren't popular these days. They're selling well and doing their best to enhance brand images that, trucks aside, are somewhat soft around their edges now that most SUVs are car-based. Like this Blazer, the majority aren't even attempting to look like traditional sport utilities anymore, let alone claim any off-road territory. Those who read my ramblings regularly know that I'd never normally complain about this soft-ute scenario, because some truly spectacular performance-oriented car-based utilities have been introduced in recent years, but diluting a classic 4×4 name like Blazer to grocery-getter status is almost as bad as slapping the Camaro badge on an electric crossover! Yup, I'm talking to you Mustang Mach-E.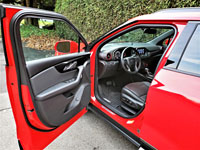 At least the Blazer RS kind of looks like a Camaro, especially in its raciest red colour scheme. Love it or lump it, no one can argue against its ability to pull eyeballs, but don't expect its squared-off dual exhaust to rumble like a ZL1, let alone an LT1 with the V6 upgrade. The Blazer's version of Chevy's 3.6-litre six doesn't make 335 horsepower and 284 lb-ft of torque either, although in this bread-and-butter class its 308 hp and 270 ft-lb are nothing to sneeze at, resulting in a respectable sprint of about 6.5 seconds from zero to 100 km/h. Sure, that's still 0.5 seconds shy of Ford's Edge ST, but you look faster standing still in the Chevy.
That in mind, be grateful we don't get the U.S.-spec 2.5-litre four as our base engine, that mill only churning out 193 horsepower and 188 lb-ft of torque. Instead, our entry-level Blazer powerplant is more or less the same 2.0-litre turbo-four found in the base Camaro (see a pattern here?), pushing out 227 ponies and 258 lb-ft instead of 275 and 295 respectively in the less muscular version of Chevy's muscle car. This is where I probably shouldn't mention that the 2.0-litre turbo in Ford's base Edge is good for 250 horsepower and 275 lb-ft of torque, but I never was very good at holding back things I shouldn't say.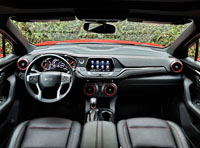 The just-noted Ford gets an eight-speed automatic throughout its range, which is impressive, but kudos to Chevy for going one step further by mating both Blazer engines to a fancy new nine-speed autobox. It gets no paddles, mind you, even in its sportiest RS trim, leaving those who want to get frisky a little thumb-actuated rocker switch on the shifter knob that, truth be told, isn't any more engaging than slapping the entire gear lever back and forth. Fortunately, the transmission shifts effortlessly if not quickly, but even with its racy looks I don't see most owners rowing through their Blazer RS gears as if this SUV were a Le Mans-spec'd Corvette C7.R.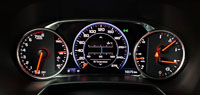 As noted earlier, all RS trimmed Blazers come standard with all-wheel drive in Canada, and I like that it's a part-time system that can be driven solely by the front wheels when rear traction is not needed, helping save money at the pump, where V6-powered Blazers get a claimed 13.1 L/100km in the city, 9.4 on the highway and 11.4 combined. When all wheels are required, simply turn a rotating knob on the lower console from "x2" to "x4" and you won't be slip-sliding away any longer. Another twist of the dial engages sport mode, while mountain and towing modes are also included.
With sport mode engaged, the V6-equipped Blazer really pulls strongly from standstill, almost fully living up to the performance promised by its neck-snapping styling. The transmission's two-second-plus shift intervals will quickly tame any unbridled enthusiasm, which is likely why no paddles were included, but the gearbox kicks down nicely for passing purposes and very real power is ever-present, this a real bonus through the corners was well.
Yes, the RS, complete with nice meaty 265/45R21 Continental CrossContact all-seasons, did a good job carving up the local country backroads, always remaining planted in its lane even when pushed hard, and not leaning over as much as most in this class. Still, its well-sorted suspension never got too harsh, defaulting to compliance as a vehicle in this family class should.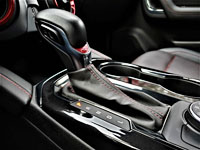 Comfort is king in the SUV sector, and nowhere is this more obvious than the new Blazer RS' cabin. Sure, its interior styling does its best to pull off a five-seat Camaro look, but Chevy isn't fooling anyone, which is a good thing. Let's face it, as impressive as the Camaro is as a muscle car, it's not designed for hauling families. That's the Blazer's first priority, and it does a better job of this than anything else.
It's wide and long for a five-seater, with ample cabin space for large folks front to rear, not to mention cargo aplenty in back. It gets the usual 60/40-split rear seatbacks for expanding its gear-toting capacity, so should serve most buyers' needs to a tee.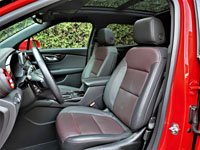 It's also quite luxurious for the class, with no shortage of soft-touch surfacing throughout, Chevy continuing the black on red exterior theme with a red on black motif inside, including the circular dash-mounted HVAC bezels, the perforated leather seats, the piping and contrast stitching on those seats and elsewhere, and even a little "RS" badge on the shift knob. The interior further gets a tasteful assortment of bright and brushed metallic trim too, with its general fit, finish, materials quality up to par with others in this class.
Better than many, however, is the Blazer's collection of electronic displays, this being a criterion that Chevy deserves high marks. The gauge cluster isn't fully digital, but the 8.0-inch multi-information display at centre is brilliantly executed with clear, high resolution quality, nice brightly coloured graphics, and a serious assortment of functions. The main infotainment touchscreen at dash-central is even better, mostly because of its simple, straightforward yet highly attractive graphics and all-round ease-of-use. It also comes packed full of features, including Apple CarPlay, Android Auto, an accurate navigation system, a clear rearview camera, and more.
Additional RS features included a large panoramic glass sunroof overhead, a heatable steering wheel and heated front seats, dual-zone auto HVAC, a hands-free power liftgate, a sportier grille, and all the blackened exterior trim noted before.
In the end, the new Blazer RS is either going to rock your world or leave you wondering what Chevy was even thinking, there is no middle ground. I like the brand's boldness in this regard, and on that note the Blazer name is theirs, and they can do with it what they want, Chevy 4×4 loyalists be damned. You've got to respect that kind of bravado, good choice or bad.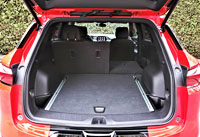 Base Blazer LT pricing starts at $37,198 plus freight and fees, with the as-tested RS model available from $46,698. Sales of all trims have been quite strong, so obviously it has targeted the Canadian market well and deserves the success it's achieving.
Discover up to $1,000 in additional Blazer incentives by visiting CarCostCanada, where you can gain access to the latest manufacturer financing and leasing deal info, find out about any manufacturer rebates, and best off all get dealer invoice pricing that can save you thousands. Also, download the free CarCostCanada app to have all of this key info and more at your fingertips all the time. Make sure to check out how the CarCostCanada system works, so you can save big on this new Blazer or any other new car, truck or SUV sold in Canada.
by Trevor Hofmann