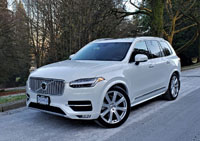 Despite being well into its fourth model year, you'll have a hard time finding a more beautifully finished, or more luxuriously appointed mid-size luxury SUV. The Volvo XC90 is exquisitely detailed, particularly when outfitted in its most opulent Inscription trim, which is exactly how I most recently drove it.
The 2019 XC90 on this page is fourth on my list of second-generation testers, and the second to wear Inscription badging, the other two outfitted in sportier R-Design trim, while two have utilized the 316 horsepower mid-range engine with the other duo bridled to the much more potent 400 horsepower plug-in hybrid drivetrain. This in mind, the last non-electrified XC90 I drove was way back in 2016 when this wholly reimagined luxury utility ushered in an entirely new look and much higher level of luxury for the Swedish brand, and by so doing turned Volvo's fortunes completely around.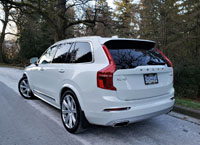 Volvo more than doubled its Canadian sales toward the end of calendar year 2015 when the 2016 XC90 was introduced, from 10,964 units in Q4 of 2014 to 22,507 in the final three months of 2015, while the XC90's sales volume grew from 427 units throughout all of 2014 to 957 in 2015 and a stellar 2,951 in calendar year 2016. This said the growth hasn't stopped, verified by the XC90 hitting a new record of 3,059 deliveries last year, making it the most popular model in Volvo's lineup.
Yes, the XC90 sells even better than the completely redesigned XC60, the smaller two-row compact luxury model having consistently outsold this three-row mid-size contender prior to both models' redesign. This is the complete opposite of most others in the class, incidentally, which are consistently outsold by their smaller, more affordable compact luxury SUV siblings.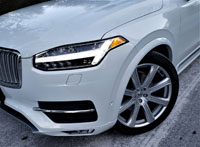 I could only hazard to guess why this occurs, because the XC60 comes closer to matching the XC90's materials quality, refinement, electronic interfaces and powertrain options as any rival brand, and would save its would-be buyer nearly $13,000 at the bottom end and almost $12k in top-line Inscription T8 eAWD Plug-In Hybrid trim, but either way it appears Volvo SUV buyers are generally wealthier than the class average, or prefer larger, roomier, more substantive machinery.
The XC90 is a true mid-size three-row luxury crossover SUV, measuring 4,950 mm (194.9 inches) from front to rear bumpers with a 2,984-mm (117.5-inch) wheelbase in between, plus 2,140 mm (84.3 inches) wide including its side mirrors, and 1,775 mm (69.9 inches) tall including its roof rails, while providing a considerable 237 mm (9.3 inches) of ground clearance, which helps it trudge through deep snow easily.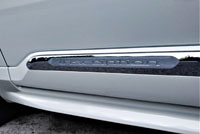 That size makes it more than just accommodating. Its superbly comfortable front and rear seats confirm this just as notably upon first climbing inside as after a long road trip, a particularly elegant Magic Blue Metallic painted 2017 XC90 T8 Twin Engine eAWD Inscription tester having taken my partner and I out of Greater Vancouver, up the steeply inclined Coquihalla Highway and then over the 97C connector to Kelowna, BC's wine country during the particularly warm fall of 2016, and while we took no passengers in back we hauled a fair bit of gear (including wine) in the 1,183 litres (41.8 cubic feet) of cargo space available when laying the third row flat.
That's how I'd leave the seats more often than not if this were my personal ride, as I'd have little need for a third row now that my kids are grown, despite the nicely separated buckets in the very back accommodating my five-foot-eight frame comfortably. Volvo provides a reasonably large 447 litres (15.8 cubic feet) of dedicated cargo volume behind that third row, and trips to the hardware store for building materials are doable thanks to 2,427 litres (85.6 cubic feet) of available space when both rear rows are lowered. As good as all this is, I'm even more impressed by its overall passenger/cargo flexibility, the XC90's second row divided into thirds so that everyone's skis can be laid down the middle, thus mitigating potential whining about who gets the three-way-warming window seats.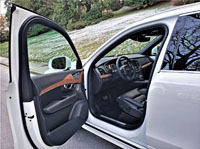 Yes, this Inscription model comes well packed with features, second-row seat heaters just one of many upgrades included after choosing to move past base Momentum trim. For 2019 the Momentum starts at $59,750 plus freight and fees, with the more sport-oriented R-Design coming in at $69,800, and the Inscription starting at $71,450. All three Volvo powertrains are offered in the XC90, the Momentum's exclusive T5 displacing 2.0-litres in four cylinders and using a turbocharger to make 250 horsepower and 258 lb-ft of torque, the as-tested T6 adding a supercharger to the same powertrain for 316 horsepower and 295 lb-ft of torque, and the T8 plug-in hybrid combining a 60-kW electric motor for a grand total of 400 net horsepower and 472 net lb-ft of torque. The T6 powertrain adds $4,250 to Momentum trim, whereas the T8 will set Momentum buyers back another $10,950, while the increase from T6 to T8 will cost you $12,650 in either R-Design or Inscription trims.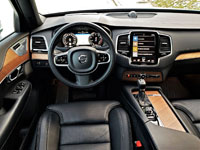 By the way, the 2020 XC90, which will start arriving at Volvo Canada retailers when this review gets published, continues to be available with the same three trim lines as the outgoing 2019 model, although a new six-passenger variant, available solely with T6 AWD Momentum and Inscription trims, provides a more luxuriously-appointed second row and easier access to the very back thanks to captain's chairs and an aisle down the middle. The 2020 update includes a stylish new concave grille design as well, plus some less noticeable changes, all for a $1,500 hike in base price, less $1,000 in potential incentives at the time of writing. If personal savings matter more to you than getting the latest, greatest model, consider this 2019 XC90 that can provide up to $5,000 in additional incentives. Just visit the 2019 Volvo XC90 Canada Prices page at CarCostCanada, where you can also peruse through trim, package and individual option pricing, as well as find manufacturer rebate info and dealer invoice pricing.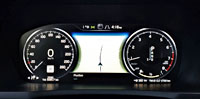 An eight-speed Geartronic automatic with auto start-stop plus all-wheel drive comes standard across the line, although the transmission and AWD systems are unique to both conventional and electrified powertrains, the latter dubbed eAWD for sourcing all of its rear-wheel power from its electric motor.
While a person could theoretically drive their XC90 T8 on electric power alone, its approximate 30-km EV range would necessitate a very short commute with very little highway time, and after that it's merely a very potent hybrid. Still, as long as you're not attempting to utilize its full 400 horsepower all the time, this model's fuel economy improves over both the base T5 and mid-range T6 powertrain from 11.3 L/100km in the city, 8.5 on the highway and 10.0 combined for the T5 AWD, 12.1 city, 8.9 highway and 10.7 combined for the as-tested T6 AWD, to 10.1, 8.8 and 9.5 respectively for the T8.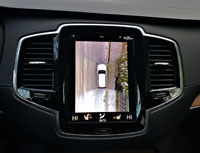 Despite the vehicle I tested being thirstiest on this list, it's only worst amongst a very efficient lineup of Volvo mid-size luxury SUV trims. Comparatively the segment sales-leading Lexus RX now offers an extended three-row variant that's nowhere near as roomy in back as the XC90, but can be had in 450h L hybrid form that's good for the best fuel economy in this class at 8.1 L/100km city, 8.4 highway and 8.1 combined, while the same model in 350 L trim only manages a rating of 13.1 L/100km city, 9.4 highway and 11.1 combined. Likewise, the next most popular Acura MDX does a bit better than the conventionally powered Lexus with a respective 12.2, 9.0 and 10.8, while its hybrid variant achieves 9.1 city, 9.0 highway and 9.0 combined.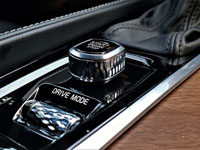 Both Infiniti's QX60 and Audi's Q7 split the conventionally powered MDX and RX 350 L results with respective ratings of 12.5 city, 9.0 highway and 10.9 combined and 12.2, 9.5 and 11.0, while, again in order of popularity, Buick's Enclave rating doesn't measure up to the XC90 T6 either at 13.8 city, 9.5 highway and 11.9 combined (while also not measuring up in luxury, but I included it because it represents entry-level luxury in this class).
The XC90 is next in the sales hierarchy, followed by Mercedes' three-row GLS 450 4Matic that only manages an estimated 14.9 city, 11.2 highway and 13.2 combined (how I wish they still offered their diesel), while BMW's new X7 is rated at 12.0, 9.4 and 10.8, which isn't too bad for this elongated three-row X5. Land Rover's Discovery is the only non-hybrid model to beat the XC90, but not with its base V6 that can only manage 14.8, 11.4 and 13.0, this model's diesel just sneaking below the least stingy XC90 at 11.3, 9.2 and 10.4, while the new 2020 Cadillac XT6 (the more luxurious version of the Buick Enclave) gets an estimated rating of 13.5 city, 9.7 highway and 11.5, and the new 2020 Lincoln Aviator achieves a slightly less efficient 13.7, 9.7 and 11.6 rating.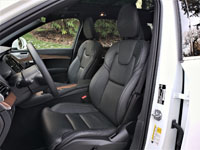 Such incredible efficiency and the XC90 also outhustles many of the just-noted utilities in the base trims used to compare fuel economy (including the two hybrids, which incidentally the T8 eAWD model annihilates), its mid-range T6 AWD powertrain surprisingly strong for a small displacement four-cylinder thanks to the aforementioned turbo and supercharger combination, its zero to 100 km/h acceleration time being a very spirited 6.5 seconds, which is 1.4 seconds quicker than the base XC90 T5 AWD that manages the feat in 7.9 seconds, and only 0.9 seconds slower than the ultra-advanced T8 eAWD powertrain that scoots the big Volvo from standstill to 100km/h in just 5.6 seconds.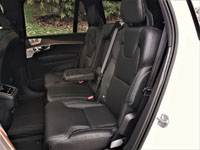 My T6 AWD tester not only looks quick on paper, but it really felt strong off the line and even more confidence inspiring when passing slower moving vehicles on the highway, while it takes to the curves effectively too. No, it doesn't track through quick corners or feel as generally hooked up as the sportiest of Germans in this elite pack, but it can certainly hold its own against all the rest, while it delivers one of the smoothest rides in its class combined with seat comfort that's hard to beat.
I will refrain from itemizing every feature offered in each trim level as that would be a dreadful bore for both of us and hours of painstaking work for yours truly to endure, although those wanting all the info are free to check out my 2018 XC90 R-Design review in which you can pour over all this insufferable data to your heart's content, and for those of us who'd rather not, suffice to say the XC90 represents good value for what's being offered, which as a reminder includes one of, if not the most opulently attired interior in its class this side of a Bentley Bentayga, and honestly much of this Volvo's switchgear is a helluvalot better than the big winged Brit, while all of its electronic interfaces are miles more advanced.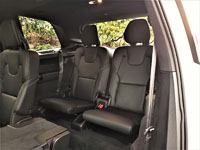 Ahead of the driver is a fully digital instrument cluster with the ability to add navigation mapping and route guidance to its centre-mounted multi-information display, amongst most other functions from the vertical, tablet-style Sensus infotainment touchscreen on the centre stack. This is one of my favourite centre displays and it's packed full with every key feature currently offered by competitors, plus one of the best overhead cameras in existence.
My tester included the awesome sounding $3,250 1,400-watt 19-speaker Bowers & Wilkins optional audio system, complete with its lovely drilled aluminum speaker grilles including a tiny centre dash-mounted tweeter, but this particular XC90 didn't include the jewel-like Orrefors crystal and polished metal shifter found in last year's R-Design tester, c'est la vie.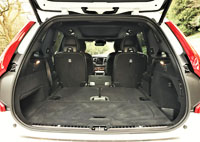 The glittering diamond-pattern metal-edged rotating dial on the centre stack was exquisitely detailed, however, as were the twisting engine start/stop switch and cylindrical drive mode selector on the lower console, while the open-pore hardwood used for the scrolling bin lids around the latter switchgear and shifter, which was also found on the instrument panel and doors was absolutely stunning, not to mention the superbly crafted contrast stitched padded leather covering almost every other surface, which was backed up elsewhere by more high-quality soft-touch composite surfacing than you'll find on most competitors.
So next time you see someone drive by in a Volvo XC90 you may want to show a similar deference offered to Rolls-Royce, Bentley and Range Rover Autobiography owners, because they're rolling in a similar level of luxury while doing a lot more to limit fuel usage and mitigate local emissions, plus they're obviously intelligent enough to get all of the above for hundreds of thousands less than the ultra-utilities just noted.
As you can probably tell I continue to like the XC90 very much, and therefore highly recommend it.