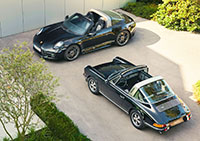 Porsche Design, the quintessential sports car brand's (and performance crossover maker's) in-house design department, is celebrating 50 years in 2022, so it only makes sense they'd commemorate such an important occasion with a special version of the only model still made that was available back in 1972, the legendary 911.
The new 911 Edition 50Y Porsche Design, based on a 2022 911 Targa 4 GTS, features plenty of stylish upgrades along with a nice package of bundled features, including dark-silver and satin-black exterior accents on the Targa bar, a similar treatment on the centre-lock Turbo S wheels, and a set of "Porsche Design" badges, while four gloss-black painted brake calipers and a "50 Years" plaque atop the engine cover finish off the retro look.
Subtle details enhance posh interior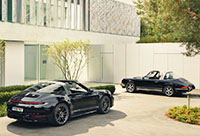 Inside, a dash plaque commemorates the Porsche Design division's 50th anniversary as well as each car's placement in the 750-unit limited edition series, while the 911 Edition 50Y Porsche Design cabin also benefits from a special steering wheel badge, and the signature of Ferry Porsche's son Ferdinand Alexander (the Porsche Design division's creator), atop the centre console lid.
Of course, the 911 Edition 50Y Porsche Design model just wouldn't be right without a set of embroidered or embossed headrests, with the latter getting the nod, while this handywork gets added to the model's top-level 18-way Adaptive Sport Seats Plus, while Slate Grey seat belts can be found to either side. Additionally, Porsche's much-lauded Sport Chrono Package comes as standard equipment, with a unique Porsche Design chronograph clock placed in the usual centre position on the dash-top.
Watchmaking has long been an important part of Porsche Design's business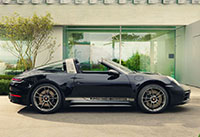 Important to understand, this unique chronograph clock face has more significance in this special edition Porsche Design model's than it would in other 911s, because the in-house styling house has been designing timepieces from its onset. In fact, Porsche Design has now reissued its first wristwatch, the 1972 Chronograph 1, limiting it to a mere 500 units. To be clear, Porsche Design watches are respected much more than the quartz-powered pieces you might find in a dealership's parts department. The original Porsche Design watch, powered by a Valjoux 7750 automatic chronograph (Valjoux is now owned by Swatch group's ETA, while now defunct Orfina, once a highly respected Swiss watchmaker, produced watches for Porsche Design as well), was also the watch industry's first fully black timepiece (other than some of its details), a feature, like the dials in a car's gauge cluster, designed to minimize glare during racing.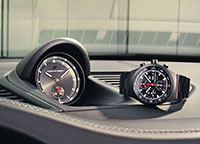 At $7,700 USD, the new 1972 Chronograph 1 reissue is hardly inexpensive, although the price is not over-the-top for a high-quality mechanical chronograph with Porsche Design credentials, so it should sell out quickly, while a second Porsche Design chronograph, dubbed Porsche Design Chronograph 1 – 1972 Limited Edition, a more modern take on the original design, will be included with every 911 Edition 50Y Porsche Design purchase.
Each of the 750 timepieces feature an all-black design, like the 1972 Chronograph 1, with bright white used to make the sharply printed indices and sub-dial markers easy to read. Ditto for the white hour and minute hands, although Porsche Design has once again bowed to history by providing a bright red seconds hand and red lettering above the 6 o'clock position. No doubt, each 911 Edition 50Y Porsche Design buyer will cherish this unique timepiece, which will more than likely appreciate over time.
Porsche's future is all about marrying the past to the present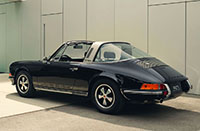 Along with the special-edition Targa 4 GTS and two Porsche Design watches, Porsche Design chose to commemorate its 50-year celebration by commissioning a completely restored 1972 911 S 2.4 Targa, which can be seen in the photos. Turning to Porsche Classic, the brand's in-house restoration division, made sure it would receive original and hand-made components, resulting in an almost completely new version of this 50-year-old example of rolling art and celebrated performance.
The fact both new and old Porsche's share many of the same styling details is no coincidence either, but as much as you might want to put the two 911s in a garage side-by-side, you'll only be able to see the classic on display at the Porsche Museum in Stuttgart, Germany, alongside one new 911 Edition 50Y Porsche Design, as well as the two Porsche Design watches.
New 911 Edition 50Y Porsche Design available now
The new model is available now, ahead of arriving in Canada this spring, for the tidy sum of $217,200, and while it may already be sold out, it probably wouldn't hurt to contact your local Porsche retailer to make sure.
50 years of Porsche Design with a special edition 911 #Shorts (best viewed on phone or tablet):
https://www.youtube.com/shorts/qrReywyb3Yw
The 911 Edition 50 Years Porsche Design (1:00):

Porsche Design presents the Sport Chrono Collection (1:31):

Porsche Design Chronograph 911 GT3 with Touring Package (1:14):

The new 1919 Globetimer UTC from Porsche Design (1:48):

Story credits: Trevor Hofmann
Photo credits: Porsche Design