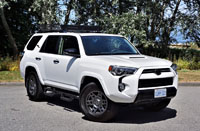 If you're the adventurous type and therefore require something to get you as far into (and out of) the wilderness as possible, there might be more options than you think amongst mainstream volume brands.
Jeep is the go-to-choice for many, its regular-wheelbase Wrangler, four-door Wrangler Unlimited and new Gladiator pickup truck being favourites within the go-anywhere crowd, while Ford has finally anted up with the long-awaited Bronco in regular and lite Sport flavours. Toyota and Nissan have opted out of this compact segment, however, so their respective FJ Cruiser and Xterra SUVs can only be purchased on the pre-owned market.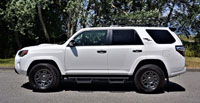 Jeep's much more refined Grand Cherokee is also respected off the beaten path, but it's larger, more upscale and therefore pricier than the SUVs just mentioned, while Dodge and Ford provide their Durango and Explorer utilities in this upper class respectively, albeit with limited 4×4 capability.
If you're willing to move up to something larger, heavier and even more expensive, the full-size Nissan Armada is certainly trail-ready thanks to being nearly identical to the legendary world-market Patrol. Speaking of legendary and large, Toyota's Land Cruiser is thought by many to be the ultimate 4×4, but it's not directly available in Canada and quite pricey as well, causing some in the super-sized SUV segment to opt for the Japanese brand's Tundra-based Sequoia instead.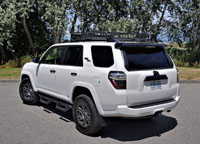 Alternatively, more full-size utility buyers will choose a Ford Expedition or one of the General's Chevy Tahoe/Suburban and GMC Yukon/Yukon XL twins, all of which are as good for transporting a sizeable family with all their gear across town, as they're capable of seeking out remote campsites at the ends of unmaintained logging roads.
Then there's the Toyota 4Runner, a good compromise between full-size and compact utilities. As for its 4×4 prowess, those not already familiar with the 4Runner's superb off-road capability can gain confidence by learning it's based off of the global-market Land Cruiser Prado (redesigned and sold as the Lexus GX here), so it comes by its rock-crawling tenacity naturally.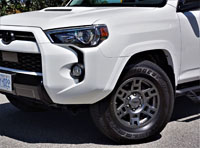 Of course, every time I get a 4Runner I put it to the test. This is when I'm glad that Toyota hasn't made it the most technologically advanced 4×4 on the market, but rather stayed with tried and true (some would say archaic) components. Instead of utilizing a modern eight-speed automatic transmission, its gearbox incorporates just five forward speeds, which according to all the mechanics I've ever spoken to means there are three fewer things to go wrong. The first use of this ECT-i five-speed automatic with overdrive in a light truck application was for the 2004 4Runner model year when it came mated to Toyota's fabulous 4.7-litre V8 (that's a version I'd love to pick up), Toyota having replaced its old four-speed auto with this five-speed across the line the following year.
The 4.0-litre "1GR" V6 under the hood is even more experienced, dating back to 2002 in its old GRN210/215 VVT-I phase. That model only made 236 horsepower and 266 lb-ft of torque, with Toyota introducing the current Dual VVT-I version boasting 270 horsepower and 278 lb-ft of torque in 2010 (which actually added 10 horsepower over the old V8 that was discontinued after 2009, albeit 28 fewer lb-ft of torque).
Heaving this hefty 2,155-kilo (4,750-lb) body-on-frame SUV down the road makes a guy wish that Toyota once again offered it with a V8, but the 4.6-litre mill in the aforementioned GX 460 is even thirstier than the 4Runner's V6, at least on paper. The Toyota SUV's powertrain sucks back 14.8 L/100km in the city, 12.5 on the highway and 13.8 combined compared to Lexus' 16.2 city, 12.3 highway and 14.5 combined, and the GX gets an additional forward gear. Yes, fuel economy is the bane of both Toyota/Lexus off-roaders, but before you start worrying about all the regular unleaded you'll be pumping into your new ride, I'll refer you back to those mechanics that say you'll get it all back in a lack of repairs if you keep either past warranty.
I should probably insert something about the 4Runner's especially good resale and/or residual values here, the current model expected to depreciate slowest in the "Mid-size Crossover/SUV" class according to The Canadian Black Book 2019 study, with the GX 460 taking top-spot in its "Mid-size Luxury Crossover/SUV" segment. The Toyota brand holds its value best overall too, adds The Canadian Black Book, and has zero vehicles in the fastest depreciating category. A special mention should go out to Jeep that leads its "Compact Crossover/SUV" class with the Wrangler, nothing new here, but only fair to mention.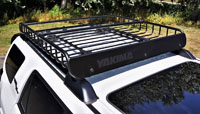 Like that Jeep, the 4Runner uses a part-time four-wheel drive system to power all four wheels. This means only the rear wheels get torque unless the front axle is manually engaged into either four-high or four-low via the second shift lever on the lower console, the latter requiring a bit of muscle. It all has a nice mechanical feel to it that brings back memories of decades past, something I happen to like in an SUV.
That's probably why I like and collect mechanical tool watches, particularly Seikos and Citizens. Yes, there's a Japanese theme here, but it's hard to argue against these brands' similarly simple, straight-forward, dependable values. The 4Runner is the SKX007 diver of the automotive world, a watch that doesn't even hack or manually wind. Still, like that forever-stylish timepiece, the ruggedly handsome 4Runner is fully capable of taking a beating, and plenty comfortable too.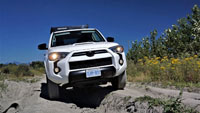 Those unfamiliar with body-on-frame SUVs tend to believe they ride like trucks (to coin a phrase, as the Tacoma and Tundra ride pretty well too), but due to greater curb weight than their car-based crossover counterparts, and generous suspension travel required for off-road use, the 4Runner is actually quite smooth over rough pavement and easy to drive around town thanks to its tall vantage point and reasonable dimensions. It's decent through fast-paced curves too, due to an independent double-wishbone front suspension design up front and a four-link setup in the back, plus stabilizer bars at each end, not to mention Toyota's impressive (and standard) Kinetic Dynamic Suspension System (KDSS) that limits body lean by up to 50 percent at higher speeds, but let's be real, it's not going to out-hustle a RAV4 or Highlander when the road starts to twist.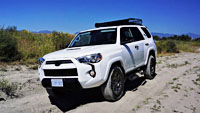 On that note, it's comfortable in all five seats too. And yes, I'm aware it also comes with three rows for up to seven occupants, but I won't go so far as to say its third row is good for anyone but small kids. Being that my children are grown and grandkids are probably still a long way away, I'd personally opt for the as-tested two-row variant. Rear seat legroom should be more than adequate for all heights, by the way, plus there's ample side-to-side room for larger folk too.
This two-row version provides 1,336 litres (47.2 cubic feet) of cargo space below its standard retractable cargo cover, aft of its second row, which should be ample for most. Of course, Toyota offers the Sequoia for 4×4 fans that need more, but sales to 543 last year clearly say the 4Runner's space is enough. I particularly like that its rear seatbacks fold in the most convenient 40/20/40 configuration, which allows longer items like skis to fit down the middle while rear occupants enjoy the optimal window seats. Folding them flat offers up 2,540 litres (89.7 cu ft) of total stowage space, including up to 737 kg (1,625 lbs) of payload. Not enough? The 4Runner can trailer up to 2,268 kg (5,000 lbs) in standard trim thanks to an included receiver hitch and wiring harness with 4- and 7-pin connectors, plus this awesome looking Venture Edition gives you the option of loading gear in the full-metal basket on top of the roof.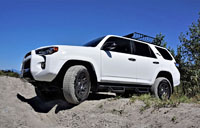 This last point makes clear that the Venture Edition was mostly focused on life in the wild instead of navigating the urban jungle, as the just-noted Yakima MegaWarrior Rooftop Basket, measuring 1,321 millimetres (52 inches) in length, 1,219 mm (48 in) in width, and 165 mm (6.5 in) tall, increases the 4Runner's overall height by 193 mm (7.6 in) for a total road to parkade ceiling-mounted pipe-collision height of 2,009 mm (79.09 in)—the Venture Edition's 17-inch TRD alloys on 265/70 Bridgestone Dueller H/T mud-and-snow rubber means that it measures in at 1,816 mm (71.5 in) tall, sans basket. Sure, you can remove the rooftop carrier to make it more practical during everyday use, but this limits some of the Venture's visual appeal while touring around town.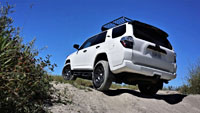 Additional Venture Edition extras not yet mentioned include blackened side mirrors, door handles (featuring proximity entry buttons), roof spoiler and badges, Predator side steps for an easier step up when climbing inside, all-weather floor mats, a windshield wiper de-icer, mudguards, an auto-dimming centre mirror, a HomeLink garage door opener, dual front- and twin second-row USB ports, a household-style 120-volt power outlet in the cargo compartment, active front headrests, eight total airbags, and Toyota's Safety Sense P suite of advanced driver assistance features, which include automatic Pre-Collision System with Pedestrian Detection, Lane Departure Alert, Automatic High Beams, and Dynamic Radar Cruise Control. Options not already mentioned include a sliding rear cargo deck with an under-floor storage compartment.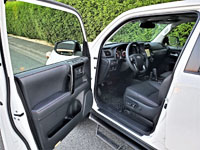 Take note, the very helpful side steps just mentioned will most definitely get in the way during extreme off-roading, potentially hanging up on rocks, roots and sharp crests, so while you're fastening the basket back onto the roof rails you may want to unbolt these before entering the backcountry. As for the 4Runner's ability when such low-hanging hooks are removed, it's one of few iconic 4x4s available today as noted above.
Having headed straight over to my local watery mess of a sand, mud and rock infested off-road area I was saddened to find out there wasn't much of it left, the riverside land being redeveloped for petroleum storage and thus, no longer available to off-road enthusiasts. Normally this little spit of dirt is filled with every sort of 4×4, ATV, dirt bike and the like, but alas it shall no longer enjoy the company of us crazies that it's allocated to more productive work, and I will no longer have this conveniently close location for my own sandbox playtime and photographic exploits.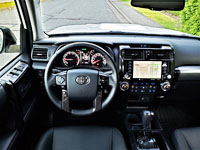 I did manage to trek over a few last remaining trails that are now bulldozed flat, showing this 4Runner Venture Edition in its element, so make sure to enjoy our photo gallery above. With "L4" engaged and deep ruts of dried mud below, I engaged the overhead console-mounted Active Trac (A-TRAC) brake lock differential (it's right next to the standard moonroof's controls). A-TRAC stops a given wheel from spinning before redirecting torque to the wheel with traction, and locks the electronic rear differential. I also dialled in some Crawl Control to maintain a steady speed while lifting myself up with both feet to more easily see over the hood for any obstacles that might be in my way. Crawl Control provides up to five throttle speeds for this purpose. This reminds me of my dad using the old-school dash-mounted hand throttle/choke to do much the same in his now classic Land Cruiser FJ, but it incorporated a manual gearbox and therefore relied on its low gear ratio to automatically apply engine braking when going downhill, while the wholly modernized 4Runner system in fact applies brake pressure electronically in order to maintain a chosen speed when trekking downhill. The 4Runner's Hill Start Assist Control system also helps in such situations, albeit going uphill.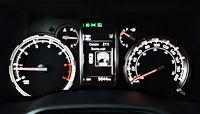 The dial next to this one is for engaging the automated Multi-Terrain Select system. This sets the drivetrain and electronic driving aids up for the majority of conditions you might face when off-road, from light- to heavy-duty trails, the system's most capable auto-setting being rock mode. Other settings include its second-most capable mogul setting, which is followed by loose rock. All of the above are only operable when the secondary set of low (L4) gears are in use, incidentally, whereas the least capable mud and sand mode can be utilized when both L4 and H4 are engaged.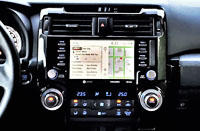 The 4Runner's 244 mm (9.6 in) of ground clearance and 33/26-degree approach/departure angles mean that it shouldn't drag over obstacles, but if rocks hit the undercarriage rest assured that rugged skid plates are in place to protect the engine, front suspension and transfer case. Again, those standard side steps could interfere with your forward momentum.
These steps can also be damaging to shins if you're not paying close attention when climbing inside, something I experienced a couple of times (followed by expletives), but some of that pain will ease once seated in the model's comfortable driver's perch. I found the primary seat ideal for my five-foot-eight, long-legged, short-torso body type, with the rake and reach of the steering column ample for comfortable yet controlled operation, which is probably the most important issue I have with any new vehicle I test drive (and have had with many Toyotas in the past—they're improving).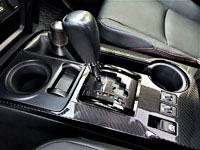 Looking around and tapping everything like I always do (so annoying to past significant others), all the 4Runner's knobs, buttons and rocker switches look and feel heavy-duty, as if Toyota pulled inspiration from Casio's nearly indestructible G-Shock (the Mudmaster seems fitting, although I prefer my more classic looking and smaller DW-5600BB-1CR). Tolerances are tight, their quality good, and finishing quite impressive overall, at least compared to previous 4Runner models.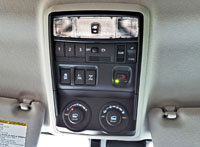 I can't remember Toyota using carbon fibre-like trim inside a 4Runner before either. The big, new, glossy 8.0-inch centre touchscreen on the centre stack is impressive too, this coming packed full of the latest technologies such as Apple CarPlay, Android Auto, and Amazon Alexa, not to mention very accurate Dynamic Navigation featuring detailed mapping. The audio system was pretty good too, thanks in part to standard satellite radio, while the rear camera (incorporating stationary "projected path" graphics combined with rear parking sonar) was much better than previous iterations. Other functions include a weather page, traffic condition information, apps, etcetera, while the primary instruments are less forward thinking yet still do a good job delivering key driving info, with easily legible backlit Optitron dials and a useful multi-info display at centre.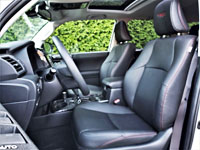 Like that G-Shock mentioned a moment ago, the cabin styling theme is mostly rectangular in shape, and thus purposefully utilitarian. Nevertheless, it was refined enough for me, with the rear two-thirds of the front and rear door uppers covered in contrast-stitched and padded faux leather. The door inserts and armrests were wrapped similarly below, the latter softly padded all the up way to the front portion of each door panel, thus protecting outer knees from chafing on what would otherwise be hard plastic. The centre armrest received the identical black and red application, as did the SofTex-upholstered seats' side bolsters, while both front headrests featured "TRD" embroidered in red for a sporty look. As for the dash top, it was coated in a textured synthetic that reduced glare nicely, therefore, together with the previously-noted glossed carbon-look surface treatment on the lower console, and the metallic glossy black background used for the centre stack surround surfacing and the door pulls trim, the 4Runner Venture Edition looked quite fancy for a non-Limited 4Runner.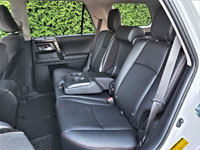 What's new for 2021? Not a heck of a lot, although standard LED headlights are a nice addition for a model expected to be totally revamped for 2022 (I have no verification of a redesign, but that's the word on the street… or, er, trail). LED fog lamps also join the frontal update, while new Lunar Rock paint will make the entire SUV look at least as good as the one used for this review. Also new, new black TRD alloys will soon be encircled by Nitto Terra Grappler A/T tires, while Toyota is said to have retuned the dampers to enhance isolation off the beaten path.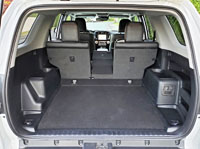 At $55,390 (plus freight and fees), the 4Runner Venture Edition isn't exactly an off-roader for bargain hunters, although it has few mid-size, 4×4-capable competitors, all of which will cost about the same or more if outfitted similarly. Once again, when factoring in resale (or residual) values, and then adding expected long-term reliability, the 4Runner makes the best investment.
Right now, Toyota is offering factory leasing and financing rates on this 2020 model from 3.99 percent according to CarCostCanada, or zero percent on 2019 models (if you can find one). Check out CarCostCanada's 2020 Toyota 4Runner Canada Prices page or their 2019 Toyota 4Runner Canada Prices page to learn more, and while you're there, find out how a CarCostCanada membership can help you before entering the negotiation phase of any new car, truck or SUV purchase. Along with any available financing and leasing information, you'll also receive possible rebate info and dealer invoice pricing that will tell any new buyer the actual cost your local retailer paid for the vehicle you're attempting to buy, potentially saving you thousands off your next purchase. Also, make sure to download the new CarCostCanada app to your smartphone via the Apple Store or Google Store, so you can be ready whenever, and wherever this critical information is needed.
Story and photo credits: Trevor Hofmann
Photo editing: Karen Tuggay