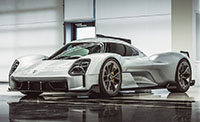 Every car enthusiast loves a good concept, and sometimes a barrage of really intriguing show cars can even rejuvenate a lacklustre carmaker, as we saw with Chrysler's various brands when they left their '80s-era mundanity and joined the much more successful (for them) '90s.
Porsche has never resembled Chrysler group in the slightest (although the Viper was pretty awesome), and in all fairness has lacked very little in recent decades, except maybe for a 928-inspired front-engine coupe remake (just shorten the wheelbase of a Panamera and call it Panama, in memory of the late, great Eddie Van Halen), or a Cayenne that can once again tackle Moab. Having such a wide assortment of models, trims and special editions is probably why Porsche rarely showed off their concepts, or even their prototypes before introducing a new model, Mission E and a handful of others aside.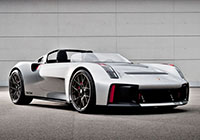 Earlier this month, however, the performance-focused brand pulled the covers off of 15 sensational never-before-seen concepts, some obviously created for fun and others as precursors of future products. The massive unveiling all came as part of a new "Porsche Unseen" project that sheds light on the inner operations of the German brand's design process in a new table-top book of the same name, plus a series of stories in the Porsche Newsroom, a detailed video that spans more than three-quarters of an hour (watch it below), and an expanded exhibit at the automaker's Zuffenhausen museum.
Summarizing car enthusiasts' love of concept cars and the importance they play in the development of future models, Chairman of the Executive Board at Porsche AG, Oliver Blume, said, "People all over the world love the timeless and innovative design of our sports cars. Visionary concept studies are the foundation of this success: they provide the pool of ideas for the Porsche design of tomorrow, and combine our strong tradition with trailblazing future technologies."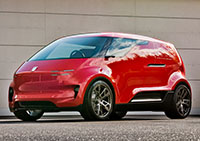 In the initial "Porsche Unseen" project introduction, the automaker highlighted three disparate concepts, including the ultra-performance 919 Street, the sporty, fun Vision Spyder, and oddest of all, the minivan-like Vision Renndienst people-mover, which answers a utilitarian family-hauling question absolutely no one was asking outside of the inner workings of Porsche's design department.
Created in 2017, the 919 Street is a life-size 1:1 clay model of a road-going 919 Hybrid LMP1 race car, if the name and visuals didn't give that away already. The 919 Hybrid completely obliterated all LMP1 sports car competitors wherever it raced, Le Mans, France being most notable, notching up four consecutive FIA World Endurance Championships from 2014 to 2017 before retiring, and even breaking the best-ever Formula 1 record around Belgium's famed Spa Francorchamps race track with an unofficial time of 1:41.770 after removing some of its FIA-sanctioned limitations.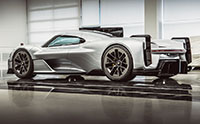 Not wanting to hide its heritage, below the 919 Street's exotic bodywork is the 919 Hybrid race car's carbon-fibre monocoque and 900 PS hybrid drivetrain, while its dimensions, including its track and wheelbase are identical to the track-only variant. It's difficult to surmise why Porsche chose not to build the 919 Street, as it would have been gobbled up by collectors within minutes of being announced no matter the price, but alas it remains a museum piece for those fortunate enough to be in Stuttgart next year, or at the very least fortunate enough to purchase Porsche's new hardcover book.
On a somewhat tamer note, the Porsche Vision Spyder concept was an entirely different design exercise, and being that it was introduced only last year, it could become a future Boxster, or at least influence the convertible version of the next generation 718.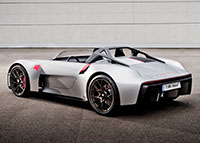 Some 911 fans aren't all that happy that today's entry-level Porsche sports car duo looks similar to their beloved 911, not to mention shares plenty of the pricier models' components, so therefore something along the lines of the Vision Spyder might appease purists' frustrations.
The new concept offers some sharper, more upright lines than the current Boxster, while still including softer more flowing curves across the hood, fenders and rear deck. Its racing livery certainly appears as if the Vision Spyder would be the ideal amateur race driver's weekend warrior.
Designed as a 1:1 hard model, the Vision Spyder features a mid-engine layout similar to the 718 Boxster, while some of its design cues were reportedly influenced by Porsche's 550-1500 RS Spyder from 1954. We can't help seeing the automaker's 1969-1976 914 in this styling exercise either, particularly its squarer, more angular details, like the roll bar.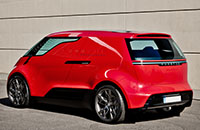 The aforementioned Porsche minivan wears a faded grey version of the brand's famed crest on a transparent background, so it's not as if Porsche is trying to hide its pedigree. Love it or loathe it, the Vision Renndienst (race service) is said to interpret past race support vehicles as it actually depicts an aerodynamic shuttle bus for up to six occupants, one being a driver that sits up front in the centre position (although it features an autonomous driving mode too), not unlike McLaren's fabulous F1 supercar, in that respect at least.
Unlike that classic British exotic, the Renndienst is electric, having all of its motive drive components housed within a skateboard design below the passenger cell. This allows for optimal interior spaciousness, and potentially superb straight-line performance, if other electrics, such as Porsche's own Taycan, are anything to go by.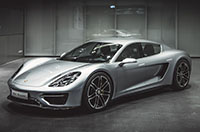 That all-electric super-sedan in mind, Porsche dropped a set of Vision 960 Turismo images along with 11 others just after the initial three arrived, and this four-door coupe might be the most intriguing of all thanks to its Taycan roots. Visually, this four-year-old 1:1 scale model is a 10-year-old 918 Spyder supercar up front and a modern-day Panamera in back, and we think the combination looks absolutely gorgeous.
The Vision E concept, on the other hand, was never meant to be practical, at least not from a two-row, four-seat, roomy hatchback perspective. Instead, the design team hoped to spring a 100-percent electric, 800-volt, fully enclosed, single-seat, near open-wheel, track-only hypercar from Porsche's Formula E racing program. The 1:1 hard model actually made it to the development stage, which is pretty impressive on its own.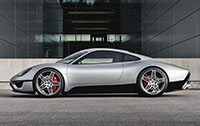 Porsche's 918 RS got all the way to the development stage too. The 1:1 hard model was created on the back of a 918 Spyder last year, complete with unique bodywork including a fixed roof. The stunning potential supercar pulls plenty of design cues from its 918 Spyder donor as well as race cars from Porsche's past, such as the now classic 917, but unfortunately, you'll never see one pull up at your local show and shine.
Additional concepts added to Porsche's new book include the 2005 Targa Florio road race-inspired 906 Living Legends (that featured lighting elements within cooling ducts); the 2013 904 Living Legends that was based on a VW XL1 streamliner eco-diesel's carbon monocoque chassis, albeit weighing just 900 kg and stuffed full of super-high-revving Ducati V2 motorcycle power (our favourite); the 2016 battery and hub-motor-powered Vision 916; the V8-powered, manually-shifted, and the 2016 Boxster-based Le Mans Living Legend; all of which imagine how older Porsche race cars might look in modernized street dress today, while 2019's Vision 920 is basically another race car for the road, albeit a futuristic one that never actually competed.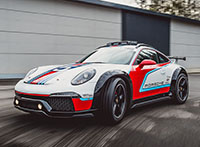 On a similar theme, the Boxster Bergspyder, developed in 2014, is a minimalist single-seat track car based on the current Boxster, featuring a 911 Speedster-like shortened windscreen, dual roll hoops hovering over Carrera GT-style rear deck lid double-bubble engine vents, and primary instruments pulled from the 918. Removing the passenger's seat for weight savings allowed the inclusion of a helmet shelf, which is even more useful than a sunglasses holder. The icing on this lightweight 1,130-kilo barchetta's cake was the Cayman GT4's high-revving 3.8-litre flat-six, which just might have made this little 718 the ultimate Porsche track star.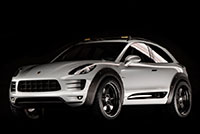 The 911 Vision Safari never actually raced either, but it does conjure distant memories of the outrageous 1985 959 Paris-Dakar Rothmans-livery rally car (which recently sold on Sotheby's for a cool $5.945 million USD). No doubt this one-off 2012 991 Carrera 4S would be worth a pretty penny as well, much thanks to its lifted suspension, bulkier bumpers and helmet cooler.
On a more practical note (if anything can possibly be more practical than a helmet cooler), the 2013 Macan Vision Safari was (obvious by the name) a toughened up off-road version of Porsche's sporty road-going compact crossover SUV. Appearing ready to take on all comers in the just-noted Paris-Dakar rally, this concept makes us wonder if Porsche should consider a more rugged image for its pavement-conquering SUV line.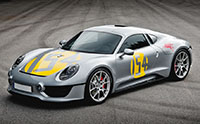 Speaking of rugged, the thick, substantive, 328-page "Porsche Unseen" hardcover book includes photos from Stefan Bogner with accompanying text by Jan Karl Baedeker. We think it would make an excellent holiday gift for any sports car enthusiast. It's published by Delius Klasing Verlag, and made available at Elferspot.com (ISBN number 978-3-667-11980-3), or alternatively at the Porsche Museum shop next to the company's Stuttgart-Zuffenhausen, Germany headquarters.
Make sure to check out our complete photo gallery above as well as the "Porsche Unseen: Uncovered" video below for more visuals.
Porsche Unseen: Uncovered (47:52):

Story credits: Trevor Hofmann
Photo credits: Porsche