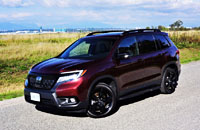 With five-passenger crossovers regularly at the top of the mid-size SUV sales charts in North America, Honda simply had to be in on the game. Therefore, in another attempt to replicate its small utility success in the large SUV categories, the two-row, five-passenger Passport joined up with the three-row Pilot for 2019.
Most automotive industry followers saw the initial news stories along with the usual follow-up pieces about pricing, trims, standard and optional features, etcetera, and then plumb forgot about the new SUV soon after. A smattering of ads that accompanied the SUV when introduced might have initially put it on some consumers' radars, but it could've just as likely flown under yours, as they're not exactly easy to spot on the road.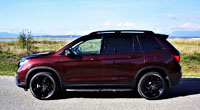 Honda delivered just 3,017 Passports in Canada throughout 2020, its first year of availability, and a mere 559 during Q1 of this year, which incidentally makes it the slowest selling mid-size SUV in Canada, other than Toyota's new Venza that only arrived in September last year, yet still found 1,403 buyers (and at the end of March 2021 another 798 new owners), and Dodge's 150-year-old Journey (ok, in reality it's just 13 years old) that's been discontinued for two years, yet still managed to lure in 420 bargain shoppers. This means by Q1 2021's close, the Venza was already outselling the Passport by 143 percent, while by May's end its lead had grown to 175 percent.
The larger Pilot, on the other hand, has enjoyed a fairly steady rise in sales over the past decade, with 2020 being its best year yet thanks to 9,340 new owners. This has allowed it to move up through the ranks, now sitting fifth amongst three-row SUVs, with 11 contenders trailing behind, which once again has me wondering why the Passport hasn't caught on.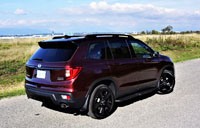 After all, being dead last in any SUV category makes absolutely no sense for a brand that, until recently, had been swapping the lead baton back and forth in the compact SUV segment as if the CR-V and Toyota RAV4 were part of the same relay team. The RAV4 has since rode off into the sunset with 67,977 units down the road last year, much thanks to conventional gasoline, plus hybrid and plug-in Prime variants, but the single-engine-powered CR-V still held an extremely strong second place with 50,135 deliveries in 2020, the next brightest star being Mazda's CX-5 with 30,583 down the road during the same 12 months. Just why Honda hasn't been able to graduate a reasonable number of these CR-V owners into its mid-size Passport is hard to fathom, but, amongst other issues, it may come down to the larger SUV targeting an intrinsically different type of buyer.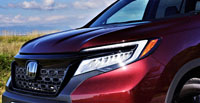 The CR-V does well because it's reasonably priced and fuel-efficient, plus nice enough looking, comfortable, amply spacious, technically advanced, historically dependable, capable of holding its resale/residual value, etcetera. I can say much the same about the Passport (the Canadian Black Book shows its larger Pilot sibling tied as runners-up with the Toyota 4Runner in mid-size SUV retained value, so one would think the Passport would fair similarly), although few people have even heard of this newcomer, plus its entry price is higher than the majority of its five-seat rivals, and it's hardly as fuel-efficient as most of those too.
The CR-V occupies this same position on CCB's compact SUV retained value list, incidentally, right beside the now defunct Nissan Xterra (a BIG mistake for Nissan to have dropped this model) and just below Jeep's Wrangler, which makes me feel all the better about the countless times I've recommended Honda's little runabout to new and pre-owned buyers, both here in reviews and personally to friends and colleagues.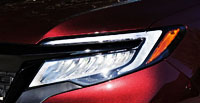 The Passport (and its larger Pilot sibling) on the other hand, never came to mind when offering up my sage wisdom (ahem), but considering the CCB's rating of the latter, I should probably start adding it to my list of large SUV recommendations. I'll need to see whether or not the Passport catches on before it gets a full thumbs up, however, because a vehicle needs to have garnered a large enough group of waiting pre-owned buyers in order to maintain its value.
As happenstance is, halfway through writing this review I received a call from a friend who was surprisingly considering a lease takeover of a Honda Passport. He's waiting for the next-generation Toyota 4Runner to launch, which he'll probably buy far in advance, but until then he needs something to drive, because the lease of his previous 4Runner came due and he chose not to buy it out. Being that he's already ok with driving a relatively thirsty V6, and that he won't actually be purchasing, but effectively renting instead, I couldn't argue against it, but I didn't get behind the decision like I would've done so for a CR-V.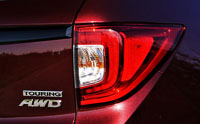 Instead, I recommended he check out LeaseBusters, a service that specializes in lease takeovers (and in full disclosure is affiliated with this site), in order to see what else might be available for $600 per month, the charge being asked for that specific 2019 Passport. It's not that a Passport wouldn't work for him, as it probably would, but I'd rather he suss out all available options before making what will probably be a two-year commitment.
To be fair, the Passport is much more fuel-efficient than any V6-powered 4Runner to date. While the next-gen 4Runner will probably ship with a hybrid, the current long-in-tooth model is rated at a dismal 14.8 L/100km city, 12.5 highway and 13.8 combined, compared to a relative 12.5, 9.8 and 11.3 for the Passport. The Pilot, incidentally, is good for a claimed 12.4, 9.3 and 11.0. Yes, you read that right. The larger, heavier three-row Honda gets better fuel economy than the shorter, lighter two-row variant. Go figure. It must come down to aerodynamics on the highway.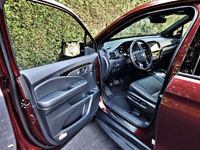 How does the Passport fare against immediate competitors? Toyota's Venza comes standard with a hybrid power unit and therefore walks away with the mid-size two-row efficiency prize, its rating being 5.9 L/100km in the city, 6.4 on the highway and 6.1 combined. Ouch! No wonder it's selling better. The Toyota's $38,490 starting sticker doesn't hurt either, especially next to this Honda's near premium-level $43,670 entry price. That's a $5,000-plus deterrent, combined with nearly twice the ongoing fuel costs. I'm not a big fan of the Venza's styling, and I quite like the Passport's looks front to back, but it's hard to argue against such night and day savings.
As a useful comparo, let's see how the Passport rates against all five-seat competitors when it comes to pricing and fuel economy with AWD (city/highway/combined) in the order of sales numbers: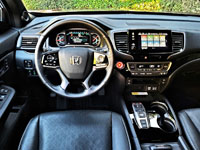 While price and fuel economy doesn't seem to affect the sales of cult-like 4x4s, such as Jeep's Grand Cherokee and the 4Runner, it really does appear to impact car-based family haulers, such as Hyundai's Santa Fe and Subaru's Outback, the latter of which enjoys some built-in cult status of its own. Ford's Edge has long been at or near the top of this pack, so it has earned its fair share of repeat buyers, even if it doesn't quite measure up empirically, while Kia's Sorento does well by delivering a whole host of positives including value. Chevy's new Blazer should be doing well, but its lofty price no doubt causes pause from savvy shoppers, whereas the Passport's highest starting price amongst car-based crossovers is no doubt pushing it down the pecking order.
Of course, what this interesting data dump doesn't tell us is how these vehicles drive or how easy they are to live with. That's where I come in, and while it would be outrageous to try and squeeze a segment-wide comparison into one review, I've covered many of these models earlier, or at least have driven most and will review as quickly as possible.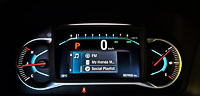 I commented earlier that you may not have even seen a new Passport on the road, but it's more likely that you have and just didn't realize you weren't looking at a Pilot. While the Passport is a bit tougher looking, thanks to a blackened grille that appears bigger due to a deeper mesh insert, plus some additional matte-black lower body cladding, a revised liftgate that doesn't include the Pilot's additional blade-shaped taillight reflectors, and gloss-black wheels, it's basically a shortened Pilot from the outside in. That's not a bad thing since Honda toughened up the look of the Pilot for 2019, with both models now appearing rugged and SUV-like.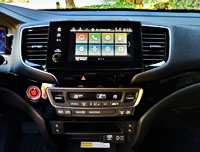 My tester wore a gorgeous Deep Scarlet Pearl paint job, one of four $300 optional colours available in Touring trim, including Obsidian Blue Pearl, Crystal Black Pearl, and Platinum White Pearl, with the only standard colour being Modern Steel Metallic. Once again, I admit to liking the way the Passport looks, especially in this rich colour. Due to its abbreviated length, the Passport appears more upright than its longer sibling too, resulting in even more of a traditional SUV stance, which is not unlike the original Pilot.
Classic SUV in mind, when Honda launched the Passport back in 2019, they made a point of showing photos of it doing some pretty severe off-roading manoeuvres, not to mention hauling camping gear such as canoes, kayaks and even a sizeable trailer, while a complementary video combined some energetic music with clips of it hustling up a mountainside dirt road, plus one close-up of a wheel in the air as part of a staged articulation exercise (check out my previous news story with photos and video). It was all in an effort to give the Passport a more rough and ready image than the Pilot, something its shorter wheelbase would allow for inherently, but there's more to Honda's two-row alternative than that.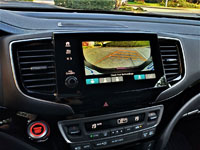 Most notably, the Passport adds 28 mm (1.1 inches) of ground clearance over its Pilot sibling (with its standard all-wheel drive layout, or 13 mm/0.5 inches with US-exclusive FWD), allowing greater ease over obstacles such as rocks and roots or through deep potholes and ruts that can be found on any ungraded road or trail. What's more, Honda's enhanced i-VTM4 all-wheel drive system, which uses active torque vectoring to send up to 70 percent of engine torque to the rear axle and 100 percent to either the left or right rear wheels, provides good traction when things get slippery, whether the surface below is cold and snowy or hot and sandy.
Honda's Intelligent Traction Management (ITM) system adds another element to the Passport's off-road capabilities, due to four driving modes that work together with its all-wheel drive system, including normal, snow, mud and sand selections.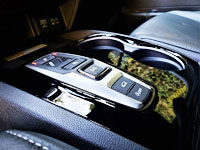 Of course, most owners will never venture off pavement, which to be fair is true for ultra-capable 4x4s made by Land Rover and Mercedes too, so the fact that Honda's AWD system also overdrives the Passport's outside rear wheels while cornering in order to maintain grip is probably even more important to would-be buyers.
I can't say that I'd be willing to torture a new Passport in "the world's harshest environments" such as "the sands of Dubai, muddy country roads of Russia, and snowbound trails in Minnesota," as Honda claimed was done during the Passport's development, but I'd certainly be comfortable taking on the types of dirt roads shown in its launch video. I'd also be more than happy to test its mettle on the rougher sections shown in the photos, as long as it was part of a launch event and Honda's PR team had ok'd it. I've done so previously with the brand during such programs, with especially good memories of getting down and dirty with the original Ridgeline.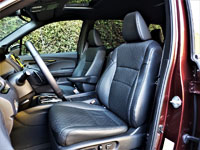 As for towing, the Passport's standard 2,268-kg (5,000-lb) rating (1,588 kg or 3,500 lbs for U.S.-spec front-wheel drive models) should be good enough for mid-size camp trailers and average-sized fishing and ski boats, while an "overhead" feature found in the standard multi-view camera makes connecting a hitch and trailer easier than ever before.
One of the reasons it provides such impressive trailering capability is the 3.5-litre V6 that so negatively impacts fuel economy. With 280 horsepower and 262 lb-ft of torque, it's the most potent base engine in its two-row class, which will either be a boon or a bane depending on your priorities. Honda has equipped it with an i-VTEC valvetrain and Variable Cylinder Management (VCM) in order to enhance power while minimizing consumption, while its nine-speed automatic transmission with standard idle-stop that shuts off the engine when it would otherwise be idling, tries to maintain the fewest revs possible in its normal driving mode. Still, step into the throttle and the Pilot moves off the line quite nicely, while providing strong passing power on the highway.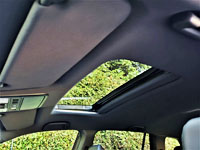 Thanks to weight savings of 16 to 55 kilograms (35 to 121 lbs) depending on trim, the 1,890- to 1,914-kg (4,167- to 4,219-lb) Passport feels a bit more energetic off the line than the Pilot, with the just-noted transmission providing ultra-smooth, yet positively shifting performance throughout its range, via steering wheel-mounted paddle shifters no less, this needed for manual mode, being that the gear selector is Honda's array of electronic buttons and pull-tabs on the lower console (it gets easier to use with familiarity).
Likewise, for the suspension, which combines an excellent ride with more engagement through the curves than the larger Pilot, despite using the same fully independent front MacPherson strut and rear multi-link setup, featuring amplitude reactive dampers and Agile Handle Assist.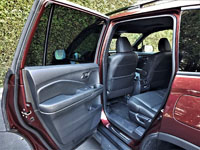 Combine its better handling and more capable off-road chops, with stronger straight-line acceleration and fractionally worse fuel economy, and the only negative left is cost. Of course, its near $44k starting point (which in fact is pricier than the larger Pilot's $42,605 MSRP) is a big hurdle to overcome when compared to most rivals. Granted the Passport comes standard with AWD, which compares well to the majority of competitors that make it optional, but adding AWD to the aforementioned Santa Fe will only set you back $2,000 more at $33,399, although doing so with a V6-powered Murano pushes its price up by $6,000 to $40,098, because that model automatically includes mid-grade SV trim, featuring navigation, an overhead 360-degree surround parking monitor, a panoramic glass sunroof, and more.
The Passport comes in three trims, including Sport, EX-L and Touring, the latter two starting at $47,270 and $50,670 respectively. Colours and dealer-added accessories aside, none of the trims offer any options, with the only new feature since its inaugural year being a 2021 upgrade from a rather sad little 5.0-inch infotainment display in its most basic trim, to the much more respectable 8.0-inch display found in second- and third-tier trims last year, which incidentally comes complete with Apple CarPlay and Android Auto smartphone integration, the aforementioned Multi-Angle Rearview Camera with dynamic guidelines, Honda's LaneWatch blind spot display that provides a rear visual of your blind spot when flicking the turn signal, Siri Eyes Free, wi-fi tethering, control of a six-speaker 115-watt seven-speaker audio with a subwoofer, and more.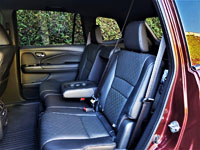 Some additional standard Sport features worth noting include 20-inch alloy wheels, LED (low beam) headlights with auto high-beam assist, LED DRLs, LED fog lamps, LED side mirror repeaters, and LED taillights, a front wiper de-icer, proximity-sensing keyless Smart Entry and Smart Start, remote engine start, a configurable 7.0-inch colour TFT multi-information display within the primary instrument cluster that features audio, trip and phone info (plus turn-by-turn route guidance on models with navigation), adaptive cruise control, tri-zone automatic climate control, two USB device connectors, an auto-dimming rearview mirror, a HomeLink universal remote, a powered moonroof, a heatable leather-wrapped steering wheel rim, a 10-way power-adjustable driver's seat including two-way powered lumbar support (that nicely met up with the small of my back), and more.
On the "more" list is the Honda Sensing suite of advanced driver assistive and safety systems, which include Collision Mitigation Braking System (CMBS) with Forward Collision Warning (FCW), Road Departure Mitigation (RDM) including Lane Departure Warning (LDW), plus Lane Keeping Assistance System (LKAS) and Adaptive Cruise Control (ACC). These are joined by the industry's usual assortment of active and passive safety items, plus Honda's proprietary Advanced Compatibility Engineering (ACE) body structure, which unfortunately isn't enough to even warrant a Top Safety Pick rating from the IIHS, let alone revered Plus status.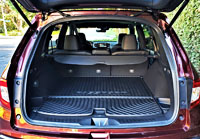 The Passport does appear safe, however, thanks to best-possible "G" (for good) ratings in its "Small overlap front: driver-side", "Moderate overlap front", "Side", "Roof strength", and "Head restraints & seats" crash tests, but only an "A" (acceptable) rating for its important "Small overlap front: passenger-side" and "Headlights" tests, not to mention merely an acceptable rating for the its child seat LATCH system's "ease of use" test (the latter item having nothing to do with safety).
It's certainly easy to fold those rear seats down, however, which, by pressing electronic release buttons on the cargo wall, expands the dedicated cargo area behind the second row from 1,166 litres (41.2 cu ft) to 2,206 litres (77.9 cu ft). Interestingly, the first number is only 56 litres (2.0 cu ft) more accommodating than a CR-V, which might be another reason that owners of the smaller and more efficient Honda aren't moving up.
Just like the CR-V, the Passport's second-row seats split in the usual 60/40 configuration, which while not optimally divided in my favourite 40/20/40 split, which allows for longer items like skis to be placed down the middle, is the norm in this mainstream volume-branded class, while a reversible cargo floor swaps out carpeting for a washable hard plastic surface when needing to haul dirtier loads. Underfloor storage is segment-leading, by the way, measuring 71 litres (2.5 cu ft).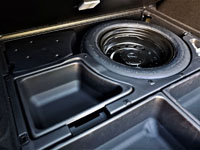 While cargo capacity might not be enough of a differentiator for CR-V owners to move up to the Passport, the larger SUV's roomy passenger compartment might cause some to reconsider their allegiance. It gains 368 litres (13.0 cubic feet) over the smaller Honda, thanks to 3,282 litres (115.9 cu ft) ahead of the rear seatbacks for segment-leading spaciousness, while the Passport's 4,448 litres (157.1 cu ft) of overall interior volume is best-in-class as well.
As importantly, the Passport is finished well inside, or at least my Touring trimmed example was. Before I get ahead of myself, some notable EX-L features include a quieter acoustic windshield to enhance refinement, a memory-linked driver's seat and side mirrors with reverse gear tilt-down, rear parking sensors, HD and satellite radio, two more USB charging ports, leather upholstery for the seating surfaces, a four-way powered front passenger's seat, heated rear outboard seats, and a powered liftgate.
Lastly, my Touring model came with some special gloss black bumper skid garnishes, auto-levelling LED (low and high beam) headlamps, auto-dimming power-folding side mirrors, quieter front door acoustic glass, Blind Spot Information (BSI) with Rear Cross Traffic monitoring, additional ambient lighting in the cupholders, door panels and footwells, ventilated front seats, a superb sounding 550-watt 10-speaker audio upgrade, accurate navigation, a navi-based compass, 4G LTE in-vehicle Wi-Fi that can support up to seven devices, wireless device charging, a 115-volt household-style power outlet, and hands-free access for the powered liftgate.
As I mentioned a moment ago, my tester's cabin was finished nicely, but Honda was careful that it wouldn't compete with Acura's MDX. The front door uppers and dash top receive a soft composite surface treatment, the latter down to the midpoint of the instrument panel, around the gauge cluster and surrounding the centre display, while the lower dash and door uppers are hard shell plastic. Likewise, for the glove box lid, while the rear door panels, save for the door inserts and armrests, are entirely made from hard plastic too. Hard plastic rear door uppers are unusually substandard for the mid-size class, with some compact SUVs, like Mazda's CX-5, offering soft-touch door uppers and even real hardwood trim to go along with supple Nappa-leather upholstery. Like I said, the Passport isn't trying to be premium in execution.
More impressive is the decently sized high-resolution touchscreen atop the mid-stack, this being one of the more attractive and easier infotainment system interfaces to use in the industry, and I'm not just saying this to leave on a positive note. The nicely coloured tiles are easy to navigate through, the graphics are large and clear, and the parking camera is superb.
So, after this epic, novel-length review is done, what's the final verdict? I think the most important takeaway is the Passport's overall goodness as an accommodating mid-size SUV that's ideal for five adults and plenty of gear. Its on-road handling and off-road prowess should make for a good compromise when comparing it to less well-rounded alternatives, while its good forecasted reliability, and strong expected retained value might make up for its higher initial price.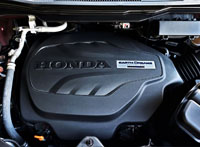 This said, the Passport's base price includes a lot of standard goodies, which if tacked onto some rivals would pull their dollar-for-dollar evaluations much closer this Honda. Still, it lacks some options mid-size SUV buyers like, such as the panoramic sunroof included in the much more affordable Murano. In the end, you'll need to weigh each SUV's advantages once getting closer to your final choice.
Those opting for the Passport will be happy to learn that Honda is offering up to $1,000 in additional incentives for 2021 models, so be sure to check the 2021 Honda Passport Canada Prices page at CarCostCanada for details, plus learn how members can save even more from accessing important manufacturer rebate information when available, plus info about factory leasing and financing rates, as well as dealer invoice pricing that can save you thousands during negotiation. This all comes as part of a CarCostCanada membership, so be sure to learn how their system works, and also remember to download their free app from the Google Play Store or Apple Store, so you can have all of their money-saving info where and when you need it most.
Review and photos by Trevor Hofmann