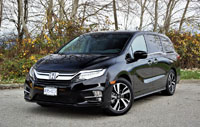 The minivan is a strange beast. After the segment's first foray into the market during the early '80s to mid-'90s, when the various Chrysler group vans took their rightful place atop the heap thanks to creation of the category itself, and follow up models that continued to deliver what consumers wanted better than competitors that merely modified existing Japanese vans for differing North American tastes, each automaker continued to augment their offerings to better appeal to what were essentially their most practical buyers. 
Honda was actually a full decade late to the party, having arrived in 1994. The first-generation Odyssey certainly looked the part and even boasted second-row access from both sides, something Chrysler wouldn't adopt until the following year, but the Japanese van's rear side doors were hinged like those from the Accord it was based on, and therefore it lacked the ease-of-use provided by all competitors' passenger-side sliding door, limiting its popularity.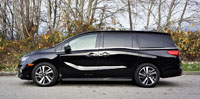 Fortunately for Honda, its imported competitors weren't all that much more appealing, Toyota's original Van a truck-based body-on-frame rear- and four-wheel drive alternative that nevertheless found a reasonable following, this replaced by the ovoid spaceship-styled Previa that stowed its engine on its side under the driver's seat, and finally the more conventional front-drive Sienna for the 1998 model year; and Nissan's first Van similar to Toyota's yet nowhere near as successful, things getting better when the FWD Quest was launched in 1992; whereas Mazda's 1989-2006 MPV was probably the most capable Japanese-sourced Chrysler competitor.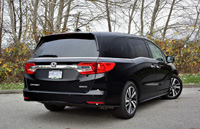 Chrysler group vans aside, the domestics did better than they probably should have thanks to the brand strength of Ford and GM at that time, the blue-oval Aerostar and Chevy/GMC Astro/Safari RWD and AWD truck-based models finding reasonably strong sales ahead of the General's plastic-bodied 1990-1996 APV/"Dustbuster" atrocities that didn't catch on very well despite Chili Palmer's (John Travolta) Cadillac of minivans plug in Get Shorty (1995), whereas Ford's 1995-2003 Windstar actually had fairly strong success. 
Ford only suffered through one more minivan name-change when it redubbed its stellar offering Freestar before saying goodbye to the non-commercial minivan segment altogether in 2007, but I could fill volumes with GM minivan names before it decided to say goodbye to its final Buick Terraza, Chevrolet Uplander, Pontiac Montana SV6, and Saturn Relay foursome in 2009. And don't worry I won't comment on all the others, or for that matter the various brands not yet mentioned that tried their hardest to build the ultimate family hauler, because now there are only a handful of competitors in this once hotly contested sector.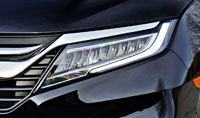 The only brand not yet noted that's still making a minivan is Kia, which launched the Sedona in 2002. Hyundai briefly tried to cash in with its oddly named 2006-2009 Entourage, but that one-stint-wonder leaves the Sedona amongst just two Kias not duplicated by a namesake version from its parent brand (the other being the Soul subcompact crossover, whereas Hyundai is alone in offering a three-door sports coupe in the Veloster).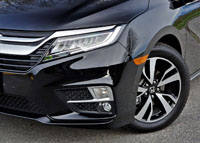 The Sedona is the minivan segment's least popular offering, mostly due to the strength of Kia's brand rather than any specific product shortcoming, having found just 5,286 Canadian buyers in 2017 and 4,478 over the first three quarters of 2018. Comparatively, Chrysler's much pricier Pacifica raised its game to 6,185 unit sales last year and 5,327 over the first nine months of this year, while the Odyssey is the first of this quintet to break five figures thanks to 11,232 deliveries in 2017 and 9,036 as of September 30, 2018. Having built up a minivan following for ten more years than Honda, it's only fair the Sienna sells in greater numbers, the Toyota van finding 15,470 buyers last year and 11,231 registered by the end of this year's third quarter, while the minivan that started everything off way back in 1984 remains number one by a long shot, Dodge having sold 46,933 Grand Caravans in 2017 and 27,466 year-to-date as of Q3 2018.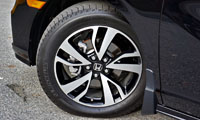 I've driven most every van mentioned plus a dozen or so more, and some that looked sportiest were the least capable off the line and around curves, whereas others were sleepers. My short-wheelbase 1996 Caravan was actually pretty decent when the road started to wind, but its 3.0-litre Mitsubishi-sourced V6 and four-speed automatic combination wasn't anywhere near as capable as today's V6 powerplants. The latest Grand Caravan gets a 283 horsepower 3.6-litre V6 with 260 lb-ft of torque, but that engine is the only sophisticated bit of kit in the aging workhorse. It stacks up pretty well when compared to the Odyssey's 3.5-litre V6 that makes 280 horsepower and 262 lb-ft of torque, but that's where the driveline similarities end. Specifically, Honda's "Earth Dreams" branded V6 incorporates Variable Cylinder Management cylinder-deactivation that cuts half the pistons under light loads where Chrysler never adapted its comparative MDS system to the Pentastar V6, while Honda's new nine- and 10-speed automatics are the cream of the minivan crop, the latter gearbox included in my Touring trim tester.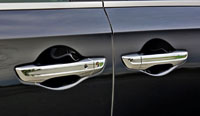 Competitive transmissions include a six-speed automatic from Dodge, eight-speed units from Kia and Toyota, and a nine-speed from the conventionally powered Chrysler with a CVT used for its plug-in hybrid variant, that latter model providing the segment's best fuel economy at 7.3 L/100km city, 7.2 highway and 7.3 combined (or 2.6, 3.0 and 2.8 Le/100km if you plug-in all the time and don't drive very far between charges), albeit for a substantive initial hit to its bottom line (it starts at $51,745 and rubs up against $65k when fully loaded), while the Odyssey and its considerably more affordable rivals offer up city/highway/combined estimates of 13.7/9.4/11.8 for the Grand Caravan (the segment's worst city and combined ratings), 12.9/8.4/10.9 for the base Pacifica and 12.4/8.4/10.6 for the same drivetrain with engine start/stop, 12.7/10.0/11.5 for the Sedona (the worst highway rating), 12.5/8.9/10.8 for the Sienna (or 13.4/9.6/11.7 for the Sienna AWD), and finally 12.6/8.4/10.7 (tied-for-best highway rating) for the base Odyssey with its nine-speed, or alternatively the best-in-class city, second-best highway and tied-for-best combined ratings of 12.2/8.5/10.6 for the as-tested top-line Odyssey with its 10-speed automatic.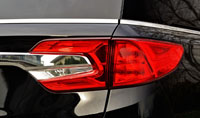 On top of this technical advantage, the Odyssey continues forward as the best minivan choice for those wanting a large dose of performance added to their ample helping of practicality. Clarifying this sporting image are paddle shifters behind each steering wheel spoke in every trim level, this from a utilitarian class that usually makes you feel lucky to receive any shifter control at all. Why this minivan-first inclusion of paddles? Take a look at the centre stack and everything becomes clear, with Honda's pushbutton gear selector replacing the old lever that previously offered a regular push-and-pull manual mode. Now driver engagement takes place without the need to remove hands from the thick and sporty leather-wrapped steering wheel rim, the nicely contoured driver's seat providing the other key ingredient for comfort and control.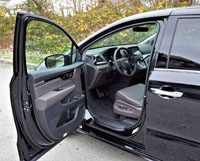 The driving position is excellent, and thanks to 12-way power-adjustment including four-way powered lumbar support on EX trims and above the driver's seat should be just as comfortable for those measuring four-foot-eight to six-foot-eight as it was for my five-foot-eight frame. Its many adjustments combined nicely with the tilt and telescopic steering column's ample reach, allowing me to ideally saddle up my sometimes-awkward long-legged, short-torso build. 
The gear selector is basically the same as used in the Pilot mid-size crossover SUV, a design that works flawlessly once you get used to it. It does take some practice, however, so if you're going on a test drive at your local dealer give yourself enough time to get familiarized or you may be frustrated, especially if you have to back up quickly in the middle of the road during a U-turn, where all of a sudden you'll need to think about pulling a rocker switch rearward for Reverse before pushing another button to select Drive.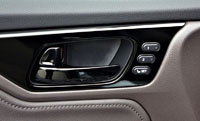 When you push the Drive button twice it goes into Sport mode, and this is the best way to make use of those aforementioned paddles. The 10-speed autobox really does snap through the gears quickly, which is kind of rare for transmissions with so many speeds. Normally they're laggards, set up to maximize fuel economy at all costs, but as long as you haven't pressed the ECON mode button, which does a good job of minimizing fuel usage, or the Snow mode designed to maximize traction in slippery situations, this one is really fun to drive, making the most of all the power on tap. Combined with the Odyssey's nicely balanced fully independent front strut and rear multi-link suspension, it's easily the class leader for performance.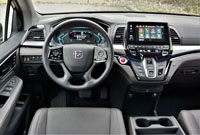 Refinement is a bit more difficult to quantify, whether talking about ride quality or interior fit, finish and materials quality. I have no complaints about either with the Odyssey, finding its ride pleasant enough whether running errands around town or cruising on the open freeway, despite its taut handling characteristics. As for cabin refinement, Honda finishes both the upper and mid-level instrument panel in a leather-like soft-touch synthetic that's plenty upscale for the mainstream volume sector, this continuing rearward across the tops of each door panel, plus the inserts and armrests of course. Additionally, a pewter-look medium-grey metal-like inlay spans the dash, while piano black lacquer accents can be found most everywhere else, Touring trim notably lacking much interior chrome resulting in a sportier theme, but Honda using dark brown for much of the softer surfacing of the dash and door panels too, matching the perforated leather seat upholstery for a rich, classy look.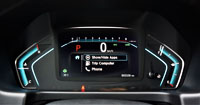 Just the same this is the most modern van on the market. In fact, most of the primary gauge cluster is digital, a first for the class. It's controllable via a well-designed array of steering wheel switchgear, which also includes a button for the heatable steering wheel rim, pulled up from EX-L Res trim. You'll need to look over on the centre stack to turn on the heat or blow cool air through the front seats' ventilated perforations, the former standard and latter exclusive to Touring trim.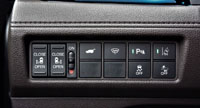 Before delving into everything that comes standard with Touring trim, I've just got to say how impressed I was with the Odyssey's infotainment system. It starts with a fixed tablet-style design that sits above the centre stack like some premium brands do in their much higher priced models, and almost seamlessly melds the aforementioned piano black plastic surrounding trim with a black glass-like finish from edge to glossy edgy, its digital innards bright, colourful, with deep, rich contrasts, and it's wonderfully easy to use thanks to a tile-style setup, not to mention tap, pinch and swipe gesture controls depending on the feature being used, navigation mapping being one that uses all. I was a bit surprised not to find a 360-surround parking monitor in top-line trim, but Honda's excellent multi-angle rearview camera with dynamic guidelines comes standard, as does Apple CarPlay and Android Auto smartphone integration. I tried the latter and it was simple to set up and use, while route guidance was a no-brainer and totally accurate whether using Google's phone-sourced directions or Honda's proprietary system, my personal preference being the latter.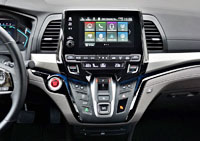 All controls are touch-sensitive except for a handy rotating knob for power/volume, while Honda includes its usual array of well thought out steering wheel switchgear. USB and aux ports can be found under a sliding door in the lower console, while device connectivity is via Bluetooth or near field communication (NFC), the latter reportedly a quicker, easier process for those with compatible smartphones. 
Along with the upgraded 10-speed automatic transmission already noted, additional Touring trim exclusives include idle start/stop for reducing fuel consumption and emissions, unique 19-inch alloy wheels on 235/55 all-seasons, full LED high/low beam headlamps, upgraded LED fog lamps, power-folding side mirrors, rain-sensing wipers, ambient lighting on the instrument panel, within the front door handle cutouts and in the footwells, acoustic front and rear door glass, Honda's new CabinWatch rear seat monitor, wireless device charging, HondaLink Subscription Services, an AT&T Wi-Fi Hotspot, a "How much Farther?" app, great sounding 550-watt audio with 11 speakers including a subwoofer, third-row sunshades, blindspot monitoring with rear cross-traffic assist, a hands-free gesture-controlled power tailgate, and more.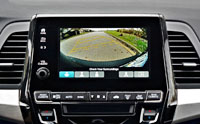 The previously noted navigation system gets pulled up from EX-L Navi trim, while the EX-L Res trim doesn't include navigation yet offers families a rear entertainment system with a 10.2-inch high-resolution WSVGA flip-down centre monitor, a Blu-ray DVD player and embedded streaming media apps, while both EX-L trims provide the aforementioned heatable steering wheel, driver's seat memory plus memory-linked side mirrors with reverse gear tilt-down, front and rear parking sensors, satellite and HD radio, an acoustic windshield, a 12-volt power outlet for the third row, and more.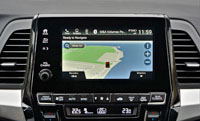 There are EX and EX Res trims too, the only difference with the latter being rear entertainment plus another USB port, a household-style 115-volt power outlet, and Honda's industry-first CabinTalk in-car PA system (the latter two features not included with the EX-L Navi), while both include unique two-tone 18-inch alloys, upgraded LED daytime running lights, fog lamps, integrated turn signal indicators within the side mirror housings, auto-up/down powered windows all-round, an auto-dimming rearview mirror, a HomeLink garage door opener, a powered moonroof, tri-zone automatic climate control, previously noted NFC, Honda's superb LaneWatch blind spot display that unfortunately gets nixed from Touring trim due to its exclusive blind spot monitoring system, the 12-way powered driver's seat mentioned earlier, power-sliding second-row doors, second-row armrests and sunshades, the brilliant HondaVAC in-car vacuum (the only way I've ever been able to get my son to use a vacuum without force), and more.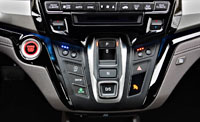 In case you were wondering what you get with the Odyssey's previously noted base price, standard equipment includes 18-inch alloys on 235/60 all-season tires, auto on/off projector-beam halogen headlamps with auto high beams, active grille shutters, a windshield wiper de-icer, variable intermittent wipers, body-coloured heated power door mirrors, chrome door handles, front splash guards, LED taillights, a rear window wiper/washer, a capless fueling system, remote engine start, proximity-sensing keyless entry and pushbutton ignition, an electromechanical parking brake with automatic brake hold, filtered dual-zone automatic climate control, the previously noted multi-angle rearview camera, a 150-watt AM/FM/CD/MP3/WMA audio system with seven speakers including a subwoofer, Bluetooth streaming audio, Wi-Fi tethering, Siri Eyes Free, HondaLink, the CabinControl app, two USB charge ports, 15 cupholders, centre console storage with a utility tray, a conversation mirror integrated within the overhead sunglasses holder, illuminated vanity mirrors, an eight-way power driver's seat, a four-way powered front passenger's seat, heated front seats, Adaptive Cruise Control (ACC), Forward Collision Warning (FCW), Collision Mitigation Braking System (CMBS), Lane Departure Warning (LDW), Lane Keeping Assist (LKAS), Road Departure Mitigation (RDM), tire pressure monitoring with tire fill assist, and more.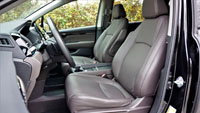 All of the Odyssey's advanced driver assistance systems technology, as well as its many additional active and passive safety features, plus its Next-Generation Advanced Compatibility Engineering (ACE) body structure, allow for a Top Safety Pick rating from the IIHS when including its optional headlights, the only other minivan to achieve this coveted rating being Chrysler's Pacifica, so kudos to Honda for putting safety first in this family-oriented class. 
Your clan in mind, the Odyssey gets eight-occupant seating standard as well, and I must say its second and third row seats are some of the most comfortable in the segment. The former row can't be had with captain's chairs as offered with some others, yet each side slides back and forth individually and the centre position can be folded forward, exposing a console-style combination of cupholders and tray. The outside positions slide forward and out of the way for easy third-row access too.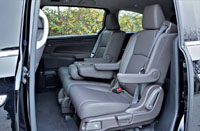 This said they're not as flexible for cargo as the second-row in the Pacifica or Grand Caravan that tumble completely under the floor, the Odyssey's difficult to unlatch for removal and burdensome to carry, much like others in the category. The third row is split 60/40 and drops into the floor with one smooth motion per side, however, its stowing system one of the best in the business. By the numbers the base Odyssey provides 929 litres (32.8 cubic feet) of cargo space behind the third row, 2,526 litres (89.2 cu ft) behind the second row and 4,103 litres (144.9 cu ft) behind the first row, if you remove the middle row of seats.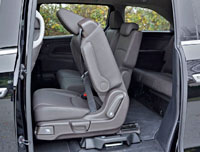 By comparison the Sedona delivers 960 litres (33.9 cu ft) of gear-toting space behind its third row, 2,220 litres (78.4 cu ft) behind its second row and 4,022 litres (142.0 cu ft) with the second row removed, whereas the Sienna offers 1,107 litres (39.1 cu ft) of luggage space in its rearmost compartment and 2,466 litres (87.1 cu ft) aft of its second row, the brand being honest about the challenge of second-row seat removal by not including a total volume figure behind the first row. 
How about those FCA vans? The Pacifica includes 915 litres (32.3 cu ft) behind its third row, 2,478 litres (87.5 cu ft) behind its second row and 3,979 litres (140.5 cu ft) of easily accessible cargo space behind its first row, while the Grand Caravan provides 934 litres (33.0 cu ft) behind its third row, 2,359 litres (88.3 cu ft) behind its second row and 4,072 litres (143.8 cu ft) when its Stow 'n Go seats are easily folded below its floorboard panels. To save you a little time with a calculator, suffice to say the Odyssey sits middle of the pack for stowage behind its rearmost seats, but it leads all behind its second row, and, well, let's leave ultimate cargo hauling to the FCA vans for now.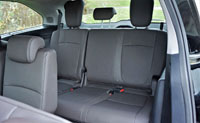 How about towing? The Odyssey is good for 1,360 kilos (3,000 lbs) of trailer weight in all trims but the top-line Touring, my tester being capable of 1,587 kilograms (3,500 lbs) with its available towing package. That's slightly lower than the best Grand Caravan and Pacifica trailering results of 1,633 kg (3,600 lbs), and identical to the Sienna and Sedona's rating.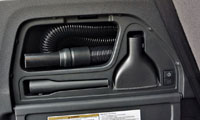 I don't usually comment much about minivan styling, but my tester's Crystal Black Pearl paint gave it a hearse-like presence that would've been brilliant during Halloween yet wasn't much to my personal taste. I'd prefer it in something less ominous like White Diamond Pearl, a $300 option yet well worth it. Honda offers a bevy of alternative metallic and pearl colours, all surprisingly standard, while only dealer-added accessories can be added to this Touring model, albeit plenty of them. 
This brings about the question of price, my 2019 Odyssey Touring starting and finishing at $50,690, plus freight and fees of course. Top-line versions of its non-hybrid competitors start at $46,245 for the Grand Caravan GT, $47,865 for the Sedona SXL+, $51,220 for the Sienna SE, and $53,745 for the Pacifica Limited, leaving the top-tier Odyssey looking like a pretty smart choice right in the middle.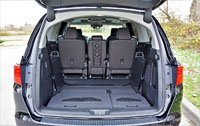 Of course, value isn't just about a vehicle's price even when comparing it purely on financials, because we need to include resale values when it comes time to trade-in or sell. Japanese brands in this class tend to do best on the used market, with domestics performing worst, while base prices start at $24,597 for the Grand Caravan's rather stark Canada Value Package, $28,495 for the entry Sedona, $34,690 for the Sienna, $34,745 for the Pacifica, and $35,290 for the Odyssey. I used the various manufacturer retail websites as well as CarCostCanada to verify each model's pricing, the latter an even more useful resource thanks to available rebate info and dealer invoice pricing that could save you thousands. 
After living with the new Odyssey for a week it was easier than ever to appreciate why it's become such a popular minivan, and if I were using it more for hauling people than cargo it would be my number one choice. Even with its less flexible second row the Odyssey's many other advantages, from performance to electronic interfaces, might push it into the lead. I certainly can recommend it.