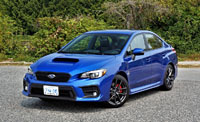 So what do you think? Can the case be made for a person actually opting for a regular WRX over a WRX STI that isn't price-related? After spending a week behind the wheel of a 2019 WRX Sport-tech RS I say absolutely, and my tester wasn't even fitted with its automatic transmission. 
Availability of the automatic is a key regular WRX differentiator when comparing it to the more potent STI, the latter only useful to those who know how to row through the gears of a manual shifter. This means that anyone using their WRX as daily, who wants a more convenient, relaxed drive when commuting, along with the legendary model's high level of performance, whether charging up serpentine mountainside roads amid weekend getaways or merely pushing the envelope through cloverleaf-style highway entrances and exits on their way to or home from work, can spend just $1,300 more to do so with all regular WRX trims, excepting this specific WRX Sport-tech RS, which is only available with said six-speed manual transmission.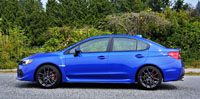 To clarify, you can get a 2019 WRX Sport-tech with an automatic, but the RS designation will need to be swapped out for EyeSight. It's not as if Subaru brands the car with RS or EyeSight anyway, other than via the roof-height all-seeing-eyes behind its windshield, plus on its website and internal order sheet of course, and it also should be noted the Sport-tech EyeSight isn't identical to the Sport-tech RS, transmission choice aside, but each model's similarities should be close enough for those who want a compromise between pure performance and ease of daily use. 
Before deep diving into all that makes each trim unique, and by so doing listing RS and EyeSight features in comparison to other WRX trims, I'd like to detail out my particular Sport-tech RS test model. First off, I couldn't be happier with the Subaru Canada press communication team's choice of World Rally Blue Pearl as an exterior colour, which while identical to the Sport-tech RS I reviewed last year, at least almost, is still one of my favourites due to an eye-searing blue hue that is based in the Japanese brand's significant motorsport heritage, being very close to Subaru's World Rally Championship winning race team's livery.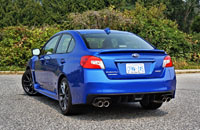 All good and well, but why would Subaru give me a seemingly identical WRX test car within a given year? That's simple: Subaru updated the 2019 model's centre-mounted infotainment display. A critically important feature in any new vehicle these days, the WRX touchscreen is now the same as in other updated models across the Subaru lineup (new 2020 Legacy and Outback aside), or in other words wholly improved with a totally redesigned graphic interface that's much better looking. For starters it features a bright, smartphone/tablet-style array of colourful digital buttons hovering within floating 3D tiles, on what I can only describe as a dark blue night sky-like background (complete with stars). I like the design and appreciated how fast the new interface responds to input, and while I no longer use an iPhone and therefore could not enjoy what appears like a much more appealing Apple CarPlay interface, iOS integration now comes standard on all WRX trims, as does Android Auto that worked very well with my Samsung S9, if not quite as graphically stimulating.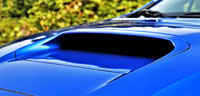 Sport-tech trim features a half-inch larger than base 7.0-inch display that once again bookends the screen with rows of touch-sensitive quick access buttons, including Home, Map and Apps on the left side and Info just above two sets of track-seeking arrows to the right side. Near-field communication (NFC) is also incorporated for faster phone connectivity (if your smartphone includes it), while other features include a Micro SD card slot, HD radio, navigation mapping and routing, a rearview camera with active guidelines, and more. I found it easier to use, plus the display's clarity and depth of colour was superb, matching the best on offer in the mainstream industry, and easily surpassing a number of competitive systems. 
Infotainment system aside, this WRX Sport-tech RS and its non-STI siblings move into 2019 unchanged, meaning they continue to show off last year's attractive styling enhancements, chassis upgrades, and additional refinements, as well as new safety features. Let me explain.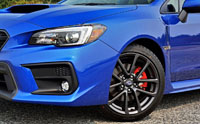 With respect to its outer design, Subaru refreshed the front grille and bumper of the WRX for 2018, as well as the interior door trim, while a new electroluminescent primary gauge package incorporated a nicely sorted new high-resolution colour TFT display. What's more, the 5.9-inch colour multi-information display atop the dash received new graphical updates too, which look really attractive. This performance-oriented interface, with placement and functions that hark back to ancillary analogue turbo, temp and oil pressure gauges of the past, is totally unique to the segment too, and adds that bespoke allure to the WRX that can't be found in competitors' sports models. 
Additionally, passengers in back received a new flip-down centre armrest with integrated cupholders last year, while all occupants still benefit from lower noise, vibration and harshness levels, aiding audio system enjoyment as well as more easily understood conversations. Lastly, a retuned suspension provided improvements to ride quality, while a stronger battery strengthened the electrical system.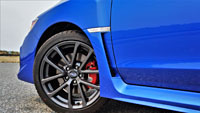 Back to styling, I like what Subaru has done with the grille, particularly its blackened borders and black mesh insert, but the racing-spec-style multi-component lower front fascia with its matte black centre vent looks even better, as do the bigger, squarer, matte black fog light bezels to each side, while the four twinned five-spoke gunmetal grey-painted cast aluminum alloy wheels on 245/40 Dunlop SP Sport Maxx RT performance rubber are stunning, these encircled by sporty red brake calipers that are as racy as this class gets. Of note, base and Sport models come fitted with grey 15-spoke 17-inch alloys on the same tires, albeit sized at 235/45. 
Everything already mentioned, together with all of the other features upgraded for 2018, such as the larger front hood scoop, reworked headlights, and rally car-inspired matte black rear diffuser integrating four chrome tailpipe finishers, as well as all items seemingly pulled up from the 2015-2017 model that preceded, including the coke-bottle fenders with open engine vents trimmed with cool chrome "WRX" garnishes, the subtle rear trunk lid spoiler (which I appreciate more than the STI's massive wing—the smaller lip spoiler can be had with the STI as well) and more, look sensational.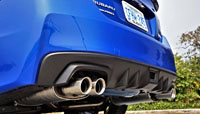 Also continuing forward into 2019, all regular WRX models feature Subaru's excellent 2.0-litre direct-injection twin-scroll turbocharged boxer four, producing a generous 268-horsepower and 258 lb-ft of torque. While still a fair ways from the STI's 310 horsepower and 290 lb-ft of torque, the regular WRX mill is still very strong in its class, especially when factoring in that the car starts at just $29,995 plus destination and fees, or $38,995 in as-tested Sport-tech RS trim, which is considerably more affordable than the STI's $41,995 base price, or that model's more directly comparable STI Sport-tech that hits the road at $47,295. It's also important to factor in that the majority of similarly priced competitors don't provide the same levels of performance, which we should also consider includes Subaru's standard Symmetrical-AWD, aiding all types of driving in Canada's ever-cooling, and seemingly much longer winters, so the WRX makes a strong case to Canadian sports car fans, even if it is more of a sport sedan.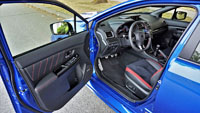 As mentioned above, a six-speed manual comes standard, but take note the optional automatic is actually a CVT (Continuously Variable Transmission), normally nothing to brag about amongst performance enthusiasts. Still, continuously variable transmissions have improved a lot over the years, and the WRX' Sport Lineartronic version is actually very good thanks to an engaging set of steering wheel paddle shifters that actuate both six- and eight-speed manual modes, plus Subaru Intelligent Drive (SI-DRIVE). I realize that it might be difficult for some to accept the inclusion of a CVT in the WRX, but after experiencing this drivetrain two years ago I was surprised in all the right ways. Of course, I personally wouldn't choose the autobox route, but then again I wouldn't cut anyone to the core for doing so either.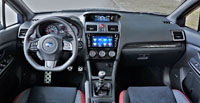 With respect to the as-tested manual transmission, it received a redesigned shift lever, improved shifting feel, and refined clutch feel as part of the 2018 redesign, with the result being a shifter that's still smooth and accurate, and a clutch that's nicely weighted with ideal take-up, plus is more responsive without any grabby side effects. 
On that note there's zero change in straight-line performance from the identically powered 2018 car, with the manual model still claiming a 5.4-second sprint from standstill to 100km/h, and the CVT remaining respectable at 5.9 seconds for the same feat. Of course neither will get an STI owner excited, but nevertheless I thoroughly enjoyed my week with the car, happy with its power off the line and rapidity up to highway speeds (and a little beyond). On that note, CVT owners can boast about a higher 240-km/h top-speed over the manually equipped car, which can only manage 232 km/h due to a shorter final gear.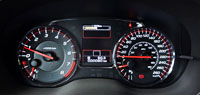 As stated in my 2018 WRX Sport-tech RS review, the modifications made were mostly focused on refinements, including better steering feel and a more comfortable, compliant ride that doesn't compromise at-the-limit road-holding. Truly, I could have cared less about ride quality when I was younger, even driving a raised Jeep CJ-5 on big knobby tires (and massive Alpine speakers hanging off the roll bar) at one point (the fabric roof was rarely attached during the summer), but as I age, like so many WRX owners have, comfort matters more. As it is, the new and improved WRX was a joy during daily jaunts around the city, where I end up driving most of the time, but then again when I took the opportunity to push it to its limits on a few favourite back roads it was every bit the super sedan I've enjoyed on multiple occasions over the years. In fact, I'd say it's even better, because its more compliant suspension, which still remains quite firmly sprung compared to most others in this class, and fully independent, of course, allowed better control over rough patches of pavement that probably would have unsettled the more rigid previous generation.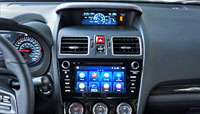 An area of weakness is fuel economy, which might be surprising to those who choose the WRX for its compact size and supposed four-cylinder efficiency. While an improvement over the STI's official rating of 14.3 L/100km in the city, 10.7 on the highway and 12.7 combined, the regular WRX is still a bit voracious at 12.6 L/100km city, 9.6 highway and 11.2 combined with its standard manual transmission, or 11.3 city, 8.5 highway and 10.0 combined with the optional CVT. You won't have to look very hard to find a more formidable competitor with thriftier economy, so Subaru will likely want to address this issue when it updates the 2.0-litre boxer at some point in the future.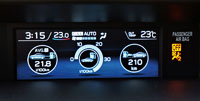 I suppose I should ask if you really care about fuel efficiency. I imagine those in Vancouver, who were recently paying upwards of $1.85 per litre for 91-octane unleaded (the recommended fuel) might be more averse, but WRX owners in Edmonton, Alberta, who were only paying $1.30 or so for the same litre of mid-grade gas, might not give a rat's butt. 
Either way the WRX remains practical, with seating for up to five in relative comfort, plus a sizeable enough trunk, when compared to most sports cars at least, which measures 340 litres (12.0 cubic feet), and benefits from 60/40-split rear seatback expandability. That trunk might also matter more to those who live in more crime-ridden Canadian cities, as it provides better security than a hatchback, which is more often than not the body style of choice in this class. 
Speaking of competitors, the WRX' cabin quality once again impressed. The instrument panel is mostly comprised of a premium soft-touch synthetic material, even stretching across the entire dash top and downward to the halfway point of the centre stack, while all door uppers are comfortably padded too, front to back. Likewise, Subaru adds nice quilted leatherette door inserts with red stitching, and soft, elbow-friendly armrests with the same rosy thread.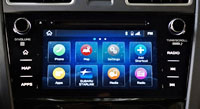 The WRX' contrast stitching brings up an important point about taste. Subaru, in its experience and wisdom in this category, and understanding that its WRX is now targeting a wider spectrum of age groups than ever, kept its splashes of red interior highlights to a tasteful minimum, making for an attractively sporty cabin design that's not overly garish. This is in sharp contrast to some rivals, such as Honda's Civic Type R, which is a brilliant performance car, but hard on the eyes. As it is, the red thread in the WRX Sport-tech RS also adorns the door inserts, leather-wrapped steering wheel, shifter boot, and the side bolsters of each seat, which are also trimmed in a thick strip of crimson leather, this nicely contrasting the rest of the seats' black leather and suede-like microfibre upholstery. Additionally, Subaru adds a great looking horseshoe-shaped ring of red piping around the mid-portion of the seats, which frame white-embroidered "RECARO" logos, the latter perfectly matching yet more red piping on the headrests above. Finishing things off is an instrument panel inlay that does a good job of mimicking carbon fibre.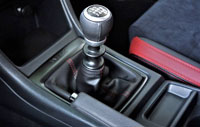 Of course, other than with the STI the interior just outlined is specifically for my tester's Sport-tech RS (and one special edition) trim, while a variety of additional WRX models are worthy of your investigation too. Together with the aforementioned $29,998 base trim, as well as the $39,095 Sport-tech EyeSight noted earlier, you can also consider Sport trim at $33,195, and this Sport-tech model without the $2,300 RS upgrade for just $36,495. 
What's more, a new $40,995 雷雨 Raiu Edition joined the fray for 2019, painted in a self proclaimed Cool Grey Khaki hue that I happen to love. It boasts a number of STI-style exterior styling upgrades including a sportier front lip spoiler, wider side skirts, and the gigantic rear deck lid wing spoiler, as well as a sizeable set of 19-inch alloy wheels framing the STI's yellow-painted Brembo six-pot front and two-pot rear brake calipers over ventilated and cross-drilled discs. The 雷雨 Raiu Edition also includes the Subaru Rear/Side Vehicle Detection System (SRVD) as standard, which features blindspot monitoring with rear cross-traffic alert and lane change assist, while it also comes with a powered glass sunroof, a 10-way power-adjustable driver's seat with powered lumbar support, and racy red seatbelts adorning the Ultrasuede seats noted a moment ago.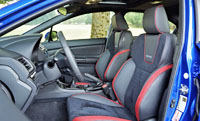 By the way, all the 2019 WRX trim, package and option pricing used in this review was sourced from CarCostCanada, where you'll also find information about available manufacturer rebates and otherwise difficult to find dealer invoice pricing that could save you thousands. 
Back to the WRX Sport-tech RS, it features stronger Jurid brake pads that bite down on the standard 316 mm front and 286 mm rear discs via those red brake calipers mentioned a moment ago, while inside the cabin you'll get the ultra-luxe black and red partial-leather and microsuede upholstery also noted. The driver's seat is just eight-way powered, but as mentioned it's a much more inherently supportive Recaro sport seat, as is the front passenger's, so most won't complain. I certainly didn't, finding it fabulously comfortable and wholly supportive, especially when pushing the WRX through fast-paced corners.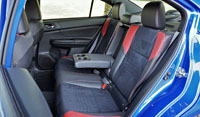 Along with everything already mentioned, Sport-tech trim adds proximity keyless entry with pushbutton start/stop, the bigger 7.0-inch central touchscreen featuring the upgraded interface mentioned earlier, as well as Subaru's StarLink app, additional apps like Yelp, Best Parking, Glympse, SiriusXM Traffic and Travel Link with weather, sports and stock market information, great sounding 320-watt nine-speaker Harman/Kardon audio, and dual USB inputs. 
Features included with my Sport-tech RS tester that can also be found in Sport trim include wiper-integrated auto on-off LED headlamps with new steering-responsive cornering capability, LED fog lights, LED turn signals within the side mirrors, welcome lighting, the smaller rear deck lid spoiler mentioned before, plus the previously noted powered moonroof and SRVD blindspot safety system.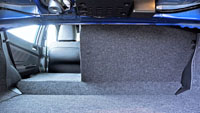 Finally, 2019 WRX base trim items found with my Sport-tech RS included a high-performance quad-tipped exhaust system, integrated roof rack brackets, a windshield wiper de-icer, a really sporty leather-clad and red-stitched multifunction flat-bottom steering wheel, auto climate control, heated front seats, StarLink smartphone integration (including Aha radio), a reverse camera, an AM/FM/CD/MP3/WMA/satellite radio, Bluetooth phone connectivity with streaming audio, an aux connection, USB ports, voice activation, etcetera. 
Being that the Sport-tech RS model comes standard with a manual, it doesn't get Subaru's EyeSight suite of advanced driver assistive systems, but I should still go over everything featured with the EyeSight upgrade, such as auto high beams, adaptive cruise control, lead vehicle start alert, pre-collision braking, pre-collision brake assist, pre-collision throttle management, reverse automatic braking, lane departure warning, lane sway warning, and lane keeping assist.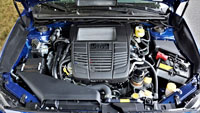 When equipped with all of the above the WRX achieves a best-possible IIHS Top Safety Pick + rating, and believe me the "+" portion of this commendation is very hard to get in the WRX' small car class, only shared with three rival mainstream volume brands, none being a direct competitor to this go-fast Subie. I was even more impressed to find out that four Subaru models earn this IIHS Top Safety Pick + rating within the WRX small car category, which is a better result than any other brand. 
Also notable, Subaru has more vehicles receiving the top-most IIHS "+" rating than any competitor, completely topping the mid-size class, and represented in every segment it compete in, BRZ aside (a car it designed and builds with Toyota), resulting in eight total models. Speaking of Toyota, how does it fare? Only two of Toyota's namesake models are rated as highly, while Honda had just had one, and Nissan didn't have any models achieving safest IIHS status. This impressive safety claim is therefore as good as it gets, especially when combined with the all-weather safety of Subaru's standard Symmetrical all-wheel drive. 
I'm not going to end this review by claiming a score of 10-out-of-10 for Subaru's WRX, particularly due to its fuel economy, but suffice to say it's impressive in most every other way, and as suitable to daily driving as it is for cleaning up at weekend autocross events or those wonderfully memorable days on the track. Of course, you'll need to pray a WRX STI doesn't show up, but for those on more of a budget, or city slicker who'd rather not shift for themselves, the regular WRX is an excellent choice, particularly when dressed up in Sport-tech RS trim.