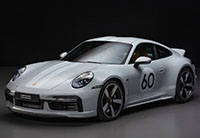 Ah, nostalgia. There comes a point in life when the "good old days" can seem more appealing to some than the unending fast-paced changes occurring in today's world. Certainly, some things get better, like Porsche's 911, but many of Canada's more mature citizens would no doubt love to transport themselves back to "better times".
That's what Porsche is attempting to do, at least emotively, with the fabulous new 911 Sport Classic, which only recently debuted. It's a retrospective look back to the past that, while pulling design cues from the '70s, particularly the ducktail spoiler at back, remains a 100-percent functional and reliable modern-day 911; a best of both world's scenario for those whose hearts long for exhilarating Saturday drives behind the wheel of their 1973 911 RS, but wallets may not want to invest so much into a car.
Sadly, if you don't already own an early 911 Carrera 2.7 RS, prices for pristine examples have soared past seven figures (the DuPont Registry has one on sale now for $919,000 USD or $1.2 million CAD), making the much more approachable sum of $235,600 CAD for today's 911 Turbo S seem like a bargain, or alternatively, whatever Porsche finally settles on for the new 911 Sport Classic.
Near 911 Turbo power with a manual gearbox and rear-wheel drive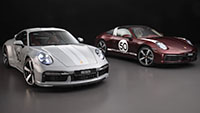 That price has yet to be announced, but it will likely be higher than the window sticker of today's 911 Turbo S. After all, under the Sport Classic's skin is a one-of-a-kind rear-wheel drive Porsche Turbo S, which kind of makes it a forerunner to a future 992-based GT2. Until that supercar arrives, this is the only way you're getting a new 911 Turbo with rear-wheel drive, let alone one with a seven-speed manual transmission.
Today's 911 Turbo and Turbo S are only available with Porsche Traction Management (PTM) all-wheel drive and the brand's brilliant eight-speed Doppelkupplung (PDK) dual-clutch gearbox, so while the new Sport Classic's acceleration time might not quite measure up to the regular Turbo S' all-wheel traction and quicker shifting PDK, these technologies aiding its blisteringly quick 2.7-second sprint from standstill to 100 km/h and harrowing top speed of 330 km/h (205 mph), purists anteing up for this drive back to yesteryear would only be satisfied with a manually-actuated rear driver.
This said, the Turbo S' 641 horsepower 3.8-litre twin-turbocharged horizontally opposed six, featuring 590 lb-ft of torque, is not part of the package, instead replaced by the regular Turbo's 3.7-litre mill, normally good for a 2.8-second zero to 100 km/h acceleration time, albeit further detuned from 572 horsepower and 553 lb-ft of torque to 543 horsepower and 442 lb-ft. The revised engine mapping was necessary to make the engine more compatible with the manual gearbox, but once again, purists won't complain. After all, this new rear-drive retro-rod is more potent than the sensational 502-horsepower 911 GT3.
Turbo S wide-body and underpinnings makes for muscular styling and superior handling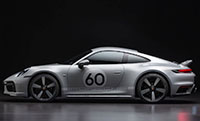 So, if the Sport Classic utilizes a detuned version of the regular 911 Turbo's 3.7-litre engine, why say it's based on a Turbo S? Porsche's reference has more to do with its wide-body layout that also includes upgraded brakes, wheels, tires, and suspension enhancements. Porsche Ceramic Composite Brakes (PCCB) with subtly painted black calipers are framed by a stunning set of staggered 20- and 21-inch 911 Sport Classic wheels on 255/35 ZR20 and 315/30 ZR21 performance tires front to rear, the former being "a modern re-interpretation of the Fuchs design," says Porsche.
Also notable is the Porsche Active Suspension Management (PASM) Sport suspension upgrade with 10 millimetres (0.4 in) of overall height reduction, while the front axle spring rates have been decreased slightly to adjust for the lower frontal mass of the missing all-wheel drivetrain.
Hidden within, yet no doubt noticeable when taking the wheel, is Porsche Dynamic Chassis Control (PDCC) and Rear Axle Steering as standard equipment, plus, of course, Porsche's revered Sport Chrono Package, while the engine note should make a special tune derived by a uniquely modified Sport Exhaust system.
Fast yes, but the 911 Sport Classic is just as much about style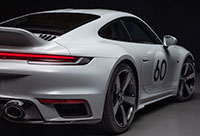 As sensational as this car is mechanically, being the most powerful Porsche currently available with a manual transmission and rear-wheel drive, for many the initial attraction will be styling. To that end the new Sport Classic pulls on design cues initialized by the beautiful 911 Targa 4S Heritage Design Edition that we covered in June of 2020, but where the open-top model's gorgeous Cherry Metallic paintwork gave it a classier appearance, the new coupe's Sport Grey Metallic paint, and painted contrasting stripes in light Sport Grey, have a more purposeful, performance-first look.
Both cars are from Porsche's "Heritage Design" series, and both go a long way to pull on the heartstrings of mature Porschephiles that may have either owned a '60s- or '70s-era 911 in their earlier life, or more likely were the benefactors of a father or uncle that did. Many more merely saw similarly sporting 911s driving by on occasion, or drooled over centerfold spreads of those cars in glossy magazines like Motor Trend or Car and Driver. The new Sport Classic is now capable of fulfilling that once magical childhood dream, albeit with a level of performance never even contemplated back in such innocent days.
Unique styling upgrades join other design details that are purposefully missing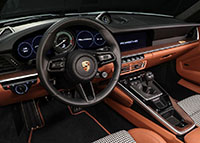 Minus the painted centre stripes, which actually bisect a carbon-fibre hood that's unique to Turbo models, as well as a special "double-bubble" roof panel, and less the decaled white lollipop (that can be numbered from 1 to 99 at no additional cost), plus the striped "PORSCHE" lettering down each rocker panel, which, like the lollipop, is a decal that can be removed by a customer/dealer if desired, the new Sport Classic is also reminiscent of the 911 Sport Classic that Porsche built for 2010, a particularly attractive design that won the hearts of enthusiasts a dozen years ago.
The Sport Classic should be noted for what it doesn't include too. The wider rear wing from the Turbo/Turbo S' is the most obvious, replaced by the stubbier ducktail spoiler noted earlier, the latter seeming as if it's an extension of the more common car's wing pedestal. The ovoid intakes normally found ahead of each rear fender flair aren't included either, providing a cleaner, more classic look. These important cooling ducts are now integrated below the ducktail spoiler, just above two large circular tailpipes poking out the rear bumper, these replacing the Turbo/Turbo S' quad of rectangular exhaust tips.
At least as complex, Porsche not only had to retool its 911 assembly line to create the rear quarter panels in order to remove the cooling vents, but the bottom edge of these panels is entirely different from the Turbo/Turbo S models too, as is this lower section on the front quarter panels (aft of the front wheels), the rocker panels and those on the rear quarters.
Standard Sport Classic interior adds 1970s flair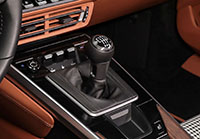 The Sport Classic continues its retrospective theme inside, where "Pepita" checkered fabric seat centres and door panels are joined by black and Classic Cognac semi-aniline leather (the latter also used in the fabulous 918 Spyder supercar), although those wanting a bit less of yesteryear can choose optional single-tone black leather (yawn). Leather also covers the sun visors, steering wheel rim and even the steering column, not to mention the air vent slats, while perforated Race-Tex fabric is used for the headliner plus the A-, B- and C-Pillars, aiding visual, tactile and auditory refinement.
Ahead of the driver, the mostly digital gauge cluster gets cool green-backlit dials, also from Porsche's past, but the Porsche Communications Management (PCM) system is 100-percent modern in look and internal execution, which is a positive considering this car is meant more for high-speed cruising than racetrack activities.
Limited edition Sport Classic available in Canada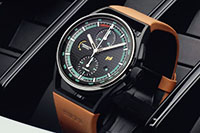 With only 1,250 units available worldwide, it might be difficult to get one's hands on this limited edition 911. Still, it wouldn't hurt to ask your local dealer, who just might have allocated an unspoken-for example (the markets have taken their toll in recent weeks, so you never know if someone cancelled).
And on that note, it was nice of Porsche to include North America for this iteration of its Heritage Design line, being that the aforementioned 911 Targa 4S Heritage Design Edition was not offered on this side of the Atlantic.
The new Porsche 911 Sport Classic (3:17):

Story credits: Trevor Hofmann
Photo credits: Porsche