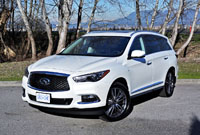 Few premium models mimic their mainstream volume branded donor platforms so closely as the QX60 does with the Nissan Pathfinder, and by that I'm not talking about exterior styling. Actually, Infiniti does a pretty good job of separating the two at birth. The QX60 gets Infiniti's trademark grille and snake eyes-like LED headlamps up front, plus its squiggly rear quarter window design, and its thinner, narrower wrap-around LED tail lamps, whereas the Pathfinder certainly looks more traditional SUV-like since its 2017 refresh. 
No, the most noticeable similarities are found inside, where the two SUVs are similar in design, layout, and general goodness. See how I did that? You probably thought I was going to say something negative, and while I'd like to see more differentiation between QX60 and Pathfinder cabins, they're both very good at delivering what people want and need, the QX60 merely stepping things up when it comes to the quality and choice of materials, plus other refinements.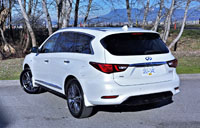 For instance, the QX60 dash top, instrument panel, glove box lid, lower console sides, and front door panels (from top to bottom) are made from high-quality soft-touch synthetics, whereas the Pathfinder leads its class for hard plastics, covering all of these areas except (strangely) for the front door panels that also get the pliable composite treatment all over. The QX60 takes these refinements into the back too, providing soft-touch rear door uppers, while hard shell plastic covers the Pathfinder's inner doors. Infiniti even goes so far as to wrap all roof pillars in padded cloth, whereas Nissan doesn't even cover the front pillars, like some close competitors do.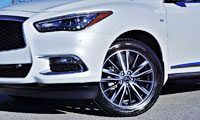 Of course, Infiniti adds some more obvious upgrades to the QX60 as well, such as real maple hardwood replacing the fake stuff, a higher grade of leather with intricate hourglass quilting on the seat inserts and contrasting piping around the edges, at least in my top line Sensory trimmed example, but the dated electronics are pretty well the same except for some digital branding, the primary gauge clusters identical except for Infiniti's classic purple colouring inside the dials, plus the serrated metallic rims around their edges, this colour treatment carried over to the centre display as well, which incidentally is devoid of Apple CarPlay and Android Auto smartphone integration, and while the buttons, knobs and switches that control these interfaces (and everything else) are mostly unique and nicer all-round, they're laid out in more or less the same fashion.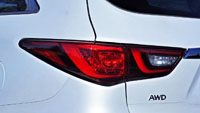 Along with the rich hardwood and sumptuous leather upgrades, the $4,200 Sensory package adds three-way forced ventilation to the already heatable front seats, while the second-row outboard positions are now heated, and the third row gets a powered return to make loading cargo easier, while accessing the rear luggage area is more convenient thanks to a motion activated power liftgate. Back inside, everyone can enjoy the open airiness of a powered panoramic sunroof overhead, complete with powered sunshades, not to mention a 15-speaker surround-sound Bose audio system upgrade complete with 5.1-channel digital decoding, while they can also appreciate the Advanced Climate Control System (ACCS) that includes auto-recirculation, a plasmacluster air purifier and grape polyphenol filter. Last but not least, the Sensory package improves the QX60's styling and handling with unique 15-spoke 20-inch alloy wheels on 235/55 all-season tires.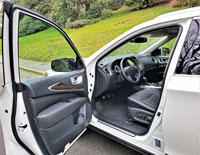 Prerequisites for the new Sensory package are the equally new $5,000 Essential and $4,800 ProActive packages, the first including remote engine start, entry/exit assist for the driver's seat and steering wheel, rain-sensing wipers, reverse tilt-down side mirrors, two-way power lumbar support for the driver's seat, two-way driver's memory with an Enhanced Intelligent Key, a 13-speaker Bose audio system, leather upholstery, Infiniti InTouch infotainment with navigation, lane guidance, and 3D building graphics, voice recognition, an Around View parking monitor with Moving Object Detection, front and rear parking sensors, SiriusXM Traffic, and more. 
The ProActive package adds auto-dimming side mirrors, high beam assist, full-speed range adaptive cruise control, distance control assist, active trace control, Lane Departure Warning (LDW) and Lane Departure Prevention (LDP), Blind Spot Intervention, backup collision intervention, front pre-crash seatbelts, and Infiniti's exclusive Eco Pedal.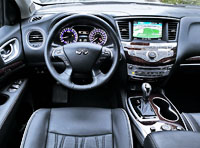 All of this highfalutin gear gets added to a QX60 that's already well equipped in renamed base Pure form, and competitively priced at $48,695, thanks to features such as auto on/off LED headlamps, LED daytime running lights, LED fog lamps, LED taillights, roof rails, power-folding side mirrors with integrated turn signals, proximity-sensing keyless access, pushbutton ignition, a heatable leather-wrapped steering wheel, a powered tilt and telescopic steering column, an eight-way power driver's seat, a six-way power front passenger's seat, an auto-dimming centre mirror, a HomeLink universal garage door opener, a (regular sized) powered moonroof, micro-filtered tri-zone automatic climate control, an 8.0-inch centre touchscreen with a backup camera, SMS/email display, satellite radio, three USB charging ports, a powered rear liftgate, Predictive Forward Collision Warning (PFCW), Forward Emergency Braking with Pedestrian Detection (PFEB), Blind Spot Warning (BSW), and more (see all 2019 and 2020 Infiniti QX60 pricing at CarCostCanada, with breakdowns of trims, packages and individual options, plus make sure to look for special manufacturer rebate info as well as dealer invoice prices that could save you thousands).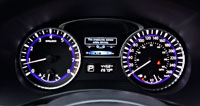 Some of these features are available with the Pathfinder, incidentally, so it's not like top-tier trims of the Nissan-badged utility are even remotely spartan, but Infiniti does go further as it should. Where it doesn't seem to need much differentiation to remain popular is in mechanicals, where the two SUVs utilize the same 3.5-litre V6 and continuously variable transmission incorporating authentic feeling stepped gear ratios. It's one of the best CVTs on the market, and perfectly suited to these models' comfort-first focus, although all-wheel drive is standard with the QX60, unlike the Pathfinder that offers more basic front-wheel drive trims as well.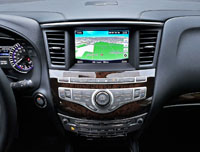 At 295 horsepower and 270 lb-ft of torque, the QX60's direct-injection infused V6 also provides 11 more ponies and an identical 11 lb-ft of additional twist over the Pathfinder's version of the engine, which makes for a bit more energy off the line and when passing on the highway, plus Infiniti massages the CVT with a manual mode in order to extract the most performance from those just-noted stepped gears, not to mention default (a best of all worlds compromise), Sport (that makes adjustments to the engine and transmission to enhance performance), Eco (that adjusts engine and transmission responses to improve fuel economy), and Snow (that controls engine output to reduce wheel spin) driving modes, whereas the Pathfinder pays respect to its more rugged styling by including an "i-4×4" selection on its rotating drive mode selector, this denoting Nissan's Intelligent 4WD system lets you choose between 2WD, AUTO, and LOCK, the latter for getting out of deep snow, mud, sand, or other types of slippery situations. Nissan's combination of drive settings is probably best off-road, not to mention its 7.0 inches of ground clearance versus 6.5, but Infiniti's setup is automated more for slippery conditions and optimized further for pavement, which is where you're more likely to be driving 99.9-percent of the time.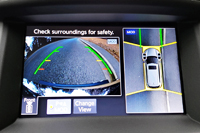 How do these differences affect fuel economy? The QX60 does very well with a claimed Transport Canada rating of 12.5 L/100km in the city, 9.0 on the highway and 10.9 combined, whereas a fully loaded AWD-equipped Pathfinder is good for an estimated 12.4 city, 9.2 highway and 11.0 combined; more or less the same.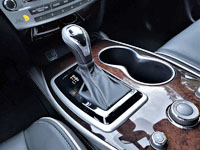 The QX60 also rides on an identical fully independent suspension made up of front struts and a multi-link design in the rear, plus stabilizer bars and coil springs at both ends, but sameness aside it feels more substantive than its lower-priced alternative. It probably comes down to some of the aforementioned soft-touch surfaces quelling noise, vibration, and harshness levels, not that the Pathfinder I recently tested was particularly harsh. Additional sound deadening materials used where the eyes can't see no doubt play a part as well, but whatever Infiniti did, the QX60 feels more upscale, effectively shielding occupants from the world outside. 
This makes its ride feel smoother and more comfortable too, and it very well could be due to suspension tuning, but if there's a difference it's very minor. Both are excellent when it comes to coddling occupants in suspension nirvana, no matter the road conditions, while the two SUVs are pretty decent at managing high-speed corners too, as long as you don't get overzealous in your need to travel from A to B quickly.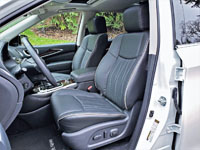 A feature I would've liked to see Infiniti address more completely is lumbar support, the QX60's two-way powered system identical to the Pathfinder's, and not good enough for the luxury sector. They should have at least made a four-way system optional, because as it is you'll either get sufficient pressure exactly where you need it on your lower back or not, the latter being the case for my five-foot-eight frame and particular pain. A four-way system allows upward and downward movement in order to satisfy all body types and conditions.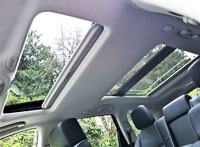 Other than this the driver's seat is quite comfortable and should be large enough for most peoples' requirements, while second-row seating is very accommodating thanks to plenty of room from side-to-side and the ability to slide each 60/40-split portion fore and aft as needed, plus a comfortable armrest with integrated cupholders in the middle. The third row isn't the largest or smallest in the class, yet should be sufficient for all but large teens and adults. Better than size, access to that third row comes via Nissan/Infiniti's innovative seat folding mechanism that lets you keep a child safety seat installed (without the child strapped in) while sliding it out of the way.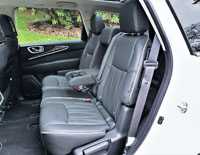 Speaking of this, the QX60 could use more child seat latches, particularly in the third row, but on the positive Nissan/Infiniti's Rear Door Alert system is brilliant. It uses door sequence logic along with an instrument-panel message alert, plus multiple horn honks to remind its driver to check the rear seating area after parking and turning off the ignition. This is an important step towards eliminating child and pet injuries/death after being left behind to suffer in the summer heat of parked cars.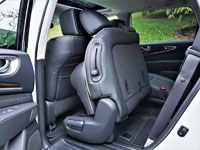 Cargo volume is good, with 447 litres (15.8 cubic feet) available behind the third row, this space made yet more functional thanks to a hidden compartment below the load floor that also houses a removable Bose subwoofer, while up to 1,155 litres (40.8 cubic feet) of gear-toting space can be created by dropping that 50/50-split third row downward via powered switches mounted on each cargo wall. Finally, the 60/40-split second-row seatbacks flip down completely flat via manual levers on their sides, providing a sizeable 2,166 litres (76.5 cubic feet) of maximum cargo volume. Some rivals offer automated second-row seats too, but this setup works well enough and the space provided is very generous. 
In the end the QX60 is showing its age, but being a bit older doesn't necessarily mean it's outdated. Yes, its instrument panel electronics could use a refresher and I'd like to see more visual separation from the lesser Pathfinder, but it looks good inside and out, is finished in high-quality materials, drives well, and offers seven-passenger luxury SUV buyers a lot of practicality for a very good price. This 2019 model is no different than the 2020 version arriving now, other than its previously noted packages transforming into four trim levels, plus a number of new option packages.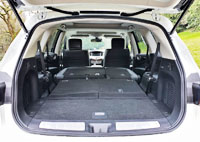 A complete redesign isn't far away, however, said to be arriving next year as a 2021 model, but if you can't wait that long this 2019 model, or the new 2020 version, are good choices that drive a hard bargain in the mid-size luxury SUV class, although I expect the upcoming 2021 QX60 to be improved enough not to need a discount.