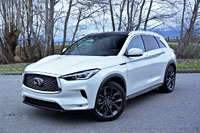 The QX50 always provided strong performance and a nicely finished interior, at least comparative to its peers in its earlier years, but its outward design never stirred my senses. Not so for the completely redesigned 2019 QX50, however, as styling is now its number one asset, critical for making a good first impression. 
It seems like I'm not alone in my thinking, because year-over-year Canadian QX50 sales growth is already up 59 percent as of December 31, and it only arrived partway through 2018, while during the first two months of 2019 the new Infiniti found 113.7-percent more buyers than the previous generation lured in for January and February last year. 
Most should find this ground-up second-generation redesign pleasant to the eyes, thanks to a particularly eye-catching version of Infiniti's double-arch grille situated under a long, elegantly shaped hood, and bookended by sharp, animal-like LED headlamps. It all hovers over a clean and sporty lower fascia that nicely ties the frontal design together for an overall design that should cause many more would-be buyers to pay attention.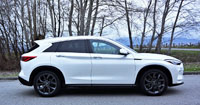 Likewise, there's plenty of muscular sculpting to the side panels, these passing by a handsome chromed engine vent garnish on each upper front fender, plenty of additional chrome trim around the side windows, the rearmost of which curves with the brand's distinctive reverse kink, while at back it's equally attractive, particularly at the LED taillights, while, depending on trim, a variety of 19- to 20-inch alloys finish off the look.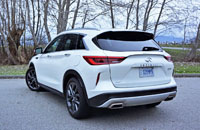 As visually appealing as the new QX50 is, Canadian SUV buyers need a generous cargo hold of practicality to keep their attention, not to mention premium levels of interior build quality, the latest electronic interfaces, and, of course, performance that matches or exceeds the best in this class. To that end, the new QX50 mostly delivers. 
As noted a moment ago, performance made the previous QX50 stand out, particularly its rear-wheel drive-biased handling, although the compact luxury crossover's standard 3.7-litre V6, advanced seven-speed automatic, and Intelligent all-wheel drive were nothing to sneeze at either. And just how the new model's exterior styling changes everything about the way the new QX50 looks, it is now powered by a comparatively tiny 2.0-litre turbocharged four-cylinder engine, uses a continuously variable transmission (CVT) to send torque to all four wheels, and rolls on a new front-wheel drive-based chassis, or in other words the new SUV is completely different than the outgoing model, down to its very core.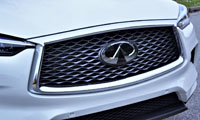 The move from rear-wheel to front-wheel drive platform architectures is nothing new in this class due to interior packaging improvements with the latter, especially when it comes to rear seating and cargo capacity, but how does it impact the way the QX50 drives? On the positive, the new QX50 now provides a more comfortable ride. It floats smoothly over rough patches of pavement, bridge expansions, and other types of road irregularities, while it also benefits from a quieter cabin, partially due to using active engine mounts ahead of the seemingly better insulated firewall and an acoustic windshield plus acoustic side glass. The result is a more refined experience overall, which should bode well for meeting the wants and needs of most premium buyers, but then again those who previously chose the QX50 for its road-holding prowess may be a tad disappointed.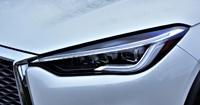 Let's face it. The old 2008–2017 QX50 (and prior EX35) was based on the old G35/G37 (Q50) sport sedan, and it felt like it, whereas the latest version rides on the Nissan Altima and Murano's front-wheel drive-biased platform architecture, which while sporting a fully independent front strut and rear multi-link suspension design, plus standard Active Trace Control which autonomously increases brake pressure mid-corner to maintain a given lane, doesn't provide enough help to turn this comfortable family hauler into a canyon carver. 
In a nutshell the new QX50 is a bit less planted to the road at highway speeds, especially when pushing hard through corners with broken pavement, and doesn't achieve the same level of confidence on the open freeway either. This is the trade-off when choosing a front-biased layout, and while Infiniti has gone far to exorcise as many understeering demons from within, there was no way they could've make it feel as hooked up as the outgoing version. 
This said the new variable compression turbo engine is brilliant. It provides more immediate power from its small displacement than the majority of rivals' base engines, despite measuring an identical 2.0 litres. How much more? Try 268 horsepower and 280 lb-ft of torque delivered to all four wheels, resulting in quite a bit more output than its entry-level compact luxury SUV market segment's peers.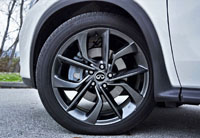 The top seller is now Mercedes-Benz' GLC, which only provides 241 horsepower and 273 lb-ft of torque, while the second-place Audi Q5 is good for just 248 hp and 273 lb-ft (which are identical numbers to the Porsche Macan that uses the same engine). Likewise, the third-place BMW X3 is capable of 248 hp and 258 lb-ft of torque, while the QX50's mill is considerably more potent than Lexus' latest base NX that can only achieve 238 hp and 258 lb-ft, while Cadillac's fresh new XT4 is rated at a comparatively wimpy 237 hp and 258 lb-ft. All said the new QX50 isn't the quickest in the segment, with the recently revitalized Acura RDX capable of 272 hp and 280 lb-ft of torque, and Alfa Romeo's Stelvio leading the segment's base engine output with 280 hp and 306 lb-ft of torque (both are more fun to drive, too). Still, the Infiniti CUV's output is more than respectable. 
In fact, WardsAuto just included the VC-Turbo as on of this year's 10 Best Engines. The new engine design took Infiniti's engineering department a full four years to develop, and features special connecting rods between its pistons and crankshaft that vary the compression of the fuel and air mixture, with less increasing power output when called upon, and more improving fuel-efficiency under lighter loads such as when cruising and coasting.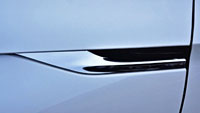 I know all this tech talk can be a bit dry, but I'm more concerned that I lost your interest earlier in this review when mentioning that Infiniti swapped out its seven-speed auto for a CVT, being that CVT is usual a three-letter acronym that correctly describes an economical and smooth yet dull and boring technology. Fortunately, however, along with tackling the problem of ever-increasing carbon tax-induced gasoline prices the new transmission is actually a strong performer. It utilizes a completely new shift-by-wire design that features manual shift mode, steering wheel paddles, Downshift Rev Matching (that blips the throttle to match a given gear ratio with engine revs), plus dual transmission fluid coolers, resulting in a fairly conventional feeling transmission.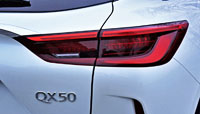 The CVT responds better than expected when flicking through its paddles too, and is plenty of fun to drive with Sport mode engaged. The VC-Turbo's power comes on quickly, but this is where the faux stepped-gear CVT doesn't quite measure up to its multi-speed automatic rivals, as it allows engine revs to remain too high for too long, thus interfering with performance, adding to noise, vibration and harshness levels, and ironically impinging on fuel-efficiency. 
If driven like most of us do when behind the wheel of a compact crossover SUV, however, it's a wonderfully smooth and refined transmission that combines a high level of day-in and day-out performance with claimed fuel economy that's 30 percent better than the outgoing model, now rated at 10.0 L/100km city, 7.8 highway and 9.0 combined, compared to 13.7 city, 9.8 highway and 11.9 combined.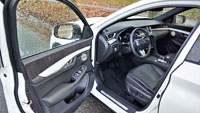 If you were to ask me for one key complaint, it's Infiniti's Eco Pedal that pushes rearward on the gas pedal (and therefore your right foot) in order to try and influence you not to press too hard. I find it terribly annoying, and therefore never turn Eco mode on when using an Infiniti vehicle, so therefore I end up losing out on all the other benefits that the brand's Eco mode provides, like the best possible fuel economy just noted. I'm guessing that I'm not alone, so Infiniti would do well to allow its owners to turn off the Eco Pedal when Eco mode is engaged.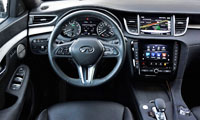 Those who don't mind its interference can choose that Eco mode, as well as all of the QX50's other drive settings from a "D-MODE" inscribed, metal-adorned rocker switch atop the lower console, just behind a totally new electronic shift lever design. Smaller and shorter, although well crafted from satin-silver aluminum and contrast-stitched leather, the new shifter provides a more normal gear selection process than some others in this class, particularly Acura and Lincoln that are obsessed with buttons. The only button Infiniti uses is a small black one with a "P" label for selecting park. 
Just above the shift lever on a separate lower console section is an elegantly stylish knurled metal infotainment controller surrounded by high-quality buttons, while a volume knob on the centre stack provides nearly the same level of luxury detailing. There's no shortage of aluminized metal trim throughout the rest of the cabin either, albeit tastefully applied so it's not overbearing, with personal favourites being the edges of each power window switch and the gorgeous geometrically drilled Bose speaker grilles.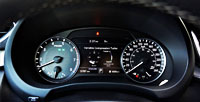 This brings up the quality and fitment of all buttons, knobs and switches, which are well damped, tightly fitted, and made from dense composites when not covered in metal, allowing the QX50 to meet the level of refinement delivered by the majority of its rivals, and exceed some. 
Additional niceties include beautiful open-pore natural maple hardwood inlays (a Sensory trim exclusive) and lush black ultrasuede (also exclusive to the Sensory), both used on the instrument panel, centre stack, lower console, front seat bolsters and door uppers front to back, while the two front and second set of roof pillars, plus the roofliner itself, were covered in the charcoal ultrasuede alone. Lastly, classy contrast-stitched leather was also generously applied throughout the interior, the QX50 Sensory's cabin truly a cut above.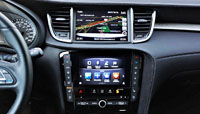 To be clear, the QX50 provides high-grade premium surfaces, along with nice metal and wood accents above the waist, even coating its glove box lid with soft-touch paint, but like many in this class Infiniti stops pampering at this mid-point, instead applying hard plastics to the lower dash, sides of the centre console, and lower door panels. It's a cost cutting measure for sure, but some will say the harder composite provides durability, weight savings and even recyclability, yet this is the luxury class, so therefore I think Infiniti should be doing more to measure up to leaders like the aforementioned BMW X3, which applies soft-touch to more surfaces. Still, the QX50 interior is much nicer than some other peers, and should impress most who step inside.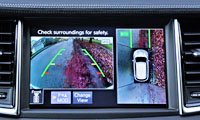 Of course, it's best in near top-line $56,490 Sensory trim, or when equipped with the more bespoke $57,990 Autograph model's upgrades. These two trims are mostly the same when it comes to features, but differ in the application of some interior colours and materials. For instance, both use luxury-grade semi-aniline leather upholstery, those sumptuous ultrasuede accents just noted, and real hardwood inlays, but the Sensory's colour theme is charcoal black and the Autograph is a two-tone blue and white motif, while its leather seats get a rich diamond-quilted pattern (in white) and its side bolsters are highlighted with blue piping. It's a look you'll adore, and therefore need to acquire, or not, and fortunately Infiniti makes it optional so it's only a dealmaker, not a deal-breaker. 
Other features found with both trims include two-way front passenger powered lumbar support, three-way cooled front seats, advanced climate control (with auto-recirculation, a Plasmacluster air purifier and a Grape Polyphenol Filter), extended interior ambient lighting, rear side window sunshades, a gesture-activated hands-free liftgate, and metal cargo area trim, while exterior upgrades include a sweet looking set of 20-inch dark tinted alloys on 255/45 all-season run-flat tires, plus really nice looking cube design LED high/low beam headlamps with adaptive cornering capability.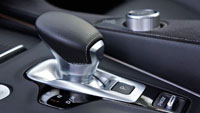 The two top-line models utilize many of the features found in lesser trims too, such as the $52,990 ProActive model's auto high beams, dynamic cruise control (with full speed range and hold), distance control assist, lane departure warning, lane departure prevention, blindspot intervention, rear cross-traffic warning, backup collision intervention, steering assist, the ProPilot Assist semi-autonomous self-driving system (which gets very close to full autonomy while traveling on the highway), Infiniti's exclusive steer-by-wire Direct Adaptive Steering system (a first for an Infiniti SUV) that's very reactive to steering input (other trims use vehicle-speed-sensitive power steering), a head-up display unit, and a superb sounding 16-speaker Bose Premium Series audio system.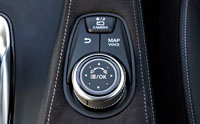 Additionally, a bevy of items get pulled up from $48,990 Essential trim, such as rain-sensing windshield wipers, front/rear parking sonar, reverse-tilt side mirrors, Infiniti's excellent 360-degree Around View parking camera with moving object detection, very accurate navigation routing with a superbly detailed mapping system, three-zone auto climate control with controls for the rear passengers (upgraded from the two-zone automatic HVAC system found in lesser trims), a power tilt and telescoping steering column, and memory for that steering wheel column, plus the front seats and side mirrors. 
Lastly, $44,490 base Luxe trim provides LED fog lights, LED turn signal repeaters integrated within the side mirrors, LED tail lamps (the Luxe is also standard with LED low/high beam headlamps), chromed outer door handles, chromed tailpipe finishers, a remote engine starter, proximity keyless entry, pushbutton start/stop, the previously noted drive mode selector featuring standard, eco, sport, and personal settings, a panoramic glass sunroof with a powered sunshade, a power liftgate (without hands-free), predictive forward collision warning, forward emergency braking with pedestrian detection, blindspot warning, plus plenty more.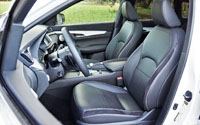 Of note, all 2019 QX50 pricing for trims, packages, and standalone options were sourced from CarCostCanada, which also provides money-saving manufacturer rebate info and otherwise difficult to find dealer invoice pricing that could help save you thousands. 
For many, the new QX50's advanced electronic interfaces will be most important, and I must admit they certainly help modernize the look of the interior and the SUV's overall functionality. First and foremost is the new InTouch twin-display infotainment setup on the centre stack, boasting a bright, clear and colourful high-resolution 8.0-inch monitor on the upper position, and a 7.0-inch touchscreen underneath, plus InTouch safety, security and convenience services, etcetera. I found this system mostly easy to use, with the top display, which provides navigation info, various views from the backup/surround camera system and more, controlled by the beautifully made rotating dial on the lower console mentioned earlier, and the lower one by tablet-like tap, swipe and pinch finger gestures.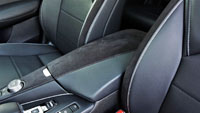 As for the primary gauge package ahead of the driver, I was somewhat dismayed that Infiniti didn't take this opportunity to introduce a fully digital cluster, as this is now expected in top-tier trims (VW is even doing so with its latest Tiguan), but the mostly analogue dials the automaker provided worked well enough, and the large colour multi-information display certainly wasn't short on functionality, all of which were easily controlled by a nicely organized set of steering wheel switches. 
Looking upward, a new overhead console includes the usual reading lights, buttons for the sunroof, plus a wholly redesigned sunglasses holder that, surprise, surprise comes without an intrusive nosepiece so that all of my sunglasses fit inside without issue. Just why previous versions were made with a nosepiece that was too big to hold regular glasses in place is beyond my scope of understanding, but fortunately Infiniti has remedied this problem once and for all.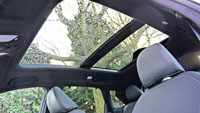 The sunglasses holder isn't the only improvement made to passenger and cargo roominess, with rear passengers now benefiting from significantly more legroom and headspace. Infiniti actually claims that the QX50's rear seating area is larger than both Audi's Q5 and BMW's X3, while rear passengers can now slide their seats forward and rearward in order to increase legroom or alternatively add to available cargo space. 
Unsurprisingly the rear outboard positions were very comfortable, while I had about eight inches of space for my knees when the driver's seat was preset for my five-foot-eight long-legged, short-torso, medium-build body. Additionally, there was plenty of room for my winter boots, albeit not much for tucking them under the driver's seat. Speaking of narrow spaces, the compact QX50's compromised width was made evident by the lack of inches to the door panel, but the outer armrest was comfortable and my shoulder never felt hemmed in. Adults in back might find the flip-down centre armrest on the low side, but it's perfect for children, and it includes a slot for storing your smartphone plus a pair of cupholders.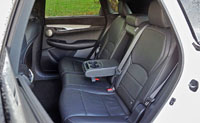 The previously noted rear climate controls are about as minimalist as such items go, only combining a digital watch-sized black and white LCD display with single red and blue buttons for adjusting the temperature. Infiniti adds a USB device charger and 12-volt socket too, but oddly rear seat warmers aren't even on the QX50 menu. 
On the positive, cargo capacity has generously increased by 368 litres (13.0 cubic feet) to 895 (31.6 cu ft) behind the standard 60/40-split rear seats, but remember you can slide them forward for another 153 litres (5.5 cu ft), increasing total capacity behind the rear seatbacks to 1,048 litres (37.0 cu ft). A helpful lever on each sidewall folds the respective rear seat flat, opening up a maximum of 1,822 litres (64.3 cu ft) when both sides are lowered. The weakness to the QX50's 60/40-configured seatback design becomes apparent when wanting to stow longer items such as skis down the middle when family or friends are coming along for the ride, because there's no centre pass-through or best-possible 40/20/40-division for optimizing passengers and cargo flexibility. If a higher level of real-life practicality matters to you, the Europeans tend to do a better job.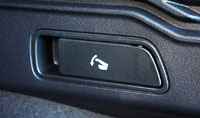 As is now expected in this class, the standard powered liftgate is programmable for height, a very important feature if your parking garage is lower than average, and even more so if pipes hang down further (been there done that). This said I kept bumping my forehead into the open hatch until finding time to reprogram it, not a fault of Infiniti, but something new owners may want to watch out for. All should be happy with the cargo area's finishings, mind you, thanks to attractive aluminum sill guards and carpeting most everywhere, while the cargo floor can be removed to store smaller items in two shallow stowage bins, the most forward one also housing the Bose amplifier and subwoofer.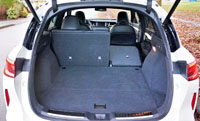 After a week with Infiniti's new QX50 I'd say the pros more than outweigh the cons, but you'll need to decide this for yourself when testing. Its styling should be universally positive, and most will probably praise its upgraded interior and much improved electronics too, while its host of advanced driver assistance systems will no doubt be lauded as well. I found it roomy and comfortable, plus its driving position is excellent, important for extracting all of its straight-line performance and maximizing support when pushing it through the corners, but this new QX50 is built more for comfort than speed when compared to the outgoing one, which will probably be just fine for the majority of its buyers. 
I won't go out on a limb to say it's best in class, and honestly would truly be hard pressed to claim this about any rivals either, but you really should spend some quality time with this new model before purchasing anything else. In other words, the new QX50 is worthy of your close attention, because it just might fit your wants and needs ideally, and save you a few thousand in the process.