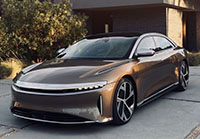 Lucid? For most Canadians, the name Lucid won't ring any bells, but those who keep a keen eye on the electric vehicle scene will already know much about the new Air, a mid-size E-segment luxury sedan that directly rivals the popular Tesla Model S.
The Model S, who's Canadian sales peaked in 2017 with 2,400 units and have since tapered down to 602 deliveries last year, remains one of the strongest selling electric cars in its segment (only beaten last year by the new Porsche Taycan, in a segment that also includes the Audi E-Tron GT and Mercedes-Benz EQS), and while all sales in the four-door luxury sedan category gradually slowed over the past decade due to more popular crossover SUVs (even Mercedes' mighty E-Class has seen its deliveries slide from a high of 4,083 units in 2012 to just 1,828 last year, albeit still maintaining top-of-class status), it's still garnering new entries, such as the new Lucid Air.
Lucid Motors (LCID), which was valued at $24 billion USD as of March 10 (about 60 percent off its highs), has only just arrived on the scene. The 1,111-horsepower Air Dream Edition debuted in the U.S. last spring at the lofty price of $169,000 USD, with orders opening up north of the 49th in September.
Aggressive base pricing could cause luxury EV buyers to take a closer look at Lucid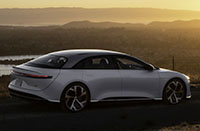 Pricing for all trims of the Casa Grande, Arizona-built car was recently announced for Canada, starting at $105,000, which makes the Air $15,700 more affordable than the Tesla Model S that starts at $120,700. That's a significant discount for a similarly positioned car that offers a lot more modernity than the now 10-year-old Californian.
That base Air, dubbed Pure, features 480 horsepower and 653 km (406 miles) of range, which is one km more than Tesla's base Model S claims, although to be fair, the old-timer comes standard with all-wheel drive. Some of the extra coin required for the Tesla goes toward yet more standard features, while both cars are capable of reaching stratospheric price points when options are included.
Four trims provide more variety to Air buyers than those considering a Model S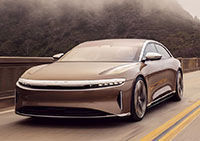 Lucid offers four Air trims in Canada, compared to the Tesla Model S' two. These include aforementioned Pure, plus Touring, Grand Touring and Dream Edition, priced at $105,000, $129,000, $189,000, and $229,000 respectively, while the latter trim can be optioned out in either Range or Performance versions, the former providing 933 horsepower and 836 km (519 miles) of potential range, and the latter available with 1,111 horsepower and 758 km (471 miles) of range, plus a zero to 100km/h sprint time of 2.5 seconds and top track speed of 270 km/h (168 mph).
Comparatively, the top-line Model S Plaid is good for an estimated 637-km (396-mile) range from a 1,020-horsepower drivetrain, which has the ability to scoot from standstill to 100 km/h in about the same 2.5-second timespan. To be clear, Tesla's official 2.1-second claim was not achieved from the usual standing start, but in fact included a one-foot rollout estimated at about 8 km/h (which after some tricky math makes both cars equally quick), while the Model S' 322 km/h (200 mph) top speed requires $4,500 USD of optional wheels and tires that unfortunately limit range to 560 km (348 miles). Without those wheels and tires the Model S Plaid's top speed is also limited to 250 km/h (155 mph). So therefore, the Lucid Air Dream Edition provides stronger performance than the Tesla Model S Plaid out of the box, as well as greater range.
Quick-charging Lucid Air is the most efficient EV in this class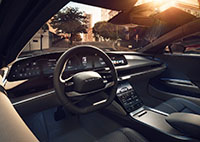 Regarding efficiency, the Lucid Air managed a second-place spot in the U.S. Environmental Protection Agency's (EPA's) latest running costs estimations, at 131 MPGe compared to 120 MPGe for the Model S (which came in sixth), the former estimating yearly costs at $500 USD ($635 CAD) instead of $550 USD ($700 CAD) for the latter. The Air actually ties with the first-place Tesla Model 3, which is a very impressive score (see the full story here).
While both models offer very quick charging, the Air is capable of being charged to a 483-km (300-mile) range in just 20 minutes, via 300kW peak charging power, which is currently the fastest charging capability in the industry, claims Lucid. The Level II and Level III capable car also provides up to 19.2 kW of AC charging, and up to 1,931 km/h (1,200 mph) peak charging speed (250Wh/mi consumption).
Model S still wins on the practical front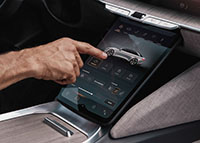 They're both sized almost identically, however, which was no accident on Lucid's part, their wheelbases in fact sharing 2,959 mm (116.5 in) apiece. The Model S is slightly larger in all other key dimensions, with a gargantuan 793-liter trunk accessible via a hatchback instead of the Air's more conventional 456-litre (16.1 cu-ft) trunk, plus an additional 850 litres (30 cu ft) of available space when the rear seatbacks are folded down. The Air's 202-litre (7.1 cu-ft) frunk claws a bit of that cargo space back, however, because the Model S' front trunk only measures 141 litres (5 cu ft).
Where the Model S has a lead in most practical measurements, the Air appears to deliver more luxury, higher-end materials quality, and better fit and finish, at least at first glance. The Model S has long been criticized for not measuring up to its conventionally-powered mid-size rivals when it comes to these types of touchy-feely details that luxury customers crave, but such issues will most likely be addressed when the car's long-overdue update finally arrives. Nevertheless, for now the ultra-luxe Air leads, and therefore could get the nod in its upper-crust segment.
In the end, however, Tesla's unparalleled charging network gives its customers a level of convenience that makes it hard for any upstart competitor to compete against, no matter the segment at stake.
Lucid retail network is taking shape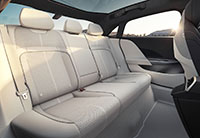 Currently, Lucid Motors only has two showrooms in Canada, the first to arrive situated within Pacific Centre mall in downtown Vancouver, with visibility to busy Georgia Street passersby, and the second just about to open on March 26th in Toronto's Yorkdale Shopping Centre (next to Roots, Samsung, Canada Goose, and Starbucks). Of note, there's a Tesla dealership in this mall too, although word has it now Texas-based automaker is planning to move this location to a larger standalone facility. A recent job posting for a Service Manager in Montreal shows the company is planning a new facility in Canada's second largest city too, but that would have been a no-brainer without the handy tip.
Lucid Motors, which is a Newark, CA-headquartered automaker, also had 20 sales and service centres across the U.S. as of 2021's close, the former dubbed Lucid Studios. After its Silicon Valley Studio, based at its HQ in Newark, these include two Los Angeles Studios in Beverly Hills and Century City, a Los Angeles Service Center in Beverly Hills, a San Jose Studio at Westfield Valley Fair, a Miami Studio in Brickell City Centre, a West Palm Beach Studio in West Palm Beach, a New York City Studio found in the Meatpacking District, and a DC Metro Studio located in Tysons, VA.
Introducing Future | Lucid Air | Lucid Motors (0:30):

Lucid Air l Global Reveal Highlights (4:43):

DreamDrive Reveal | Lucid Air | Lucid Motors (5:29):

Car of the Year. In Our First Year. (0:25):

Lucid Air Factory Commissioning | Lucid Air | Lucid Motors (1:47):

Benchmark Test Drive | Lucid Air | Lucid Motors (2:05):

Delivering Dreams Nationwide | Lucid Motors (0:42):

Lucid Studio Retail Experience | Lucid Motors (3:06):

Story credits: Trevor Hofmann
Photo credits: Lucid Motors