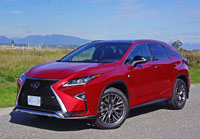 Lexus' RX and I have had a long, mostly pleasant relationship, dating back to the beginnings of my career as an automotive journalist. In fact, since first starting to write road tests of new vehicles at the turn of this century, I've tested, photographed and reviewed at least 15 individual RX models in every generation, state of trim, powertrain, and body style available, plus I've also been fortunate enough to attend a number of RX launch programs.
I once even piloted the then-new 2006 RX 400h from a waterfront hotel in Waikoloa Village (just outside of Kona), Hawaii, around the northern tip of The Big Island toward Hilo, and then inland a ways before summiting the 4,250-metre-plus (14,000-foot-plus) peak of Mauna Kea, all before heading back down the east coast, circling Hawai'i Volcanoes National Park's 17.7-kilometer Kilauea Crater Rim Drive, and more (thoughts and prayers for all the families from Leilani Estates this time of year). That experience stamped an indelible memory on my heart, and no doubt helped forge a personal fondness for Lexus' most popular model.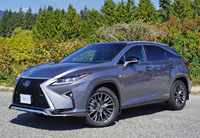 When taking in the paradisiacal coastal vistas, mountaintop views, thick tropical foliage and harshly rugged lava rock terrain of Hawaii's amazing spectrum of climate zones, comprising 10 of the world's 12 types, it's good to be in a vehicle that isolates all occupants from the elements so effectively. From the dry heat of Kona to the humidity of Hilo, through the more temperate regions inland to the polar/tundra heights above, the RX never wavered from climate controlled comfort, something I've grown to appreciate even more with each weeklong test enjoyed over the years since. Truly, each and every time I get behind the wheel of this impressive luxury crossover SUV, I'm reminded why it's been number one in its mid-size segment since day one.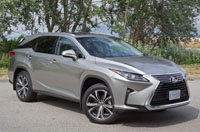 It helps that Lexus defined this category together with Mercedes' M-Class (now GLE) way back in 1997 when the original RX 300 arrived, a luxury crossover that's held up so well I still see them on the roads in my community (not so with the first-gen ML). The RX has been around for 22 years and four generations, with the upcoming 2020 model about to bring a number of subtle styling updates and other improvements as part of its mid-cycle makeover, but despite its updates you may still want to consider getting a deal on a 2019.
Before delving into the 2019, updates for 2020 include refreshed front and rear fascias, slimmer triple-beam LED headlamps and revised taillights with new "L" shaped LEDs, redesigned 18- and 20-inch wheels, and claimed driving dynamics improvements via thicker yet lighter-weight stabilizer bars plus a firmer retuned suspension to enhance handling with new dampers that smooth ride quality. Handling in mind, new active corner braking reduces understeer and paddle shifters, now standard across the entire lineup, should enhance the driving experience, while new standard safety features include daytime bicyclist detection and low-light pedestrian detection along with Lane Tracing Assist (LTA), and lastly a revised infotainment system with new touchpad control and integrated Android Auto (a first for Lexus).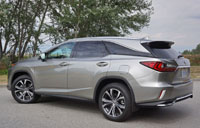 Even though its brand new, CarCostCanada members can save up to $2,000 in additional incentives on the 2020 RX, while those willing to forgo some of the improvements for a discount can access up to $4,500 in incentives for a 2019 model. According to the popular website, members are saving an average of $2,777 on both models, by first learning about available manufacturer rebates that your local retailer probably won't tell you about, and then finding out the dealer invoice price before negotiating.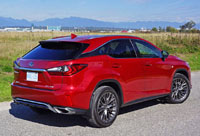 Lexus will offer the same four RX models for 2020 as it did in 2019, including the RX 350 and RX 450h hybrid, plus the new long-wheelbase, seven-passenger RX L with both powertrains. Pricing starts at $55,350 for the 2019 RX 350, and then moves up to $64,500 for the 2019 RX 450h, $66,250 for the RX 350 L, and finally $77,600 for the RX 450 L, while the refreshed 2020 base model's pricing expectedly rises by $700 (not bad considering all the aforementioned standard upgrades), but get this, pricing for all other trims have surprisingly been lowered by $5,700, $7,200, and $1,500 respectively due to new more affordable decontented packaging, or in other words, fewer standard features. This intelligent move makes the base long-wheelbase and base hybrid models accessible to many more luxury buyers, and still shouldn't cause too much difficulty for Lexus retailers to sell off the remaining 2019s.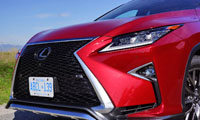 For this review I rounded up three 2019 Lexus RX models, including an RX 350, RX 450h and an RX 350 L, the two regular-wheelbase models in the Japanese luxury brand's sportiest F Sport trim, and the latter long-wheelbase version in six-passenger Executive trim, its seat-count reduction caused by the replacement of its second-row bench with two individual buckets, while $6,050 Executive trim also adds LED illuminated aluminum front scuff plates, premium leather, a wood and leather-wrapped steering wheel rim, a head-up display, 15-speaker Mark Levinson surround sound audio, wireless device charging, 10-way power-adjustable front seats, power-recline rear seats, rear door sunshades, power folding rear seats, and a gesture-actuated power liftgate.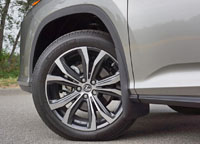 F Sport trim takes a more sporting approach to styling and features as the name implies, with the former including a more aggressive front grille and fascia design, premium LED headlamps with cornering capability, a sportier set of 20-inch alloy wheels, an adaptive variable air suspension, Vehicle Dynamics Integrated Management (VDIM), special "F SPORT" branded scuff plates, a mostly digital LFA-inspired primary gauge cluster, a special steering wheel with paddle shifters and a unique shift knob, aluminum sport pedals with rubber inserts, unique performance seats covered in premium leather upholstery, plus more.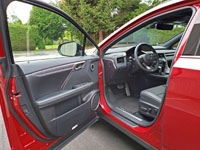 Combining three distinct RX trims into one review provides an opportunity to not only show their unique characteristics in the massive photo gallery above, but also to help would-be buyers choose between this luxury crossover SUV's dual personalities, one visually and dynamically more sport-oriented, and the other biased towards luxury. To be clear, the sportiest RX 350 F Sport will never challenge a BMW X5 M, Mercedes-AMG GLE 63 S Coupe (or even the GLE 43 version), Audi RS Q8 (or even an SQ8 or SQ7), Porsche Cayenne, Jaguar F-Pace SVR, Range Rover Sport (or Velar SV Dynamic), etcetera, but as far as this comfort-oriented mid-size crossover SUV goes, it's the sportiest, and more fun to drive than any Infiniti QX60, while more or less on par with the Acura MDX, Lincoln Nautilus, and probably the new Cadillacs XT6, although I have yet to drive the latter. This said the new 2020 RX should perform better than the three I've tested here, but we shouldn't expect a radical improvement through the corners as it wouldn't make sense for Lexus to stray too far from such an obvious winning formula.
Unlike most of the competitors noted, Lexus only provides its RX with one conventional powertrain choice, and despite once being wholly original in offering mid-size luxury SUV buyers the sole hybrid-electric available, it can now only take credit for being first. Still, no one can argue against the success Lexus has had with this comparatively simple powertrain lineup, consisting of its ubiquitous 3.5-litre V6, and the nearly as well-proven electrified version of this dependable Toyota-sourced six-cylinder engine.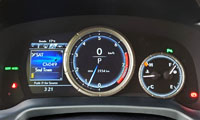 Despite what appear to be identical powertrains on paper, the conventional V6 used in Lexus' RX 350 and RX 350 L produce different performance numbers, the regular wheelbase model outputting 295 horsepower and 268 lb-ft of torque and the long-wheelbase version making just 290 horsepower and 263 lb-ft of torque, while the RX 450h manages a slightly more potent internal combustion engine (ICE) and electric motor mix that nets 308 horsepower and 247 lb-ft of torque in both regular and extended body styles.
The biggest difference between these three powertrains can be seen in fuel economy, with the standard RX 350 good for a rating of 12.2 L/100km in the city, 9.0 on the highway and 10.8 combined, and the slightly modified engine in the RX 350 L managing 13.1 city, 9.4 highway and 11.1 combined. The lighter weight regular wheelbase model is thriftier when comparing the RX 450h and RX 450h L too, with the former achieving the best model's rating at just 7.5 L/100km city, 8.4 highway and 7.9 combined, and the latter doing extremely well amongst three-row luxury SUVs with a claimed 8.1, 8.4 and 8.1 respectively.
The extra power provided by the motive battery, which like other all-wheel drive hybrids uses its ICE to power the front wheels and electric motor to twist the rims in back, doesn't give the hybrid any more oomph off the line yet certainly helps it keep up despite its 160-kilo increase in curb weight. The efficiency of the hybrid's continuously variable transmission may assist with its straight-line performance, but the eight-speed automatic in the conventionally powered RX is probably not all that more taxing and its more positive shift response makes for a sportier driving experience overall.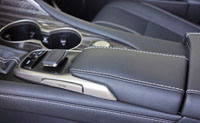 Enhancing engagement with both drivetrains in F Sport trim are standard paddle shifters as already noted, while this performance-oriented upgrade also gets an edgier Sport+ setting added to the base RX' Normal, Sport, and Eco Drive Mode Select choices, plus hybrids benefit from an EV mode. The EV mode only works at very slow parking lot speeds, but it can reduce consumption while circling the mall parking lot or when stuck in bumper-to-bumper traffic, while at the other end of the performance spectrum I didn't feel much difference when switching from Sport to Sport+, other a firmer setting from the adaptive variable air suspension.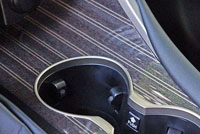 Speaking of the chassis, the RX' fully independent MacPherson strut front and double-wishbone rear suspension setup feels a bit tauter in the F Sport than with more comfort-focused trims, while the long-wheelbase RX L felt comfortable without giving much up in the handling department, or for that matter straight-line performance (it only weighs an additional 105 kg). As mentioned earlier, all RX models provide comfort first and foremost, which is exactly what most buyers in this class want, while noise, vibration and harshness levels are kept to a minimum thanks to a wonderfully tight, rigid body structure, plenty of sound insulation, and nicely refined powertrains.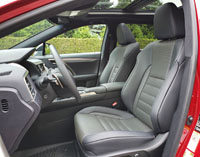 All the soft-touch composite surfaces and leather help to keep things quiet, although to be clear the RX doesn't quite deliver the same level of over-the-top luxury as its German peers, let alone the lonely Swede in this segment. Most everything above the waist is made from the types of high quality pliable plastics expected in this class, including the glove box lid, with some surface treatments higher on the dash stitched and leather-like with padding below, but the harder composites start just above the driver's knees and surprisingly to the left side of the steering column, not to mention on the lower door panels and lower sides of the lower centre console (the console's top edges finished in stitched leatherette).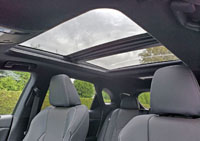 The two F Sport trims received attractive metallic accents across the dash, lower console and upper door panels, although I must admit I was even more impressed by the long-wheelbase model's gorgeous hardwood inlays. While high-gloss dark hardwood in Japanese tradition, every half inch or so Lexus had laminated in wafer thin pieces of lighter hardwood resulting in an ultimately rich double pinstripe look that was best seen on the console. There's plenty of brushed metal trim throughout the cabin, with some bits looking and feeling like the real deal and other pieces less so, but quality is generally good including each button, knob, toggle and rocker switch.
At first glance all three RX models seemed to have similarly sporty seats, this probably due to their contrast stitched black perforated leather, but the F Sport models had a bit more side bolstering, particularly up by the shoulders, and while they all looked good and were generally comfortable, only the 350 L with its Executive package included four-way lumbar support. Its 10-way powered front seats were excellent, causing zero complaints, but if the two-way powered lumbar in the other two hadn't luckily met up with the small of my back I would've been grumbling. Don't get me wrong, as I would've liked extendable cushions and adjustable side bolsters too, while some sort of massage function would also be nice, but such pampering is obviously not the RX' mission.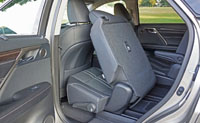 Roominess has always been an RX strongpoint, with front and second-row seating for any size or shape with space to spare, but the new long-wheelbase model doesn't quite measure up to most rivals when it comes to the third row. This is surprising, as a three-row crossover has been long in the making for Lexus, but even my teenage-sized five-foot-eight frame had difficulty getting comfortable. Climbing in and out is easy enough thanks to a second row that slides far enough forward for a nice, wide opening, but even after sliding that second row as far forward as I'd be comfortable with if seated there, there still wasn't enough room for my knees when seated in the very back, while my head was rubbing up against the ceiling.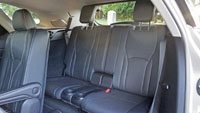 The extended-wheelbase RX L does add 77 litres of maximum cargo space, however, moving the total from 1,657 litres up to 1,580 litres, but the final row must add some height to the RX L's cargo floor because available room behind its second row shrinks by 43 litres from 694 to 651 litres. With all seats upright the three-row RX leaves a 212-litre sliver of usable space, but it's good for a couple of small suitcases or a golf bag if you want to work on your "A" game after dropping the kids at school.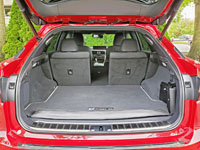 While most of this is positive, operating the RX' current joystick-style infotainment controller will set you back to the early days of playing Nintendo "Golf" (that was 1984 if you care to remember), hence why it's being replaced by Lexus' newer touchpad control for 2020. The system is functional and thanks to side entry buttons added a number of years ago is easier to use, but it feels old and clunky in a world of touch sensitivity. It includes haptic feedback to lock in prompts, which helped somewhat, but few should lament its loss. The high-definition widescreen atop the dash that displays everything is superb, mind you, and it's hard to fault the overall functionality of the system and features, other than its lack of Android Auto for 2019 (remember, the RX gets it for 2020).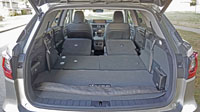 Now that I'm talking digital interfaces, both 2019 and 2020 LX models use the same ho-hum gauge cluster in non-F Sport trims. It's a basic analogue set consisting of two primary dials and two sub-dials, centered by a tall colour multi-information display that's little more than a glorified trip computer. In a vehicle that's edgy and modern in most other ways the gauges look a bit tired and dated, especially considering some RX rivals are shipping with standard digital instrument clusters or at least offer them optionally in upper trims. Of course Lexus does the same, but take note my long-wheel base Executive package enhanced RX 350 L was priced higher than the RX 350 F Sport, but didn't get the fancier LFA-inspired digital gauge cluster, and even the upgraded version doesn't offer the level of features provided by its competition, such as the ability to transform most of the cluster into one big map.
Thanks to the incredibly fast pace of the auto industry these days, especially when it comes to digital interfaces, it's always easy to find fault with a vehicle that's been on the market for a few years. Such is the case for these three RX models, and therefore the updates Lexus will provide for 2020 should appease most of those looking for progress. In summary, I don't believe the RX is the best mid-size crossover on the market, but it covers so many bases so well, and does so with such impressive dependability, that it fully deserves its number one status.