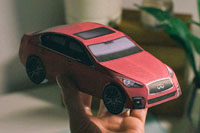 Although there has recently been talk about reopening our economy, for the most part we're still in voluntary lockdown throughout most of Canada. While this is certainly better than the mandatory lockdown conditions many other parts of the world are enduring, it's left the majority of Canadians looking for things to do in order to bide their time.
Enter Japanese luxury carmaker Infiniti, a brand well respected for building cars and SUVs with entertaining driving characteristics. Now, instead of supplying thrills on the road, it's slicing and dicing up some very unique paper artwork in the spirit of origami.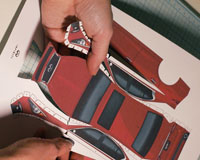 This said, the only traditional origami-style paper folding is used for the rear section of the Q50 S sport-luxury sedan scale model, as well as the separate wheels and tires and tabs necessary for gluing everything together. Nevertheless, Infiniti's Carigami model is definitely a fun way to pass the time.
Infiniti will soon follow up its Carigami Q50 S model with one for the long-discontinued first-generation FX crossover SUV, showing that the enthusiast heart of this performance-oriented brand is still beating at a high rate, while another fan favourite, the current full-size off-road capable QX80 SUV that's based on the legendary Nissan Patrol (Armada in North American markets), will come next.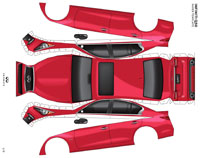 The models will all be in 1:27 scale, and all you'll need to put one together is a printer (preferably colour, or you can add crayons to this list), seven sheets of paper (two for templates and five for instructions), a craft knife, some glue, and a little patience.
While a first for Infiniti, the luxury brand's parent previously commissioned a full 1:1 scale origami version of the funky Nissan Juke subcompact crossover for its fifth birthday in 2015.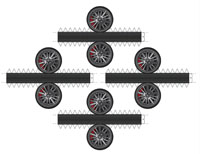 To learn more, watch a high-speed video of the model being constructed, and/or download the templates and instructions go to Infiniti.com, or you can go directly to the Carigami download page here, but keep in mind this is the brand's US site and therefore any further investigation into real Infiniti models for purchase in Canada should be done at Infiniti.ca.
Better yet, go to CarCostCanada to check out the latest 2020 Infiniti Q50, Q60 and Q70 sport-luxury cars, plus Infiniti's lineup of SUVs that include the QX50, QX60 and QX80. You can access all the same pricing information as the manufacturer's website, and even build out each model, plus you'll find out about all the latest manufacturer rebates, financing and lease rates, and dealer invoice pricing that can save you thousands when negotiating your deal.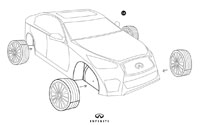 For instance, CarCostCanada claims you can save up to $5,550 in additional incentives on a 2020 Infiniti Q50, while those wanting a 2019 Q50 can access factory leasing and financing rates from zero percent. Interested in a Q60 instead? How about $5,350 off of this luxury sport coupe for the 2020 model or $9,000 in incentives for a 2019? If you want a large sedan, Infiniti is offering up to $8,000 in additional incentives for its 2019 Q70 and long-wheelbase Q70L (there won't be a 2020 for this flagship four-door).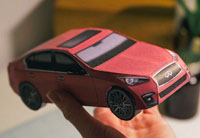 As for Infiniti SUVs, those wanting the new QX50 compact crossover can save up to $5,250 for a 2019, $2,000 on a 2020, and zero-percent factory leasing or financing for the fresh new 2021 model, with average member savings said to be $3,250 no matter the year purchased. As for the mid-size three-row QX60, buyers wanting a 2020 can access up to $5,400 in additional incentives while the 2019 model has zero-percent factory leasing or financing on offer. Lastly, the big QX80 can be had with zero-percent leasing or financing on the 2021, up to $5,050 in additional incentives for the 2020 model, and $10,000 in incentives for the 2019.
Story credit: Trevor Hofmann
Photo and video credits: Infiniti