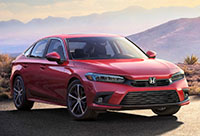 Honda Canada's Civic sales have been crashing recently, down more than 20 percent throughout Q1 of 2021 compared to the same three months last year. Reasons for the downturn are likely varied, from the health crisis to a 25-plus-percent increase in CR-V deliveries, the latter thanks to changing consumer tastes from cars to SUVs. Additionally, some of the slowdown is probably due to fewer Civics in dealership inventories, which makes sense now that we've learned a totally redesigned model is on the way later this year.
Honda took the wraps off its all-new 2022 Civic sedan this week, and at first glance it appears as if the design team wanted to take it back to the more conservative stylings of earlier iterations. Considering how well Honda has done with its current 10-generation model, which arrived six years ago for the 2016 model year, deviating from its ultimately angled look to a much more rounded, minimalist design may be seen as a risk, although it will certainly be a positive for less progressive buyers.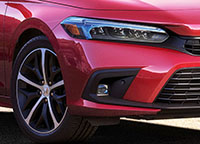 This change will make Hyundai's third-place Elantra the compact segment's most sharply creased dresser, while the category's second-most popular Corolla could also be seen as an even more aggressive alternative than the upcoming Civic. The compact class isn't as varied as it was five years ago, having lost the Dodge Dart in 2016, the Buick Verano and Mitsubishi Lancer in 2017, the Ford Focus in 2018, and Chevy's Cruze in 2019, but the Civic still needs to contend with the already noted Corolla and Elantra, plus the Kia Forte, Mazda3, Nissan Sentra, Subaru Impreza, and VW Jetta, while the regular Golf will be discontinued for 2022, taking one more compact car competitor out of the market (don't worry GTI and Golf R fans, as these will arrive in stylish new MK8 duds).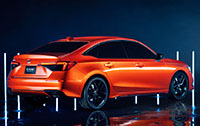 As for the new 11th-generation Civic, other than what little information the single frontal photo provides we know very little about it. Then again, if the Civic Prototype that debuted (on video game platform Twitch no less) in November is anything to go by, and both cars look very similar from the front except for lower fascia details, its rear design should include a smart set of LED infused taillights that come to a point that's kind of reminiscent of those on the eighth-gen North American sedan at their rearmost ends, albeit much narrower. That was a particularly good-looking car for the era, while the current model's C-shaped lenses have been amongst its most controversial styling elements.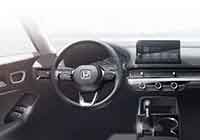 We won't delve into expected content, other than to say it will likely be filled with standard advanced safety kit in order to help keep its occupants safe, and score well in safety tests, while its cabin will no doubt come standard with a large centre touchscreen and offer a fully digital gauge cluster, at least as an option. More detailed information will arrive later this month, which we hope to include more photos, including at least one of its backside plus with a plethora of interior shots.
If a glimpse of the new 2022 Civic makes you want to snap up a 2021 before all the new ones are gone, take note that Honda is now offering up to $1,000 in additional incentives, while most CarCostCanada members are saving $1,593 off their purchases. To find out how you can potentially save thousands from your next new vehicle purchase, see how the CarCostCanada dealer invoice pricing system works, and make sure to download their free app from the Google Play Store or Apple Store now.
Story credits: Trevor Hofmann
Photo credits: Honda