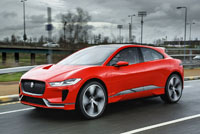 It's official: The innovative Jaguar I-Pace electric vehicle will arrive in production trim during the second half of 2018, ushering in an entirely new era for the iconic British luxury brand.
The I-Pace Concept wowed onlookers to such a degree when unveiled at auto shows across North America, including Los Angeles, Detroit, Chicago, Toronto and New York, that it received the rarified honour of being named Most Significant Concept Vehicle of 2017 at the 16th North American Concept Vehicle Awards.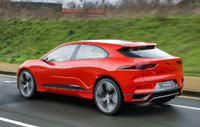 Additionally, the I-Pace won the Production Preview Concept of the Year category at the annual Concours d'Elegance of America, where it was also on display.
Uniquely designed as an "all-electric performance SUV," the I-Pace will expand on a burgeoning Jaguar sport utility lineup that already offers the brand's bestselling F-Pace compact SUV and will soon include the smaller entry-level E-Pace subcompact SUV. The I-Pace, however, rides on a totally unique EV architecture that slots in between Jaguar's two conventionally powered SUVs in outward dimensions, yet is altogether different in approach.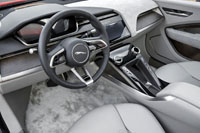 Unlike most EVs currently available, including those made by Tesla that purposely look like conventional cars, the I-Pace takes complete advantage of an electric vehicle's nonconventional packaging requirements. For instance, instead of building an EV on the back of a vehicle initially designed to house the motor and transmission up front with a driveshaft down the middle, the I-Pace places a Jaguar-designed electric motor at each axle for all-wheel drive traction and a 90-kWh liquid-cooled battery within an aluminum housing as part of the floor's structure in between. This allows for a cab-forward design featuring a windshield that reaches far over the front wheels, as well as a shorter more steeply raked hood, plus shorter front and rear overhangs, with each wheel pushed out as far to its corner as possible, resulting in much greater interior volume.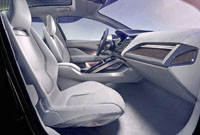 Overall the I-Pace is approximately 50 mm (2.0 inches) shorter than the F-Pace, which is already a large compact SUV, but its wheelbase is 117 mm (4.6 inches) longer for much greater legroom front and rear. What's more, the I-Pace Concept's roof is nearly 100 mm (4.0 inches) lower than the F-Pace's, for sleeker, sportier lines.
While the I-Pace shown here is a conceptual design and not production ready, the finished model to arrive in showrooms next year is expected to be sized similarly and look much the same, which follows Jaguar's recent concept to production protocol. Of course, the prototype's 23-inch alloys will be downsized somewhat, but generally what you see is what you'll get.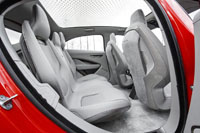 Production I-Pace performance should be similar to the concept's claimed capability, with the sprint from standstill to 100km/h taking about four seconds thanks to 200 horsepower and 258 pound-feet of torque from each of its two engines and a lightweight aluminum-intensive monocoque body shell, while its projected EV range should be greater than 355 km (220 miles) from a single charge.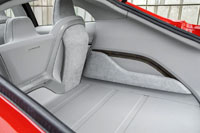 Having much of its weight down low, thus reducing its centre of gravity, handling should be an I-Pace strongpoint too. The suspension will be comprised of unequal-length control arms up front and a multilink setup in the rear, which should also result in excellent ride quality.
We won't know exact pricing until closer to launch, but Jaguar's U.S. division says it's targeting an MSRP below $100,000 USD. It will be built by Magna Steyr in Austria, at least until Jaguar adds more EV models to the lineup. To that end Jaguar has promised that half of its vehicles will incorporate some sort of electrified drivetrain by 2025, so it appears the impressive new I-Pace is just the beginning.