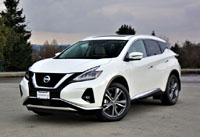 The Murano has been with us for a long time, at least as far as crossovers are concerned.
Sports car nameplates like Corvette, SL, 911 and Mustang date back to the mid-'50s and '60s, while economy cars have a couple of old-timers in their midst too, particularly the Corolla and Civic that have been with us since 1968 and 1973 respectively. The oldest mid-size sedan still available is Honda's Accord, which dates back to 1976, while BMW's 3 Series holds title to the most seasoned compact luxury car name, having arrived in 1975, and Mercedes' S-Class the most experienced premium four-door model of all, hailing from '72.
Interestingly, two of the three oldest automotive names still in use denote SUVs, specifically Toyota's Land Cruiser (albeit not in our market) that arrived in 1951, and Chevy's Suburban that goes all the way back to 1935, making it the oldest surviving nameplate of all—the second-oldest vehicle name, incidentally, is Ford's venerable F-Series that began life in 1948.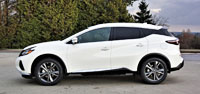 Excluding car-based unibody or integrated-frame models that started life as traditional body-on-frame SUVs, such as Jeep's Wagoneer that helped initiate the sport utility craze way back in 1963, Chevy's full-size Blazer that soon followed up in '68, Jeep's Cherokee that took on the K5 in 1974 (along with GMC's Jimmy that together with the Blazer more directly targeted Ford's Bronco—the latter first arriving in 1965, with the full-size variant showing up in 1977), the just-noted blue-oval brand's Explorer that became the go-to soccer mom conveyance in 1982, Jeep's Grand Wagoneer that added a surprising amount of luxury to the original Wagoneer in 1984, Nissan's Pathfinder that challenged the two-year-old Toyota 4Runner in 1985, Honda's Passport that was nothing more than a rebadged Isuzu Rodeo (without the hilarious Joe Isuzu ads) in 1993, Hyundai's Santa Fe that hit Canadian roads and trails in 2000, Kia's Sorento that did likewise in 2002, the Grand Cherokee that successfully pulled in the premium SUV crowd in 1992, and the Dodge Durango (which currently shares the GC's unibody underpinnings) that was a big hit in 1997, plus at the smaller end of the spectrum Kia's Sportage that arrived on U.S. shores (with some pretty funny TV ads of its own) in 1993, yet wasn't available in Canada until the end of the last millennia along with the entire Kia brand, the earliest purely crossover names I can think of that are still in existence have to be Toyota's RAV4 and Subaru's Outback, which both entered our market in 1994, with the Honda CR-V showing up a year later, the Subaru Forester in 1997, and the Ford Escape in 2000.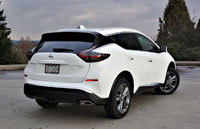 OK, I admit that intro was even long for my standards, not to mention one of the lengthiest run-on sentences I've written since, I don't know, last week? Anyway, to get back to the plot, Nissan's Murano, which dates back to 2002, is a time-tested name amongst mid-size crossover SUV forerunners, only pre-dated by Toyota's Highlander that arrived two years earlier. Now that we've ventured so far down this rabbit hole, you might as well know that Honda's Pilot entered the picture in 2003, Ford's Edge, GMC's Acadia and Mazda's CX-9 showed up in 2006, while Chevy's Traverse and the Toyota Venza arrived in 2008, with everything else no more than a decade old. Plenty of crossover names have come and gone too, but don't worry, I'll leave those for another look down memory lane at some point in the not-too-distant future.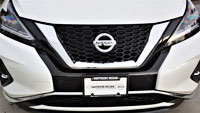 I was on the Murano's original Canadian press launch back in 2002, by the way, and I think it's fair to say that it thoroughly impressed most of the auto scribes who drove it around Vancouver's Fraser Valley on that cloudy day. It was one of, if not the first mid-size SUV with a continuously variable transmission that I'd ever driven (although not the first all-wheel drive vehicle with a CVT, that being my dad's mid-'80s Subaru Justy). Nowadays, an SUV with a CVT is hardly novel, but combined with its 245 horsepower 3.5-litre V6, standard all-wheel drivetrain, and nicely sorted chassis, it made for smooth yet sporty performance, while its styling really pushed boundaries for the time.
That first-generation Murano lasted just five model years, from 2003 to 2007, and while the second-gen Murano was better in every way, I didn't find the styling as alluring during its heyday, but looking back its design probably aged better. Once again, powered solely by a 3.5-litre V6 (at least in our market), and mated to a CVT with standard AWD (plus FWD in the U.S.), albeit upgraded by 20 horsepower to 265, it was a force to be reckoned with in its two-row mid-size class, but after six model years, from 2009 to 2014, Nissan smartly updated it to the current design, which truly was as eye-popping when it came out as the original in the early aughts.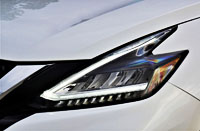 Now, seven years later, or eight if we include the upcoming 2022 model that will see no significant changes, the Murano is somewhat dated. Don't get me wrong, as it's still an attractive utility that remains sleeker and more progressive looking than many in its segment, but thanks to styling trends that are diverting away from sinuous curves and other types of organic forms to more abrupt angles combined with complex folds and creases, time has a way of making anything look old. Why Nissan has chosen to leave the Murano so long between updates, other than a subtle mid-cycle refresh that you'd need to be an owner to notice, is anyone's guess, but this certainly hasn't helped it remain near the top of the sales charts.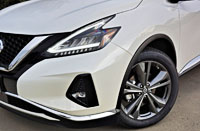 After six months of 2021, the Murano sits in fourth place amongst dedicated two-row crossover SUVs due to just 3,691 Canadian deliveries, which isn't a bad ranking considering all the competition in this segment, not to mention all the challenges the automotive market has been facing over the past two years, but it's a far cry from the success enjoyed in previous years, 2017 its best year ever at 15,120 unit-sales. Then again, when factoring in mid-size models that provide three rows, the Murano plunges to 12th place in the mid-size SUV segment. That's a long downward slide from third in the two-row class and fifth overall in 2016, which at least in part shows the importance of regular redesigns.
So far this year, the top-selling model in the entire mid-size crossover SUV segment is Toyota's Highlander with 10,403 units down the road, while Ford's Explorer comes in second with 8,359 deliveries. Third is Hyundai's Santa Fe with 7,514 new customers to its credit, while Jeep's Grand Cherokee (arguably more of a true 4×4) is a close fourth at 7,234 units. I could go on, but it's easy to see that Nissan's five-occupant contender now lags far behind these front-runners, therefore a replacement is long past due.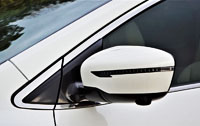 Of course, the Murano was never a top-three player solely due to styling. Its single 3.5-litre V6, which was considered a no-cost bonus when pump prices were lower, is hardly the most fuel-efficient these days either, the AWD variant that I most recently tested achieving a less-than-ideal rating of 12.0 L/100km in the city, 8.5 on the highway and 10.4 combined, although at least now there's a base FWD version in Canada for those wanting to reduce both initial and ongoing costs, thanks to a slight mileage improvement to 11.7, 8.3 and 10.2 respectively. How does that compare to others in the class?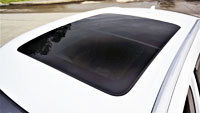 It's actually not that bad when sidled up to the segment-leading Highlander, at least when compared to its base 3.5-litre V6 that's rated at 10.3 L/100km combined, but that model is available with a hybrid drivetrain as well, which allows for a much more appealing 6.7 L/100km estimated rating, plus the new five-passenger Venza, which is only available as a hybrid and targets the Murano more directly, ekes out a shockingly good 6.1 L/100km rating. The base Santa Fe isn't as thrifty as the Venza at 9.1 L/100km combined, while the same SUV with AWD is rated at 9.9, but a new hybridized version is good for 7.4 combined (just how Toyota makes its Venza and Highlander Hybrid so efficient is anyone's guess?). A more common comparison might be Ford's Edge, which while doing better on the sales charts (despite the blue-oval brand's especially difficult time allocating microchips), only slightly edges the Murano out when it comes to fuel economy at 9.8 for the FWD model and 10.0 with AWD.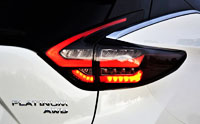 Interestingly, the Murano was available as a hybrid in the U.S. market for one single model year, 2016, but Nissan didn't have high hopes for the electrified model, with expectations of selling just 600 units, or about one percent of all the V6-powered Muranos sold the year prior. As it was, Nissan's U.S. division had a stellar 12 months in 2016 with 86,953 Murano deliveries, but I'm guessing the take-rate on the Murano Hybrid was even worse than hoped for, because it was killed off before most potential buyers even found out it existed. At 8.1 L/100km combined (reached by converting its 29-mpg combined EPA rating), its fuel economy wasn't as good as Toyota's hybrid SUVs either, which might be why would-be buyers didn't take the bait, but its combination of a supercharged 2.5-litre four-cylinder engine, electric motor, and lithium-ion battery pack certainly sounds intriguing.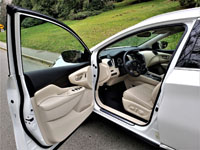 Moving inside, a feature that especially ages badly in this modern age is in-car electronics, and to be kind the Murano could use an update to its primary gauge cluster and infotainment system. The former is actually pretty good, having received a big, colourful multi-information display back when this third-gen version was new. Of course, the graphics require some attention and the screen's resolution isn't exactly high-definition, but most users shouldn't be put off, and it's certainly packed full of useful features. This said, some of the Murano's rivals are sporting fully digital driving displays that can even be configured for personal style and info, with some Korean models even integrating monitors that automatically project rear-facing cameras onto the display when using the turn signals, but the Murano's electroluminescent dials to either side of the MID are wonderfully bright and easy to read in any lighting condition, plus they look really good.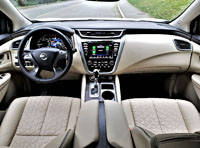 As for the centre display, it's a nice, straightforward touchscreen measuring a reasonable 8.0 inches and appearing unchanged over the past seven or so years, which of course is way too long for any user interface to go without a significant update. Again, its resolution is not up to today's standards, and graphics, while colourful, are a bit remedial, plus its response times to inputs aren't exactly the quickest. All the expected features are either standard or available, even including Apple CarPlay and Android Auto smartphone integration. My tester included a helpful overhead parking camera too, as well as a very accurate navigation system, which comes standard in all trims above base, while as-tested Platinum trim adds SiriusXM-powered NissanConnect Services for improving in-car safety, security and convenience.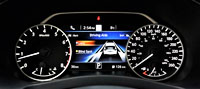 Where the Murano continues to shine despite its age is in near premium levels of materials quality. Truly, it'll make you wonder why Nissan didn't just badge it with Infiniti's logo, thanks to thickly padded fabric wrapping around each roof pillar, a soft composite dash top, an even nicer padded leatherette instrument hood complete with contrast stitching, the same high-quality surfacing used for the dash on the door uppers front to back, nicely padded door panels that stay pliable all the way down to the very bottom of the doors, yet more padded leatherette used around the outer edges of the centre console, and gorgeous diamond-quilted leather upholstery with breathable perforations covering the seats from front to back.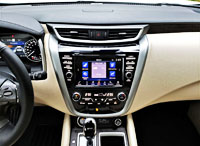 Nissan finished my tester's cabin in a rich looking ivory-cream hue dubbed Cashmere, which while a tad challenging to keep clean, looked absolutely gorgeous (a more chocolaty Mocha colour is also available). While the hides on the seats were very real, and soft semi-aniline leather to boot, the matte-finish woodgrain inlays across the dash, centre console, centre armrest, plus door panels only looked and felt authentic, attributes that can also be lauded upon the satin-finish silver accents and chrome detailing found throughout the entire interior.
There's a premium level of solidity to the Murano too, which few in this class measure up to. This likely comes from unseen features, such as thick insulation used within the doors and under the floor, not to mention overhead within the roof liner and outer panel, plus the bulkheads separating the engine compartment from passengers, etcetera. It all comes together to create a wonderful hush that once again feels more like what one would expect from an Infiniti, rather than a Nissan. In fact, this fully-loaded Murano comes close to matching the dearly-departed Infiniti QX70, a vehicle I particularly liked, especially due to its diamond-pattern upholstery.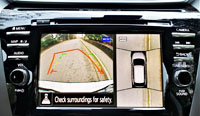 The Murano Platinum's seats are wonderfully comfortable too, and provide plenty of accommodation for larger body types. Nevertheless, my smallish five-foot-eight frame also fit in well, while the power steering column was able to reach far enough rearward to provide a good seating position for my somewhat awkward long-legged, short-torso body type, thus allowing for optimal comfort and control.
When seated behind the driver's seat that, as just noted was setup for my relatively longish legs, I had plenty of room for legs and feet, this being a key benefit that comes when choosing a five-passenger utility over most competitors with three rows, as the rearmost row can often compromise second-row spaciousness. There was ample room from side-to-side in back too, plus more than enough headroom for taller folk.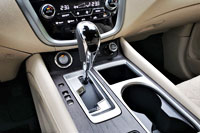 Likewise, the Murano's cargo compartment is sizeable thanks to the SUV's long, low and lean profile design being more of an optical illusion than actually incorporating a radically raked rear hatch. This is partially created by the Murano's floating roof design, which melds fluidly into a blackened rear rooftop spoiler. All said, Nissan's two-row mid-sizer provides 941 litres of dedicated cargo space, whereas lowering both its 60/40-split rear seatbacks, via handy levers located on both sides of the cargo wall, results in 1,890 litres of total cargo volume. That should be more than enough for most families' needs, but of course Nissan provides its three-row Pathfinder for those who require more. The only improvement I'd make to this setup for the next-generation Murano is to divide the rear seats into a 40/20/40 configuration, which provides space down the middle for longer items like skis while both rear passengers enjoy the more comfortable window seats, not to mention warmed cushions if so equipped.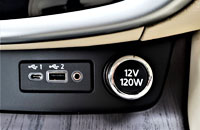 The Murano Platinum does provide two-way rear seat heaters in those outboard positions, incidentally, plus USB-A and -C charging outlets on the backside of the front console, along with a set of HVAC vents. A centre armrest can be folded down when only two are in back, filled with large cupholders and a small storage tray. Also benefiting rear passengers is a panoramic glass sunroof overhead, which stretches all the way back for a wonderfully open and airy ambiance that elevates the luxury experience to (dare I once again say) a premium level.
Features in mind, the Platinum model's leather-wrapped steering wheel rim is heatable, and the front seats heated or cooled via two metal-edged rotating dials on the lower console, including three settings per function. Additionally, powered USB-A and -C ports can be found on the base of the centre stack just ahead, right between the ignition button and a 12-volt charger. There is no wireless charging pad, however, a downer for those of us who live with such conveniences at home.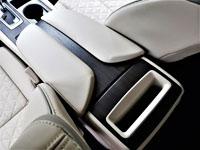 Another negative, the HVAC system, which sits just above on the centre stack, is only dual-zone in a market that sometimes offers three zones or more with rear controls in its loftiest trims, but the Murano's simple twin-dial and multi-button interface design is easy to sort out and works well, while just above, an overhead console boasts LED illumination as well as a much-appreciated sunglasses holder.
Other Platinum features (some of which are pulled up from lesser trims) include auto on/off LED headlights with high beam assist, fog lamps, redundant LED turn signals within the side mirror housings, LED taillights, roof rails, remote start, proximity key, a motion-activated powered liftgate, front illuminated aluminum kick plates, adjustable ambient interior lighting, an auto-dimming rearview mirror, a HomeLink garage door opener, front and rear parking sensors, adaptive cruise control, hands-free text messaging, a great sounding Bose audio system with 11 speakers and two subwoofers, satellite radio, an eight-way powered driver's seat with two-way power lumbar, a four-way powered front passenger seat, driver-side memory for the seat, steering column and mirrors, and a haptic steering wheel that vibrates in order to alert a driver of impending danger.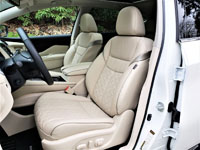 This brings up the Murano's advanced safety features, which for 2021 include Intelligent Forward Collision Warning, Moving Object Detection, Intelligent Emergency Braking with Pedestrian Detection, Rear Cross Traffic Alert, Rear Intelligent Emergency Braking, Blind Spot Warning, Lane Departure Warning, Intelligent Lane Departure Intervention, Intelligent Driver Alertness, Traffic Sign Recognition, and Rear Door Alert.
Speaking of highly advanced features, the Murano's parking brake is not one of them. Then again, I can remember back to the days you needed to reach down and pull a lever under the dash to unlatch the emergency brake of automatic-equipped cars, which made the first time I was able to merely press my left foot down to release an engaged parking brake pedal a newfound luxury. Of course, this was in an era that a tap from one's right foot switched the high beams on and off, so we should best leave such "technologies" in the past, as I'm sure Nissan will eventually do with the Murano's old-school parking brake pedal.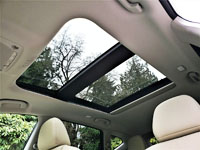 All the other pedals work as expected, the rightmost one quite adequately thanks to 260 horsepower and 240 lb-ft of torque from the aforementioned 3.5-litre V6, and yes, I'm aware that's 5 horsepower less than the previous second-gen Murano, not to mention 8 lb-ft less torque. What's that about? It's probably a fuel-efficiency issue, although it's possible Nissan merely provided a more accurate reading of an engine that actually made the same output. Either way, it's more than enough to get this 1,873-kilo (4,129-lb) SUV up to highway speeds quickly.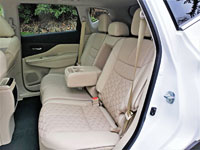 It's a smooth engine too, especially combined to its velvety CVT, but keep in mind there's no way to shift "gears", and Nissan doesn't offer a Sport mode to make the experience any more exciting. The transmission does simulate automatic shifts well, however, mimicking a regular autobox, and once again it's a highly efficient design that pays off at the pump, while it's proven to provide good dependability over the long haul.
Like the drivetrain, the Murano's fully-independent front strut and rear multi-link suspension is smooth and comfortable, adding to the premium feel I keep going on and on about, while its handling is easily up to the majority of mid-size crossovers on the market, and better than some.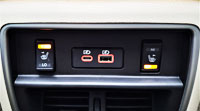 That's the thing. If this current Murano was alternatively an all-new model this year, complete with up-to-date electronics, an electromechanical parking brake, and a few other modernizations, it would probably fly out of Nissan's showrooms. It's that good, and to my eyes at least, remains a very attractive offering. The problem is it's going on eight years old, and there's no way an automaker can maintain customer loyalty without updating its most important models regularly.
Last year's compact Rogue was getting a bit long-in-the-tooth before being updated this year too, but the new one is superb (more about my week with that SUV coming soon), while I'm guessing the upcoming 2022 Pathfinder redesign will impress just as well (its fourth-generation predecessor went back farther than the current Murano). That model's new nine-speed automatic transmission bodes well for the next-gen Murano ditching its CVT as well, so good things are in store for this SUV at some point in the future. Let's hope it's sooner than later.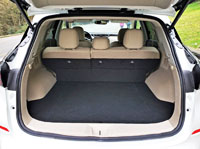 As it is, Nissan is offering up to $3,300 in additional incentives for a new 2021 Murano, while CarCostCanada members have been saving an average of $4,300 after first finding out about its dealer invoice price, and then using that money-saving information to negotiate their best deal (find out how there system can save you thousands, and be sure to download their free app as well). With a decent discount the Murano becomes an attractive offering, especially considering that AWD versions start at $40,098, plus freight and fees. The base Murano S FWD, on the other hand, is the model's loss leader thanks to a $34,098 starting point, while just above the just-noted SV AWD is the third-rung $43,898 SL AWD, plus the $45,098 Midnight Edition AWD (which basically blackens out most of the bright metal trim and wheels), and finally this $46,898 top-line Platinum AWD. None of these prices are unreasonable when factoring in the high level of refinement and quality provided, but a healthy discount is probably needed to pull in buyers that might otherwise look across the street at Toyota's Venza, which starts at $38,490 with a hybrid drivetrain and AWD, or something similar.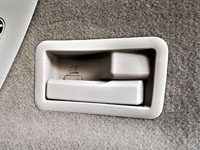 So, should you buy a new Murano? Again, with a decent discount, go ahead. It should be a reliable SUV, being that Nissan has had plenty of time to get it right, but then again, the Murano doesn't place in first, second or even third in any of the latest third-party analytical firms' dependability studies, and hasn't won any of the most recent residual value awards either. Some of the above only show one winner while others show runners up too, with the Canadian Black Book's 2020 Best Retained Value Awards putting Toyota's 4Runner on top, the same brand's Highlander in second, and Mazda's CX-9 in third, plus J.D. Power's 2021 ALG Residual Value Awards featuring Honda's Passport atop its "Midsize Utility Vehicle—2nd Row Seating" category, which might mean a well-cared-for pre-owned Murano could be a better bet.
Hopefully Nissan will have a new Murano available sometime next year for the 2023 model year, which will allow me to sing praises to it as easily as can for the new Rogue, but I'll guess you're not here to contemplate new models we know nothing about yet. Until then, choose wisely.
Review and photos by Trevor Hofmann